FILM
Dark Phoenix turns one of Marvel's greatest stories into typical blockbuster jargon.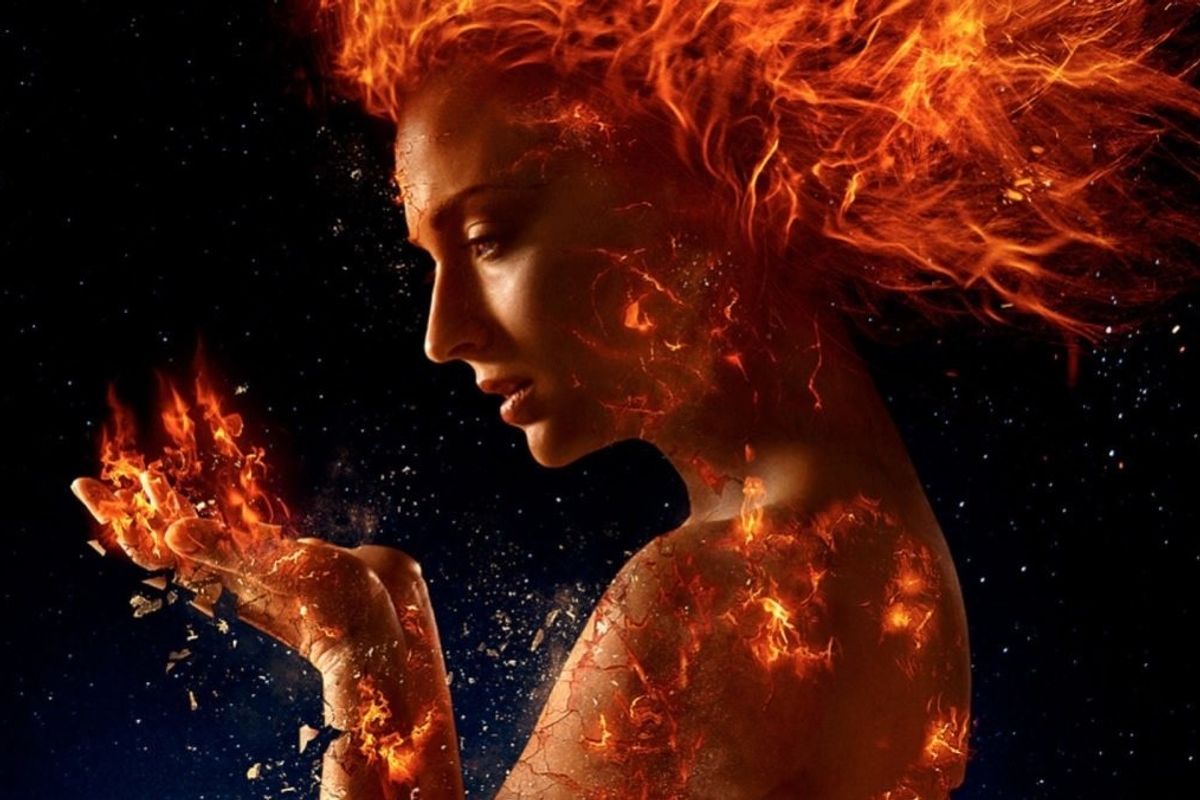 20th Century Fox
Welcome back to "Now in Theaters: 5 New Movies for the Weekend."
This week, Dark Phoenix turns one of Marvel's greatest stories into typical Blockbuster jargon.
WIDE RELEASE:
Dark Phoenix
Dark Phoenix | Final Trailer [HD] | 20th Century FOX www.youtube.com
"The Dark Phoenix Saga" is still regarded as one of the best X-Men runs by many long-time comic book fans. The story revolves around Jean Grey's absorption of and corruption by the Phoenix Force: "The embodiment of the very passion of Creation—the spark that gave life to the Universe, the flame that will ultimately consume it." The transformation is dark, jolting, and ultimately tragic, resolving in one of the greatest character moments in Marvel's history. The new Dark Phoenix movie, on the other hand, looks very, very generic. The trailer is practically indistinguishable from every other run-of-the-mill, big explosion superhero movie from the past five years. Aside from the brilliant casting of Sophie Turner (she was born to play Jean Grey), there's nothing exciting to see here. What a shame for such a great storyline to burn out like this.
The Secret Life of Pets 2
The Secret Life Of Pets 2 - The Final Trailer [HD] www.youtube.com
If you wagged your tail for the first The Secret Life of Pets, then you'll be sure to howl at the moon for A Dog's Purpose 2. What else is there to say about this movie? You know exactly what it is––86 minutes of animated animals to shut your kids up. Except now the main dog, Max, is being voiced by Patton Oswalt instead of Louis C.K. because you know exactly why.
LIMITED RELEASE:
Late Night
Late Night Trailer #2 (2019) | Movieclips Trailers www.youtube.com
Emma Thompson and Mindy Kaling star in Late Night, a movie about a long-running late night talk-show host who hires an inexperienced, minority female writer to round out her all-white male staff. The script was written by Kaling, and initial reviews suggest the movie is both funny and culturally prescient. Kaling is ridiculously talented, so if you're looking for a dose of socially conscious comedy this weekend, Late Night is your best bet.

The Last Black Man in San Francisco
The Last Black Man in San Francisco | Official Trailer HD | A24 www.youtube.com
The cinematography in this trailer is absolutely gorgeous. Shots frame characters amidst gorgeous sets filled with rich history. This is fitting as the plot follows two men, Jimmie and Mont, as they try to reclaim an old house built by Jimmie's grandfather in San Francisco. It won the Best Directing award and a Special Jury Prize for Creative Collaboration at Sundance this year, so it's most likely very good.
Itsy Bitsy
Itsy Bitsy (2018) Official Trailer www.youtube.com
Itsy Bitsy is a horror movie based on the "Itsy Bitsy Spider" nursery rhyme. This is honestly one of the worst horror movie trailers ever. The premise is awful, the acting looks awful, and heck, even the spider looks rubber. I kind of love it. In fact, screw it, this is my number one must-see movie pick for this weekend.

"A legend can't be explained by science," says an old man in the trailer. Seriously, please support this film.