CULTURE
Billie Eilish's Next Collab? Air Jordan
The singer is joining the exclusive ranks of female Jordan collaborations with her neon green Jordan 1 sneakers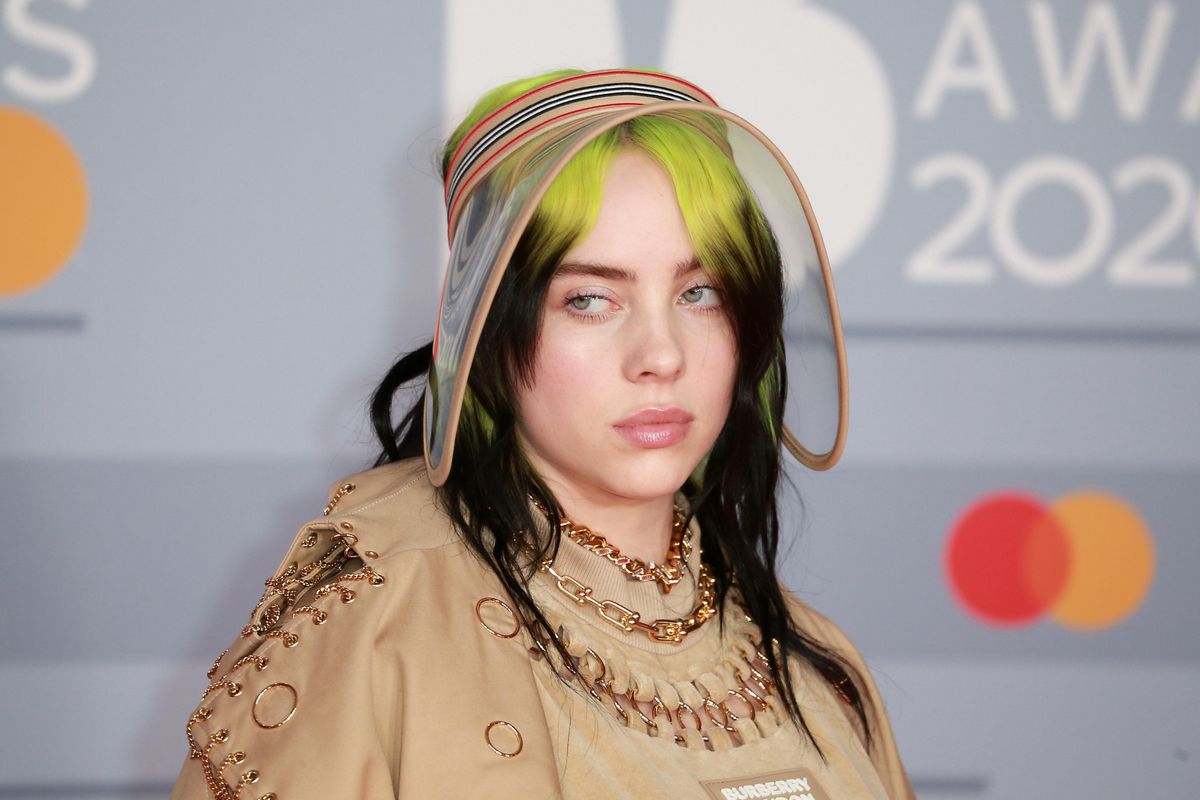 By Fred Duval / Shutterstock
Billie Eilish is booked and busy.

---
The Grammy winning 19-year-old pop sensation has spent 2021 gearing up for an album release and settling into her new era, one which is less defined by the edgy angst of her past albums, but is instead a celebration of the self.
In her internet-breaking cover story for British Vogue in early May 2021, Eilish debuted her new aesthetic alongside a vulnerable interview which detailed the impetus behind her transformation: growing up.
In her interview, she talks about the idea of transformation, of shedding the old self, saying: "People always say, 'How would your younger self feel about you now?' And that's a good thing to think about in some cases, but I also think you shouldn't try to be a person that your old self would like, and you shouldn't try to be a person that your future self is going to be. You should be exactly who you feel like you are and want to be in that moment, otherwise you're going to go insane."
In claiming her full, authentic self, Eilish is speaking her truth in her music. In 2021, Eilish has already debuted two hit singles in preparation for her upcoming album release. The haunting, vulnerable "Your Power" sees Eilish in her element — using her signature, delicate melodic tones to sing about being taken advantage of and the prevalence of grooming in the industry — and "Lost Cause," whose video is a celebration of female friendship — despite its criticism for potentially queerbaiting (you decide).
Billie Eilish - Lost Cause (Official Music Video)www.youtube.com
Always one for making waves, Eilish is all about moving forward. And her next venture: shoes.
Ever since entering the spotlight, Eilish has been hailed as a fashion icon. Shunning the expected aesthetic of a young, female popstar (read: a patriarchal combination of infantilization and hyper-sexualization), Eilish gravitated towards oversized silhouettes and bold prints.
Some compared her look to Pete Davidson's eclectic and equally magnetizing sartorial choices, some hailed her as the Gen Z pioneer of Adam Sandler chic, and some traced her aesthetic roots in early 2000s hip-hop culture. The exciting amalgamation of influences kept fashion reporters and fans alike on their toes and has made her a fashion mainstay — earning her a place as one of the 2021 Met Gala hosts alongside Timothee Chalamet, Amanda Gorman, and Naomi Osaka.
So far, it seems, she has Anna Wintour's stamp of approval, and has even garnered effusive praise from design giants like Gucci's creative director, Alessandro Michele, who has regularly used Eilish as his muse in their frequent collaborations and her appearances in Gucci campaigns. "Billie represents something completely new," Michele has said. "She is a continuously evolving artist with a new vision and interpretation of herself in terms of femininity. Billie is exactly where she means to be without prejudice. That's why working with her is so stimulating – she forces me to think differently."
Now, Eilish is putting her fashion chops to the test with a collaboration with Nike.
First look at the @billieeilish x Air Jordan 1 KO\nhttps://snkrne.ws/3xpzdRX\u00a0pic.twitter.com/IF8KQ2YgJU

— Sneaker News (@Sneaker News) 1623679116
The first look at the singer's Air Jordan 1 KO released, and they're exactly what we'd expect, or dream about, from the singer: neon green.

Though Eilish is now rocking platinum blonde curls, she is known for her neon green hair and nails of yore. Now even us plebes — you know, those of us who don't have Alessandro Michele singing our praises — can rock a little bit of Billie's style.
According to Sneaker News, "It's likely that a larger Billie Eilish x Jordan collection will surround the footwear release; apparel and accessories have typically accompanied shoe collaborations in recent memory, allowing the partnership to be more far-reaching on a lifestyle fashion front."
So now we're imagining oversized shorts, tees, jackets and maybe even nail charms to go with the Jordan release — a girl can dream.
We'll be patiently awaiting the news with "Lost Cause" on repeat.