MUSIC
It's like they aren't even trying to glow up at all.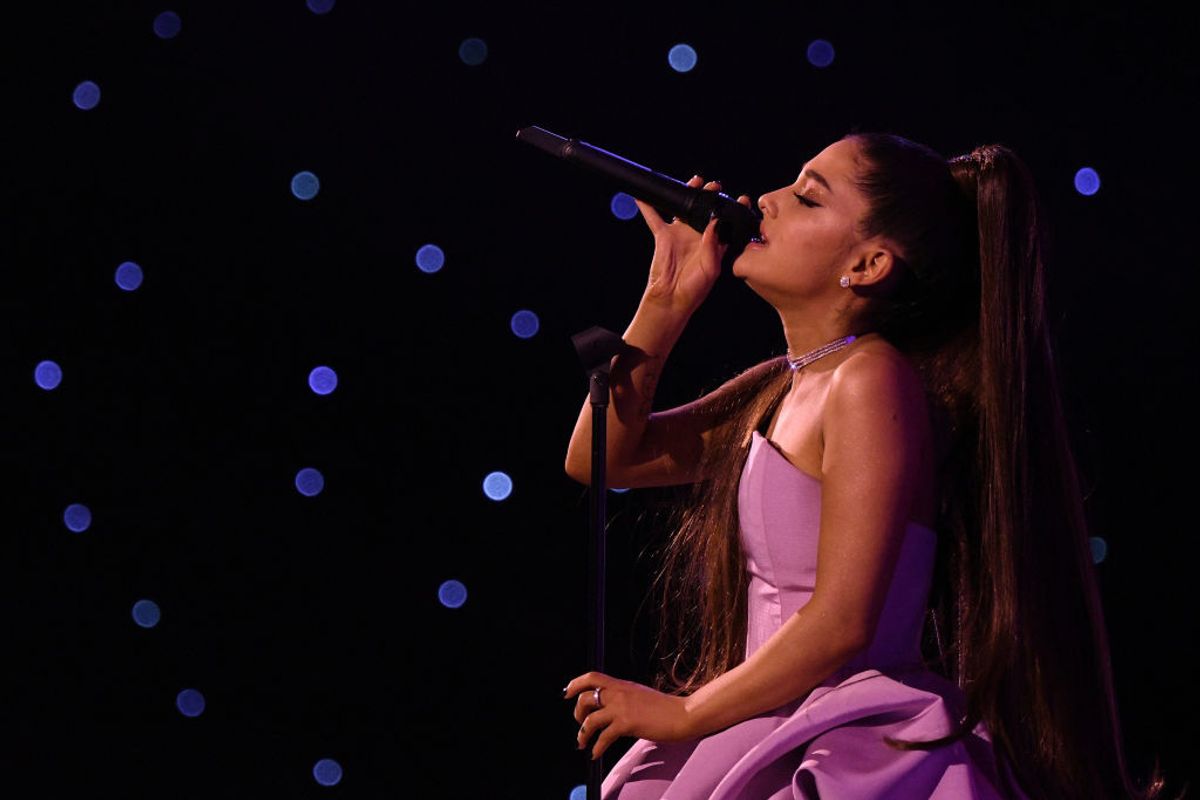 Mike Coppola / Getty
It's like the Grammys aren't even trying to glow up at all. After using her image on billboards and heavily touting her performance at Sunday's event, The Grammy Awards have lost Ariana Grande as both a performer and an attendee. According to Variety, a dispute arose between producers and Grande, who is nominated for two awards at the ceremony, over the pop star's setlist. An unnamed source told the magazine that Grande was "insulted" when producers initially refused to let her perform her latest single, "7 Rings." They had reached an agreement once producers relented and agreed that the song could be included in a medley, but fell apart again once they insisted that they choose the rest of the songs in the performance.
It's certainly a...choice for Grammy producers to deny one of today's most famous artists the opportunity to perform whatever song she wants—especially when that song is currently number one on Billboard's Hot 100, and has been since it was released two weeks ago. Producers undoubtedly knew that booking Grande to perform would be a big draw for viewers, especially with the release of her latest album, Sweetener, set for just two days before the event. That much is clear from the use of Grande's image and news of her performance in their ads for Sunday's broadcast.
Let's Hear It | 61st GRAMMY Awards youtu.be
Some are comparing Grande dropping out to Lorde declining to participate in a group tribute to Tom Petty at the 2018 ceremony after being the only woman nominated in her category and the only nominee who was not offered a solo performance. (Grande has often publicly lamented double-standards set for women in the music industry.) The Recording Academy, which is the governing body for the Grammy Awards, faced criticism after the 2018 ceremony for a very low number of female nominees and comments from the organization president attributing the gender disparity to women needing to "step up," rather than outdated membership models and inclusion or nomination criteria that inherently favored male artists, engineers, and songwriters. The Academy seemed to be taking a step in the right direction by adjusting their nomination and membership policies under the guidance of Diversity and Inclusion Task Force, which is why the decision to deny Grande autonomy over her performance is especially disappointing.

It's also worth noting that the Grammys broadcast is in the unique position of being able to showcase more of the work that it's celebrating than any other industry awards show. It's not possible to give an audience a true sense of an entire film, TV show, or stage performance unless they've seen it. A performance at a music awards show, however, is probably the closest a viewer can get to a complete picture of the work before a winner is announced, and it's the easiest way to bring entertainment to an event that could easily feel stuffy and self-congratulating. After last year's event pulled in the lowest ratings in almost a decade, it seems especially unwise for producers to object to a performance of the current most popular song in the country.
Neither Grande nor the Grammys have spoken publicly about the canceled performance. But maybe the Grammys aren't even worried about ratings. After all, they've still got the universally popular and highly-anticipated collaboration between Post Malone and the Red Hot Chili Peppers and the newly announced and very obvious, not-at-all confusing Jennifer Lopez tribute to Motown.
I have questions. https://t.co/UqkqAZzRV5

— Jemele Hill (@Jemele Hill) 1549394400.0
Y'all really want to make this the worst Black History Month ever, huh? https://t.co/XnY7U5WRzO

— Dready Van Halen (@Dready Van Halen) 1549394340.0
The Grammys will air live on Sunday, February 10 at 8pm.

---
Rebecca Linde is a writer and cultural critic in NYC. She tweets about pop culture and television @rklinde.
---
POP ⚡DUST | Read More…
Proof 21 Savage Was British After All
Frank Ocean and the Dark, Disgusting Hole of the Internet
Suga's Dream Comes True - Our Boys Are Taking Over the Grammys!!! #BTSxGrammys