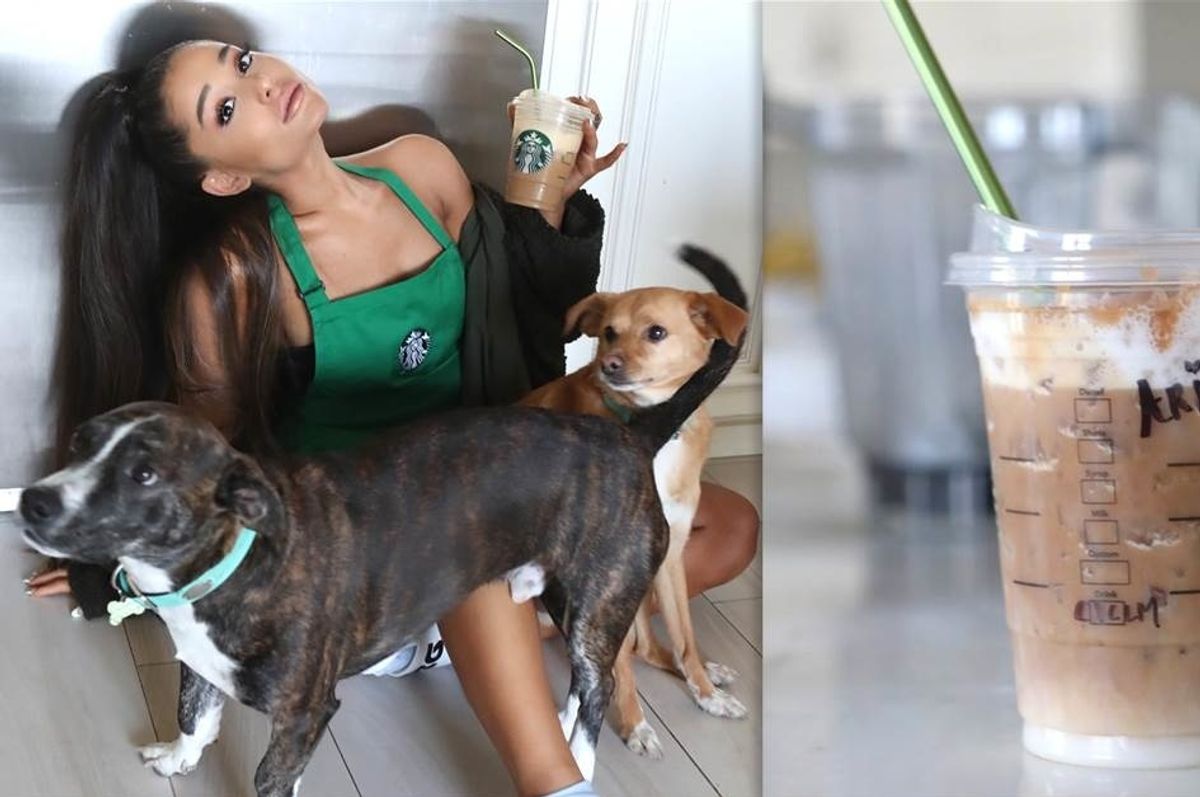 Ariana Grande and Starbucks iced drinks are the bread and butter of the suburban tween and the urban gay.
A collaboration between the pop and caffeine giant was inevitable, and at last, the day has come. With a tweet on Tuesday Starbucks announced their newest drink, that in some unclear way, possibly something to do with the cloud emoji (?), is connected to the "thank u, next" singer.
Introducing new Iced Cloud Macchiatos in Caramel and Cinnamon. So light and fluffy they're basically a cloud in a c… https://t.co/MedSY0xEnb

— Starbucks Coffee (@Starbucks Coffee) 1551794400.0
On the same day, Grande tweeted,
🌫 @starbucks cloud #cloudmacchiato #starbucksambassador #trythesoyversion 🌱 https://t.co/y2LRAx33Sq

— Ariana Grande (@Ariana Grande) 1551794541.0
We hope that this partnership with a multi-billion dollar company will finally allow Grande to afford a sweater that stays on her shoulders.

But supposedly, this is not just a symbiotic money making scheme for two of the most American entities of the current moment. It actually has some vague connection to International Women's Day. According to Business Insider, "Starbucks also plans to debut a playlist featuring Grande's songs and some of her favorite music on Saturday, as well as a playlist for International Women's Day on Friday."
At last, women everywhere have been saved from the clutches of the patriarchy by a pop playlist and egg white foam! All of the fans that laud Grande as a feminist champion are right after all! We really can live, laugh, love our way to reproductive rights! Success in a broken capitalist system is equivalent to progress as a woman! Wild self-involvement and tepid pop tunes are the end of misogyny in the workplace! Take that systemic sexism! Carmel!
Granted, Grande doesn't have any particular responsibility to be an activist, or at least not any more than the rest of us, but the problem with this kind of hollow feminism from a cultural figure is that her fans conflate it with genuine resistance. She's long been lauded by many as a feminist icon, but what she preaches is the idea that financial success and success as a woman are the same. Never has this been as clearly exemplified as it is by the fact that a playlist made in partnership with a massive corporation is being sold as a feminist action. It seems that for many, feminism has become just another marketing strategy.
This viral tweet perfectly captures the absurdity of combatting centuries of inequality with a playlist and a macchiato:
ariana grande selling a custom starbucks drink on international women's day is like. you cannot write better parody… https://t.co/a1jGz71ngl

— bob of ganoush (@bob of ganoush) 1551760277.0
---
Brooke Ivey Johnson is a Brooklyn based writer, playwright, and human woman. To read more of her work visit her blog or follow her twitter @BrookeIJohnson.
---
POP⚡DUST | Read More...

Learn from Momo: How to Create a Viral Hoax
The National's "You Had Your Soul With You" Teases Dramatic New Album