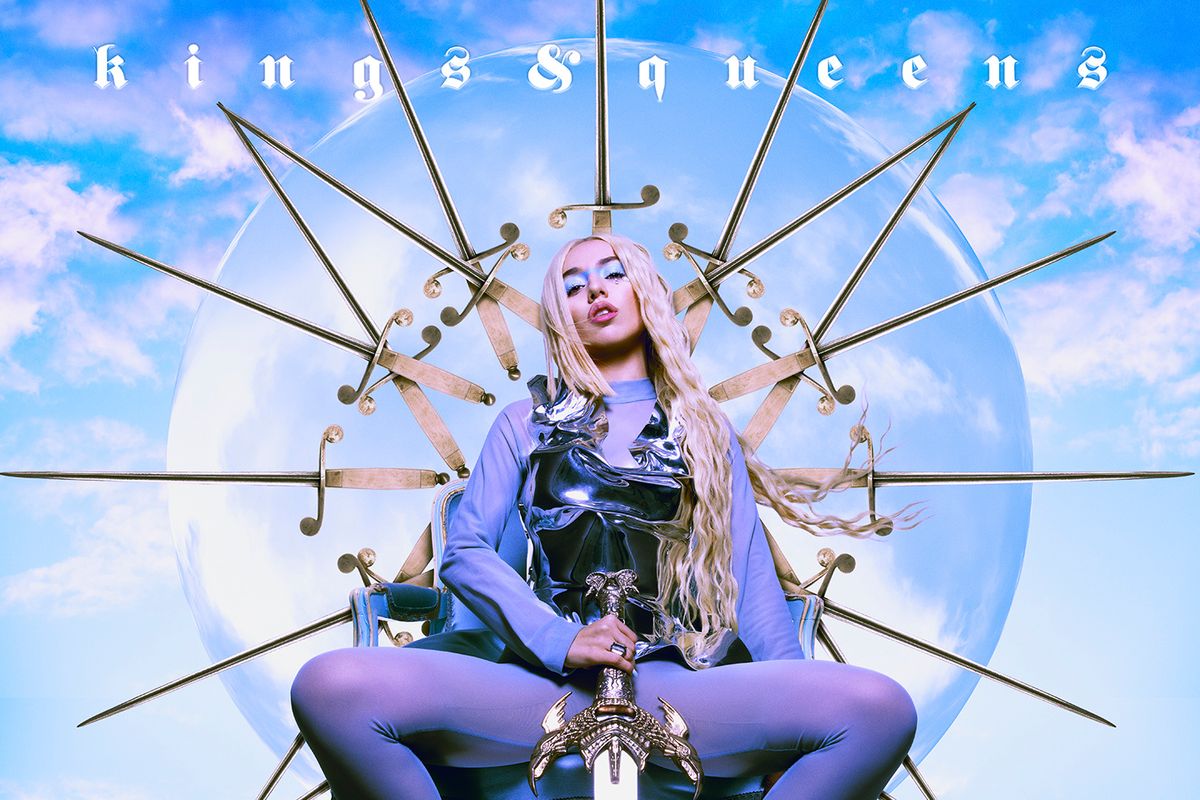 Atlantic Records
Ava Max, the powerhouse behind "Sweet but Psycho," is continuing her reign as "PRINCESS OF POP."
In 2018, that debut single took the world by storm, topping the charts in 26 different countries and breaking through the Billboard top 10. Her latest empowering anthem, "Kings & Queens" aims to do the same and serves as a promising teaser from her highly anticipated debut album, expected to drop later this year. "I wanted the fans to listen to the album and really get to know me because it's my debut album," Max told Popdust. "And I also wanted to connect with them on that level."
Download or stream "Kings & Queens" HERE:
POPDUST: Super excited to talk to you today! I consider myself a big fan and was ecstatic when we were contacted about the new song!

AVA: Oh my God, thank you. I'm just so excited for all the music coming out and for having "Kings & Queens" come out. It feels like a dream. Finally, it's coming out.
Tell us a bit about how "Kings & Queens" came to be.
Every song that I've put out, they all have very different vibes. The version you're hearing of the song is after like 10 different versions that we tried–different melodies and production. This one felt very empowering and strong with the lyrics. It's really about not caring and doing you. It's actually a similar message to "So Am I," but it's more just about queens and that we should rule because, in fact, the world would be better if queens ruled it.
I'm totally in love with the guitar solo and the choice to include it. Though I'm biased because I'm a guitarist.
Oh, nice! You should come play on the tour [laughs].
Um...Yeah!
I really wanted some real elements. I released a lot of pop electronic music, and I feel like I wanted some real guitar elements in there. It's funny, I don't play guitar, but after hearing the song and having it for 6 months, I was like, "You know what? I'mma learn electric guitar."
That would be sick if you pulled that out on stage.
I'm not even kidding you. I am about to take lessons because...how can I not learn electric guitar?
I was going to say, I'm totally available for lessons if you want…
Or, I can just bring you on tour!
Absolutely! That would be a dream [pretends not to be a fanboy]...Changing topics, do you have music video plans for this song?
I actually do...You know, I can't say much about it. All I can say is that…it's going to have a lot of dancing in it.
Speaking of things that you probably can't talk too much about, this song is going to be on your debut album. What can you tell us about that? Is there a title yet?
There is, and I've had this title for a year now, and I definitely can't tell you what it is. But I can tell you that if you look at my hair, you can kind of understand what the album is going to be. It's a little bit of this and that. The whole album is kind of based on, like, "I can have my cake and eat it, too." Where there's lightness and light, there's also darkness.
"Kings & Queens" is another collaboration with the producer Cirkut, who is credited on many of your songs. Can we expect more collaboration with him on your album?
Oh, yeah. I mean he produced the entire album. He is executive producer of the whole thing.
Can we expect any exciting features on the album?
There actually are no features. And the reason why I did that is because I do features all year round, and I love features. I think for me, personally, I wanted the fans to listen to the album and really get to know me because it's my debut album. And I also wanted to connect with them on that level.
Speaking of connecting with fans, what is the best or most shocking thing you've ever received from a fan?
Oh, this is a tough. I got a lot over the past year. The most shocking thing… you know what? A fan, it felt like we were so connected. This was actually when I was in Singapore. This guy gave me a shirt that was cut in half, and–I'm not even kidding you–for my merch that was exactly what I wanted to do. I was like, "I think you read my mind." We were so connected in that moment, and it felt crazy. I just thought that was really cool, to connect with a fan and that he made his merch that I had thought about, too.
Awesome! I asked people on Instagram to send me questions they would like to ask you. If it's cool with you, I'd love to run through some of those.
Absolutely, let's do it!
Great, so this one comes from @sophie_pia_, who asks, "Would you rather be able to fly or breathe underwater?"
Oh my God. That's a tough one. I'd say fly.
I'm with you on that one. @loveavamax, one of the fan accounts, asks, "Have you ever sung at a major sporting event?"
Um, yeah, actually I have. Tennis.
Fair enough. @Avamaxbr says, "If you could describe your debut album in one word, what would it be?"
Oh man, one word? Can I do one sentence? Best of both worlds.
Is that the title? You're not allowed to tell me, right?
[Laughs] No, it's not. It's not the title!
So @Avamaxbr wrote in again and asked, "Any plans to come to Brazil?"
It is on my to do list. I really want to go. It's one of the places I dream of going. So, yeah.
Okay, @iamcoyoteeyes wrote in - she's actually a fellow singer/songwriter - and she asked about your vocal technique.
I run almost every day, even if it's like five minutes. I run just to get my blood flowing. And I stretch my mouth and my neck. It really helps actually, stretching your mouth and your neck, as goofy as that sounds.
I'm with it. @Aliceellagram - another fellow singer/songwriter - asks, "How to feel inspired on the bad days?"
Oh my gosh, we got bad days. Um, I think about my family and how much I love them and how I want to just retire every one of them. And, yeah, I keep going.
So, a lot of people just sent the "fire emoji" as their question.
Oh, fire back to those people!
Will do. A couple of my friends in LA just DMed me with some questions. Are you in LA right now?
I am!
Okay, so Grace sent: "Ask her why it's taking me over 90 minutes to drive from Echo Park to Santa Monica. Isn't everyone supposed to be working from home?" Can you comment on that?
Oh my gosh, I know, I agree with her.
Rory sent in: "Ask her about where she gets the ideas for her makeup. She does interesting stuff with her eyeshadow."
So, I like to do things I've never seen before. I kind of really push myself to think about something I've never seen before...even if it's just a line on my cheek. It's funny, my makeup artist will be like, "What are you doing? Like, this doesn't look okay." And I'm just like, "I like it, let's start a new trend." So I'm always up for starting new trends.
Very Bowie-esque. That reminds me! Who are some of your biggest influences, both for yourself as an artist and particularly for this album?
I grew up listening to Mariah Carey and a lot of pop divas like Christina Aguilera and Britney Spears and Beyoncé. So you know, I feel like I got a little bit of each of them into my music and my voice, even. 'Cause I sang so much Mariah Carey in my basement when I was younger that I feel like sometimes when I sing, "Alright, snap out of it. You are not Mariah Carey." Even in my pop music you can kind of hear the soul, because I sang her a lot. And a lot of Whitney, a lot of Christina. I love to growl. So yeah, the pop divas, for sure.
Awesome. Finally, do you have tour plans set up? I mean, I need to know because I guess I'm going on it, so…
Okay, well I'll just tell you soon. In a few months, definitely.
Cool, just DM me the details or whatever. Anyway, thank you so much for your time today. Congrats on "Kings & Queens" and we can't wait for the album!
Thank you so much!