FILM & TV
JUNE 22ND-24TH | What's Coming to Theaters this Weekend?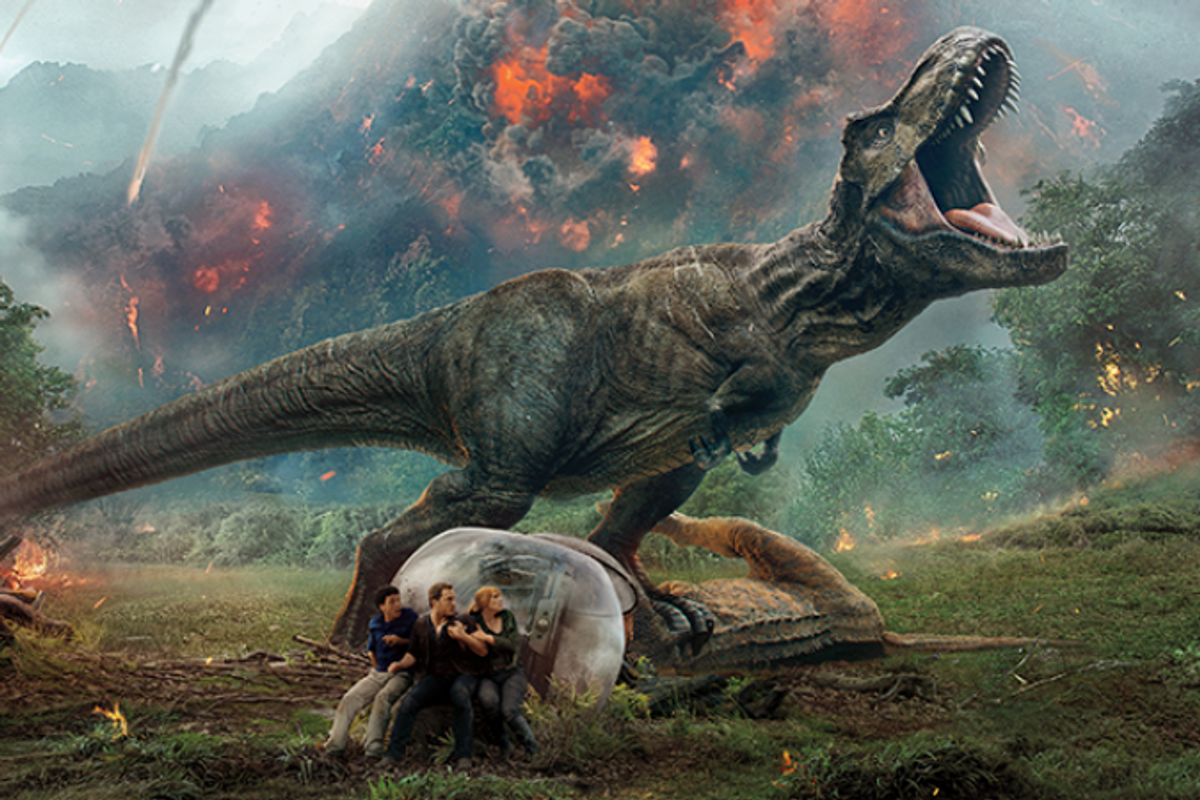 BoxOffice Pro
They roamed the Earth once and now they're back again in a big box office sequel.
In Popdust's column, Box Office Breakdown, we aim to inform you of the top flicks to check out every weekend depending on what you're in the mood to enjoy. Looking to laugh? What about having your pants scared off? Maybe you just need a little love? Whatever the case may be, we have you covered. Take a peek at our top picks for this week…
---
Most baseball players are stereotyped as not having it all together in the head, hence why they make their living hitting balls with sticks. This idea is proven incorrect in a biopic about baseball player-turned-spy during World War II, Moe Berg (a Princeton-educated Jew with an affinity for languages). The tale of the Boston Red Sox player becomes more curious as he enters Europe with the plan to end the nuclear bomb plan before the Germans are able to employ it. Put up the baseball mitt and pick up a trench coat to see what will happen next.
R | Running Time 1hr 34m| IFC Films | Director: Ben Lewin
Starring:Paul Rudd, Paul Giamatti, Connie Nielsen, and more!
---
If you're thinking of escaping the city's hustle for the summer, you might be like this couple who moves into a building called The Pinnacle, full of condos that are super-sleek and modern with everything one could imagine. What could be wrong? There are suspicions on the wife's end, and with the help of a hired investigative journalist, they will discover there is something a bit darker behind the building and more cynical than night hardwares of drawers. Tune in to see whether or not you might think your landlord is trying to brainwash you as well.
R | Running Time 1hr 27m| Voltage Pictures | Director: Rob W. King
Starring:Christina Ricci, John Cusack, Brendan Fletcher, and more!
---
The unexpected death of a child leads to one man drinking his cares away daily in an attempt to drown out his regret and other emotions. Somewhere in this mess he makes the decision to return to the town where the accident took place and meets a curious woman. While the man is originally attracted to this dark and mysterious woman, he quickly learns there is something much darker than suspected in her past.
NR | Running Time 1hr 23m| Paramount Pictures | Director: Tim French
Starring:Hoyt Richards, Anabella Casesnova, Johnny Williams, and more!
---
This film should be known for more than the political outrage it is drawing. Instead, focus on the fact this is another tale of a single mother who is focusing on her work and her child, or really anything but herself. In the midst of this, her father is kicked out of his senior residence home and requires her help to drive up the California coast to move in with her sister. Making things more complicated, however, is her father's decision to turn the road trip into a sweep of weed delivery stops.
R | Running Time 1hr 44m| Sony Pictures Classics | Director: Shana Feste
Starring:Vera Farmiga, Christopher Plummer, Lewis MacDougall, and more!
---
And our ⭐️ TOP PICK ⭐️ ...
The dinosaurs are back and are fed up with having had their paradise turned into a resort. Things only get worse when a dormant volcano comes to life, sending some old friends of the dinosaurs onto the scene to try and save them. The island becomes more unstable as lava runs down and the humans work to try and save the creatures they have grown to love. This is unlike anything you've seen before, all for the best.
PG-13 | Running Time 2hr 8m| Universal Pictures | Director: J. A. Bayona
Starring:Chris Pratt, Bryce Dallas Howard, Justice Smith, and more!
---
Really like a film you've seen or know of one coming out soon that we should check out? Shoot me an emailand let me know!
---
Rachel A.G. Gilman is a writer, a former radio producer, and probably the girl wearing the Kinks shirt. Visit her website for more.
---
POP⚡DUST | Read More #BoxOfficeBreakdown…
BOX OFFICE BREAKDOWN | Your favorite superheroes are (finally) back
BOX OFFICE BREAKDOWN | Women are taking over the heist game