MUSIC
The playful duo appeared on Twitter.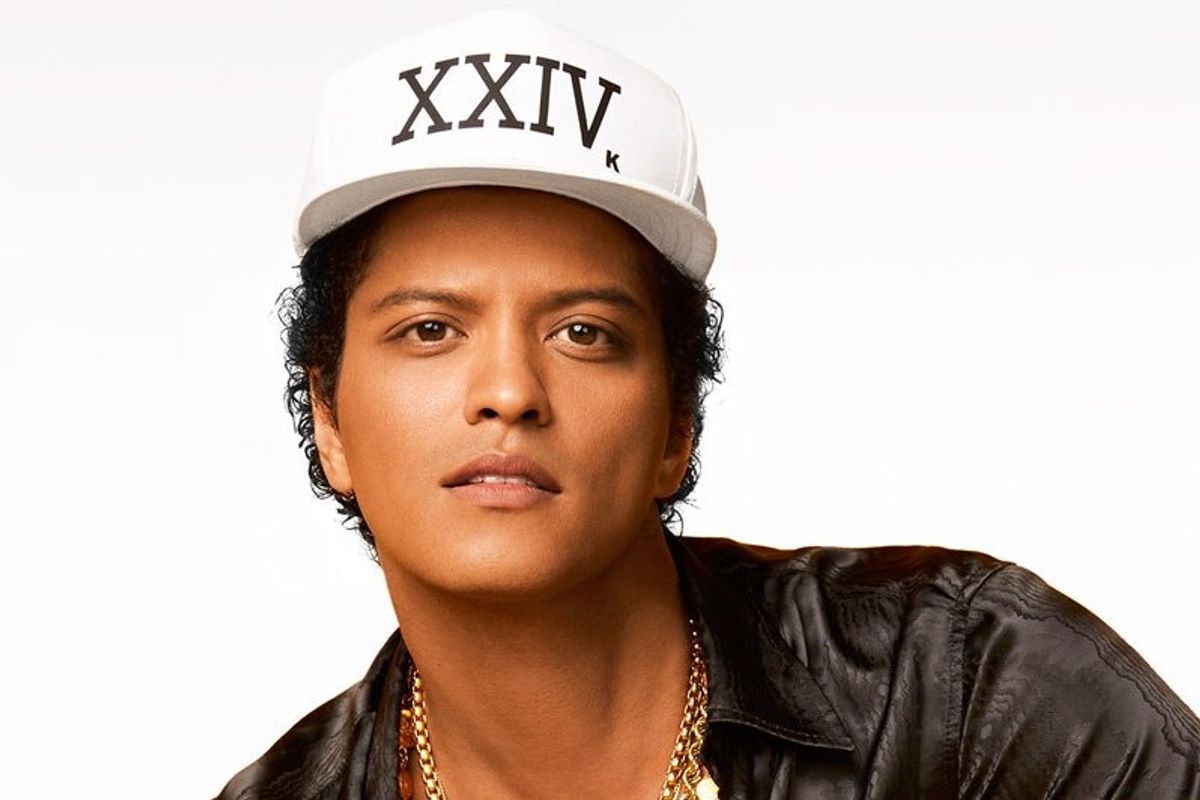 Bruno Mars just turned 33 yesterday — and how did he celebrate his big three three? By hiring Ed Sheeran to serenade him, of course.
You know you've made it when you can hire Ed Sheeran to sing you Happy Birthday! 🍾🥂 #ExtraForever!… https://t.co/jF6KF25XWc

— Bruno Mars (@Bruno Mars) 1539044521.0
The 'Uptown Funk' singer ate cake backstage at Nashville's Bridgestone Arena on his '24K Magic Tour' while Sheeran sang 'Happy Birthday.' The hilarious video made its way to Mars' Twitter and fans went wild for the onscreen bromance.

The lyrics seem pretty standard, but then Sheeran addressed Mars as 'Dear Two Time Super Bowl performing Bruno' instead of the usual boring name plug. Mars obviously approves as he cuts into his birthday cake, marked with his name and surrounded by smaller cupcakes. Mars then tells Sheeran 'Again!' and the 'Shape of You' singer reluctantly complies.
The Twitter video is playfully captioned 'You know you've made it when you can hire Ed Sheeran to sing you Happy Birthday!' and I have to agree. I mean, I've never been serenaded by anyone remotely as famous as Ed Sheeran!
This isn't the first we've seen of this bromance either — Sheeran once told ET in an interview that he and Mars 'hang out' in the studio. Sheeran also expressed his respect and admiration for 'Finesse' and its music video saying that it wouldn't have been as cool if he were in it.
And of course, you can't post a video like this without the usual Bruno Mars stans replying on Twitter. Following the funky singer, they've dubbed Oct. 8 as #HappyBrunoMarsDay, filling the hashtag full of memes and congratulations.
@BrunoMars #ExtraForeva HAPPY BRUNO MARS DAY https://t.co/ZCTjir0TQp

— cosmos🌠seeker (@cosmos🌠seeker) 1539057939.0
Happy birthday @BrunoMars!!! Got us celebrating like...#HappyBrunoMarsDay 💃🏼🙌🏼❤️ https://t.co/5OoWiAbg9v

— Rotceh Maldonado (@Rotceh Maldonado) 1539044681.0
Even some celebrities came to Twitter to wish Mars a Happy Birthday, such as Missy Elliott and Ellen DeGeneres.
Happy birthday, @BrunoMars. I ❤️ you. https://t.co/z4ecmg44wg

— Ellen DeGeneres (@Ellen DeGeneres) 1539019590.0
Happppppppy Birrrrrrrrthday @BrunoMars such a undeniable talent & mad skills but most of all a beautiful soul much… https://t.co/QhIAqeOBZV

— Missy Elliott (@Missy Elliott) 1539059411.0
Bruno Mars is having an amazing year right now — he recently released 'Wake Up in the Sky' with Kodak Black and Gucci Mane and announced the Finale of his 24K Magic Tour. Mars also has five of the Top 600 Biggest Songs of All Time on the Billboard Hot 100 and received an EMMY nomination for Outstanding Music Direction. Mars won the BET Award for Best Male R&B/Pop Artist for 2018 and was nominated for 15 Billboard music awards.
---
Amber Wang
is a freelancer for Popdust, Gearbrain and various other sites. She is also a student at NYU, a photographer and a marketing intern.
---
POP⚡DUST | Read More ...

New York Comic Con 2018: What to Expect
17 Mean Girls Memes to Celebrate October 3rd