MUSIC
If artists who sometimes contribute to their music is the low standard for groundbreaking K-pop, then sure, BTS is at the top.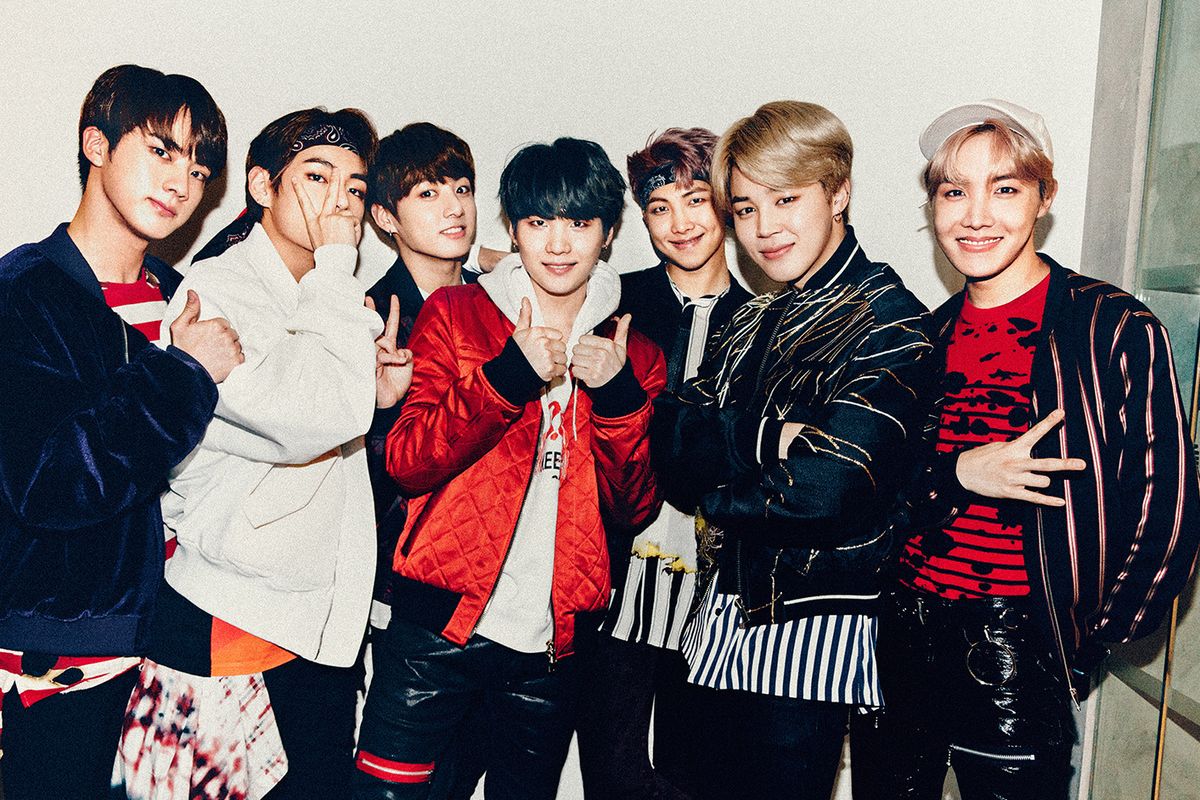 Billboard
The BTS Army is rejoicing, as their boy kings are nominated for their first Billboard Music Award for Top Duo/Group.
While the K-pop band has taken home the award for Top Social Artist for the past two years (and they've just received their third nomination), 2019 marks the first time they've been recognized in a larger category. The boys will compete against more mainstream acts for the honor of best band, with fellow nominees including Maroon 5, Imagine Dragons, Panic at the Disco, and Dan + Shay.
A nomination based on 100% on USA sales, USA streams, and USA radio😍 actual impact in the USA music industry! TOP… https://t.co/nmkrAVNomr

— . (@.) 1554385753.0
Other artists highlighted this year are Cardi B (leading this year's honorees with 21 nominations in 18 categories), Drake (nominated for 17 awards, including Top Artist, Top Rap Album, and Top Rap Song for "In My Feelings"), and Post Malone (tying with Drake, including nominations for Top Artist and Top Rap Song for "Better Now").

But reactions from BTS fans dominated discussions of the Billboard Awards on social media. Twitter exploded with emoji-laden declarations of love, as well as deep dives into the history of the Top Duo/Group award to emphasize that "BTS PAVED THE WAY." As a trending topic, the band's success has K-pop fans hopeful that the genre will continue to integrate into American mainstream music.
this time two kpop groups has been notimated for billboard next time the entire kpop industry will be notimated and… https://t.co/87dNKC2UP8

— ً (@ً) 1554383665.0
namjoon sry but, its gonna be bts's year in 2020 too its gonna be bts's year in 2021 too its gonna be bts's year… https://t.co/N293H73bOv

— krys ♡ (@krys ♡) 1554385390.0
While most K-pop bands are eerily robotic products of major music labels and have little to no artistic input in the music they perform, the seven members of BTS do have some writing and production credits to their names. If artists who actually contribute to their music is the low standard for groundbreaking K-pop bands, then yes, RM, Jin, Jimin, Suga, J-Hope, V, and Jungkook have paved the way in K-pop, but that doesn't legitimize its future as a mainstream genre.
#BTSBillboardTopGroup @BTS_twt you ever noticed how past nominees of top duo/group are all from the us/uk/ireland/c… https://t.co/ax7Sv2ei43

— (#MOTS_PERSONA) 🎀 (@(#MOTS_PERSONA) 🎀) 1554385271.0
@ktaebwi_613 @BTS_twt SO IN CONCLUSION: BTS PAVED THE WAY AND IM SO PROUD #BTBillboardTopGroup @BTS_twt

— jimtober (@jimtober) 1554385457.0
---
Meg Hanson is a Brooklyn-based writer, teacher, and jaywalker. Find Meg at her website and on Twitter @megsoyung.
---
POP⚡DUST | Read More...
Every Time Jameela Jamil Has Taken Down the Kardashians
Now in Theaters: 5 New Movies for the Weekend of April 5