Music Features
K-POP for Dummies: An Introduction to Your New Favorite Genre
From BTS to BLACKPINK, learn the ins and outs of South Korea's most popular music genre.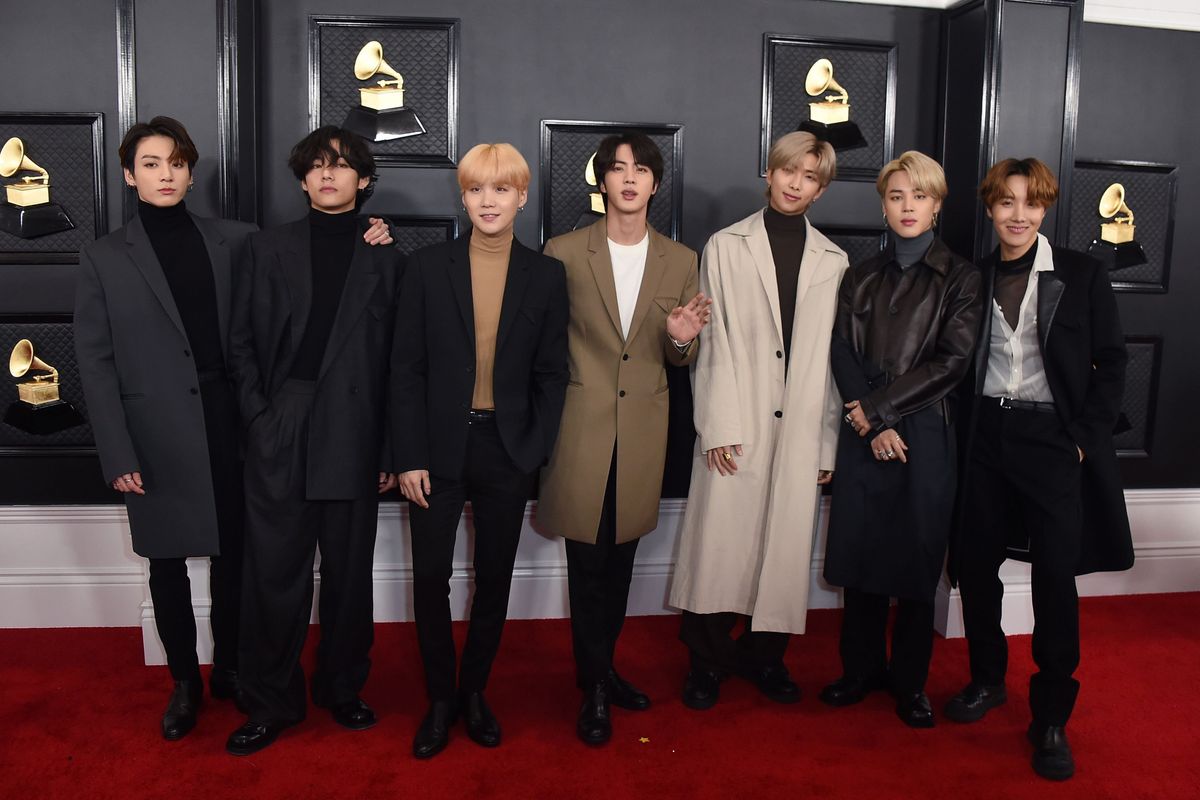 Photo by Jordan Strauss/AP/Shutterstock
Western awareness of K-Pop music has come a long way since Gangnam Style first went viral on YouTube, but if the 2019 Grammy Awards were your first time hearing of BTS you have some catching up to do.
No worries, though! We got you covered. Allow us to take you on a journey into the musical genre that's taking over the world.
What is K-Pop?
K-Pop stands for Korean pop, a broad genre encompassing pop, rock, hip hop, R&B, and electronic music. The genre dates back to the 90s, during which similarly styled South Korean pop music was referred to as "Gayo." The movement was largely influenced by the group Seo Taiji and Boys, formed in 1992, who began experimenting with different styles and genres within their mainstream pop music. But it wouldn't be until the 2000s that the genre now known as "K-Pop" would fully come into its own.

In the same way, the songs blend many genres into one, K-Pop is a holistic experience. In spite of massive radio play, the actual songs are inseparable from their music videos, their dance numbers, and the personalities of their various group members. In K-Pop culture, fashion, choreography, and fandom are just as important as the music, so to fully understand the genre, you need to recognize its moving parts.
And what better way to do that than by checking out K-Pop's biggest group…
BTS
BTS (also known as the Bangtan Boys) is easily the most popular K-Pop group in history. While other K-Pop groups experience wild success, none can even approach the levels of BTS, especially on an international level. Their fandom is so huge that they've broken multiple records formerly held by the likes of Taylor Swift and Justin Bieber. They also have the most Twitter engagement in history.

In many ways, BTS is the quintessential ideal of a K-Pop boy band. They're so popular they've been called the modern-day Beatles, and as such, we can use them as a case study to understand the intricacies of the genre.
The Members
While some K-Pop stars are solo artists, most major acts are groups, usually put together by one of three major agencies – YJ Entertainment, SM Entertainment, or JYP Entertainment. These agencies are essentially all-in-one management firms for their artists, serving as record labels, talent agencies, concert producers, and event managers. Most commonly, the same agency will discover young talent, train them, group them, debut them, and foster their careers.
Competition is fierce within the K-Pop industry, and the artists who ultimately make it into major groups need to be multi-talented singers and dancers. They also need to synergize well with other group members. Of course, each member has an area of expertise.
RM (Rap Monster)
The group's leader, RM, lives up to his namesake. He's a talented rapper in his own right and was the first member of the group to release his own mixtape.

Suga
Suga also got his start in the underground rap scene and is especially well known for his rhyme speed.

J-Hope
J-Hope initially focused on dancing, but since joining the group, he's begun rapping and songwriting too.

Jimin
Having formerly attended art school to focus on modern dance, Jimin is considered by many to be the best dancer in the group. He's also the lead vocalist, or the best singer in the group aside from the main vocalist.

Jin
Known by his fans as "Worldwide Handsome," Jin is a sub-vocalist (or supportive vocalist).

V
Another one of the group's sub-vocalists, V is renowned for his smooth voice.

Jungkook
The "Maknae," or youngest member of the group, Jungkook is the main vocalist (best vocalist) and a constant presence onstage.
Choreography
Dancing is a huge part of K-Pop. The groups perform stylized dance routines in both their music videos and live performances. In fact, the dance routines are so important that groups like BTS oftentimes release "dance practice" videos so fans can watch their rehearsals.
Here's BTS's dance practice video for their hit song "IDOL."
[CHOREOGRAPHY] BTS (방탄소년단) 'IDOL' Dance Practicewww.youtube.com
As you can tell, the dance routines are fast, technical, and high-energy. Unlike a lot of Western boy bands, dancing isn't a secondary or tertiary concern. To pull off routines like these, K-Pop groups like BTS need to be at the top of their physical game.

Aesthetics
K-Pop is, above all else, an aesthetic art form. Music videos tend to be incredibly colorful and, artists are known for frequently changing their styles and outfits, allowing them to popularize new looks and fashions.
For instance, in their "Blood Sweat" music video, BTS donned fancy jackets and ascots, along with platinum blonde hair.
Then in "Fake Love," they adopted an artsy street punk vibe with lots of torn denim.
Finally, "Idol" shows an entirely fresh aesthetic with loud, bright suits and full bright hair to match.

The aesthetic choices translate throughout entire music videos, making each song look and feel incredibly distinct.
The Music
We can talk about K-Pop music all day, but there's no better way to learn about it than to experience it for yourself. At this point, you're familiar with BTS, and you've seen the dance practice and aesthetics behind "Idol." So let's see how it all comes together.
BTS (방탄소년단) 'IDOL' Official MVwww.youtube.com
As we said, words can't adequately prepare you for that―all the costumes, set changes, dance sequences, and energy pulsating throughout the video. It's not just great to listen to. It's great to watch. K-Pop is a full-on sensory experience. The craziest part is that each song offers something unique.

Other Groups to Watch
As amazing as BTS is, they're not the only K-Pop band. The genre has lots of other great acts too, so let's check a few of them out.
BLACKPINK
BLACKPINK - '뚜두뚜두 (DDU-DU DDU-DU)' M/Vwww.youtube.com
The 4-woman girl group, BLACKPINK, is currently one of the biggest names in K-Pop. The music video for their hit song, "DDU-DU DDU-DU," provides a great example of elaborate set pieces, fashionable outfits, catchy music, and fun dance segments.

BIGBANG
BIGBANG - FANTASTIC BABY M/Vwww.youtube.com
One of the most influential boy bands in K-Pop, BIGBANG's 2012 hit "FANTASTIC BABY" received unprecedented international airplay and is largely responsible for the genre's international spread. Its EDM style was considered groundbreaking at the time it came out and the hook―"Fantastic baby"―is arguably the most famous line of English in a K-Pop song.

TWICE
TWICE "LIKEY" M/Vwww.youtube.com
On the more poppy side of K-pop, Twice's "Likey" is the pinnacle of the cutesy girl group aesthetic famous in Korea. The bright colors and high school setting do a great job appealing to the target demographic of teens and young adults. And the focus on fashion and makeup connect exceptionally well with female fans.
Conclusion
K-Pop has a diverse, exciting, stylish culture full of diehard fans and groundbreaking music. Now that you've been introduced, we hope you'll enjoy the multitude of great songs the genre has to offer. But even if you don't like the music, here's something everyone can appreciate.
BTS's Jungkook is the most adorable human to ever live and is basically an anthropomorphic bunny rabbit. If that's not enough to make you love K-Pop, we don't know what is.

---
Dan Kahan is a writer & screenwriter from Brooklyn, usually rocking a man bun. Find more at dankahanwriter.com
---
POP⚡DUST | Read More...

Down the Rabbit Hole: Exploring Weird YouTube
Fetishizing Autism: Representation in Hollywood