TV News
The "Captain Marvel" Backlash Isn't Sexist—That's Just the Internet
Brie Larson said she works with "overwhelmingly white males," but everything's fine and probably no one's mad.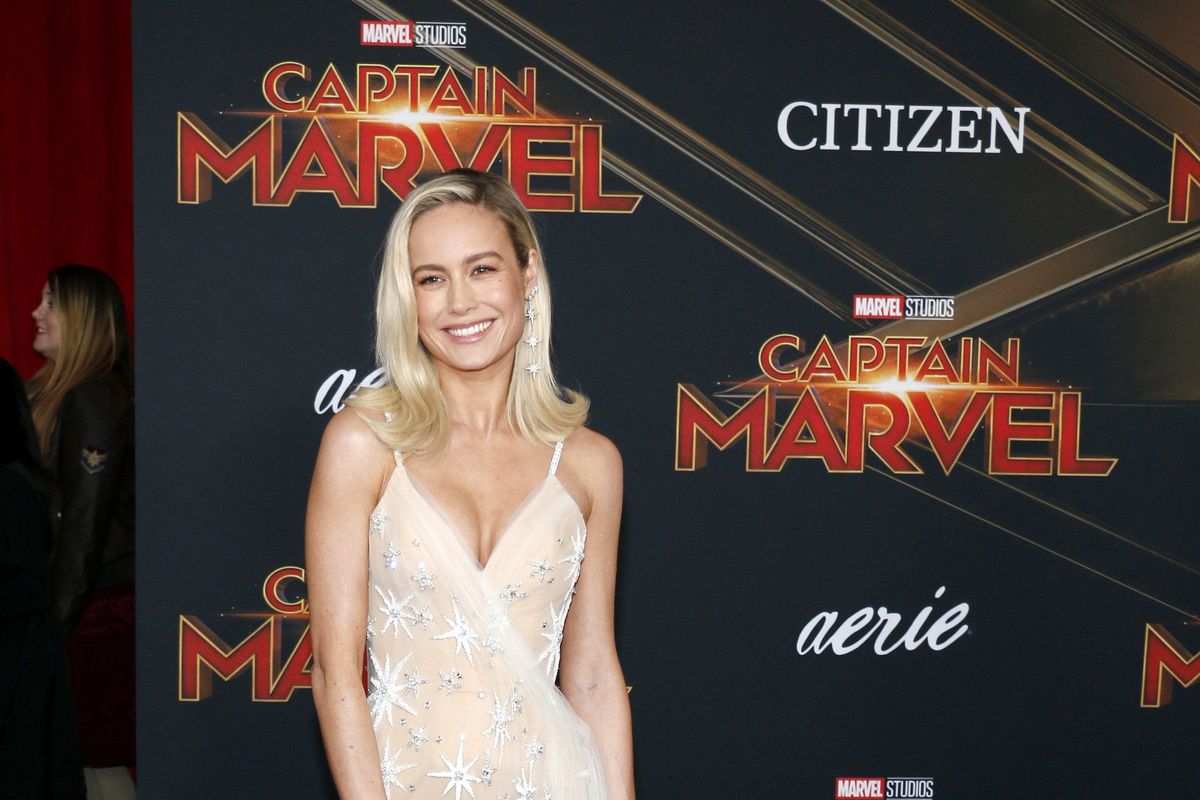 Photo by Tinseltown (Shutterstock)
Brie Larson is no one's "social justice warrior," but try telling that to the irate Captain Marvel reviewers on Rotten Tomatoes.
---
In an interview with Marie Claire, the Oscar-winning actress criticized the number of male journalists interviewing her for the movie's press junkets. In response, the still unreleased film's rating on Rotten Tomatoes plummeted from 97% to 53%. Captain Marvel doesn't debut until March 8, but the intense backlash against Larson's comments on the "overwhelmingly white male" press coverage suggests that an outspoken female superhero is still a challenging concept for many.

Rotten Tomatoes

Rotten Tomatoes
Larson's high-profile role as Carol Danvers drew the 29-year-old's attention to the demographics of the journalists interviewing her. She noted the lack of female or disabled participants and made a point to speak to members of those communities about why that could be so: "[I]t sounded like across the board they weren't getting the same opportunities as others. When I talked to the facilities that weren't providing it, they all had different excuses." Larson added, "I want to go out of my way to connect the dots. It just took me using the power that I've been given now as Captain Marvel. [The role] comes with all these privileges and powers that make me feel uncomfortable because I don't really need them." The actress affirmed that "moving forward, I decided to make sure my press days were more inclusive."

In response, a notable amount of the film's online buzz turned negative due to mostly male commenters panning the movie based solely on Larson's comments and her perceived "social justice warrior" agenda. Offended commenters ranged from "Kevin H" saying, "Brie Larson has already said this isn't for me. I'll spend my money elsewhere" to "Private U's" super casual brush off mixed with a humble brag, "Movie looks boring and I'm tired if[sic] the identity politics. I was offered a free screening (1st time for a Marvel Movie), but I turned it down."

Rotten Tomatoes

Rotten Tomatoes
During her latest press rounds, Larson took a moment to clarify her remarks in light of the many men interpreting them to mean that they weren't welcome to watch the movie. She reiterated that her point was based on inclusion, not the exclusion of any community: "What I'm looking for is to bring more seats up to the table. No one is getting their chair taken away. There's not less seats at the table, there's just more seats at the table."

Of course, angry comments on Rotten Tomatoes have roughly the same cultural impact as rants on Reddit. Previously, the backlash against Rogue One for introducing a female hero and against Black Panther for its all-black cast didn't impede the former from becoming the third highest-grossing Stars Wars film or the latter from becoming the third-biggest movie in US box office history. On Friday, Captain Marvel surpassed Aquaman and Wonder Woman in advance ticket sales, becoming the second-biggest MCU film in pre-sales. The movie's expected to earn upwards of $100 million in its opening weekend, with some analysts predicting more than $120 million.

Rotten Tomatoes

Rotten Tomatoes
The Guardian denounced the "sexist attempts at sabotage," mocking the reviewers' indignation: "[Captain Marvel], to the average 'men's rights' advocate, is a concept of irredeemable outlandishness. For Danvers is a slender, sylph-like female in a natty 80s-inspired suit, while Thanos is a great, hulking, purple, musclebound male. Never mind that both are completely fictional with superpowers, the problem here is that (gritted teeth, bulging forehead vein) GIRLS WILL NEVER BE STRONGER THAN BOYS. OK?!?!?!?!?"

But with a whopping two female superheroes featured in their own Marvel and DC movies these days, maybe the Internet has no qualms with Brie Larson advocating for women and the disabled community. Maybe they're making fair, rational points. Maybe the Internet isn't sexist anymore! Let's give these commenters a chance:
1.

Rotten Tomatoes
Drew seems excited about the movie. Good for Drew!

2.

Rotten Tomatoes
To be fair, David might not have a problem with Brie Larson; he could just have a problem with Drew.

3.

Rotten Tomatoes
With a U.S. president abusing his powers to declare a national emergency, this political statement is sorely needed, Ondrej.
4.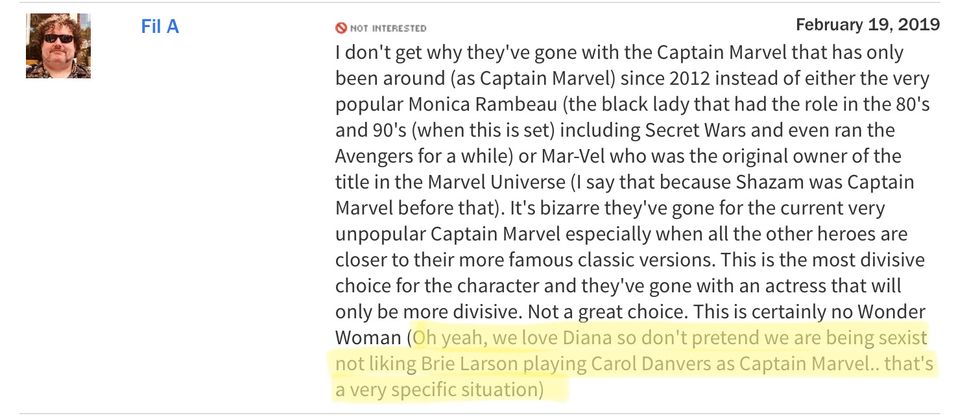 Rotten Tomatoes
We believe you, Fil. Why else would you pen such a detailed review for a movie that hasn't come out yet?


5. And the ultimate burn:

Rotten Tomatoes
But then we have this hero, which is redefined in the Internet age as someone with a measured, even opinion and whose emotional investment is proportional to the topic at hand.

Rotten Tomatoes
Until you can actually find out if Captain Marvel is any good on March 8, burn some time by scouring the internet for more heroes like Cory R.
POP⚡DUST | Read More...

Fandom for the Faithless: How Pop Culture Is Replacing Religion
Nazi-Chic: The Aesthetics of Fascism
Is Pete Davidson "Ugly Hot" Enough to Be the Next Steve Buscemi?