Music Features
The rapper recently endorsed her fellow Bronx native, Alexandria Ocasio-Cortez, for president in the 2024 election.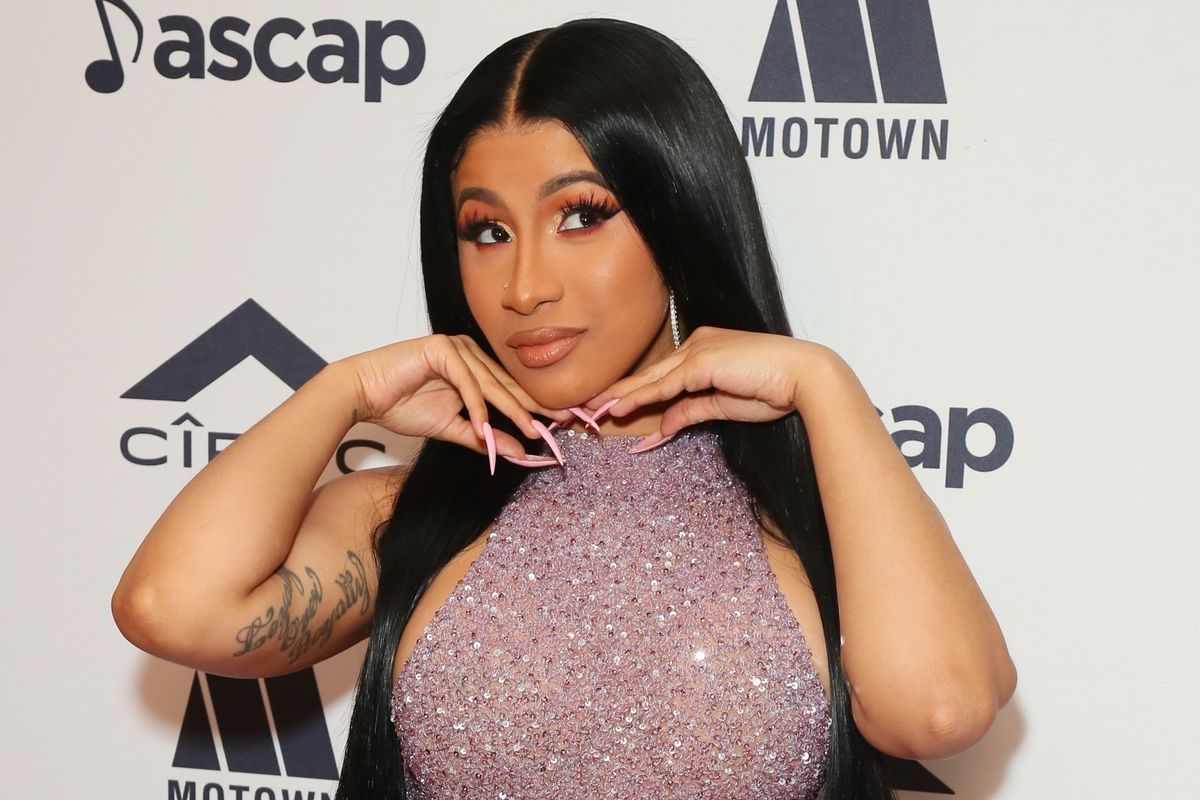 As if becoming a massive, record-breaking hip-hop star in three short years wasn't enough on her resume, Cardi B has become somewhat of a spokesperson for progressive politics.
The Bronx rapper has hardly spent a second out of the public eye since entering the universe's collective consciousness with "Bodak Yellow" back in 2017. But in spite of naysayers speculating that she might be a one-hit wonder, Cardi has gone on to rack up a total of four number one hits ("WAP" among them) and a No. 1 debut album, all while juggling new motherhood, constant scrutinization over her marriage to Offset, and an ongoing beef with Nicki Minaj.
But even in the midst of this insanity, Cardi has found the time to get involved in a cause bigger than herself: politics, featuring her leftist heroes in Bernie Sanders and Alexandria Ocasio-Cortez.
---
Cardi has denounced Trump for years, and she's been vocal about her support for Sanders since 2016, demanding her fans from her Love and Hip-Hop days vote for "Daddy Bernie." At the time, Sanders didn't know who Cardi was, which is perhaps expected of any old white man running for office.
Who remembers when @iamcardib endorsed Bernie Sanders for president? #DaddyBernie https://t.co/0GaJzsr8cM

— Waleed Shahid (@Waleed Shahid) 1524065710.0
Cardi spoke more about her interest in government and politics in a 2018 interview with GQ: "I love political science. I love government. I'm obsessed with presidents. I'm obsessed to know how the system works," she said, detailing her love for Franklin D. Roosevelt. "He helped us get over the Depression, all while he was in a wheelchair. Like, this man was suffering from polio at the time of his presidency, and yet all he was worried about was trying to make America great—make America great again for real. He's the real 'Make America Great Again,' because if it wasn't for him, old people wouldn't even get Social Security."
Much to the chagrin of young conservatives like Tomi Lahren, Cardi can rattle off facts about former presidents and their platforms better than most current U.S. history students. And after the GQ story ran, in a delightful twist of events, her quote about FDR came to the attention of Sanders, who promptly agreed with her in a short video: "Cardi B is right."
Thanks to @iamcardib for calling attention to the importance of Social Security. https://t.co/bJdt9Oxzzf

— Bernie Sanders (@Bernie Sanders) 1524078606.0
Thus began the unlikely companionship between Bernie Sanders and Cardi B, two of the most influential living people in their respective fields. According to Sanders' staffers, the senator is impressed with Cardi's drive to push her majority-young audience to vote. Since then, the pair have spoken over the phone, chatted in a nail salon, and discussed the impact of the pandemic over Instagram Live.
Bernie x Cardi B www.youtube.com
But even with Vermont's greatest out of the 2020 presidential election, Cardi isn't wasting the opportunity to keep advocating for her favorite politicians. In fact, she already has her choice selected for the 2024 presidential election: Congresswoman Alexandria Ocasio-Cortez.

AOC recently took to Instagram to share information about her personal experience with health care, specifically dental insurance. Flaunting her pearly whites, she set the video to "Bodak Yellow," utilizing the perfectly opportune lyric: "Got a bag and fixed my teeth." Cardi's response to her fellow Bronx native: "She better run for president when she turns 35." As it turns out, the 2024 election will take place right after AOC's 35th birthday.
But Cardi isn't just rubbing elbows with progressive politicians: She's making requests directly to presumptive Democratic nominee Joe Biden himself. In a virtual conversation for Elle, Cardi candidly told Biden what she'd like to see from a Biden/Harris administration.

"What I want is free Medicare," Cardi told Biden. "It's important to have free [healthcare] because look what is happening right now. Of course, I think we need free college. And I want Black people to stop getting killed and no justice for it. I'm tired of it. I'm sick of it. I just want laws that are fair to Black citizens and that are fair for cops, too. If you kill somebody who doesn't have a weapon on them, you go to jail. You know what? If I kill somebody, I've got to go to jail. You gotta go to jail, too. That's what I want."
Trusting in wealthy, high-profile celebrities is rarely the best solution for a country's problems—it is how we got our current leader, after all. But while many of our current elected officials have failed us, it's reassuring to know that powerful celebrities like Cardi B are using their platform for the greater good of regular people.
From Your Site Articles
Related Articles Around the Web