MUSIC
"I want to feel like how we think we felt when we were younger. That's the kind of energy I want to bring to the now, the present."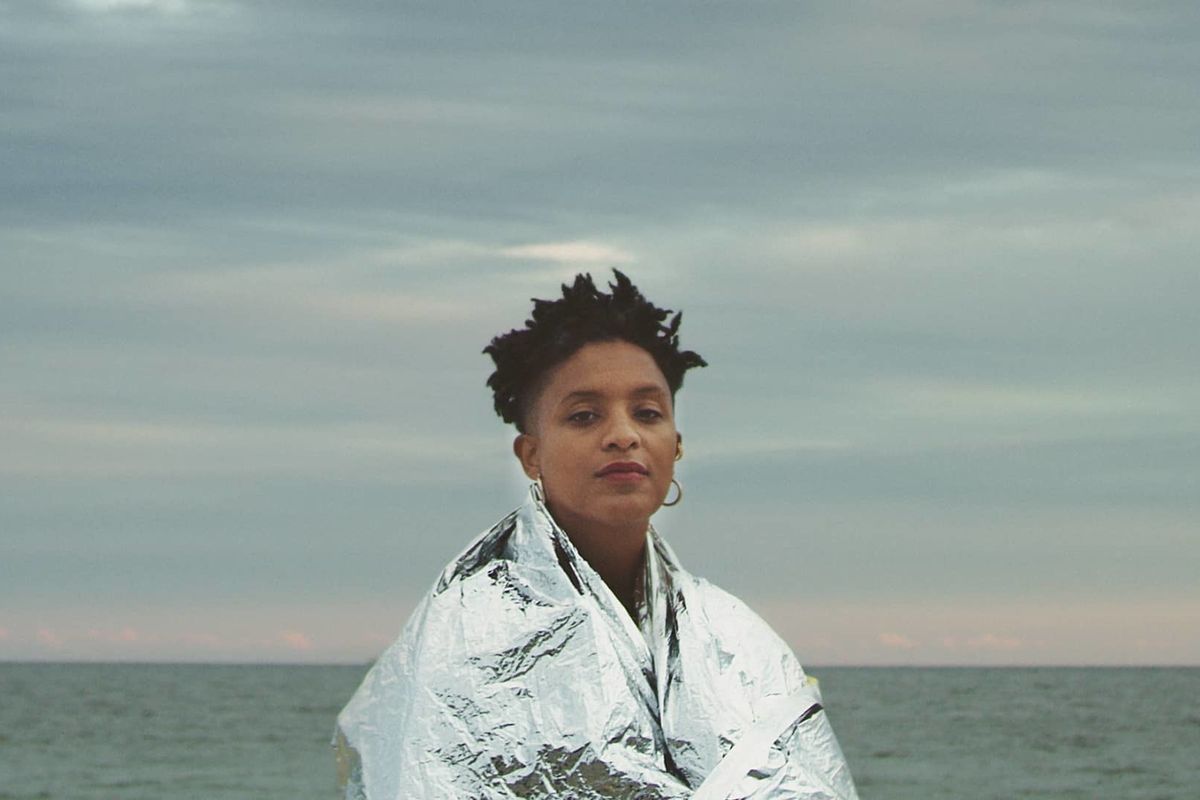 The sound of Denitia's Touch of the Sky is how walking by the ocean feels.
Listening through, you get a sense of vastness, a kind of vertigo at the sight of the unending horizon, and an appreciation for a network of things much vaster than yourself. Though the waves of sound can grow ragged and powerful, there's a sense of underlying peace, a transcendence to be found in the cyclicality of the ebb and flow.
It makes sense that the album was born in the Rockaways, the New York peninsula that most city-dwellers only know as the end of the A line. Denitia moved there to escape the city's congestion; from there, something opened up and she began to reflect on the structures that underlie our visible reality.
What arose from those meditative sessions by the beach is Touch of the Sky, a masterful album that fuses glossy electronica with glitchy guitar and smooth vocal lines. It's composed of rich images and sounds—tides of psychedelic synths tangle with muted house rhythms; guitar lines dance like fractals of sunlight over a roof in the early morning. It's fractured and cohesive, awake yet relaxed, the product of an artist fully coming into her own and communing with some sublime creative force.
We spoke with Denitia about finding peace in the city, finding nostalgia for the present, and what it means to dream.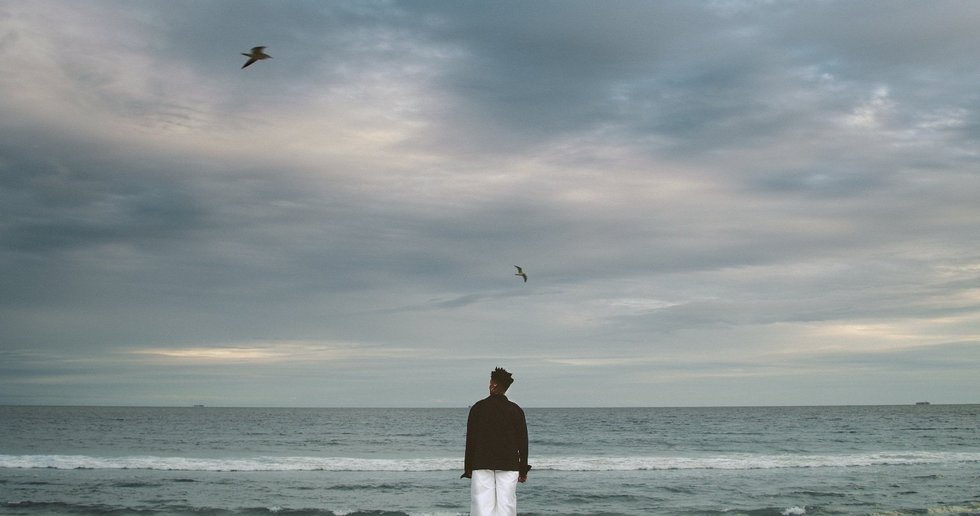 You produce all of your own work. How did you get started with producing, and how does it influence your work?
I basically played everything, wrote everything, and arranged it all, which is something I've been wanting to do for a while. I've known for a while that I could do it. I had this vision for my sound, and there was always something I felt was missing, and I think I needed to make my own work and start fresh. I really just needed to make this record for myself and express myself with every layer.
I got into production five years ago or something, when I moved into this artist house in Brooklyn and there were a lot of people living there at the time. We had this studio, and a lot of amazing artists lived there. That's when I really started to get into self-production and recording.
You mentioned this record felt different from your past ones, in that you were able to talk about things you haven't before. How was it a fresh start for you, either musically or in another way?
I started out playing guitar and writing songs, and then I got super into electro-pop and electronic music, and I put the guitar down for a while. It's cool because I've gone full circle and picked the guitar back up on this record. I was able to hear guitar textures in the way I'd always wanted to hear them.
Your sound is so vivid and full of imagery. I've read a bit about you doing production out on the Rockaways and I was wondering how that influenced the record, and what other places or images went into inspiring the record?
That's also one of the reasons why I've been thinking of this music as cinematic. I worked in the Rockaways in this bedroom studio, and my room was next to this huge deck and big windows, so every day I'd open my eyes and see this wide open, gorgeous sky. And I'd look around the corner at the ocean, and the ocean just represents infinite possibilities to me.
So much of our bodies are water, so much of this planet is water, and I felt this traction with infinity and the depth of that body of water, so much that it made me feel like anything is possible and it made me feel free. Visually, the ocean and the wide open sky over the ocean has everything to do with the sound of this music. It's in me now.
I moved back to Brooklyn a couple of months ago, but I can still feel how integral that experience was to unlocking who I am. Moving out there at that time in my life when I felt like things were tumultuous and crazy and jumbled helped me return to myself and my purpose, which I feel is making beautiful music that moves people and allows them to feel.
That's definitely a tension I think a lot of people—New Yorkers or anyone—can relate to: wanting to be in the rush of the city and wanting to find space to reflect. How are you finding the move back?
I love New York City. I'll always love this place. From the first time I came here when I was twelve years old, I just felt like I belonged here. I feel like I can be myself here, and I feel free. Something about the kinetic energy just feels inspiring.
But you can go to the extreme, you know, so since moving back to Brooklyn—it's important for me to take walks and have quiet time and not to over-commit like a crazy person to different things. There's a lot of stuff I say no to. I say no to chaos, I say no to nonsense. I just like to keep my life chill and focused. I just want to be connected to my purpose, spend time with my girlfriend and my purpose and, like, call my mom.
A few years ago I stopped drinking, which put me in this whole space in my mind. I get up really early in the morning now, and that's where I find my quiet, meditative time. It's really about balance and quality of life. I think that can be achieved in the city, still, if you really work on it.
So what's coming next, and what do you have on the radar?
I'm gonna dig deeper. This music is very visual to me, so I'm gonna dig deeper into making more filmic visuals to accompany the music and really put on my art director hat.
I'm never stopping making music. I'm a creative person, that's when I'm at my best, so I'm just gonna keep working on music and fleshing out the album in a visual way.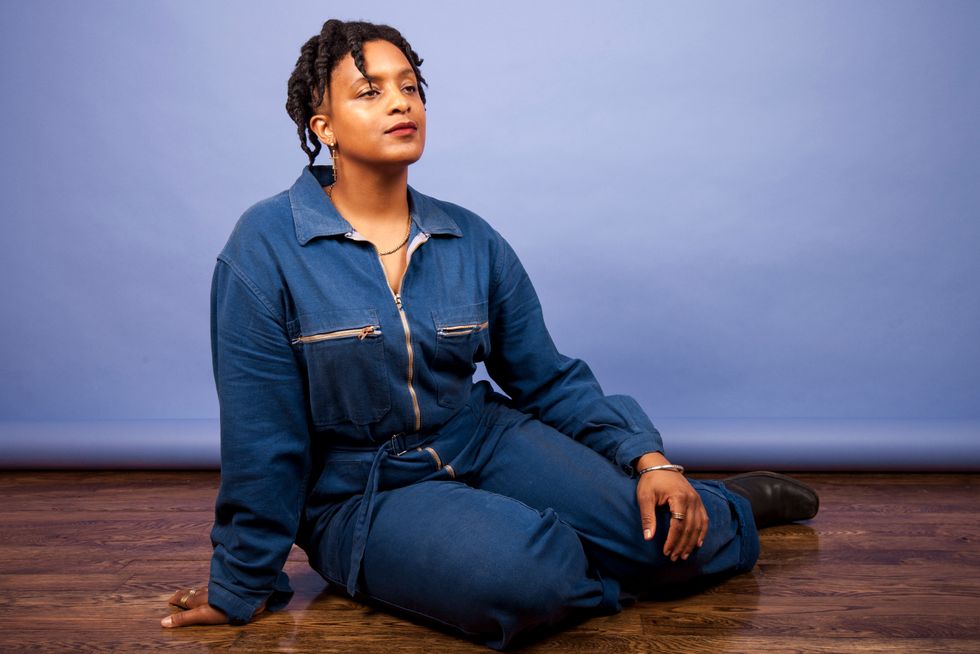 Kelly De Geer
All the songs are so unique, and I was wondering if there are any stories about any of them you'd be interested in sharing.
For the song "23," the first song on the album, I was getting up every day at like 6AM… I had an endorsement for this livestream app, and I'd get up and livestream me making tracks, and one day I grabbed some drums that I had been working with and started building this track. The words "23" came to me, and I was like "What about 23? I want to feel like we were 23, I want to be as free as we seemed."
I started thinking about being a young person fresh out of college. I was living in Nashville, I had this apartment that was on the tenth floor… As we get older, I think there's this romanticizing of the past, like oh my god what if we could just be 21 again or 23 again. So I started to unpack that illusion of nostalgia.
When I was 23, I was f*cked up. I was worried about what I was gonna do with my life; I was in crazy relationships that were non-reciprocal. I was anxious about everything. That song plays with that idea, well I want to be as free as we seemed we were. I want to feel like how we think we felt when we were younger. That's the kind of energy I want to bring to the now, the present.
I think often there is this idealization of youth or just other places or other ages, so it's cool to think how can we use that in the moment.
You released a video alongside your album. What was the inspiration for that?
I met Hugo Ferrocko, the director, when I opened for a premier of a movie he worked on. We hit it off, and when we got together, he was like, I love your music, let's make something… We had this idea to make something that was documentary, part music video—something that starts to unpack some of the themes of this record, which are love and the power of love, identity, consciousness, awakening—and surround it with the beauty of the Rockaways.
Hugo came to me with that treatment after we had that conversation, and I was just blown away. He's a visionary filmmaker. I'm really glad to have had the chance to work with him; he's gonna have an incredible future making things.
Denitia - Touch of the Sky (Short Film) www.youtube.com
You mentioned themes of consciousness and awakening, which are kind of loaded terms, and I'm wondering how you feel like those play out on the album?
I hope this always happens to me in life, but when I pulled out of Brooklyn and went to the Rockaways and when I was writing the album, I felt like I was going through this other level of awareness. Inevitably there was a slowing down, and that led to a lot of reflection and looking around and asking, What is my place in this world, and how do I fit here, and what are we doing?
It was less of a conscious thing; I was just musing and looking around in the world.
On the track "Touch of the Sky," I was thinking about how in black neighborhoods, there are cops everywhere, and it's infuriating. I was hearing so much about black people dying wrongfully at the cops' hands, and I was thinking about how sometimes we wait until people die to lift them up and to lift up their spirits, to focus on them and give them their flowers, so to speak.
That song was written in stream-of-consciousness, when I was thinking, I want to be lifted up now. I want us to have an anthem about being lifted up now, and getting this touch of the sky now. Let's fly now, while we're still alive. Let's raise each other up now.
I'd never really written about anything like that before, and, even so, it's pretty abstract, but I feel like it's another step in my reaching this awareness in thinking about the world around me.
I think consciousness plays out in a lot of different ways in the record. I talk a lot in the record about dreams being essential. In the end of "Touch of the Sky," there's this poem that goes, half my life's been spent dreaming. That's about the power of dreams in marginalized communities and among people who are struggling. Dreams are essential for us. Of course I'm going to be dreaming. My reality is not what it should be, so the dreaming is essential to push me forward into the life that I want.