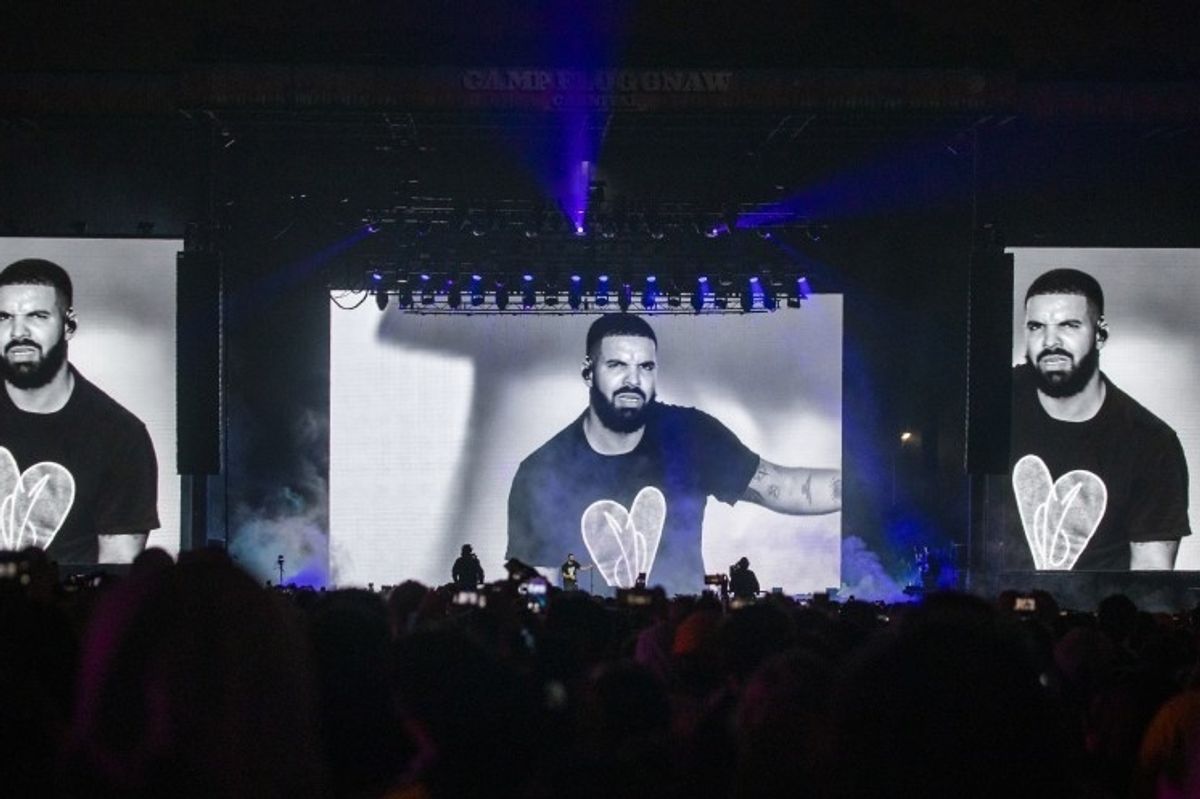 Allen J. Schaben/Los Angeles Times
It's hard for anyone to match the star power of Frank Ocean—even Drake.
When Tyler, the Creator promised a surprise headliner Sunday night at Camp Flog Gnaw, rumors spread that Ocean would take the stage. But when it was time to reveal the guest of honor, Drake appeared, and was promptly welcomed by a sea of boos and chants of "We want Frank." "If you want to keep going, I will keep going tonight," Drake said about 20 minutes into his performance, although the majority of the crowd was dismissive. "I love y'all. I go by the name of Drake. Thank y'all for having me," he said as he exited, clearly dejected.
Camp Flog Gnaw boo'd Drake off the stage 🤯🤯🤯😳 https://t.co/zPxdNKCTUw

— VERSACEBOYENT (@VERSACEBOYENT) 1573454936.0
What does it mean for the state of music fandom today that Drake, inarguably one of the decade's most successful artists, can get booed off stage at a hip-hop festival? Have listeners grown bored and underwhelmed by Drizzy in the same way Kanye West's most recent projects have failed to pique lasting general interest? Of course, Drake and West differ in many ways—one is considerably more problematic—but their places in the rap canon also boast a few parallels: Both grew massively popular on similar timelines, and it's safe to say the peaks of both of their careers have come and gone. In terms of hip-hop, younger fans tend to turn to artists like Tyler, the Creator, Frank Ocean, and even Brockhampton—artists who, like pop experimentalist Charli XCX, exist in the overlap between mainstream popularity and left-field stylistic approaches.

It makes sense that, especially at a festival so integral to Tyler, the Creator's personal brand of alternative rap, fans would plead for Ocean over Drake. Even in his notably reclusive fame, Ocean still maintains a degree of relatability that Drake's stardom has stripped him of. Another factor is how often Ocean performs (or, rather, how rarely he does); name a festival, and Drake has likely headlined it before, while Ocean has become somewhat infamous for cancelling tours and festival appearances.
So, was the crowd at Camp Flog Gnaw overly optimistic for expecting Sunday night to bring a long-awaited appearance from the mastermind behind Blonde? Absolutely. But the fact that the crowd booed the holder of nearly every record on the Billboard Hot 100 speaks to just how distant Drake has grown from the next iteration of rap fandom.