MUSIC
Art/Pop Duo Spiritually Aligned with Enya.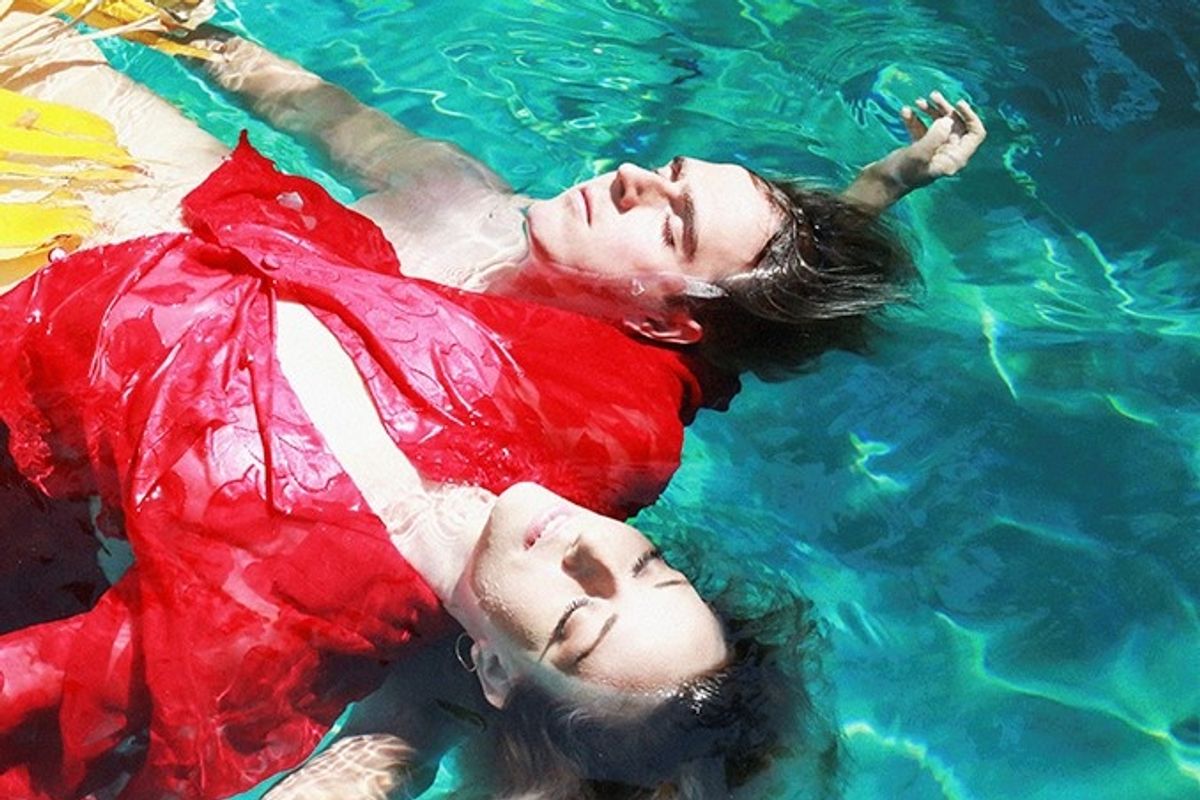 Photo Courtesy gv.grace
Meet gv.grace, a synth-pop band based in Los Angeles.
A duo, gv.grace, is made up of Genevieve Dymond and Griff Dymond. Before relocating to Los Angeles, Genevieve and Griff were part of two bands in Denver - Paper Bird, an indie-folk orchestra, and Inner Oceans, an art-rock project. Inner Oceans will be releasing new music soon. Earlier this year, gv.grace dropped their tantalizing Heaven Mouth EP.
Their new music video, "F**K Golf," directed by Elise Mesner, along with Michael Atallah, is scrumptiously spicy, sardonic, and tongue in cheek. It's one of the most creative and innovative videos in a long, long time.
---
How would you describe yourself?
We're a synth-heavy art/pop duo spiritually aligned with Enya.
What is the most trouble you've ever gotten into?
I'm more proud of what I've done without getting caught…
What's your favorite song to belt out in the car or the shower?
"All I Do," by Stevie Wonder.
Who is your favorite music artist?
Way, way too many, but I've been obsessed with Jai Paul's demos since they came out in 2012. It hasn't lost its luster or loosened its grip in six years.
How did you get started in music? What's the backstory there?
Music was a tremendous presence in my childhood.My dad used to work for Quincy Jones so there was a heavy focus on the soul in music but respect for production too.
What musicians influenced you the most?
Bill Withers, Prince, Caribou, Cocteau Twins, Air.
How, if at all, do your musical influences shape and impact your music?

Griff and I are both songwriters at our core. There are producers and sounds that have influenced us deeply but nothing competes with a truly great song. My favorite artists taught me that.
Your music is billed as synth-pop. How would you describe your sound?
Sonically, yes, we're synthpop or artpop. Griff's beats have a 3D quality that draws you in and places you into a world. It's dance music but headphone music too.
What's the story behind your name, gv.grace?
Pretty simple, my name is Genevieve Grace so we just shortened it.
What inspired your new song "F**k Golf?"
The "Revisionist History" podcast by Malcolm Gladwell! There's an episode about private golf courses in Los Angeles. He breaks down the entire system of tax evasion and political corruption that results in country clubs being subsidized for the rich. It really pissed me off but it also became this perfect metaphor for the elite status quo and privilege and institutionalized racism. I wanted to write a protest song but from the perspective of the perpetrator.
The music video for "F**k Golf" is hecka provocative, stylish, and off-the-chain excellent. Who came up with video's concept? Who directed it?
Elise Mesner did both!! She's absolutely incredible. Uniquely talented in every way, we were so lucky to have her treatment and eye on this.
I have to ask this question: Whose idea was it to use astro-turf as costumes, along with stuffing strategically placed grass clippings in your bikini bottom?
Again Elise!! We had rolls of astro-turf but we didn't know where to find grass, and in the middle of a shoot, Elise saw her neighbor moving his lawn. I still remember the look of pure joy on her face when she came running back with two bags of grass.
Prior to becoming gv.grace, you both were with bands in Denver. Did playing with those bands influence your present sound, or did you consciously take off in a new direction?
Paper Bird was a huge chapter of my life. Musically, I wanted to pursue a different genre with gv.grace but what I learned in eight years of touring and record cycles absolutely informs the choices I make in this project. Griff's project, Inner Oceans, is still around and will be releasing music in the coming year!
What's the major difference between the music scenes in Denver and L.A.?
Denver was an amazing community to explore and grow and experiment. In L.A. there's a much larger focus on whole package. You have to really have your shit together from image to infrastructure. I feel like I'm in business school out here.
What's next for gv.grace musically? Maybe an album, or an EP?
We are cooking up a new batch of songs for an EP, possibly an album. We'll keep releasing singles through the fall and winter.
Will you be doing any touring?
YES! Earliest will be winter but definitely by spring we'll be hopping in the van.
---
POP⚡DUST | Read More...
RISING STAR | Alberta Drops Buff New Single, 'Jay Walk'n'
Water and Man Release 'Phantasie'