MUSIC
Chic Electro-Pop Fused with New Wave Energy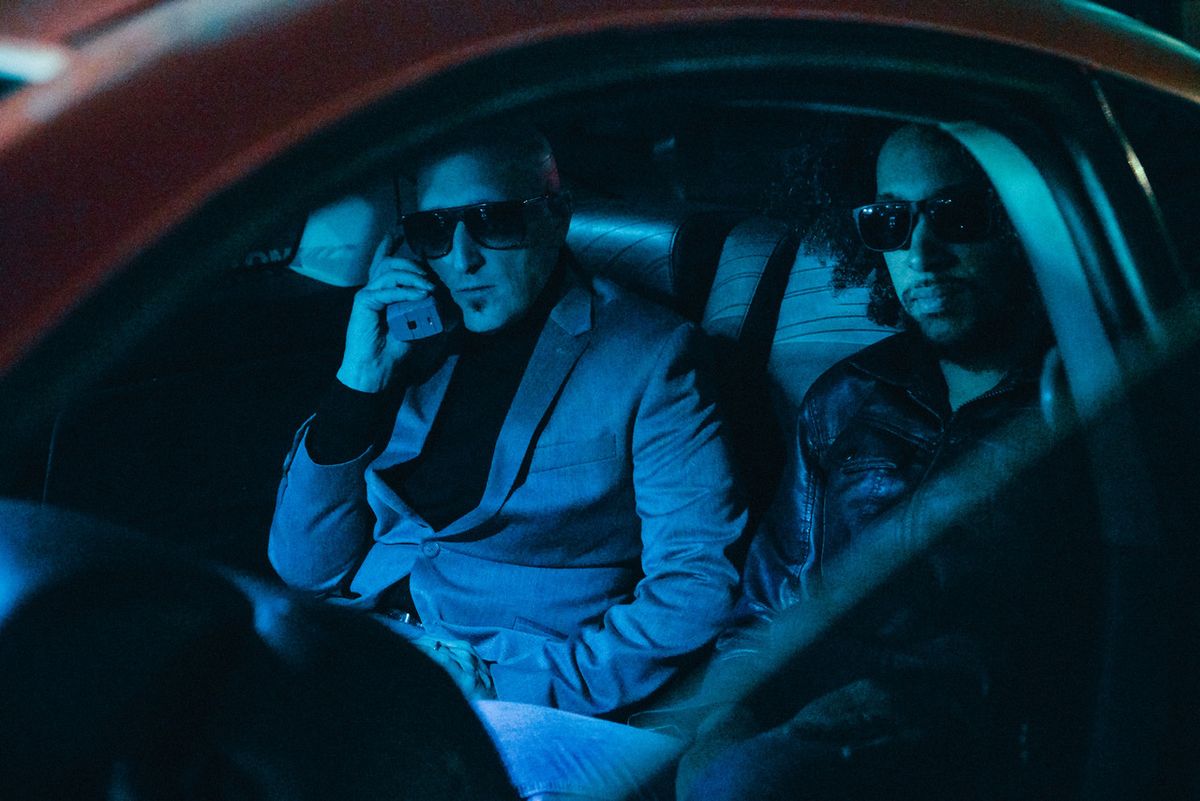 Photo Credit: Amani Willett
NYC-based electro-pop duo Nightcaller dropped a new music video just a minute ago.
It's called "Shut Up," and features Imani Coppola. The song is from the duo's forthcoming album Halcyon Daze, slated to drop September 14.
Nightcaller is the offspring of Evan Patrick (guitar) and Howard Alper (drums), who first encountered each other while auditioning for the backing band of Kelis. Even though neither got the gig, the two musicians relished playing together and began swapping music from their home studios.
One thing led to another, and before long the duo was in The Glass Wall Studios, working with producer Joshua Valleau, who slotted in instrumentation and recorded the vocalists. The last step was mixing, handled by Patrick.
According to Imani Coppola, "Shut Up" is about "quieting the destructive inner dialogue," i.e. the impediments hindering inspiration. The video, directed by Patrick, translates the creative struggle by means of visual images overlaying stills of Coppola as she searches for her muse, while instructing the impediments to "shut up."

Comprising eight tracks, the outstanding tracks on Halcyon Daze include "Data Is Power," "Mysterious Skin," and "Sugar." Although, frankly, all the tracks radiate lush creativity and an innovative sound both contagious and alluring.
"Shut Up" opens with a tight and potent groove seguing to an infectious electro-pop tune full of sinewy, compact, dirty guitars and quasi-industrial galvanizing colors from the synths. The bridge intensifies the harmonic energy as the music ramps up to galloping momentum on the chorus. A phantasmagoric break replaces the instrumental solo with rumbling drums, swirling synths, and resonant vocal effects.
Coppola's voice emanates gorgeously dazzling actinic tones, electrifying and brimming with wickedly delectable auras of sonic flair. It's one of those voices just about right, always, plush yet buff with bracing texture.
"Shut Up" is cool and stylish, with tasty filaments of new wave dynamism running through it. Nightcaller categorically has next up.
---
Randy Radic is a Left Coast author and writer. Author of numerous true crime books written under the pen-name of John Lee Brook. Former music contributor at Huff Post.
---
POP⚡DUST | Read More...
MUSIC | Leland and The Silver Wells
Water and Man Release 'Phantasie'
INTERVIEW | SPiN – The Band That Never Stops Rocking
Related Articles Around the Web