MUSIC
Interview | The Huntertones
Members of the band talk about their latest album.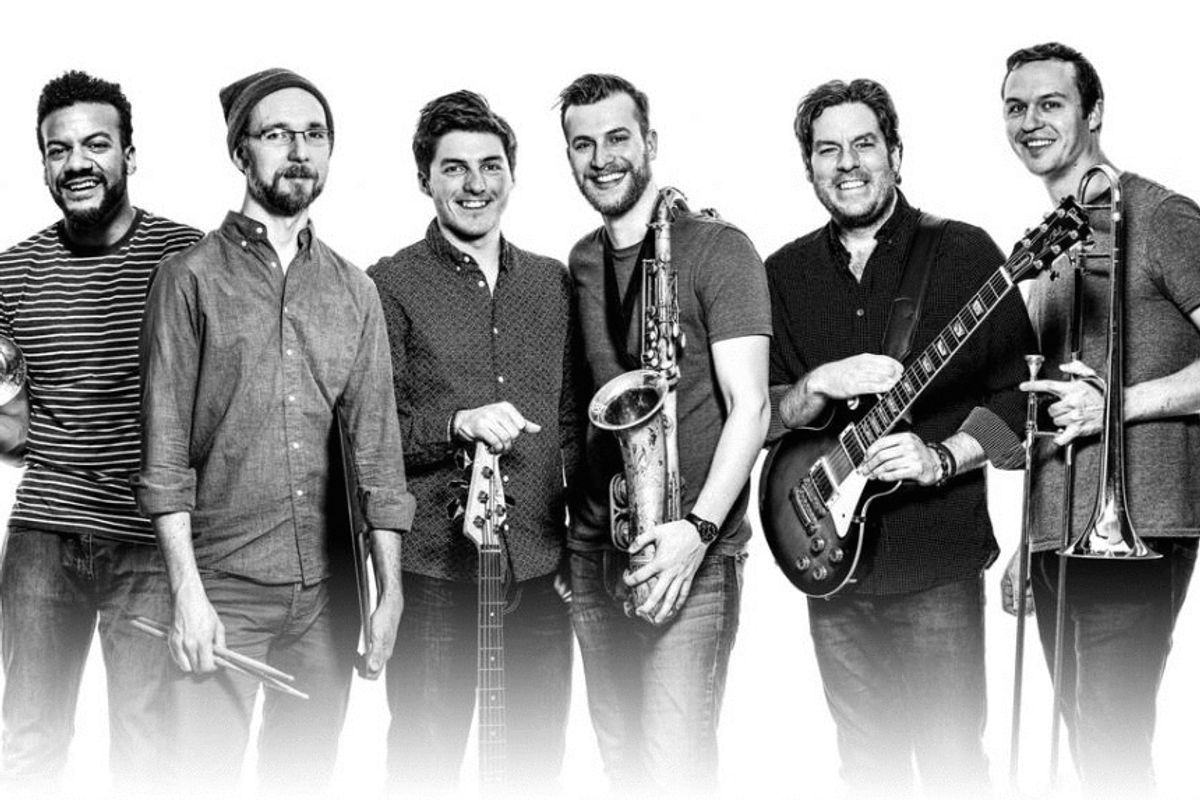 jazzinjune.org
"At the end of the day, good music resonates with people regardless of the instrumentation."
The Huntertones — a seven-piece instrumentalist band based in Brooklyn — have made a splash with their viral tribute video to Michael Jackson. But the group isn't just about covers, they offer fans original music, too. Their recently released studio album, Passport, features a selection of songs that draws on inspiration from their travels all over the globe. The band is taking their show on the road soon, touring North America with shows in the US and Canada.
Members of the band spoke with Popdust about their upcoming projects, the album-producing process, and more.

Your band made a big splash on the scene last year when you filmed a tribute video to Michael Jackson. How did that decision come to pass? What other artists have impacted your music?
Jon Lampley: We'd already been experimenting with covering different types of songs in that trio format. The songs we decide to play are based on artists that have influenced us as musicians and created music that we love. Michael is one of our favorites and he has so much timeless music from every era of his career, so we tried to fit as much as we could into the arrangement and make it feel smooth. We were all surprised with how well the video did!
The list of artists that inspire us is a ridiculously long one. Here are a few that have influenced us as a band as well as individuals: Louis Armstrong, Art Blakey and the Jazz Messengers, Oscar Peterson, Herbie Hancock, Frank Zappa, Led Zeppelin, Weather Report, Stevie Wonder, Dave Matthews Band, D'Angelo, A Tribe Called Quest, Snarky Puppy
What do you think about the current instrumental music scene? Why don't you think the genre is more popular?

Dan White: I think there are a lot of people who dig music without vocals. It's an uphill battle in the US though. The way we think about it is, if you take away something from the music like the lyrics and a vocalist, then you have to make up for it in another creative way. As instrumentalists, we think of music differently and love to collaborate with vocalists. At the end of the day, good music resonates with people regardless of the instrumentation.
Tell us a little bit about the writing and recording process for the new album, Passport? I read it was inspired by your travels in South America, Europe and Africa.
DW: Each track is inspired by a different place we experienced as a band. We had the opportunity to travel and collaborate with local musicians from Togo, Egypt, Peru, Georgia (the country), Zimbabwe, and many others. The music we wrote varies widely, but what ties it all together is the band and how we play together no matter what the style or groove is. Many of the compositions start with a very simple idea that gets spun out and layered upon.

thehuntertones.com
Diversity is one theme of the album. Why was that important to you?

DW: We collaborated with more people on this album than we ever have before. While working together, our differences were a very positive thing musically. If we all were the same, touring and playing shows night after night would get very boring. For Huntertones, our differences make the band stronger.
Do any of you have favorite tracks off the album?
JL: My favorite songs on the album are Hondo, Change, and Togo. I'm really proud of how the entire project came out, but these are my personal favorites.
What's next for you?

JL: So we're celebrating the release with a show in New York City on Friday, October 12th, which we're very excited about, followed by a show in Connecticut on the 13th. We also have some shows coming up later in the year where we're supporting other bands on tour. We were out on the road for about four months of 2018 and in 2019 we will be on the road quite a bit so we are looking forward to spending some time at home this fall. We're always working on new content so keep an eye out on all of our social media pages and website!
---
Rachel A.G. Gilman is a writer, a former radio producer, and probably the girl wearing the Kinks shirt. She is the creator of The Rational Creature and suggests you check it out. Also visit her website for more.