FILM
Comeback Season: How Jennifer Lopez and Brad Pitt Ruled 2019
Jenny from the Block and People's two-time Sexiest Man Alive are back.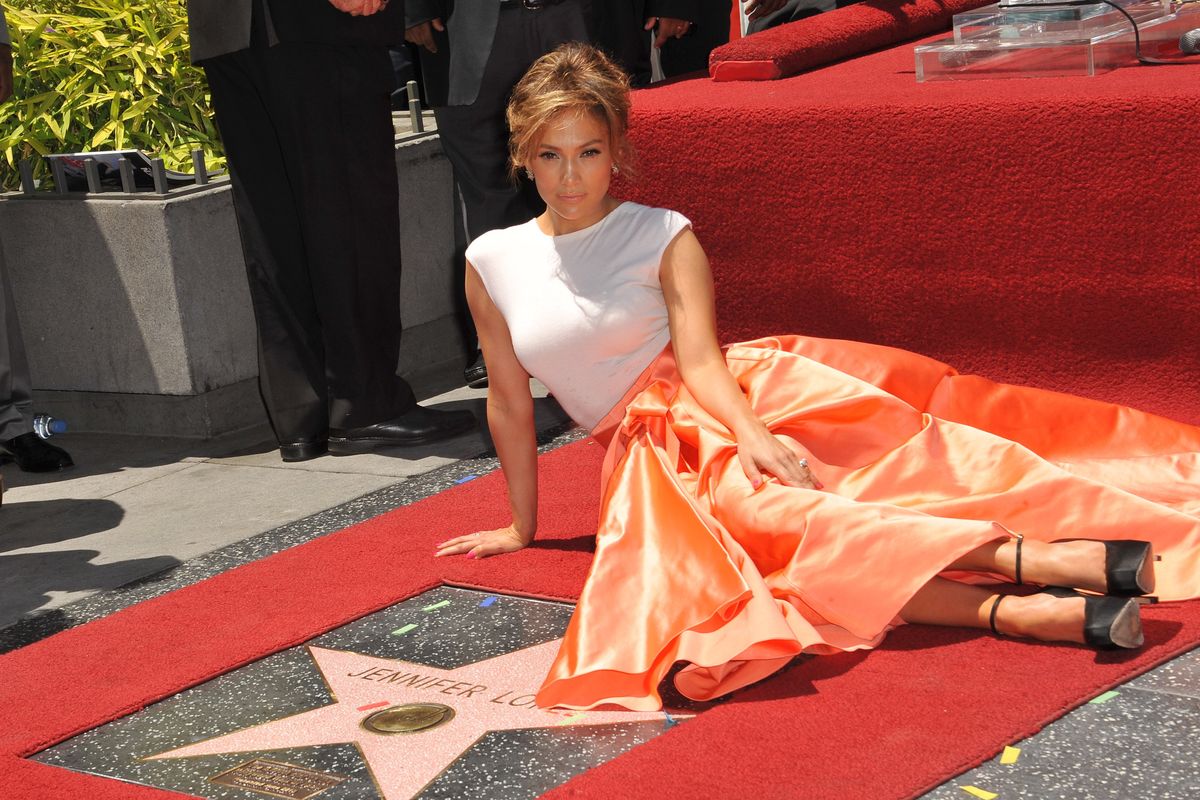 Photo by Featureflash Photo Agency (Shutterstock)
Two larger-than-life stars of the 1990s, Jennifer Lopez and Brad Pitt, are having the best year of their careers. 2019 has been so good to them that it might end with Oscar gold.
---
Thanks to the streaming era, the number of financially successful original movies has dwindled at the box office. During the summer months, it's rare for studios to put anything that's not a sequel or a superhero film in theaters. Critically acclaimed hits like Long Shot and Late Night failed to get butts in seats, and even big franchise features like Men in Black: International and Godzilla: King of the Monsters performed poorly (overall box office numbers are down 6.4% from last year).
Are superhero flicks, franchise sequels, and reboots the only films that make money? Not necessarily, but it's much harder for an original screenplay to compete. However, the one element that counteracts this pattern is star power. Name recognition still matters; A-list stars can still sell movies.
A study in 2017 showed the two biggest age demographics of moviegoers were 25-39 and 60+. Which group of stars do these demographics identify with more easily: 20-something-year-olds like Ansel Elgort and Ashleigh Cummings or wizened Hollywood veterans like Jennifer Lopez and Brad Pitt? The resounding answer is Lopez and Pitt.
Hustlers | Official Trailer [HD] | Now In Theaterswww.youtube.com
In fact, Elgort and Cummings' recent film, The Goldfinch, bombed at the box office, making just $2.6 million on a $40+ million budget. You know whose films didn't bomb? Lopez's (Hustlers) and Pitt's (Once Upon a Time… in Hollywood and Ad Astra). Lopez and Pitt have only been in a total of five films since 2017, but if box office success serves as evidence, their names still carry weight.

Both Lopez and Pitt are experiencing a career renaissance in 2019. To be clear, neither of them has ever vanished from the public eye. As long as they are living and breathing on this Earth, their names will still have currency in celebrity gossip circles and entertainment forums. Although Lopez hasn't starred in a lot of films since the end of 2015, she's just as relevant as ever. Lopez starred on NBC's Shades of Blue, held both a Las Vegas residency and world tour, and currently judges on World of Dance. On top of that, Lopez is in a high-profile relationship with Alex Rodriguez, has over 100 million followers on Instagram, and will co-headline the 2020 Super Bowl Halftime Show with Shakira.
Now, thanks to Hustlers, J-Lo has the Oscars in her sights, too. Based on The Cutarticle by Jessica Pressler titled "The Hustlers at Scores," Hustlers follows a group of New York City strippers who steal money from wealthy Wall Street executives and businessmen. Lopez stars as Ramona, a feisty veteran stripper who helps lead the scheme with her coworker, Destiny (Constance Wu). Hustlers is already Lopez's highest opening weekend of her career at the box office (for a live-action film), as well as the highest opening weekend for the film's studio, STX Entertainment. In fact, the 50-year-old actress has generated Oscar buzz in the supporting actress category, which would be her first-ever nomination.
Pitt is, without a doubt, one of the best actors of the last 30 years. At the turn of the 21st century, Pitt was arguably the biggest movie star on the planet. In the 1990s, Pitt had been nominated for an Oscar, won People's Sexiest Man Alive, starred in Fight Club, and dated Jennifer Anniston. And that was before his charming character in the Ocean's series stole America's heart.
Unfortunately, Pitt doesn't act a lot anymore. Instead, he's chosen to produce more films with his company, Plan B. From 2015 to the release of Once Upon a Time … in Hollywood, Pitt was only in four movies. Then, Pitt decided 2019 was the time to remind the world that he's "Brad Effin Pitt," one of the last movie stars we have. For the first time in almost a decade, Pitt starred in two movies in one year, Once Upon a Time … in Hollywood and Ad Astra. Let's start with the flashy role in Once Upon a Time … in Hollywood, which, as of Sept. 26, has grossed over $340 million worldwide. Pitt plays Cliff Booth, a stuntman to Rick Dalton (Leonard DiCaprio) who navigates the changing landscape of Hollywood in 1969 Los Angeles. Pitt is so fantastic in the role that he's one of the favorites to win Best Supporting Actor at the Oscars. Richard Roeper of the Chicago Sun-Times said Pitt killed it and "turns in one of the most memorable performances of his career."
Ad Astra | IMAX Trailer [HD] | 20th Century FOXwww.youtube.com
However, Pitt's true powers were on full display in James Gray's Ad Astra. Pitt plays Major Roy McBride, an astronaut who goes into space to search for his father, whose experiment threatens the entire solar system. It's a father-son love story disguised as a sci-fi epic. Ad Astra is a character study in what it means to be alone and how to find the true meaning of life. Pitt successfully channels these emotions of solitude and grief and gives one of the best performances of his career (again). The film recently launched overseas and grossed $26 million.
The changing of the guard is inevitable when it comes to Hollywood. New stars will eventually surpass the old ones. Maybe the box office will eventually sway back towards original movies and away from flashy superheroes and unwanted sequels. Lopez and Pitt are much-needed reminders that the reign of superhero franchises and reboots is temporary: The Old Guard of Hollywood is still a powerful creative force. And maybe, just maybe, A-listers of the 90s are the key to scaling back the pit of recycled material that Hollywood has fallen into.