Culture News
After the rapper made a $2 million donation to the families of George Floyd, Ahmaud Arbery, and Breonna Taylor, fans are speculating that his pro-Trump stance might've been a clever hoax.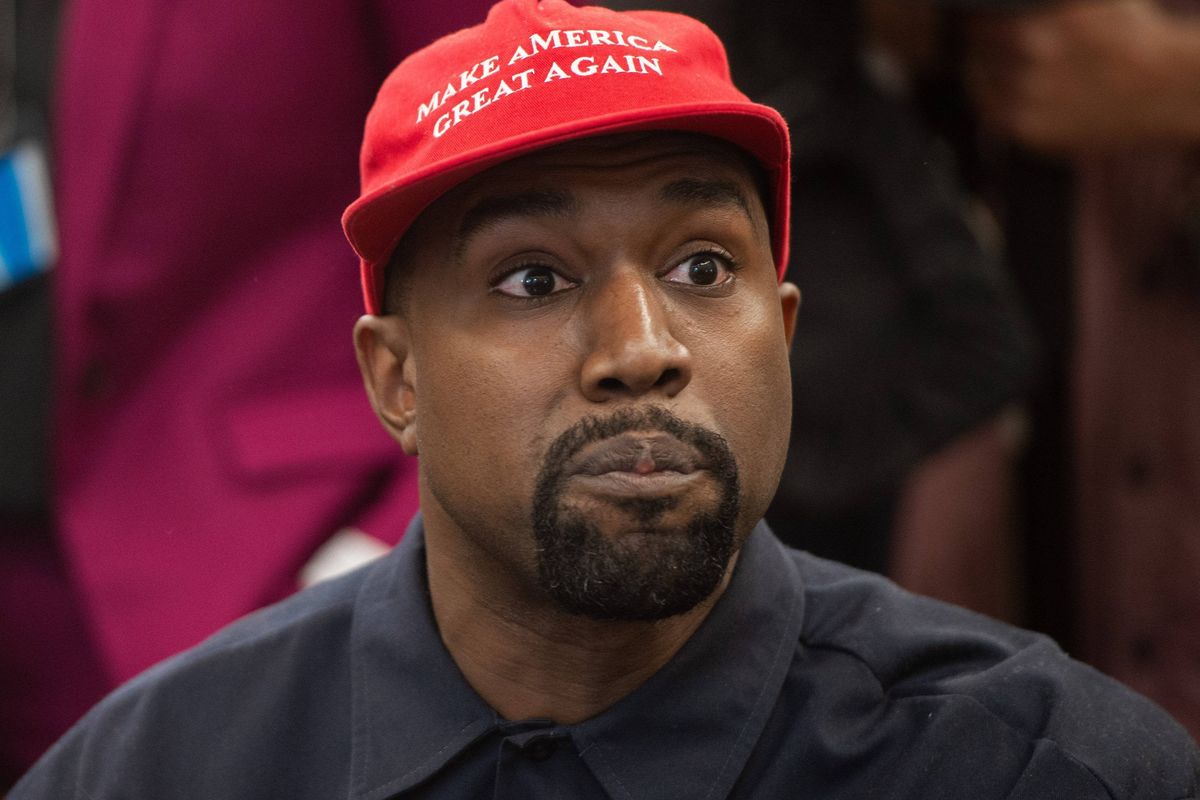 If anyone has become a meme of themselves since the 2016 presidential election, it's Kanye West.
The rapper/mogul has faced a swarm of backlash over his outward support for President Trump, sporting red MAGA hats and implying his intent to vote for him in 2020. But despite a recent history full of conservative schmoozery, CNN reports that Kanye has donated $2 million to the families of George Floyd, Ahmaud Arbery, and Breonna Taylor—all Black people who have been unlawfully murdered by U.S. police this year. This donation includes legal fees for Arbery and Taylor's families, as well as support of black-owned businesses in Kanye's native Chicago and other cities. Kanye's representative also told CNN that the rapper has established a 529 education plan to fully cover college tuition for Floyd's 6-year-old daughter, Gianna.
Then, on July 4th, Kanye tweeted—once again—that he'll be running for president. Elon Musk was first to declare his support.
@kanyewest You have my full support!

— Elon Musk (@Elon Musk) 1593909921.0
---
"We must now realize the promise of America by trusting God, unifying our vision and building our future. I am running for president of the United States 🇺🇸! " he wrote, with the soon-to-be trending hashtag #2020VISION.
Previously, he's announced his presidential plans in 2015—during the MTV Awards when his acceptance speech included, "It's about ideas, bro. New ideas. People with ideas. People who believe in truth. And, yes, as you probably could have guessed by this moment, I have decided in 2020 to run for president"—and in 2019 when he announced, "I'm not going to run [for president], I'm going to walk."
Still, Kanye's hefty donation to victims of police brutality feels a little odd; despite involving himself in philanthropy early on in his career, it's been quite a while since he's made contributions in the name of social justice issues. He's made questionable remarks about slavery and Black people, seemingly forgetting his unimaginably privileged position in spite of his race.
But—and I say this knowing how insane it sounds—maybe Kanye's pro-Trump antics were intended to fool us all this entire time.
Back in January, rapper GLC (a former signee of Kanye's label, G.O.O.D. Music) went on The Red Pill Podcast with Van Lathan and spoke about Kanye's MAGA hat-wearing habit: "[Kanye] was like, 'Bro, I'm just telling' you that we got that amazing woman out of jail in Florida, right?…' We didn't really get to have that meeting until I put the hat on. So he lookin' at like it as, more so, 'OK, I wear the hat, I get the stones thrown at me, I'll have people hating me, but people gonna get free.'"
While this plan seems a little ridiculous, it isn't totally improbable. Lest we ever forget the often-overlooked efforts Kanye's wife, Kim Kardashian, has made for prison reform, she advocated for Alice Marie Johnson, a woman who received a life sentence for a first-time drug offense in 1996. President Trump commutated Johnson's sentence in 2018. She also played a major role in persuading President Trump to support the First Step Act, which enacted major reforms in the U.S. prison system.
Now, as Black Lives Matter protests take the world by storm and celebrities' true colors are showing more than ever, it might be time to reexamine Kanye's stances. Is his shoulder-rubbing with Trump just a ploy to butter the president up for Kim's much-needed prison overhaul? Are Kanye and Kim dismantling systems of oppression behind our backs, from the comfort of their insane house?
Considering the absolutely blasphemous hand of cards 2020 has dealt us so far and the fact that our country's leader literally hid in a bunker when people demanded proper leadership...stranger things have happened.

Twitter