Culture News
"Better late than never" may not apply in this case...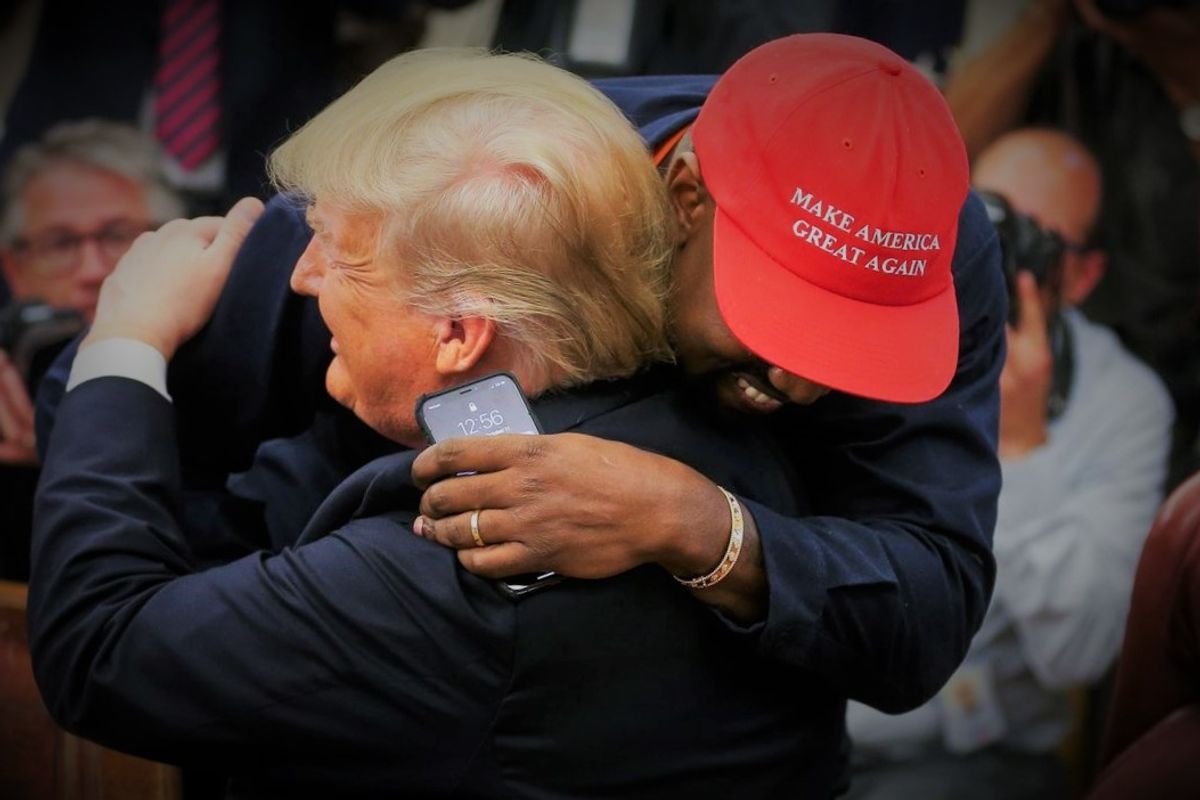 Update 7/8/2020: In a truly wild interview with Forbes, Kanye West claimed to be done with his support of Donald Trump and "taking off the red hat."
Among other revelations was the announcement that he will be running for president under the label of "the Birthday Party," that Tesla CEO Elon Musk will be advising him along with his running mate, Michelle Tidball—an obscure preacher out of wyoming—that he would model his administration after the fictional nation of Wakanda from Black Panther, that he believes vaccines are "the mark of the beast," and that Planned Parenthood is doing "the devil's work."

If that wasn't enough, Kanye also asserted that "America needs special people that lead." And on Kanye's list of special people are Barack Obama, Bill Clinton, Donald Trump, and (of course) Kanye. As for the Democrats presumptive 2020 nominee, Kanye said "Joe Biden's not special."
Unfortunately for the world, only one of the people on Kanye's "special" list has any chance of winning the election in November... Hat or no, Kanye is still team Trump.
On Saturday, in a strange celebration of Independence Day, rapper, producer, and sneaker mogul Kanye West announced his intention to run for president in 2020.
As in, this year. Right now.
The announcement quickly prompeted messages of support from Kanye's wife, prison reform advocate Kim Kardashian West, as well as from billionaire weirdo/Grimes baby daddy Elon Musk.
Of course, this news comes well past the filing deadline for independent candidates in several major states—which means that unless a political party randomly decides to nominate him, Kanye's name won't appear on those ballots. As deadlines in other states approach—with little apparent effort to gather the petition signatures required—Kanye is officially joining the long, proud history of vanity presidential campaigns. Unfortunately, that's a lot more dangerous than it sounds.
We must now realize the promise of America by trusting God, unifying our vision and building our future. I am runni… https://t.co/MySzN3vjIB

— ye (@ye) 1593909493.0
---
With zero chance of actually winning, vanity candidates often spend fortunes promoting themselves to the public—enjoying the prestige and attention the process garners for them. This would all be fine—vanity candidates can make an election cycle far more entertaining—if not for the fact that these campaigns sometimes end up determining who actually wins.
Take, for example, the first time Donald Trump ran for president, back in the year 2000. Following two successive elections in which the center-right Reform party siphoned millions of votes from Republican candidates like George H. W. Bush—likely securing Bill Clinton's victory in 1992—Donald Trump's longtime friend and advisor Roger Stone reportedly set out to ensure that wouldn't happen again.

Roger Stone's Election Interference
Stone's most infamous interference in that election would involve the so-called Brooks Brothers Riot—which disrupted the pivotal Florida recount process—but his sabotage tactics started much earlier and centered on the Reform Party primaries.
According to the documentary Get Me Roger Stone, Stone began by encouraging Pat Buchanan—who had come in second in the 1996 Republican primary—to run instead for the Reform party's nomination in the 2000 election. Not long after, Donald Trump announced he was running for that same nomination...with Roger Stone backing him.
Get Me Roger Stone | Official Trailer [HD] | Netflixwww.youtube.com
Trump, well-known then as a brash, ultra-wealthy celebrity who occasionally shared his outlandish political views, seemed to have little intention of actually running for President. Instead he spent most of his energy in that campaign attacking Pat Buchanan as a "Hitler lover" and decrying former KKK leader David Duke's endorsement of Buchanan (16 years before Trump received the same endorsement and seemingly forgot who David Duke was).

Before he dropped out—claiming the party was "self-destructing"—Trump's attacks helped create a sense of chaos within the Reform party, sending voters flocking back to the Republican party. By November, that self-destruction resulted in Buchanan earning less than 450,000 votes—barely 5% what Ross Perot had garnered four years earlier.
Thanks in large part to Roger Stone and Donald Trump, the only meaningful third party candidate that year was Ralph Nader of the Green Party, whose left-wing candidacy earned nearly three million votes and has been widely credited with "stealing" the election from Al Gore.
So much has changed since then—including Roger Stone being convicted for obstructing a congressional investigation, for which Stone will finally be going to prison next week—but many of the tactics remain the same. This year we may once again see a brash, ultra-wealthy celebrity who occasionally shares his outlandish political views enter the contest, throw some attacks, instill a sense of chaos, and secure a victory for the Republican candidate.
Kanye's presidential announcement comes a month after his $2 million donation to the families of George Floyd, Ahmaud Arbery, and Breonna Taylor, which prompted fans to speculate that the icon's outspoken support of Donald Trump had all been a hoax.
If, on the other hand, those MAGA sentiments were genuine—in 2018 Kanye even compared the signature red hat to Superman's cape—he could hardly do more to support Donald Trump than running for president himself.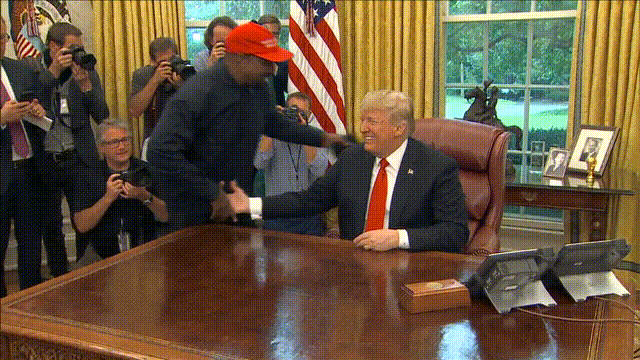 Kanye Can't Win, But He Can Help Trump
Even if Kanye doesn't end up on the ballot in a single state, he can still run as a write-in candidate and take the opportunity of added media attention to throw some attacks at the other candidates. And if he does so, his doomed candidacy can only serve to help Donald Trump and hurt Joe Biden—because only Joe Biden is vulnerable to those attack.
Considering Joe Biden's record of opposition to desegregation bussing and his authorship of the 1994 crime that led to a dramatic increase in America's mass incarceration, Biden is certainly open to the same kind of attack that Kanye threw at George Bush in 2005 (ie. "Joe Biden doesn't care about black people"). And considering Biden's friendship with the late Senator and former KKK member Robert Byrd, he is also susceptible to the kind of attack that Donald Trump threw at Pat Buchanan in 2000.
Even leaving aside the possibility that Kanye earns a substantial number of votes for himself—though if 2020 is anything like 2016, a tiny percentage could change the outcome in key states—a self-funded campaign could still shift the conversation. And it's hard to imagine how that shift could help anyone but Donald Trump—who is currently trailing Joe Biden by a substantial margin in most polls.
With "dragon energy" and a net worth in excess of a billion dollars, Kanye has the resources to make sure he's heard—regardless of what he wants to say. And even if he chooses to disavow Donald Trump and attack him even harder than he attacks Joe Biden, the most likely effect would still be to depress turnout among Biden voters—because Trump voters only care what Kanye has to say as long as he's pro-Trump, and they genuinely don't care that Trump is a racist.
It remains to be seen how seriously Kanye West will take his campaign. He has yet to file any paperwork, and—if we're lucky—the whole thing may turn out to be a publicity stunt to promote a forthcoming album or a new line of shoes. But as silly as it seems to launch a presidential campaign with less than four months to go before election day, Kanye West's vanity campaign still has real potential to sway history in favor of Donald Trump's reelection. And that should worry all of us.