CULTURE
Kanye Gives Rambling Monologue at the White House
The president sat, nodding in approval, as West pivoted from discussing his footwear deal with Adidas to his "98th percentile IQ," seemingly without stopping to take a breath.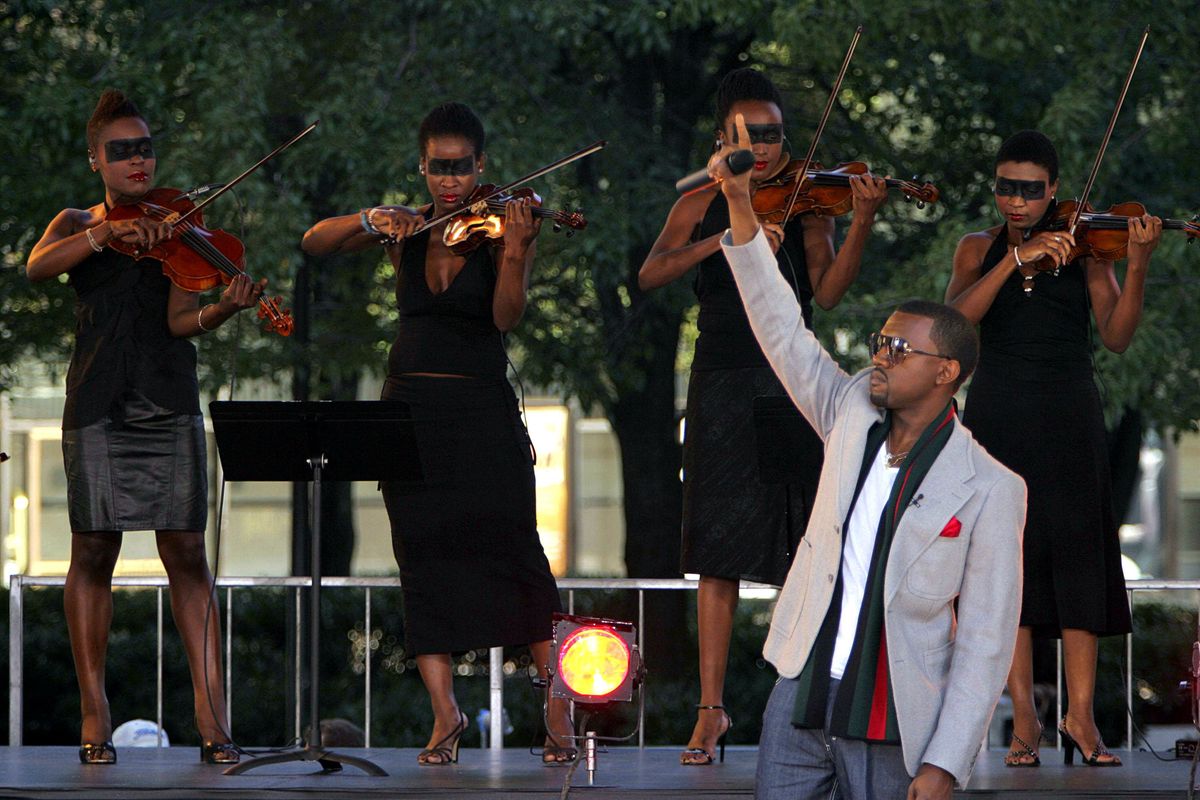 Photo by Everett Collection (Shutterstock)
"If he don't look good, we don't look good," said musician Kanye West during a post-meeting press conference with President Trump.
---
The two met this morning with plans to discuss a number of issues including prison reform, gang violence prevention, and American manufacturing, according to a White House statement. Once the cameras were on, however, West launched into a 10-minute monologue covering the 13th amendment, hydrogen-powered airplanes, "alternate universes," and his own purported misdiagnosis of bipolar disorder, among other topics.
The president sat, nodding in approval as West pivoted from discussing his footwear deal with Adidas to his "98th percentile IQ," seemingly without stopping to take a breath. Former Cleveland Browns fullback, Jim Brown, was also in attendance, along with Trump's senior adviser and son-in-law, Jared Kushner, and Trump's daughter, Ivanka.

West did manage to include a few statements about the prison system, though they were often sandwiched between his more outlandish comments.
Criminal justice reform is one of Kushner's primary legislative initiatives, particularly with respect to reducing recidivism through job training programs for inmates, though he has been met with resistance from Attorney General Jeff Sessions, who oversees the Federal Bureau of Prisons. An especially fraught sticking point between the two has been sentencing reform, to which Sessions remains staunchly opposed. Kushner does, however, have the support of the president. When asked, during a call to Fox and Friends this morning, what would happen if Sessions disagreed with his policies, the president responded, "[H]e gets overruled by me, because I make the decision, and he doesn't."
In May, West's wife, Kim Kardashian-West, discussed prison reform with the president, successfully convincing him to commute the sentence of Alice Marie Johnson, who had served over 20 years for a first-time, non-violent offense. While Kardashian-West's meeting with the president was generally viewed positively, her husband's outspoken approval of his campaign and presidency has been widely scrutinized.
West has been open about his support of the president—and the backlash he's received for it. He drew attention last month after delivering an impromptu speech following his performance on Saturday Night Live last month, saying, in part, "They bullied me backstage."
In response, the president has frequently and publicly thanked the rapper and cited his approval as a sign of growing support from black Americans at large. In an interview with Fox News this morning, he said, "I'm doing things for the African Americans that have never been done by the Democrats. Kanye West saw that, he saw that a long time ago. I could name many other great black stars and athletes." (Gallup Polls show that the president's approval among African Americans is currently at 10%).
The meeting came on the heels of the president signing into law the Music Modernization Act, a bill designed to bring copyright laws into the digital era. The bill, which was passed unanimously in the Senate in September, is meant to secure royalties for for producers and recording artists for work created before 1972 and will update licensing and publishing rules for streaming services. West, singer Kid Rock, Recording Academy president Neil Portnow, and Recording Industry Association of America president Mitch Glazier were present for the signing.
---
Rebecca Linde is a writer and cultural critic in NYC. She tweets about pop culture and television @rklinde.
---