Culture Feature
Contrary to popular belief, the multimillionaire isn't starving her children.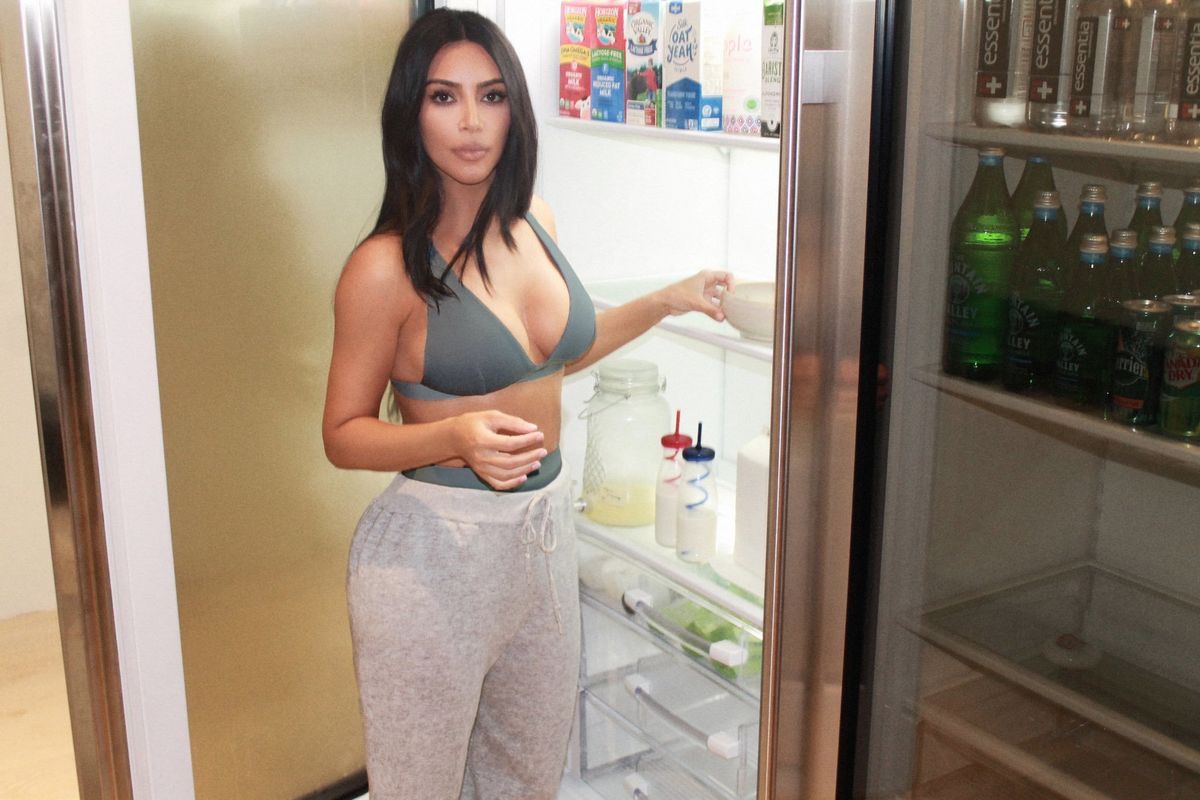 I don't need to keep up with the Kardashians to know that Kim and Kanye keep their house decor as sterile as a hospital operating room.
If the rapper's designs are any indication, the Kardashian-West household could best be described as a whole lot of nothing—to the point that Internet onlookers are worrying about their four kids' quality of life. Kim recently posted a photo of herself reaching into a fridge that looked rather, well, barren. Stocked with milk, bottled water, and hardly anything else, the photo prompted accusations that Kim and Kanye were failing to adequately feed their children. Yes, people thought the couple whose combined net worth is over $600 million were letting their kids starve.
The @skims Cotton Collection restock is available now!! Here I'm wearing the Cotton Plunge Bralette and Cotton Rib… https://t.co/jkpgE2pTOc

— Kim Kardashian West (@Kim Kardashian West) 1578416400.0
But Kim quickly dispelled the rumors, taking her Instagram followers on a tour of her kitchen via her story. First, we see her pantry—which is a room with a single shelf wrapped around it—where snacks are displayed in uniform glass containers. Smaller containers hold sprinkles for her frozen yogurt machine, tucked away behind a door. Then, Kim leads us to the kitchen— which is so full of steel that I got cold just looking at it—and opens her fridge, with dimensions that would meet restaurant standards. "This is where we keep all of our fresh, organic produce," Kim explains, adding that much of it was grown on their property.
My IG stories has a more in depth tour 🌽🍏🦞🍒🍋🥑🥦🧀🧇🍣🥥 https://t.co/VvYWou01QS

— Kim Kardashian West (@Kim Kardashian West) 1578543524.0
As Kim waltzed through her kitchen that's bigger than my entire apartment, she greeted her chef and flaunted the vegan tacos she'd be eating for dinner. "Then if you want a little more chaos, with tons of oat milk and almond milk, you have this refrigerator," Kim said as she opened the fourth fridge. "And then our freezer, I didn't even show you guys our other freezer. There you have it, guys."

I can't say Kim's four fridges and commercial-sized oven as aligned with her assertion that climate change is real, but whatever!
Climate change is real 💔🌎

— Kim Kardashian West (@Kim Kardashian West) 1578035418.0