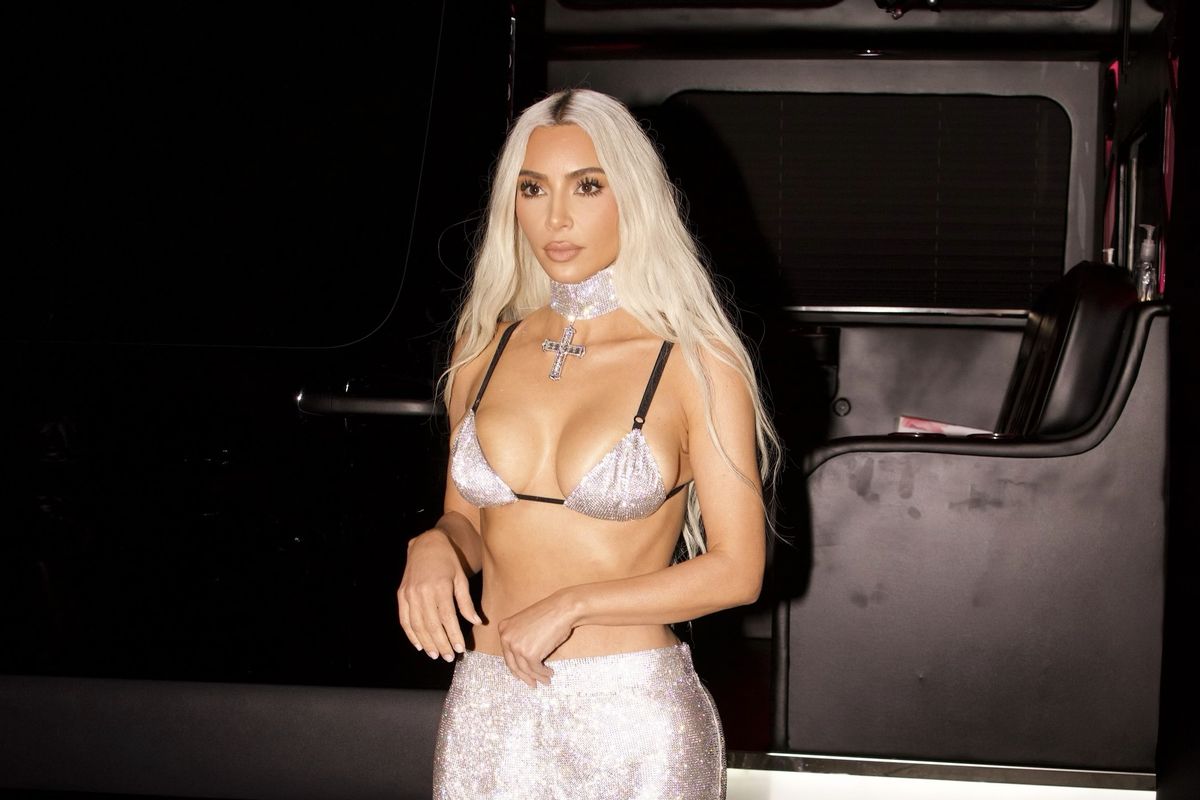 Photo by Diggzy (Shutterstock)
Full Name: Kimberly Noel Kardashian West
Date of Birth: October 21, 1980
Born: Los Angeles, CA
Occupation: Reality television personality, businesswoman, model
Status: Married to Kanye West (2014)
Children: 3
"Keeping up" has never been so kool. When it's Kim Kardashian West you're trying to keep up with, staying abreast of her latest and greatest and best and brightest is always a challenge. But every moment is worth watching. From Paris Hilton's sidekick to Kanye West's 'Wonder Woman,' Kardashian West is one of today's modern marvels, with more fame than she could have ever dreamed of and more money than we could only dream we had.
Reality Royalty
The E! network couldn't have predicted that their concept to follow the ups and downs of the Kardashian family would be such a mind-blowing money-maker. Watching the Kardashian-Jenner clan for 15 (yes, 15!) seasons has been a guilty pleasure for millions of fans who make Keeping Up With The Kardashians a must-see, be it brand new shows or reruns that seem to air 24/7.
We've watched the family as they've had multiple marriages, boatloads of babies, new looks (some concocted in the doctor's chair), and as they've embarked on new careers and entered (and exited) relationships. Kardashian West started out as the central "character" of the show, but as the seasons have developed, various family members have stolen the spotlight. From little sister Kylie Jenner's road from teen to new mom/business mogul to step-dad's eye-opening transformation from Bruce to Caitlyn, and every monumental moment that made history for the rest of the family, the reality show is a "love it or hate it" piece of pop culture history, and it's still going strong.
The Sex Tape That Started it All
In 2003, Kardashian West was in a relationship with Ray J. Like everyday couples looking for ways to spice up their sex lives, the two created a sex tape – something Kardashian West could have never known would be seen worldwide…or did she? A 2007 leak put the steamy session out there for all the internet to ogle, giving us a glimpse into more of Kardashian West than we'd ever expect to encounter. The tape catapulted the California native into the spotlight. Less than a year after the leak, E! picked up Keeping Up With The Kardashians, and the rest is history. Embarrassing? Perhaps. But the fame and fortune outweigh the awkwardness. Although Ray J must be wondering why he isn't nearly as rich as his former roll-in-the-hay partner is.
Breaking the Internet
Kardashian West is well-known for posting racy selfies and posing for provocative photo shoots. She's all about flaunting her ample curves, proving that thin is no longer "in" and a shapely figure is nothing short of fabulous. Not only is she gorgeous, but willing to go the extra mile to capture snapshots that ooze sex appeal. Even as a new mom, nothing will stop Kardashian West from simmering in her sexuality, and as long as she continues to keep her body looking its best, we can expect the pics to keep popping up.

One of Kardashian West's most notable photo moments came in 2014 in a cover shot for Paper magazine. In an "is that Photoshopped?" pose that seemed to defy gravity, Kardashian West effectively "broke the internet" by seeing her pic go viral. #BreakingTheInternet was the hottest hashtag, making Paper the must-read mag of the moment.
Tragic Robbery
Flaunting her jewels on Instagram and boasting about lavish trips and other luxuries made Kardashian West a target for trouble. While in Paris in October of 2016, robbers dressed as police broke into Kardashian West's hotel room and held her at gunpoint. Millions of dollars in jewelry was stolen, including her blindingly "blingy" engagement ring. The star was left terrified and traumatized, but she wasn't physically harmed and eventually the criminals were caught. The incident changed how Kardashian West behaved on social media from then on and gave her a new perspective on what's important.
Doting Mom
Kardashian West and husband Kanye have three children – North, Saint, and Chicago. All have been seen on the reality show, and they are adorable. We watched Kardashian West go through her two pregnancies on television, and learned about the couple's choice to select a surrogate (gestational carrier) to help them have their third child due to medical issues Kardashian West was experiencing. Now a "party of five," the Wests seem to have the perfect family.
What's next for Kardashian West?
Who could guess what this powerful woman will put her mind to in the future? She's a savvy businesswoman with brands including her Kimojis and KKW Beauty. Her "momager" Kris Jenner will make sure her "favorite child" continues to prosper. Worth $175 million, Kardashian West is loaded, but she's set to keep her income on the upswing. Will we still watch Keeping Up With The Kardashians for another 15 seasons? If the drama doesn't die out, we'll tune in.
---
Melissa A. Kay is a New York-based writer, editor, and content strategist. Follow her work on Popdust as well as sites including TopDust, Chase Bank, P&G, Understood.org, The Richest, GearBrain, The Journiest, Bella, TrueSelf, Better Homes & Gardens, AMC Daycare, and more.
---
POP⚡DUST | Read More…

Kim K. Back to Ask Trump to Let Another Inmate Go