CULTURE
Camp was created by marginalized communities, in part to avoid traditional confines of language, and particularly, to escape restrictions of gender, sexuality, and the kind of power and wealth that funds the Metropolitan Museum of Art and puts on its star-studded gala each year.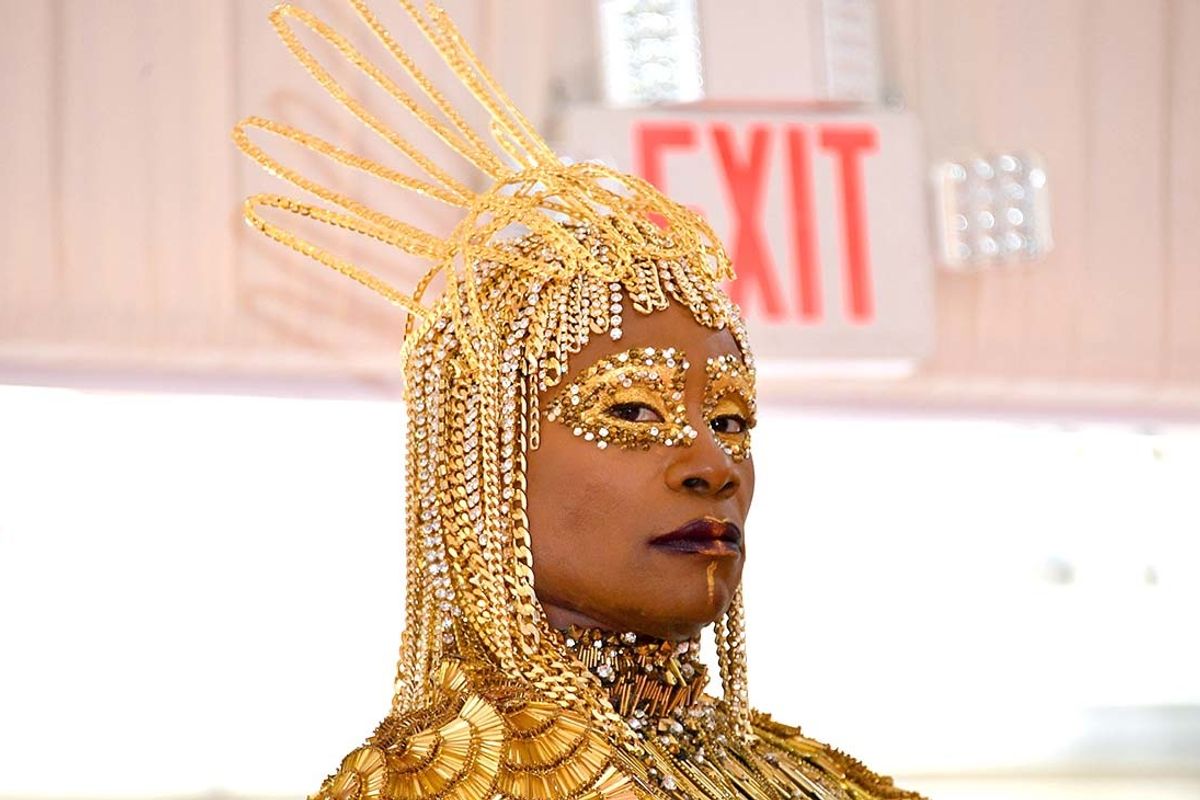 When Lena Waithe stepped out wearing a jacket that read, Black Queers Invented Camp, she was making a decidedly pointed statement.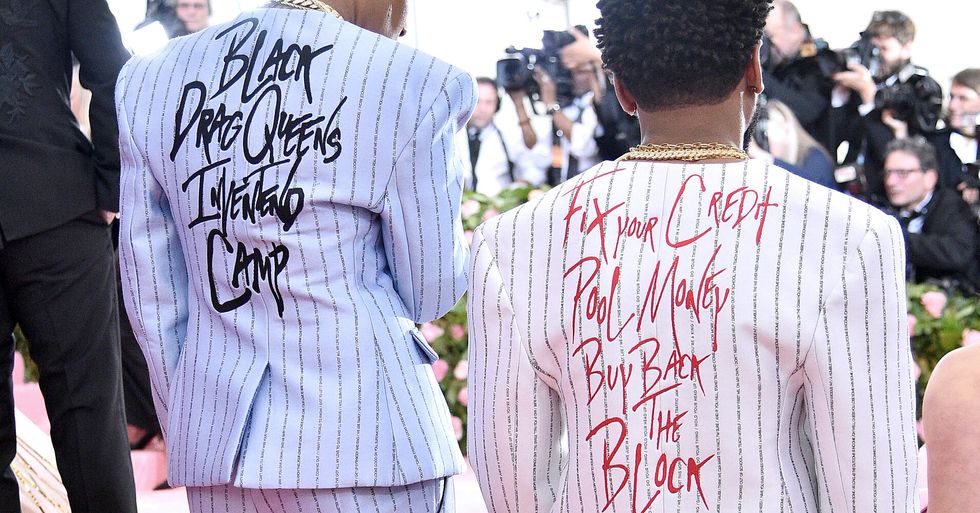 Sunday's Met Gala boasted thousands of designers' takes on the theme of camp, an elusive and complex term usually linked to Susan Sontag's essay, Notes on Camp. However, there is no one set definition of camp, and in fact, camp is partially defined by the fact that there is no precise record of where or why it was invented.
We do know that it was created—somewhere, at some point—by marginalized communities, in part to avoid traditional confines of language, to evade scrutiny, and particularly, to escape restrictions of gender, sexuality, racism, and the kind of power and wealth that funds the Metropolitan Museum of Art and puts on its star-studded gala each year.
The Secret Language of Queers: Reading Into Lena Waithe's Jacket
Lena Waithe's Met Gala jacket—emblazoned with the words Black Drag Queens Inventend Camp—made a powerful tribute to camp's roots in queer black subcultures. "Pepper LaBeija, Benny Ninja, RuPaul, all these pioneers . . . I really wanted to pay tribute to them and all that they did for the culture," Waithe explained. "They started this whole 'camp' thing by being over-the-top." Her jacket was also emblazoned with lyrics from traditional drag queen anthems, like Gloria Gaynor's "I Will Survive" and "I'm Coming Out."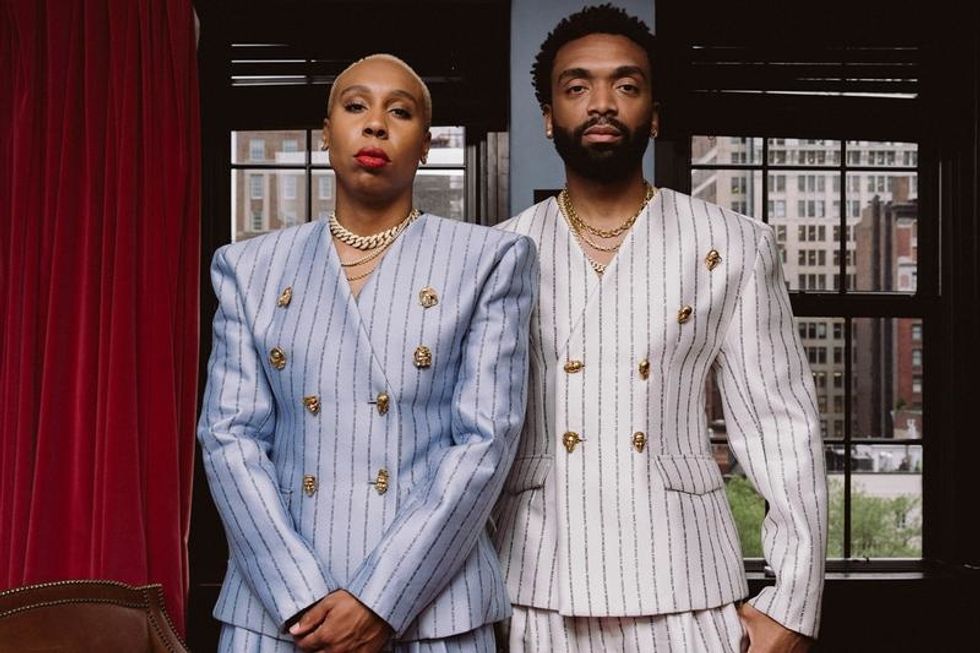 Image via Hypebeast
Even the misspelling of "Invented" was purposeful. "First there was "Periodt," Waithe tweeted, "and Kerby and I wanted to give y'all another one 'Inventend' — which we take to mean a heavy emphasis on the 'D.'" By purposefully misspelling and reinterpreting a word to support her own community, Waithe was operating in the old traditions of secret queer languages and other dialects and styles used to express solidarity between marginalized groups. That extra D in the Invented might mean a lot of things—but it's definitely a fuck-you to heteronormative ways of doing things, and a shoutout to people who break from dominant traditions.

Camp has always been connected to secret languages of queerness. According to John M. Wolf, "Camp is a queer sense‐making practice that subverts dominant gender norms and heteronormative practices and institutions." Essentially, camp is a way of existing as a queer person within a heteronormative culture—a way of using exaggerated performances to both celebrate one's identity and to critique and reclaim the mainstream.
The word camp actually originated as a queer slang term, part of a secret language called Polari that gay people have used for centuries. Polari has roots in secret languages of sailors and theatrical performers in the 18th century. In 20th century Britain, it soon evolved to function as a street language that contained many euphemisms for police as well as homosexual relationships and was eventually largely left behind as queer culture became more publicly acceptable.
Camp and Black Queer Culture: An Interconnected Relationship
Black queer people, in particular, have to contend with the intersection of racism and homophobia and have had to invent their own languages and performance styles within these systems. True to form, the history and language of camp and black queerness is not a linear or easily readable one, especially for those who are not part of those communities.
According to Myles E. Johnson's Afropunk article, "The Met Gala Turned Drag into Deities," "To truly understand camp as it concerns the Black queer person in America in 2019, you'd have to wrestle with history. Not necessarily knock it out, but slightly strangle it until it can't fight the investigation of its body; leaving you to discover through excavation the source (usually racist) of the things we find pleasure in as a culture and what we perform."
The article goes on to cite some early examples of black people performing camp and making it into what it is today. Black performers like Bert Williams and George Walker, who brought the first African American blackface minstrel theatre to the stage in the early 1900s, used minstrelsy—a format traditionally used to marginalize black culture—to reclaim their own identity through a self-aware performance of racial stereotypes. Camp is not merely a performance of exaggeration; it involves a level of critical self-awareness and humor. These early African American minstrel shows were, in a way, examples of early camp.
Since then, black drag queens have long utilized exaggerated, stylized performances to carve out spaces of freedom for themselves. Unable to fit into dominant, white traditions of femininity even through drag, "black gay feminine men took the rejection of black women from the femme canon and created a coded language that allowed them to not only exist in the world but also, for those who understood the language, express their true selves," Mikelle Street writes in her article "Do Not Erase Black Femmes in Your History of Gay Slang" for PAPER Magazine. This intersectionality—between gender roles, sexual orientation, and racial politics—created a need for secret modes of expression and celebration that brought modern radical black camp into being.
Camp arose in part as a way for drag queens to access and transcend ideas of wealth, opulence, and mainstream fame that, in a white supremacist, heteronormative world, was difficult for them to attain. This is seen in the film Paris is Burning, which tells the story of a group of drag queens desperately pursuing a dream—"to live for a brief, dazzling moment in a fantasy world of high fashion, status, and acceptance," as Steven P. Schatt writes. Somehow, through this desire and the fantasy needed to access it, the fantasy became the desire, and camp became the end goal of many drag performances. Ultimately, the artifice became the celebration.
Even so, camp cannot be used to define all drag performances. Violet Chachki, the winner of the seventh season of RuPaul's Drag Race and a Met Gala attendee, explained that although "to the fashion world, a man in a dress will always be camp," in the world of drag there are different categories—and camp drag queens perform in a way that's specifically humorous and-self aware, in a way that "alludes to the artifice of everything."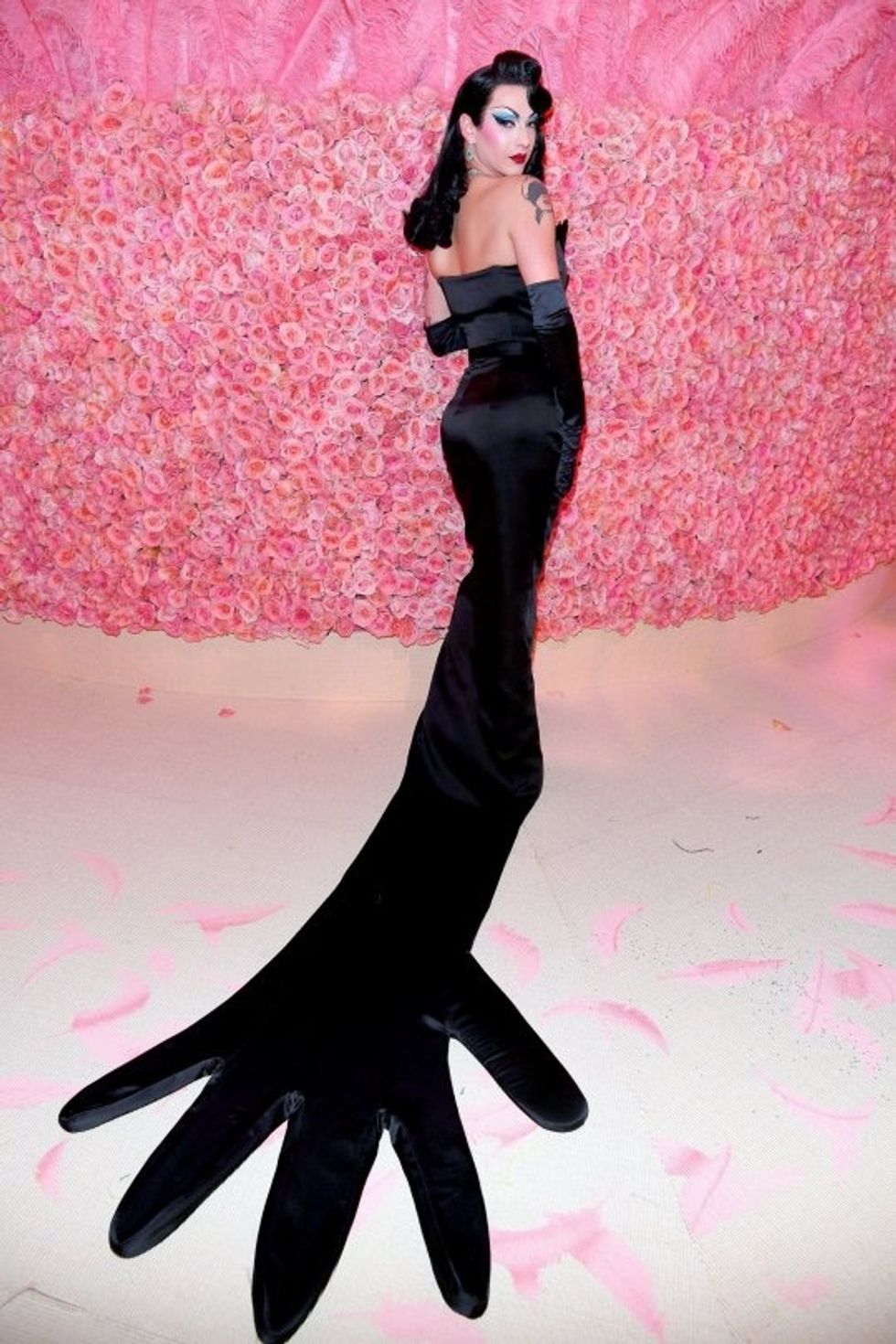 Image via Metro
Ultimately, though black artists did not necessarily solely create camp as a term, they have been instrumental in making it into what it is today. Some black artists who have helped make camp into a mainstream phenomenon include the inimitable, ever-changing persona that is Beyoncé, the gender-bending theatrics of Prince, Nicki Minaj with her alter-egos, and even Titus Andromedon in Netflix's Unbreakable Kimmy Schmidt. All of these performers resist constrictive gender roles and propose the possibility of a world beyond them. They constantly change, while celebrating themselves as they are.

Modern Camp: Still Subversive or Totally Commodified?
Waithe cited RuPaul as an example of a modern forerunner in the world of camp, and certainly, RuPaul has been instrumental in bringing camp to the mainstream. However, this may not be a total triumph. Just like black culture has been packaged and commodified, camp culture has also been capitalized on—and not only by Anna Wintour. RuPaul's Drag Race has been called an example of camp and queerness made palatable and profitable for the straight consumer.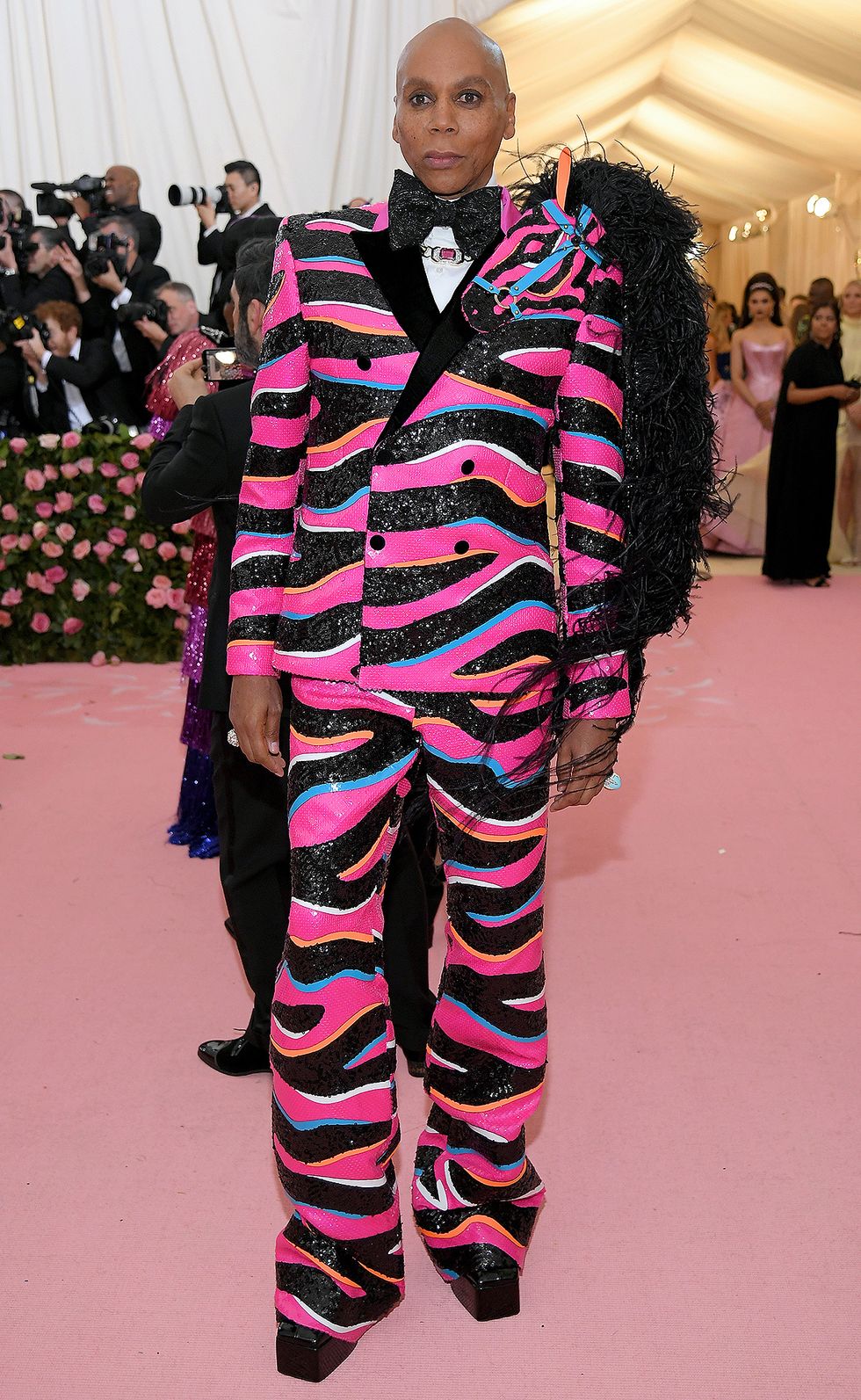 The 2019 Met Gala Celebrating Camp: Notes on Fashion - ArrivalsImage via People
Similarly, Cristy Turner cites Sex and the City as a show that has capitalized on 'fabulousness'—aka style, color, and radical independence—another term that originated with drag queens of color. Basically, through this lens, styles like modern camp developed as queer modes of survival and communication, but now that they've been brought to the fore of mainstream capitalist culture—aka the Met Gala and Sex and the City—they no longer have the subversive potential they once did.

But even this commodification can swivel back around on itself, creating spaces for the people it was originally meant for and allowing them to express themselves and find joy. "The term's subversive origins as a form of cultural capital, most notably among drag queens of color, allows audiences to disidentify with a level of status specifically meant for the rich, white, largely straight characters on the show," Turner writes, essentially arguing that although Sex and the City has taken advantage of an idea created by black drag queens, audience members who cannot access the show's stars' kind of money-driven fabulousness can still relate to fabulousness as a way of resisting homophobic or racist cultures. Basically, although camp might've been capitalized on, that doesn't mean that the people who it was created by and for can't celebrate it.
It's particularly gratifying, though, to see camp performed in its original spirit. Few people embodied this true radical spirit of black, queer camp at the Met Gala better than Billy Porter, who was carried aloft onto the red carpet by fishnet-clad men, his entrance becoming an instant self-care meme. "I am a theatre baby, and I do understand camp," said Porter. "I am camp."
Before the Met Gala, Porter was asked what camp meant to him. "Camp means as hugely over-the-top and grand and what some may feel is ridiculous and silly, and embracing all of those creative impulses inside us that very often are squelched," he explained. When all is said and done, that's one way of understanding the spirit of camp—real, true, uncritical, and unapologetically joyful.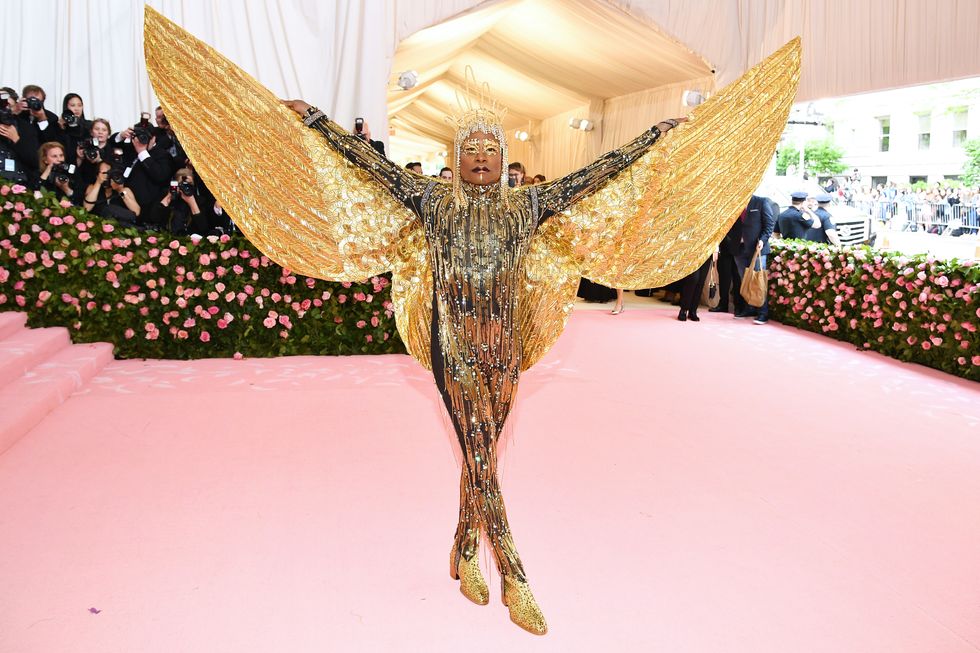 ---
Eden Arielle Gordon is a writer and musician from New York. Follow her on Twitter @edenarielmusic.

---
POP⚡DUST | Read More...

The Best of the Met Gala's Gender-Bending Looks
Here's What Royal Baby Archie's Astrology Chart Reveals