MUSIC
The 29-year-old emcee trolls his haters on refreshing new album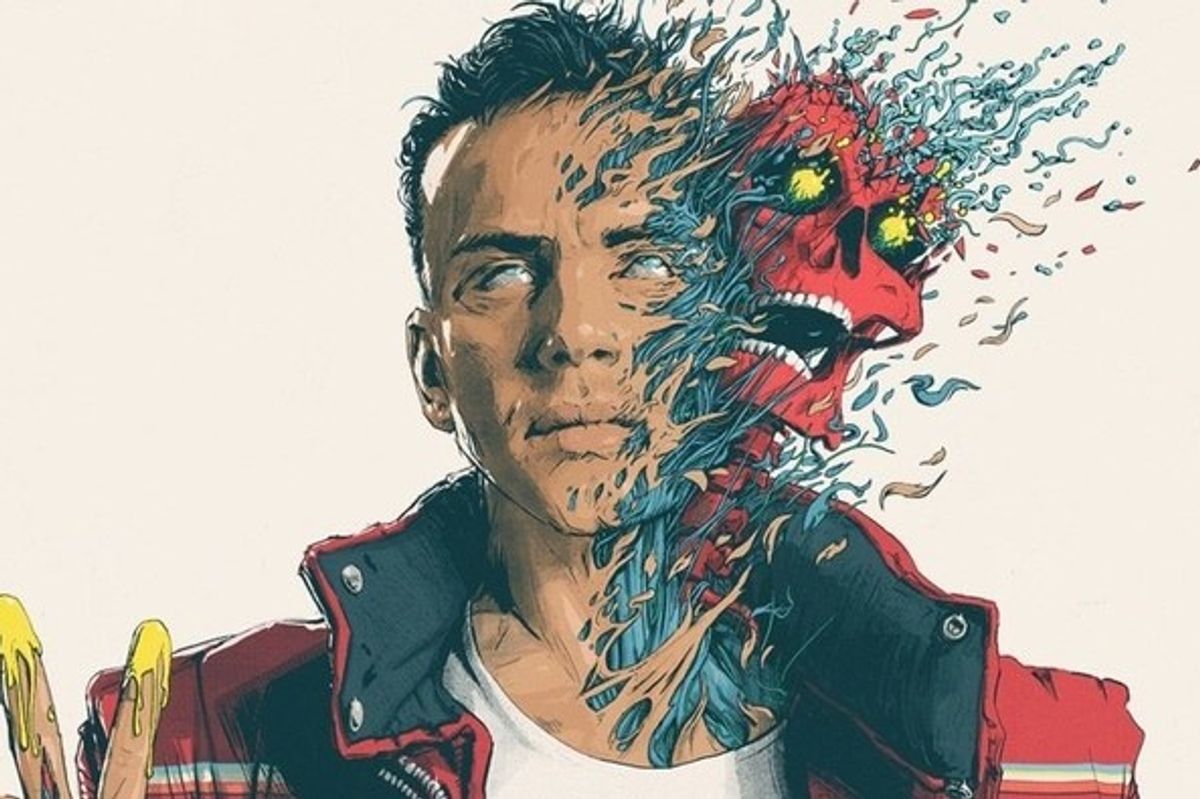 Logic is done with hate and negativity.
On the title track of his latest release, Confessions of a Dangerous Mind, he raps, "That's why I keep flowin', that's why I keep perserverin' / Even when I'm hearing I'm a bitch, I'm a fag / I'm a motherfuckin' hypebeast, I ain't black in the slight least / I ain't good enough, I should quit, I should kill myself / ''Cause you'll never be Kenny' / 'You'll never be better than Drizzy or Cole' / 'You're losing your hair, you're too fucking old' / These are the comments I'm readin' on Twitter right now / That made me depressed and they pullin' me down / I'm trying to swim but I think I'm'a drown / So I'm'a turn my feelin' into a sound / And play it when nobody else is around."
This opening track sets the tone for the scathingly honest, self-aware, introspective, and devil-may-care attitude that Logic adopts throughout the rest of the project. On Confessions, his sixth studio album, we see a different side of Logic – one that has been notably missing from his more recent releases, and one that often leads to good music (especially in hip hop) – and that is the side that doesn't care what you think. This sentiment manifests itself not only in the album's lyrical content but in how much fun Logic appears to be having on some of these songs.
He's assembled a motley crew of features, too, with no regard to how pigeonholing rap elitists may perceive them. In addition to the Eminem feature on the chart-topping "Homicide," there are also special guest verses from Gucci Mane, YBN Cordae, G-Eazy, Wiz Khalifa, and none other than Will Smith. If nothing else, this features list feels a little antagonistic, as if Logic might be trolling us a little bit. Or, more accurately, Logic seems to be trolling the armchair hip hop critics who will, no doubt, find plenty to complain about when they hear Will Smith rapping with his characteristically buttery old-school flow in 2019; when they find out that the emcee who controversially dubbed himself Bobby Biracial has chosen to feature the other two biggest white rappers in the game on his album; and when they hear Logic dabbling in trap with Gucci Mane on the funky ode to ballin', "Icy." His goal on Confessions may be best summed up by a line in the second half of "Mama / Show Love:" "I'm pushin' 30, my man, it's time to have fun."

In addition to addressing his haters and focusing on doing things his way despite all the criticism, Logic weaves a couple other tangible through lines into this album. On songs like "Wannabe," "Mama / Show Love," "Lost in Translation," and "BOBBY," he goes in on the trappings, difficulties, and stresses that come with fame. On songs like "Pardon my Ego," "Icy," "COMMANDO," and "Still Ballin'," he flaunts his material success. And on "Clickbait," "Cocaine," and "Homicide," Logic flexes his muscle as a cultural critic, satirizing the current state of hip hop, as well as touching on addiction (both to drugs and social media).
Although these themes are all clearly present on Confessions..., together they make the album feel a little bit scattered – as if there was a definite attempt to create a thematically cohesive project, but it never quite came together in the end. The individual songs never really coalesce to become something greater than the sum of their parts in the end. Which is perfectly fine; a great album certainly does not need to be thematically cohesive; however, you get the sense that a concerted effort was put forth to produce an album that was, and so it registers as falling slightly short of what this album seems like it wants to be.
That being said, there are definitely some great cuts on this record. The production – provided primarily by longtime Logic collaborator and executive producer, 6ix, along with !llMind, DJ Khalil, Keanu Beats, Shroom, Bregma, Haze, and others – is on point from the first track to the 16th, with little to no filler. We probably could have done without Will Smith's paternal lecture on "Don't Be Afraid to be Different" (although it was still kind of fun to hear him rap again), and there are definitely a couple of tracks that are more forgettable than others.
Even so, Confessions of a Dangerous Mind is firmly rooted in hip-hop (which fans will likely find refreshing after Logic's brief foray into alt-rock and pop for his last album / the soundtrack to his book, Supermarket). And, at the end of the day, even though the emcee is taking a relatively carefree approach to his music, both in terms of the subjects he's tackling and with whom he's collaborating, he is still carefully crafting his songs, bar by bar, and it shows – in the amount of thought put into his lyrics, and the exacting precision of his flows.
---
Dustin DiPaulo is a writer and musician from Rochester, New York. He received his MFA in Creative Writing from Florida Atlantic University and can most likely be found at a local concert, dive bar, or comedy club (if he's not getting lost somewhere in the woods).
---
POP⚡DUST | Read More...
All the Lyrics on Big Thief's U.F.O.F.
Leanne Tennant Releases Super-8 Inspired Music Video for "Cherry Cola"