MUSIC
The two emcees invite us to revel in lyrical slaughter with them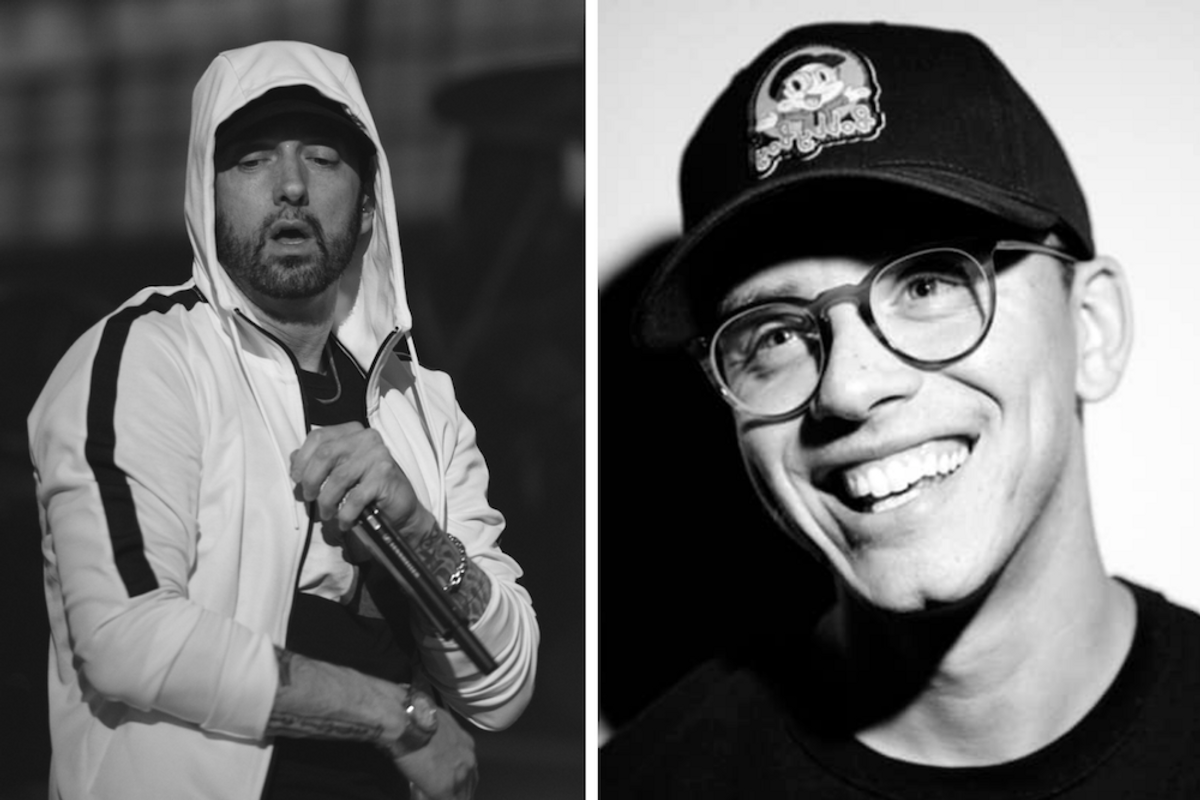 There are some artists who get hit with anticipatory hate and blind criticism well before their upcoming projects even drop.
Rappers Logic and Eminem are both very familiar with this. Logic, for one, has been branded by the Twittersphere and Redditopia as corny and predictable. And public assertions of his biracial identity have also been ill-received by many, at least in various comments sections and subreddits, where shade-throwing seems to have become a national sport.
Does Eminem's familiarity with knee-jerk criticism even need to be addressed? Slim Shady is definitely no stranger to shade, though some of the scandals surrounding the rapper have been more warranted than others over the course of his 25-year career. Some of the lyrics of his earlier work, for example, were famously rallied against by LGBTQ advocacy groups such as GLAAD. But more recently, the majority criticism has been directed at the quality of his music rather than the controversy of his lyrics.
On "Homicide," though, the two emcees everyone loves to hate team up for an impressive spectacle of murderous flows. Over a beat made of pure fire (produced by Bregma) Logic leads the lyrical onslaught with a hook, which is really more of an occasionally reprised verse than a catchy chorus, spitting, "Fuck rap / Bustin' like an addict with a semi-automatic / who done had it, and he ready for anyone to buck back / Hold up, catch a vibe, ain't no way in hell we leavin' nobody alive / Leave a suicide note? Fuck that." Logic, throughout the course of his following two verses manages to confidently rap on Eminem's level—a feat few emcees could perform.
On the third verse, Eminem reminds the world why he's often listed as one of the best to ever pick up a mic. It's the quick-witted wordplay and intricate, multi-syllabic rhyme schemes he weaves into rapid-fire bars like, "Beast mode, motherfuckers 'bout to get hit / With so many foul lines, you think I'm a free throw / Figured it was about time for people to eat crow / You about to get out-rhymed, how could I be dethroned? / I stay on my toes [tows] like the repo, a behemoth in sheep clothes / From the East Coast to the West, I'm the ethos and I'm the G.O.A.T / Who the best, I don't gotta say a fuckin' thing, though / 'Cause MCs know."
This is the first track that Eminem and Logic have teamed up for and it was a definite success. The outsider status that both rappers have enjoyed throughout their careers, in hindsight, makes you wonder why this collab didn't happen sooner.
"Homicide" is the third single from Logic's forthcoming album, Confessions of a Dangerous Mind.
Homicide
---
Dustin DiPaulo is a writer and musician from Rochester, New York. He received his MFA in Creative Writing from Florida Atlantic University and can most likely be found at a local concert, dive bar, or comedy club (if he's not getting lost somewhere in the woods).
---
POP⚡DUST | Read More...
Cynister Declares Independence in Their Latest Single "No Man"
Taylor Swift's BBMA "Mayochella" Performance Angered the Beyhive