FILM & TV
The Marvel Cinematic Universe Movies Just Got Another Female Hero
SPOILER ALERT! But c'mon, the movie came out five months ago.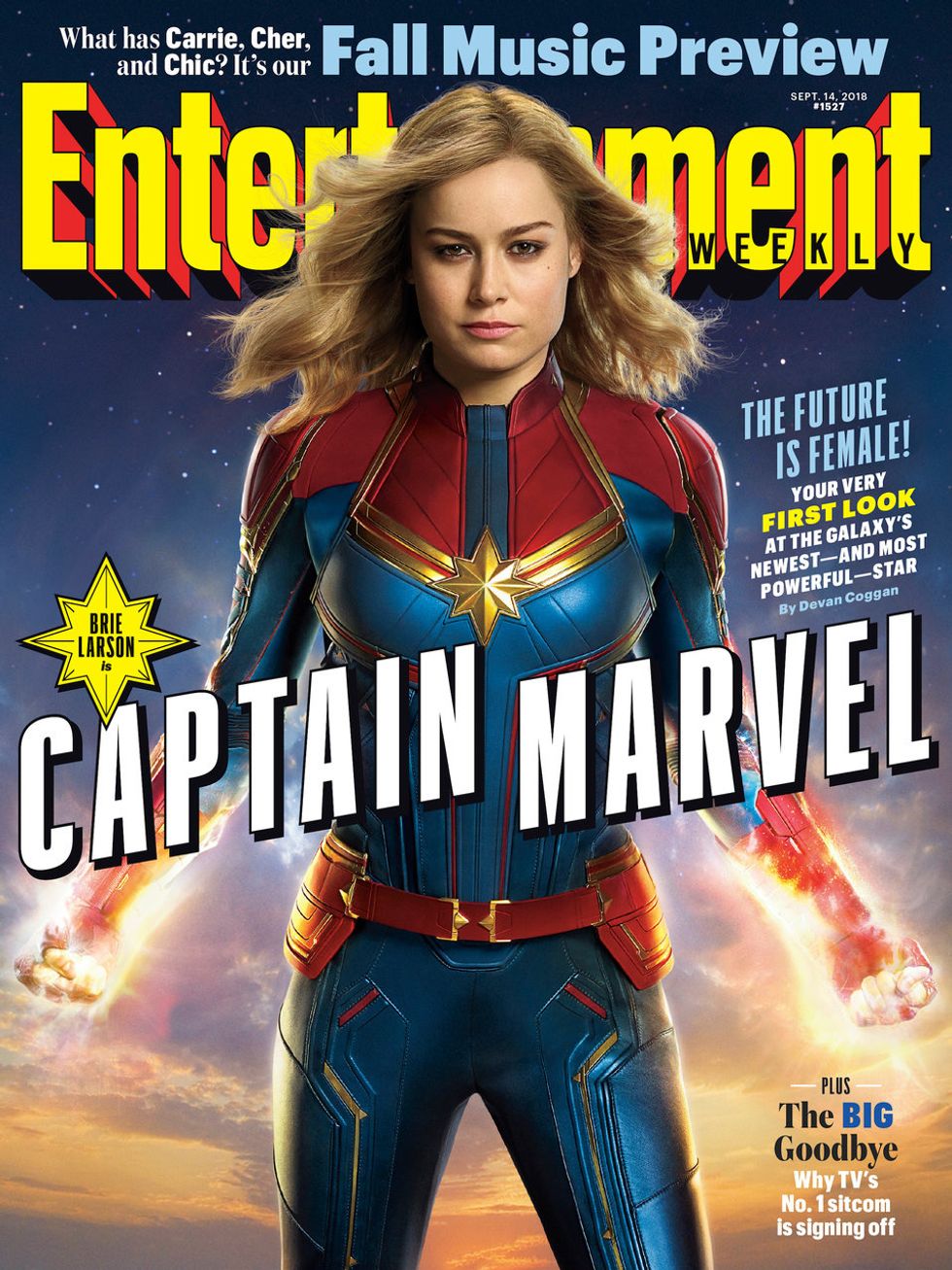 Entertainment Weekly
Another strong, independent woman superhero? Yes, please! This week's colorful, comic-esque Entertainment Weekly featured Brie Larson on their cover suited up as Captain Marvel. Equipped with fierce fists and a slight smirk, she's bound to be the most powerful star yet.
Welcome to the world, Carol Danvers! #CaptainMarvel SHE HAS ARRIVED!!! https://t.co/7J2YY32Um9

— Marvel Stuff (@Marvel Stuff)1536166291.0
The costume seems to stay very true to the comics, depending on which one you're reading — I've mainly seen her with short hair because in my opinion, the long, blonde hair makes everyone compare her to Supergirl. Both are amazing, BTW. What I love most about the suit is that it doesn't comically — pun intended — emphasize her chest, which the Marvel movies have done a good job of.

Captain Marvel is introduced as a last resort after Thanos wiped out half of the universe in a twisted attempt to save some of the population before running out of resources. He firmly believed that this was the only option to save the world and that he was the only one strong enough to achieve his goal — thus also killing Gamora, his daughter, and Vision, who had the last stone in his forehead.
Before Nick Fury turns to dust — along with Spiderman, Doctor Strange, and many others, if you can remember the heartbreak — he beeps Captain Marvel in what looks to be a glorified pager. Thus, we obtain our awful cliffhanger for the sequel to Infinity War, colloquially named Avengers 4.
Oh, we've got photos too — including two-eyed Nick Fury and SKRULLS. https://t.co/FufyhP1R4k #CaptainMarvel https://t.co/BiTfYzSOEB

— Devan Coggan (@Devan Coggan)1536165521.0
However, before we can satisfy our curiosity and longing for justice, Captain Marvel will have her own self-titled movie coming out in March — set in the 1990s, we'll get to see Samuel L. Jackson as a two-eyed Nick Fury, Clark Gregg as Agent Phil Coulson, and Crazy Rich Asians star Gemma Chan as some kind of green being.
👋 @gemma_chan! More #CaptainMarvel goodness (and green-ness...) in this gallery of exclusive first look images:… https://t.co/dpFBz0cjq4

— Shirley Li (@Shirley Li)1536165770.0
"She can't help but be herself. She can be aggressive, and she can have a temper, and she can be a little invasive and in your face," said Larson to EW. "She's also quick to jump to things, which makes her amazing in battle because she's the first one out there and doesn't always wait for orders. But the [not] waiting for orders is, to some, a character flaw."

Larson has starred in movies such as Kong: Skull Island, Room, and Scott Pilgrim vs. the World. She has won Best Performance by an Actress in a Leading Role at both the Academy Awards and Golden Globes, along with many other awards and nominations.
Captain Marvel will come out on March 8, 2019 and the next Avengers film will be released only two months later on May 3, 2019.
---
Amber Wang is a freelancer for Popdust and various other sites. She is also a student at NYU, a photographer and intern at the Stonewall National Monument.
---
POP⚡DUST | Read More ...

More Than 840 Words Added to Merriam-Webster Dictionary
Social Justice or Smart Business Move?