MUSIC
Travis Scott sure knows how to make an entrance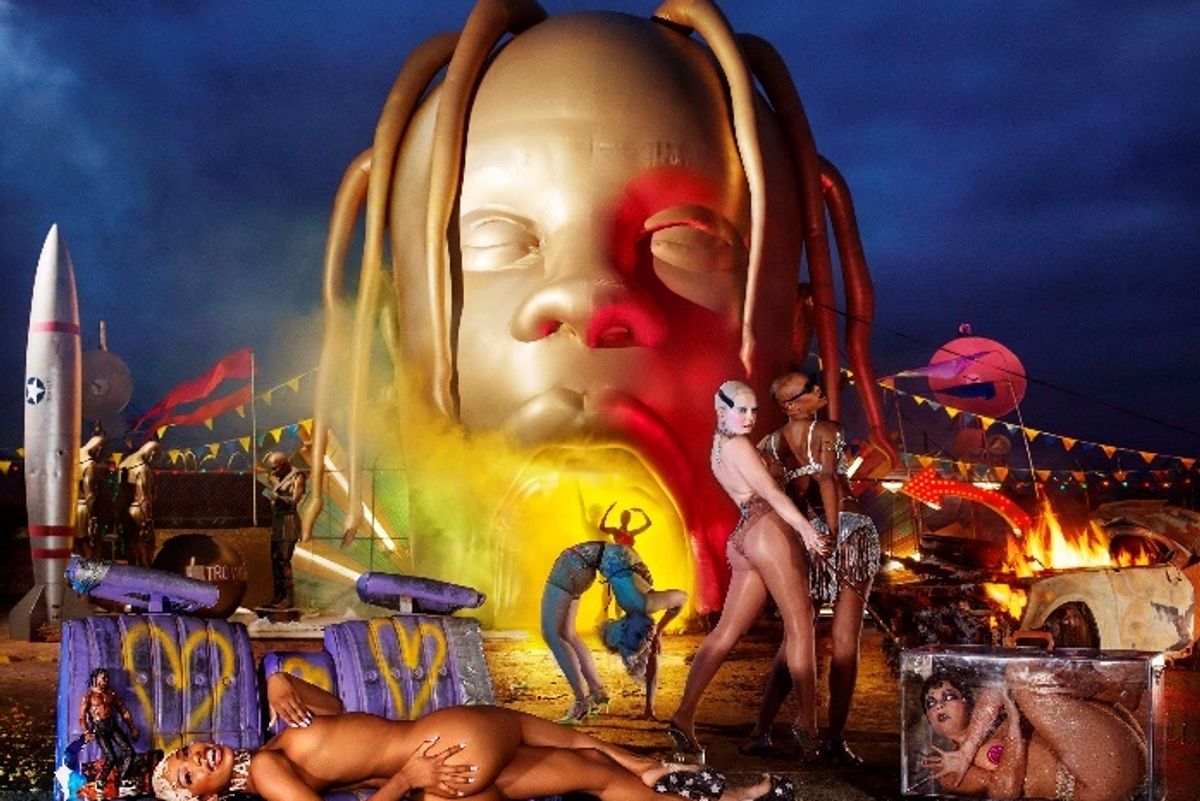 Epic Records
Travis Scott's highly anticipated third album recently released and it's come with more baggage than anyone could have imagined. The 17-track amusement park themed experience exudes a creepy, disturbing, haunted feel that mirrors that of American Horror Story meets rap.
REACTIONS

Top tracks are definitely "Carousel," "Sicko Mode" and "Stop Trying to Be God" — perfectly complimenting to each other and the album. "Carousel" boasts a strange beat and a heavy bass, setting the perfect mood for Scott and Ocean to recount their days taking various drugs and just living in the moment. Along with an intro from Big Tuck, this track is the perfect second song to Astroworld.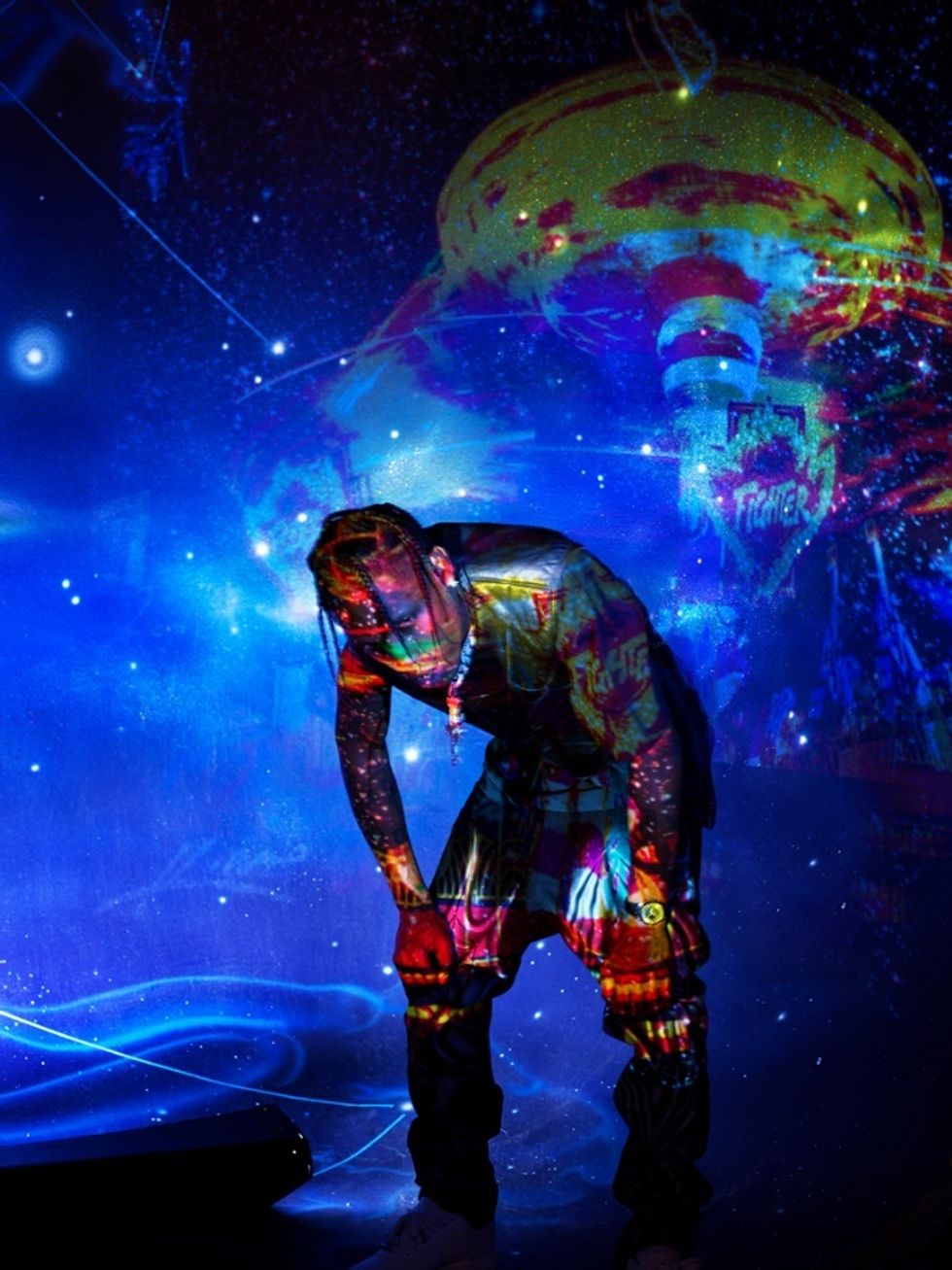 Epic Records
"Sicko Mode" is another essential hustle song about finally making it and being above all the other competitors — Drake and Travis Scott rap about how they're in "sicko mode" over an ever changing beat and sound. You can also hear lowkey creepy amusement park theme in parts of the song, contributing to this ode to Astroworld, a failed park back in Scott's hometown of Houston.

FEATURES
Features can either make or break the album — and in this case, Scott made sure he wasn't short of any. Some favorites include Frank Ocean on "Carousel," Drake on "Sicko Mode," Swae Lee on "R.I.P. Screw," and a part of Migos for "Who? What!" Tracks like "Stop Trying to Be God" and "Skeletons" boast a huge number of features from three or more big names, which makes us wonder what the budget for this album was...

KYLIE JENNER
Amid accusations of Scott never mentioning his baby mama, he delivered this time with numerous mentions of Kylie Jenner and their daughter, Stormi Webster, in Astroworld. In "Stargazing," Scott mentions how a girl saved his life out of nowhere and that his "baby mama is a trophy." However, in this context, it seems like the couple enjoys the phrase "trophy wife" — quite a contrast from its usual insulting tone.
Money is definitely a big component of their relationship — "We just rocked Coachella, I gave her half the check." This mention on "Skeletons" doesn't seem like Jenner is the sugar baby type though — she definitely contributed to his huge crowds at the performance too.

However, my favorite is definitely "Baby mama cover Forbes, got these other bitches shoot" — Jenner is definitely not reliant on Scott for his success or money. She's got her own life too as part of the power couple.
CONTROVERSIES
Album releases don't drop without their fair share of controversies — Scott's particular issue comes from his exclusion of Amanda Lepore from his album cover, shot by David LaChapelle. Some fans and outsiders accuse Scott of being transphobic as Lepore is a famous, groundbreaking trans model — others cry of overly P.C. culture and that Scott meant nothing by it.
Nobody knows why Scott removed Lepore, but there have been lots of accusations of transphobia within the rap community lately — Migos were rumored to not want drag queens even in the room at their SNL rehearsals and Cardi B was called out for defending her man.

Whatever Scott's intentions were, the album cover somehow doesn't look complete without Lepore in the left background — David LaChapelle is a renowned photographer and it seems like he would know what he's doing. And thankfully, Lepore responded with grace and dignity.
In this world today, song and album releases aren't just about the music anymore — if you want extra attention for your work, you may need to add more spice to your character. And Travis Scott did just that.

---
Listen to Astroworld here:
---
Amber Wang is a freelancer for Popdust and various other sites. She is also a student at NYU, a photographer and intern at the Stonewall Inn National Monument.
---
POP⚡DUST | Read More ...

REVIEW | Aire Atlantica Remixes FINNEAS' 'Landmine'
How Drake is Changing in New Album 'Scorpion'
INTERVIEW | NEKOKAT releases new EP 'Pleasure Beach'