Frontpage Popular News
Niall Horan Has A Skincare Routine…Do You?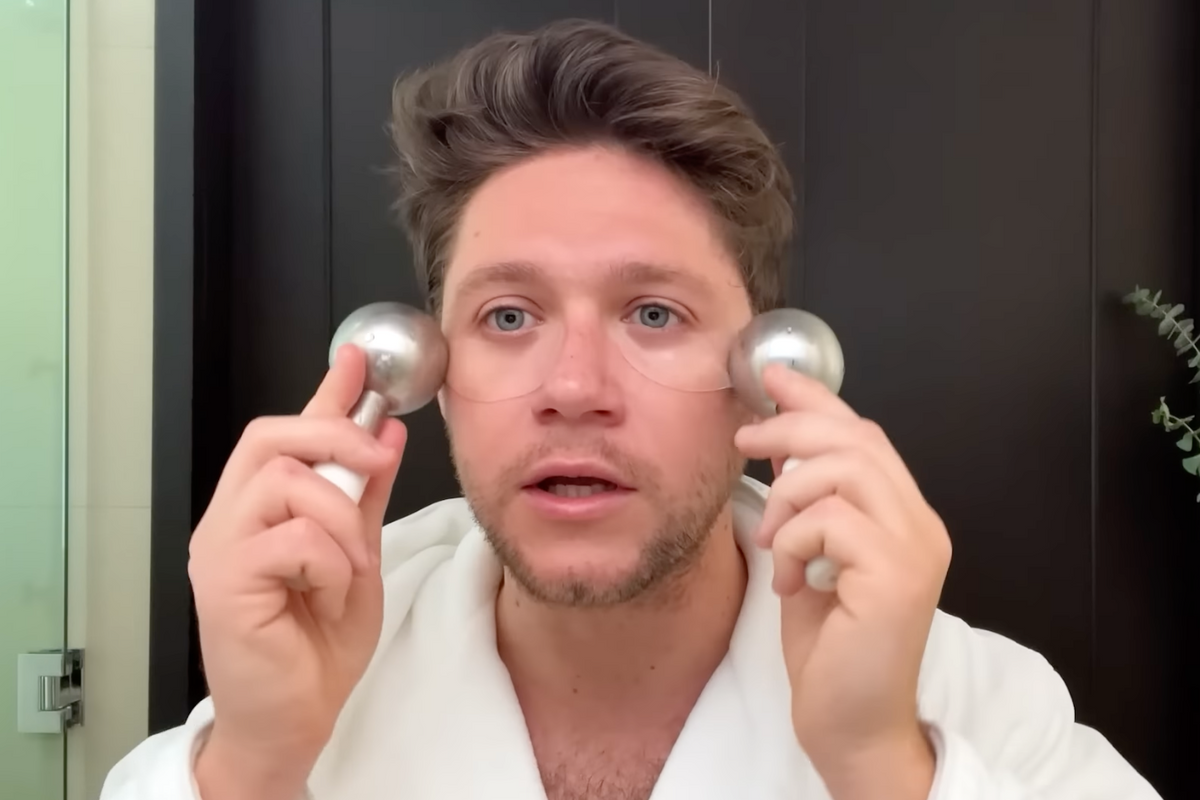 Niall Horan's 22-Step Skin and Hair Routine | Beauty Secrets | Vogue
I've been carefully curating my skincare routine for over a year now. Par for the course, skincare related TikToks have been flooding my FYP, selling me every trendy product on the block. Whether or not they work is a different question. I've fallen for gimmicks, traps, and cute packaging, but I've also found a solid 6-step routine.
---
I advertise skincare to everyone I meet, because who doesn't want to stay as effervescent and youthful looking as possible? Not only can you get rid of the texture, redness, and acne we all deal with…but you literally can delay the aging process. If I only do one thing daily to take care of myself, it's going to be my skincare routine.
My toughest crowd, however, has been men. While we all have skin, which needs care just like the inside of our bodies do, I have yet to meet many men who have figured out a skincare routine for themselves.
Maybe it's because of masculinity. The patriarchy, at it again! Since the beauty industry is catered towards women, it's an impossible task to break through and convince men that these pots of fragranced creams and tubes of scented gels are worth smearing on your face twice a day. But I'm here to change all that.
I'm of the firm belief that everyone can benefit from makeup and skincare - not just women. We all wake up, look in the mirror, and think we look a little tired…or see a new pimple on the horizon and want to eliminate it immediately from our faces. So what's the harm with dabbing a bit of makeup to make us look - and feel - immensely better about our appearance? Nothing.
Your favorite male celebrities wear makeup daily. That's right, even Tom Cruise is sporting concealer while doing all those stunts. And maybe even a layer of blush. Brad Pitt and Pharrell even have skincare brands of their own.
Niall Horan, judge on this season of The Voice and former member of One Direction, recently went on Vogue's Beauty Secrets to share his 22-step beauty routine…and while I'm not saying every man needs a 22 step routine, his recommendations are a great foundation for any man.
He says it himself: "Look fab, feel fab."
While walking us through his luxurious routine, Horan muses why more men don't have a routine. "I think with men…we're getting better at it! Everyone's always kind of against the skincare thing and I don't really know why. It's like, do we give up some of our masculinity if we admit to using moisturizer?"
So if you're looking to start a routine…or you're looking to inspire your boyfriend, brother, friend, or family member…take it from Niall. Here are my favorite steps from his routine that anyone can follow!
CLEANSER: Sarah Chapman Skinesis Ultimate Cleanse
Of course Niall enjoys nothing but the best for his skin…and this Sarah Chapman Cleanser is no exception. With peptides and Vitamin A for anti-aging properties and Vitamin C for brightening, this cleanser gets deep in your pores to purify while removing makeup and impurities.
MASK: Make Beauty Micro Crystalline Exfoliating Face Mask
Exfoliation helps get dead skin cells off your face, giving you a moisturized, glowing surface. Niall recommends doing this a few times a week at least, crediting the Make Beauty Face Mask as his savior. A mask is easy to use, low maintenance, and not necessary for everyday…perfect for the male skincare routine.
EYE MASK: Jaxon Lane Bro Mask Eye Gels
Jaxon Lane makes skincare targeted towards men, and these Bro Mask Eye Gels make a routine feel easy. Bring these bad boys anywhere, wear them in the car on the way to work or put them on before you go out. They'll de-puff and brighten up those tired under eyes.
MIST: Allies of Skin Molecular Saviour Probiotics Treatment
If you're someone who doesn't have the time for a routine, a mist will be your BFF. The Allies of Skin Mist is Niall's favorite, and contains Niacinamide and Amino Acids to wake up your skin and restore its youthful bounce. It soothes redness and helps your hydration levels without you having to work hard at it.
SERUM: Osea Essential Hydrating Oil
Osea is known for their hydrating products, and this oil will be your best friend. With jojoba and macadamia oils, Osea has created the ultimate moisturizing oil that will reduce the appearance of fine lines while maintaining your skin's elasticity. If you have one serum, make it this.
EYE CREAM: Ilia Bright Start Retinol Eye Cream
What I love about the Ilia Eye Cream is that it can be applied directly onto your face. You don't have to dip your finger into a pot, and the metal applicator feels cooling on your under eyes. The retinol will aid with wrinkles, puffiness, dark circles, and more over time.
SUNSCREEN: Jaxon Lane Rain Or Shine Sunscreen
Sunscreen may not seem important year round…but Niall Horan knows his Irish skin is sensitive even when you don't necessarily see the sun. If you experience redness or irritation seemingly out of nowhere, chances are it's the sun's fault. Using sunscreen in the morning will help prevent damage and slows down the aging process. A necessity if I've ever heard one.