MUSIC
We Have the Exclusive First Look at Olivia Castriota's New Music Video!
song.link
She's a New York native and she's taking the city with charm.
Olivia Castriota is a pop soul performer with quirky fashion sense, and vocal chops to spare. Her previous work has peaked at #2 on the iTunes U.S. New Album Release charts, and she has graced stages across the country, including venues like the Apollo Theater and MetLife Stadium. Grammy Winner Vlado Kolenic crowned her "one of the most talented vocalists in years". Here at Popdust we have the exclusive skinny on her latest drop: the music video for "Weekend Lover." It's officially out on August 17th, but we have the first look for you right here. Check it out:
The song opens smooth and tranquil, before the drums, bass, and vocals gently swagger through a verse. Like waking up to the city on a Saturday morning. Castriota's voice is sweet, even as she lays down a series of confident truths. At the chorus, the full sound kicks in, yielding but brusque. She sings a '90s style chorus with easy charisma. Her lyrics are catchy, straightforward, un-precious, but graceful. Listening to the song is a sweet instant pleasure, like taking the first sip of a cold drink on a hot day. At the ending breakdown, violin brings in a little extra atmosphere, while brittle guitar adds texture to proceedings.

Lyrically the song takes a look at mundanity in long term relationships and celebrates it, even while acknowledging its limits and gently pushing up against them. She talks about routines, leaving Post-its, post-courting rituals, and all of the nothing that goes in to making cohabitation work. It's charming, sweet, and playful. Castriota does flirt with an edge, claiming to be damned if she does, damned if she doesn't, but this isn't the song of a cheater, it's the song of someone who is content and likes it, in spite of the foibles it brings to light.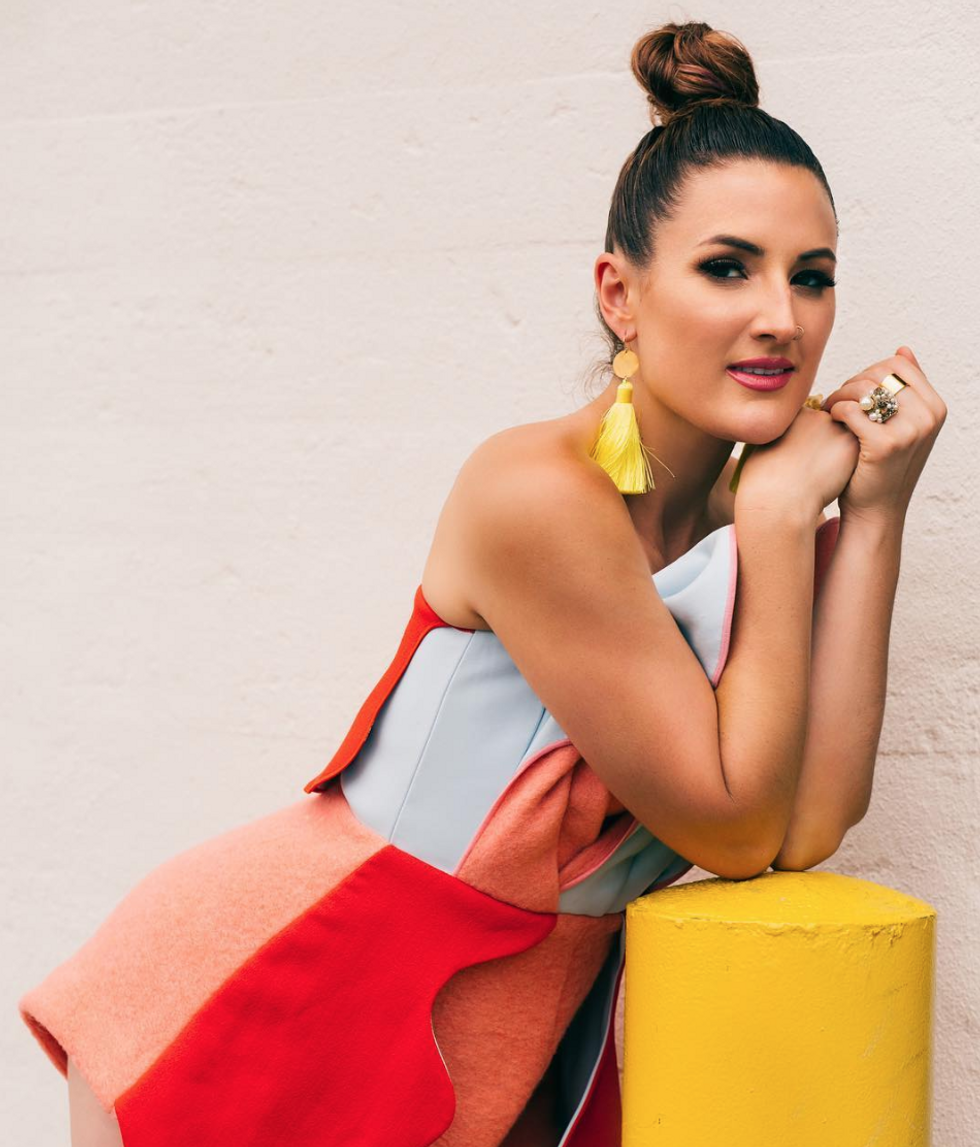 Olivia Castriota
In the video, this story is very much front and center. A colorfully dressed and made-up Castriota snuggles with her boy, goes about couple activities with same, and sings in front of a wall that bears the word "Love" ad infinitum. She cooks, burns toast, makes a bed, reads, and dances about her trendy NYC one-bedroom. The visuals are very "what you see is what you get," in the same way that the song is. It's a cute, no drama, love story. Which is nice to see. So much of pop is often life or death, it's nice to see something that's just life for once.

Olivia Castriota has a voice with obvious versatility. With the notes she hits and the way she hits them, she could easily sing a Bond theme at some point in her life. But she can also sing faire like this which is made for and about lazy Sundays. A laid-back track suitable for the car, the bedroom, and the "Walking Home From Work" playlist. "Weekend Lover" is chiller than chill. Listening to it dips the heart rate, soothes the brow, and might even lower cholesterol, who knows. Need an easy good time? Olivia Castriota has one for you right here.
Follow Olivia Online!
Thomas Burns Scully is a Popdust contributor, and also an award-winning actor, playwright, and musician. In his spare time he writes and designs escape rooms. You can follow him on Facebook, Twitter, and Instagram.
POP⚡DUST | Read More…

F*** Yeah It's Summer. The NSFW Anthem You Didn't Know You Needed
Eddie Izzard: transgender, hilarious, and heartbreaking
'Pop Punk High', a pop punk musical comedy? Um... yes please!