FILM & TV
FX's Pose is an Amazing TV Moment and I'm Here For It.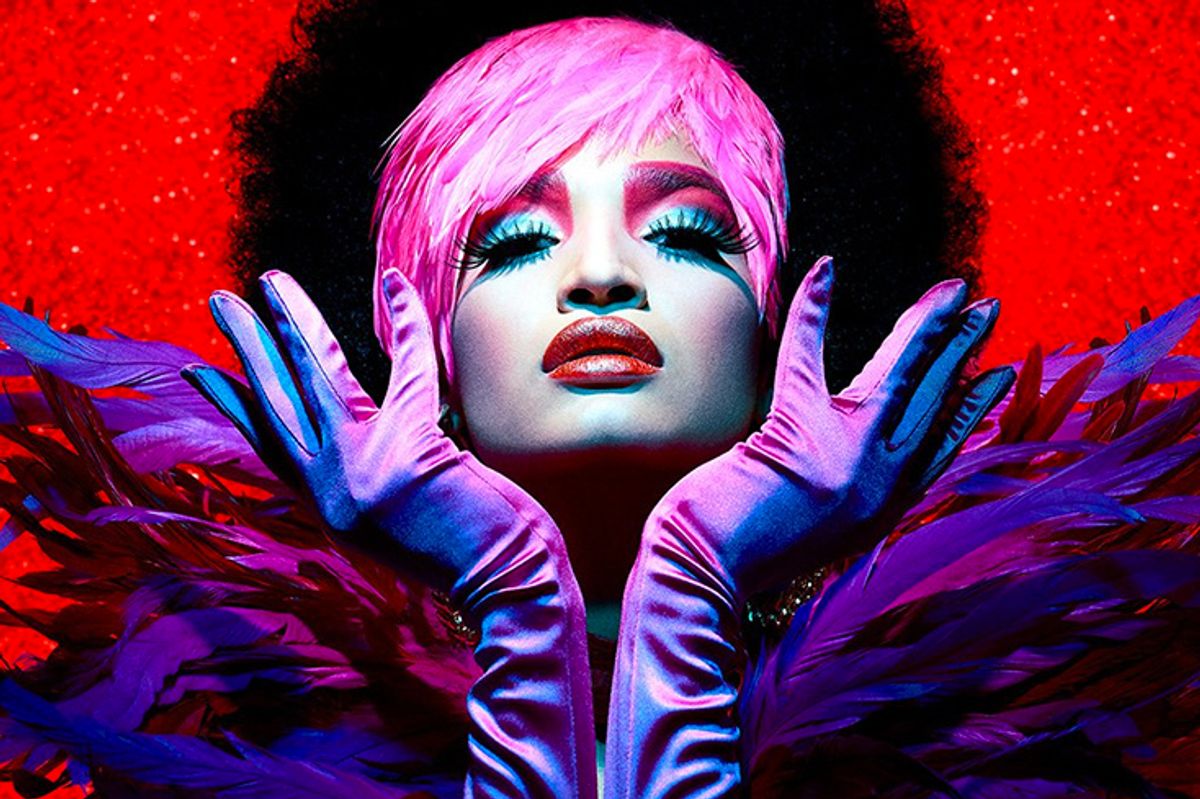 FX 'Pose'
These communities are absorbed into mainstream culture but are rarely depicted in film and TV with the same verve and reverence.
When I was young, I would not leave the house unless I was wearing my favorite dress—a white ballerina midi with a tulle skirt sewn around the waistline. I would throw fits and tantrums when my mother would try to make me wear something else. In retrospect, the dress made me feel like a princess, like the ultimate kid version of a woman I wanted to be, but it also was my first attempt at performing my femininity and what I perceived to be the cornerstone of womanhood—dresses, makeup, and heels included.
These days, I'm still mostly found wearing dresses and heels in the most impractical of times. But that's the thing. I know the commercial and economic realities of my femininity; I know my deodorant is more expensive than men's deodorant and I know none of my dresses or pants have pockets. I know that makeup, bras, and heels for many feminists symbolize oppression and the infantilization of our bodies. I know why those dresses were special to me as a kid and why they are special to me as an adult. And despite these realities, I know why they still bring me pleasure as a queer woman.
FX's Pose, a sequin-embroidered paean to New York City's drag ball culture and gay/transgender communities, is a show that TV needs right now. It's also the type of show that fervently screams at the camera, "We are who we are!" Based in the 1980s, its dialogue mirrors a Twitter feed and remains culturally immersive, each character showing a walk of life not often depicted on TV. Co-created by Ryan Murphy (Glee, American Horror Story, Feud), Pose is FX's inclusive glitter baby, a show heavily promoted and celebrated by the network, and rightfully so. And though a show like this succumbs to camp by its mere existence, it's triumphant in its depiction of black and Latinx men and women and NYC's trans subculture. These communities are absorbed into mainstream culture but are rarely depicted in film and TV with the same verve and reverence. But if there's anything Pose celebrates, it's the unequivocal power of youth culture, and the beautiful ways people come together to celebrate the freedom of sex, fashion, and personal liberation.

Each character, however, is struggling to define what femininity looks like when assigned to the wrong body, the wrong sexual orientation, or the wrong family. There's the House of Abundance, led by the stunning, scene-stealing Elektra (Dominique Jackson), with cheekbones as sharp as knives. There's the House of Evangelista led by Elektra's former student and "child," Blanca (Mj Rodriguez), who dreams of starting her own house following a rather terrifying diagnosis. Angel (Indya Moore) is a sex worker who abandons the House of Abundance to live with Blanca. She's a lost romantic who keeps pairing with straight men who are ashamed of their attraction to her, specifically Stan (Evan Peters), a married man and father who works for Trump Organization. Damon (Ryan Jamaal Swain) is a dancer estranged from his parents for being gay. Swain's doe eyes show the vulnerability of his character, the passion he has for dancing and the fear he has to accept his own sexual orientation.
Part family drama, part vogue fest, Pose breathes life into drag culture, reclaiming the colloquialisms that are commercialized in mainstream media, white neighborhoods, and liberal art colleges. The show features the largest cast of LGBTQ actors on scripted series and is one of the first TV offerings to include transgender activists and performers in the writers' room. (Janet Mock and Our Lady J co-wrote some of the episodes.) Pose is a beautiful moment in TV history. It's a reminder to everyone that our freedoms and pleasures in this life shouldn't be measured by our bodies, but by our communities and the families we create for ourselves. And it's a reminder that something as simple as a dress can feel like liberation when worn for oneself.