MUSIC
No other artist is obsessed with mortality like Flying Lotus.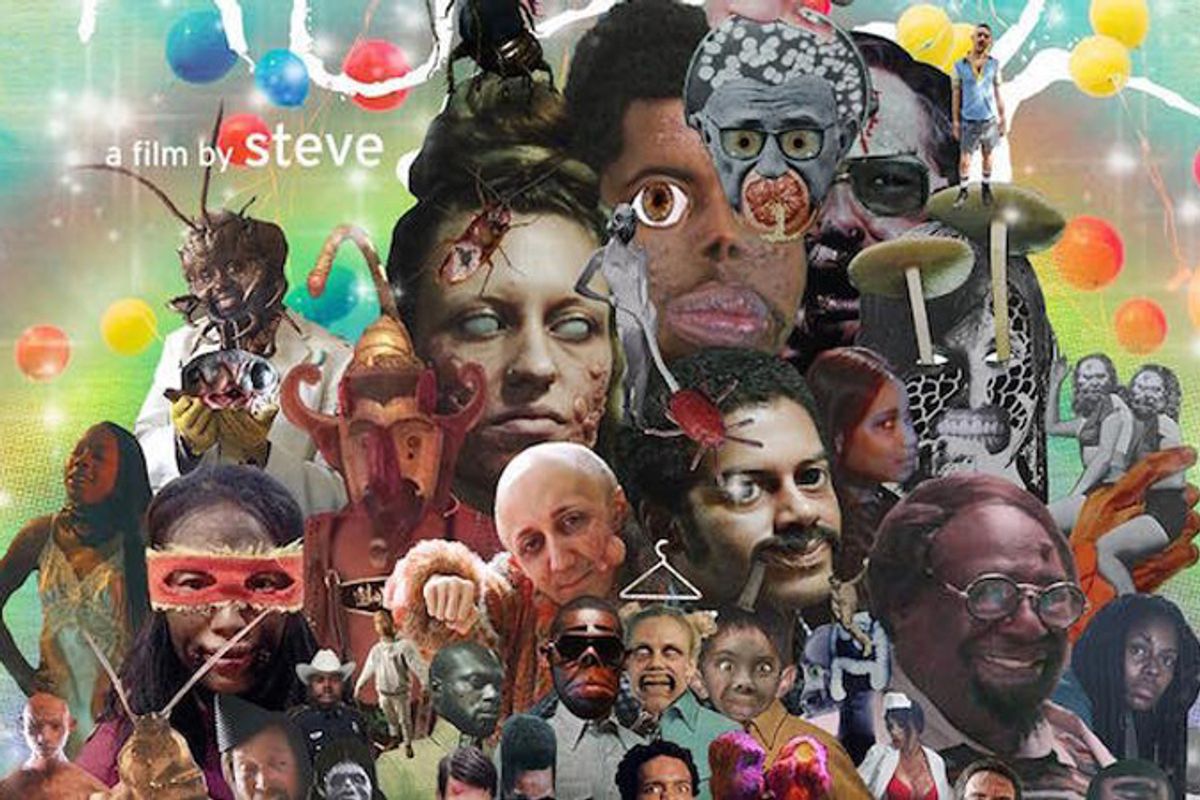 'Kuso' Flying Lotus
Hire Flying Lotus to score your film.

Calling all sci-fi film fanatics: Flying Lotus, aka Steve Ellison (or, known by some as the guy who makes bumps for Adult Swim), has released seven new songs on his SoundCloud. And six of these were used for Shinichirō Watanabe's cyberpunk animation, "Blade Runner Black Out 2022." The short film's 15-minute runtime is one of three prequels—"2036: Nexus Dawn" and "2048: Nowhere to Run"—to the live-action film "Blade Runner 2049," directed by Denis Villeneuve. You may recognize Watanabe from another cult classic, "Cowboy Bebop"—a 1998 anime that has since become one of the greatest anime of all time—or its sister series, "Samurai Champloo." The short film takes place during a power outage in the United States, the same blackout that's depicted in "2049."
A longtime fan and admirer of Watanabe, Flying Lotus jumped at the chance to score the short film. His beatmaking naturally provides a sonic fabric to "2022's" icy dystopia; the film opens to a human supremacy movement with humans and replicants at war, the latter causing a massive power outage. Like most post-apocalyptic worlds, the film portrays the blurred boundaries of humanity where human life starts and ends, and the fragility of human bodies. It questions the value of replicant lives, their rights, and the conditions of their service since their update. Now equipped with an open-ended lifespan, replicants can outlive humans. "2022" shows just how quickly society rejects the corporeal extension of replicant models and provides a bit of exposition for "2049" without alluding to the film's big spoiler.
Tracks like "Face Smasher," "More Human," and "Silo Drive" exude FlyLo's signature psychedelic production and are even more evocative as sci-fi electronica compounded by Watanabe's chaotic fight scenes. He also shared "Choo Choo," a delicate violin outtake from "Perfect," a sci-fi thriller directed by Eddie Alcazar. The two collaborated on a short film that was also scored by FlyLo. His latest project under the filmmaking alias Steve, "Skinflick," is inspired by Bob Heslip, a man known for a rare skin condition, Neurofibromatosis type 1, that causes bubble-like bumps all over his entire body. "Skinflick" is a challenging film, one that questions beauty standards, showcasing the dynamic ways the human body transforms when subject to its own laws of nature.
FlyLo is no stranger to body horror; his feature-length film, "Kuso," easily one of the most disgusting and crude horror films ever made—a style indebted to David Cronenberg, a filmmaker with far more restraint and learned appreciation of subtlety—is most notable for walkouts during its Sundance premiere in 2017. A gruesome concoction of FlyLo's very worst indulgences as an artist and musician, "Kuso" is solely redeemed by "Post Requisite," a track that's both jazzy and visceral, pretty and ugly.
FlyLo's fixation on the human body and its many capacities—life, creation, decomposition—has always been a substantial part of his iconography. 2013's "You're Dead!" addressed what so many sci-fi films have scrutinized in 2-hour runtimes, attempting to unravel the mystery of death and its elusive conditions. And, paradoxically, life is only known as such because of death, something Ellison is sure to emblematize in most of his music videos. FlyLo's music tends to tackle all-encompassing themes, scavenging the limitations of the mind and body, a goofy endeavor he's pulled off since 2008's "Los Angeles." But his album artwork, films, and visual projects—for instance, "Until the Quiet Comes," a short film by Kahlil Joseph—are beautiful, hypnotic, and terrifying all at once. He approaches the unknowable through the human body and it's a visual poem, euphoric in moments where the body is performed as art, and irreverent as it leans toward the absurdity of life itself. Steve Ellison has some work to do before he's as refined as Cronenberg, but it goes without saying that he's added his own symphony and visual catalog to the genre of body horror.
Listen to 7 new tracks by Flying Lotus here.
---
Shaun Harris is a poet, freelance writer, and editor published in avant-garde, feminist journals. Lover of warm-toned makeup palettes, psych-rock, and Hilton Als. Her work has allowed her to copyedit and curate content for various poetry organizations in the NYC area.

---
POP⚡DUST | Read More…
MUSIC MONDAY | Tattoo Money boosts the "Levels" of Love
RELEASE RADAR: Premieres from Gizelle Smith and The Apartment Club
INTERVIEW | Scotty McCreery soldiers the darkness for "Seasons Change" album
REVIEW | Where Lexie Rose Goes, She Only Knows. Her new EP is "On My Own"
---