FILM
No Host Would Actually Be a Lot Better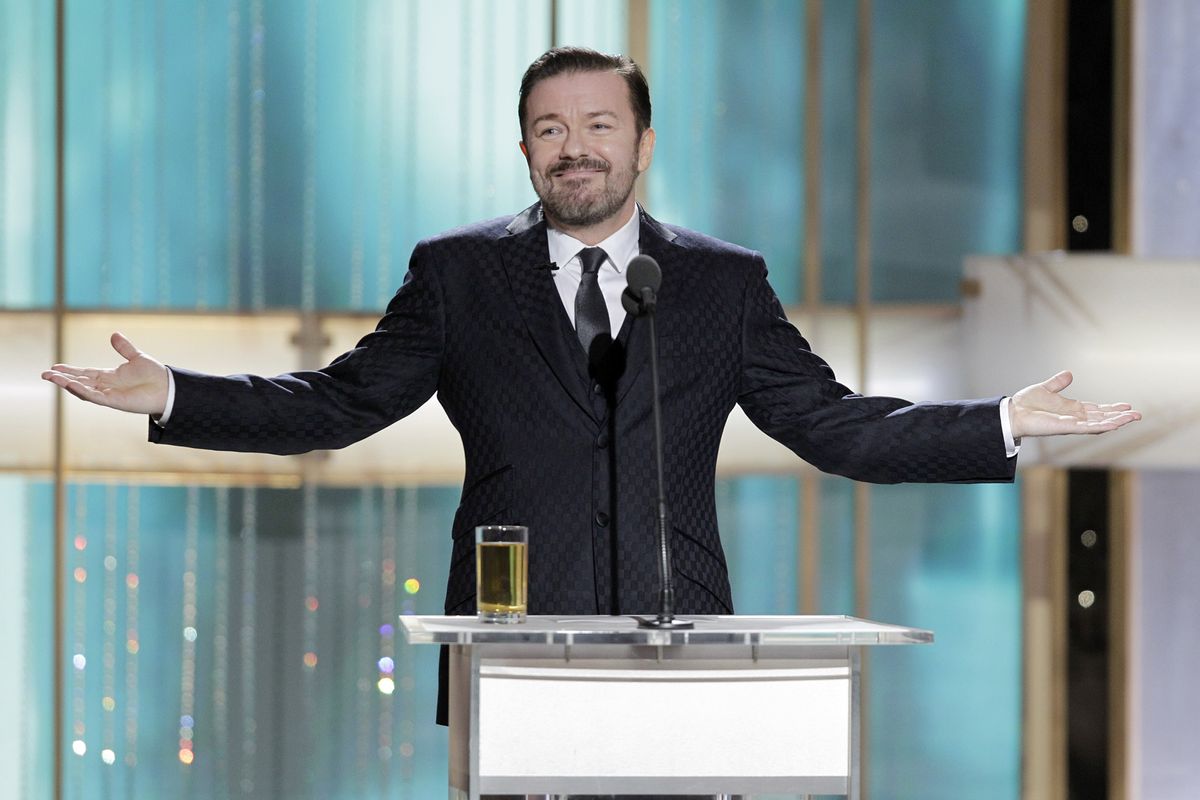 People
Last January, Ricky Gervais—who has hosted the Golden Globes four times before—claimed that if he had hosted the 75th annual Golden Globe Awards, "it would have been the end of [my] career."
He said this in the context of expressing his jealousy of Seth Meyers, who hosted that year. In a time of cultural shift and increased sensitivity to various issues, the "comedian" seemed to be suggesting that his particular brand of offensive and insensitive material would both flourish in that context and invite a harsh backlash. It's unclear what, if anything, has changed since then, but it has just been announced that the Hollywood Foreign Press is having Gervais reprise his hosting duties for a fifth time. Why?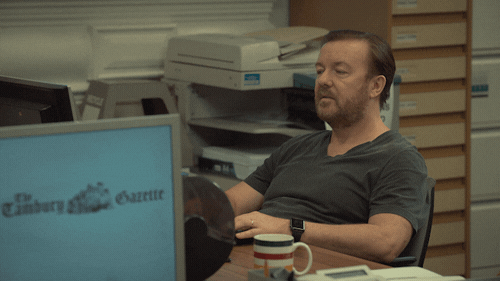 "After Life"
Remember when Kevin Hart was bumped from hosting the Oscars because his apology for old homophobic jokes wasn't good enough? Well Gervais has never apologized for his bad jokes. In fact, he continues making them. He is proudly behind the times. He has made an ongoing point of expressing his passionate ignorance of trans issues as crassly and as often as possible. In his Netflix stand-up special, he "jokes" that he has "always felt like a chimp," and he's claimed in various tweets to identify as thin, black, a poor green lesbian, and a comedian. That last one is particularly galling. Can you really be a comedian if you just keep repeating one joke?

It wasn't that long ago that holding transphobic views was the accepted norm, and perhaps it's too much to expect boomers to adjust to new expectations so quickly, but if they want to hang on to their outdated ideas, they could at least do so quietly. Gervais refuses to shut up about his tired politics. Take this brilliant insight into the existence of trans women who haven't opted for—or haven't yet received—gender confirmation surgery: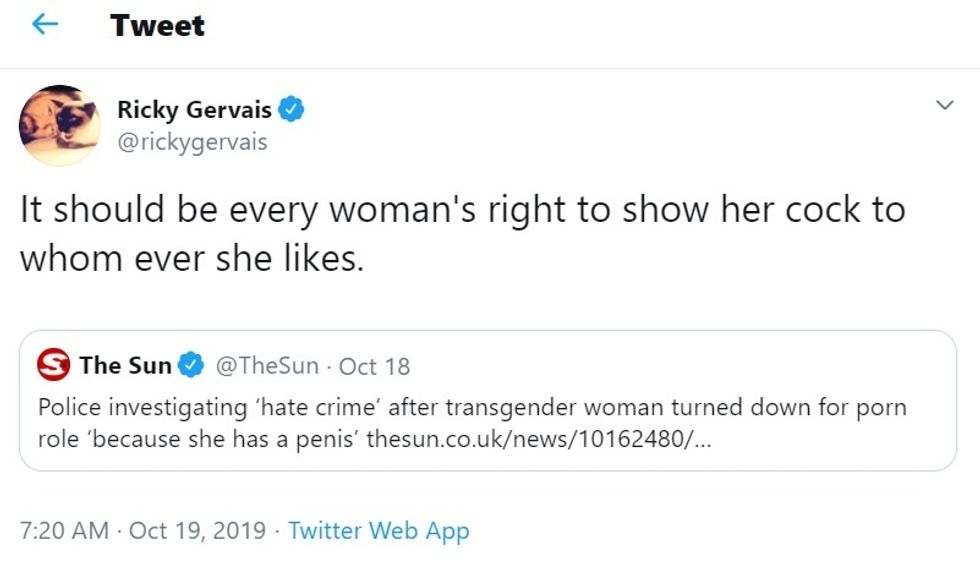 Hilarious...
And all the other times he's made basically the same joke (clearly I was wrong about him having only one joke that he keeps repeating—he has two). Ricky Gervais has made some great television and become a pioneer in early podcasting when he figured out that he could be mean to his friend for an audience. It's unsettling that someone who has contributed so much to culture, who is pretty clever in a lot of what he does, and who seems to have empathy in some matters could think such lame observations count as comedy.

He seems to revel in the suggestion that trans identities are perverse and that trans women who still have the genitals they were born with are fundamentally predatory. Maybe he thinks of his own p-nis as fundamentally predatory? Maybe he thinks that conflating homosexuality and pedophilia is still cool too. He's definitely not as comfortable with homosexuality as he likes to pretend.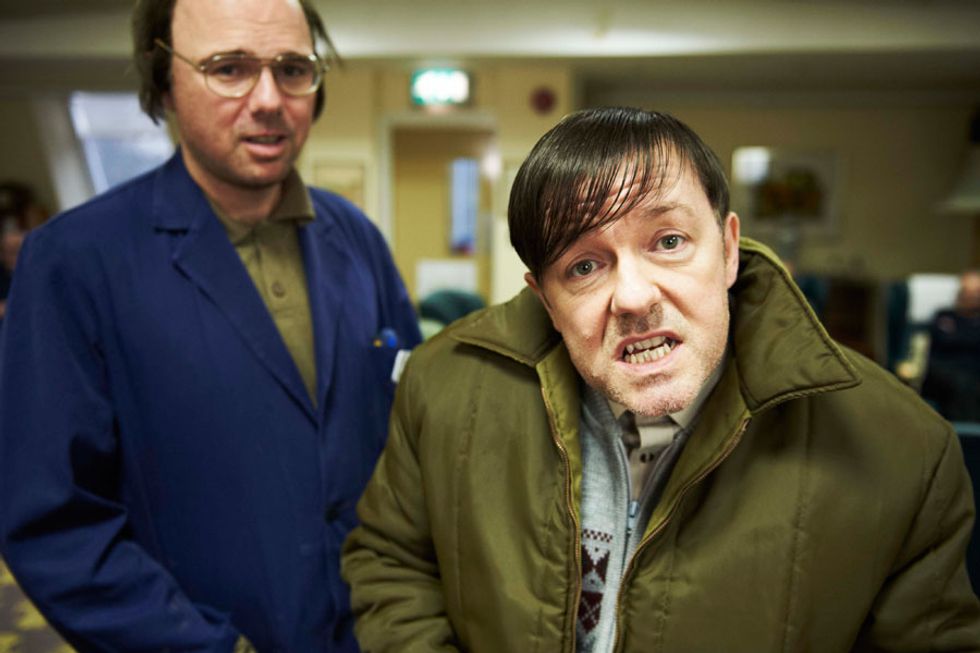 He's also really cool and thoughtful when portraying a character with a developmental disability...NME
So why? Why is anyone involved agreeing to this? I suppose Ricky wants people to pay attention to his Netflix show After Life, and thinks his edgy, recalcitrant ignorance will really shake things up by reasserting a lot of old and tired ideas. And maybe the Hollywood Foreign Press thinks that this will get them the kind of loud, negative attention that they didn't get until after they announced Green Book as the winner last year. After all, there's no such thing as bad press…except the Hollywood Foreign Press. They suck.

Best case scenario: Gervais is right, and this last hosting gig will end his career. Still, it just seems like there must be a better solution. Hmm…