TV Features
While they have yet to confirm they're dating, inside sources have confirmed it, and it's too awful to not be true.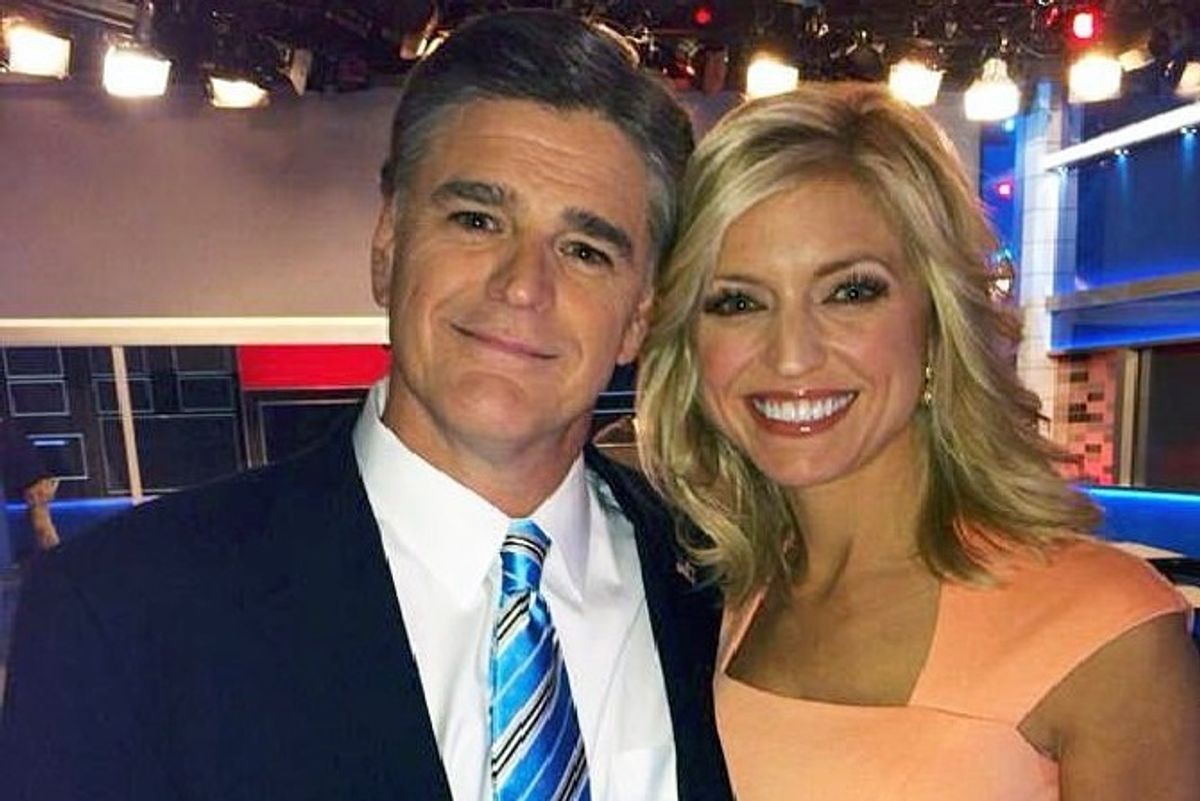 Ainsley Earhardt's Facebook
Apparently their separation has been in the works even longer—with "amicable agreements" dating back to at least 2016. The couple issued an official statement claiming that they still have a close relationship and are "committed to working together for the best interests of their children." But the question remains, why—after keeping it such a closely-guarded secret for so many months—did the Fox News host and his ex finally decide to announce the end of their marriage?
Now, barely a week later, we have an answer that is too upsetting to be anything but the truth. Because, with the divorce public at last, rumors have begun to swirl about a new (or not-so-new) relationship between Sean Hannity, 58, and Fox & Friends host Ainsley Earhardt, 43.
---
Bill O'Reilly Accuser Juliet Huddy Speaks Out | Megyn Kelly TODAYwww.youtube.com
As it turns out, Earhardt also got divorced last year, and she and Hannity have reportedly been dating "for quite some time." Considering the disturbing sexual atmosphere at the Fox News—where angry dark/gray-haired white guys pursue, harass, and sleep with younger, blonder white women (often while both parties are married to other people)—it was only a matter of time before the two ended up in either in a relationship or in a lawsuit.

The First Couple of Fox News
In its report on the alleged romance, Vanity Fair's The Hive dubbed Earhardt and Hannity "The first couple of Fox News" (which must be the worst addition to a pleasant-sounding phrase since "four horsemen" became "of the apocalypse"). But that title denies them their far more prestigious honor, because Hannity and Earhardt are undoubtedly the worst couple in America.
You might think that's a category with some stiff competition, after all, Elon Musk and Grimes named their kid after an airplane, and "Jarvanka" is still a thing. But Grimes gets a pass for making cool music, and despite Jared Kushner's best efforts to serve up terrible advice—and President Trump's obvious crush on his wife—he and Ivanka have not managed to be nearly as influential as the twin poles of Fox News' weekday schedule.
The Trump-Fox & Friends feedback loop, explainedwww.youtube.com
To put things in perspective, three hours of Donald Trump's morning, from 6:00-9:00, are devoted to receiving input and advice from the friends over at Fox & Friends—which has earned it the title of "the most powerful show on TV"—then, 12 hours of "executive time" later, it's time for Hannity's 9:00 PM hour of awfulness. Of course, this doesn't include the off-the-air counsel that Hannity provides in lengthy phone calls as President Trump's "unofficial chief of staff."

Sadly, we can't know what goes on in those private calls—it's possible that the advice goes in the other direction, with Trump walking Hannity through the familiar process of leaving a wife for a younger woman. But as for what goes out on the air, we've already seen how the dynamic duo of Earhardt and Hannity can team up to counter the spread of unflattering information when, for instance, it comes out that the president wanted to fire the person investigating his (alleged) crimes.
Considering how often Hannity and Fox & Friends are directly addressed to their favorite viewer over in the White House—and how often President Trump tweets along with them—we can sift through some of what Hannity and Earhardt have said publicly to get a sense of how this power couple will combine forces to sway the fate of the country.
How Fox News opinion hosts contradicted their own journalistwww.youtube.com
How Bad Are They?
Along with promoting conspiracies theories about Hillary Clinton having staffers assassinated and selling uranium to Russia, Sean Hannity—who volunteered to be waterboarded for charity in 2009 to prove that it isn't torture and has yet to follow through—has decades of experience responding to current events through both radio and television, dropping jewels of wisdom such as:

"Anyone listening to this show that believes homosexuality is a normal lifestyle has been brainwashed." (1989)
"Would you have allowed him to choose, you know, Hitler's Mein Kampf, which is the Nazi bible? In other words, where does this stop? Is there any limitations whatsoever?" (2006, on the topic of Islamic congressman Keith Ellison being sworn in with the Quran)
"Halloween is a liberal holiday … teaching kids to knock on other people's doors and ask for a handout." (2007)
"This scaring the living hell out of people—I see it, again, as like, let's bludgeon Trump with this new hoax," (March 9th, 2020 on "coronavirus hysteria")
"It's not the same thing to what happened to George Floyd, but it's horrific. He was a victim of crooked cops." (June 9th, 2020, on the similarities between the FBI investigating Donald Trump and Derek Chauvin Killing George Floyd)
Sean Hannity Speaks At A Trump Rally On The Eve Of The Midterm Elections | TIMEwww.youtube.com
Ainsley Earhardt, on the other hand, has not had nearly as lengthy a career in the punditry spotlight, only gaining national attention when she was made a Fox & Friends co-host in 2015. Nonetheless, in her relatively brief tenure she has already made some impressive headway in terms of spouting stunningly wrong nonsense:
"If you're still counting votes after 10 days … it kind of takes the fun out of election night." (2018, on getting the Florida recount over with)
"All right, well, the president says it's fake news ... It's something we have to tell you about because it is a headline in the New York Times. What do you think about that? Do you even care?" (2018, on the president trying to fire Robert Meuller as confirmed by Fox's own news team)
"It's actually the safest time to fly." (March 13, 2020)
So while it's too soon to say what the future may hold for this amazing couple of go-getter propagandists, it's clear that they're both titans in the field of flattering Donald Trump and making white boomers angry and afraid. With both of their divorces out on the table now, the "first couple of Fox News" is finally free to pursue a life together.
Will we see them together at Trump Rallies? Will they work together on a new show ranking the scariest brown people? Most exciting of all, given Earhardt recently told People, "I have frozen my eggs, so I am prepared if I decide to have more children," there could beanother contender for the title of antichrist in the works. Can't wait...