Frontpage Popular News
Australian Cartoonist "Interprets" the Athlete at the Open…Criticism Ensues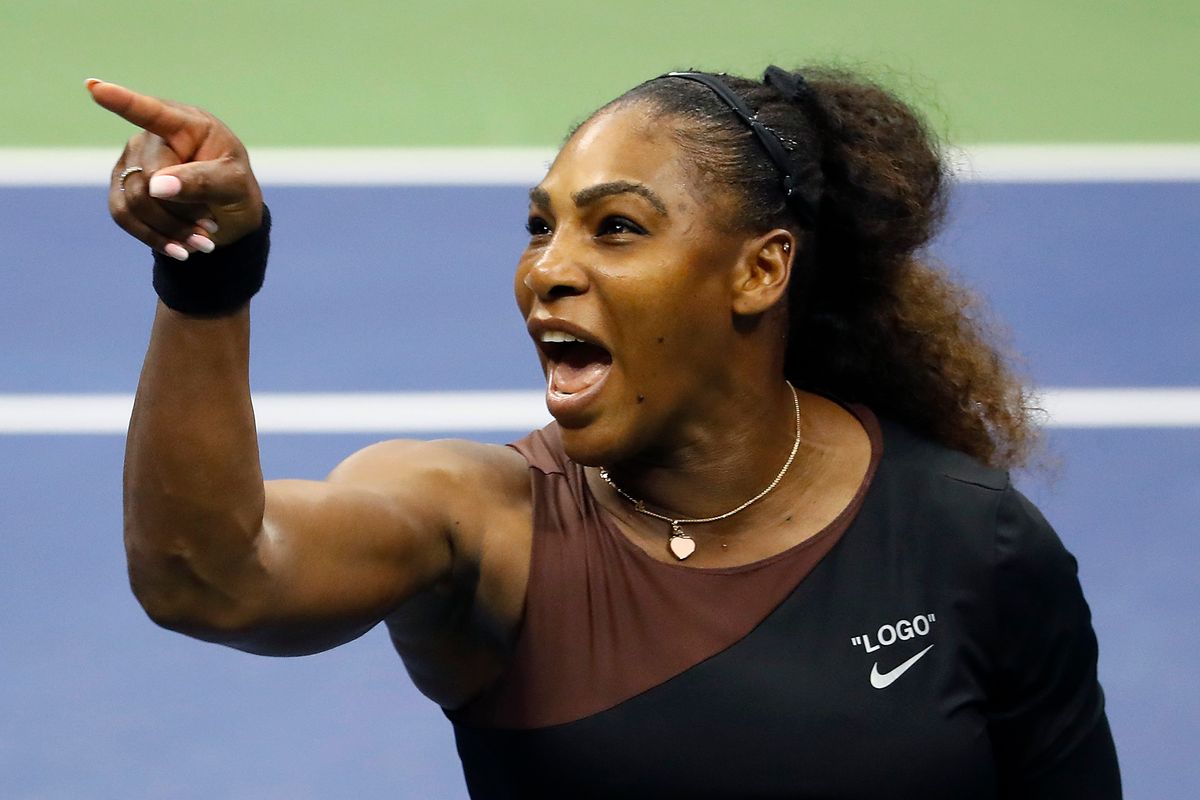 You may have watched or heard about the recent upset at the U.S. Open.
Tennis ace Serena Williams was competing against Japan's Naomi Osaka in the finals. The umpire called out Williams for "cheating" since her coach was gesturing to her from the stands. Williams denied any wrongdoing, saying she wasn't even aware of his motions, and demanded an apology, which erupted into an argument, leading to three code violations. One for the supposed signals, another for calling said umpire a "thief," and the third for busting her racket on the hard court. She was hit with fines to the tune of $17,000.
Williams didn't win. Not only the match, but the vindication she was after. She claimed she has never cheated a day in her life. Not to mention, many feel she was treated differently than a male in her position would be. We've seen men lose their temper time and time again in tennis (as well as other sports), and they're considered "passionate" or "persistent." We expect grunts, growls, and for them to get into it with umpires and refs, coaches and contestants.

Tennis icon Billie Jean King tweeted a similar sentiment after the recent incident. "When a woman is emotional, she's 'hysterical' and she's penalized for it. When a man does the same, he's 'outspoken' & and there are no repercussions. Thank you, Serena Williams, for calling out this double standard. More voices are needed to do the same."
(2/2) When a woman is emotional, she's "hysterical" and she's penalized for it. When a man does the same, he's "outspoken" & and there are no repercussions. Thank you, @serenawilliams, for calling out this double standard. More voices are needed to do the same.
— Billie Jean King (@BillieJeanKing) September 9, 2018
As for Williams, she declared, "I'm here fighting for women's rights and for women's equality and for all kinds of stuff. For me to say 'thief' and for him to take a game, it made me feel like it was a sexist remark. He's never taken a game from a man because they said 'thief.' For me it blows my mind. But I'm going to continue to fight for women."
Andy Roddick (retired tennis player) even tweeted, "I've regrettably said worse and I've never gotten a game penalty." Perhaps it's because he wasn't wearing a catsuit or a tutu.
Worst refereeing I've ever seen ...... the worst !!!
— andyroddick (@andyroddick) September 8, 2018
To add insult to injury, in comes Australian cartoonist Mark Knight. His cartoon was published in the Herald Sun, "Australia's most-read newspaper," according to BBC News. It is getting a ton of backlash due to what is being called racist. As described by DW, "The cartoon depicts a fat-lipped, large-nosed Williams jumping on her tennis racket, with a baby pacifier nearby — perhaps referencing her status as a new mother or the artist's interpretation of her behavior on the court. In the background, the umpire leans over to a women ostensibly depicting tournament-winner Naomi Osaka — who is of Haitian-Japanese descent, although the cartoonist gave her long, blonde hair — asking: 'Can you just let her win?'"
Take a look and decide for yourself.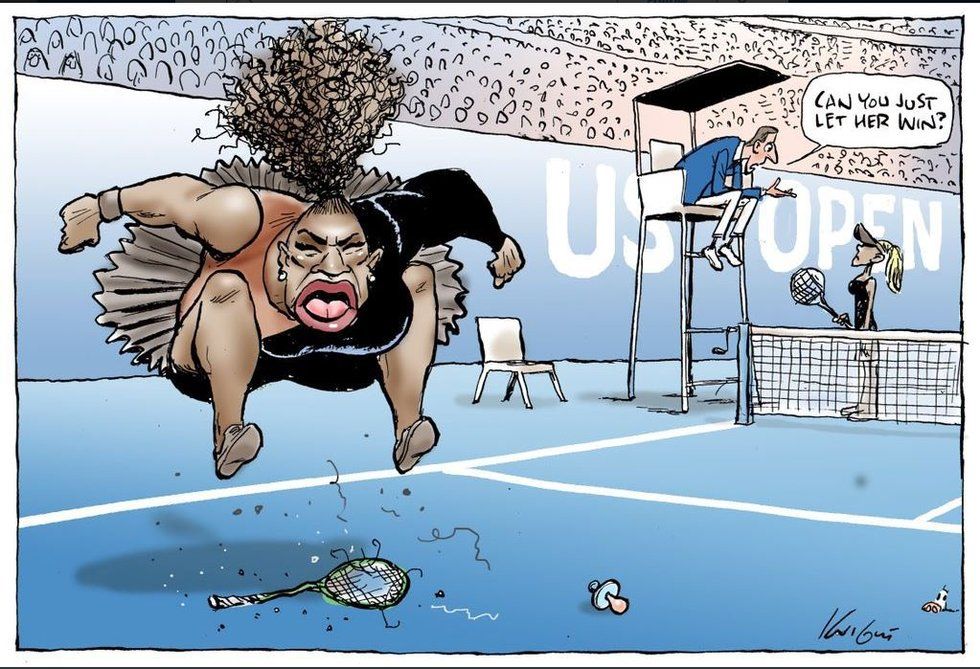 ioneblackamericaweb.files.wordpress.com
As per BBC News, "The cartoonist denied it was racist, saying he had intended to depict only the tennis player's 'poor behavior'." And the Herald Sun's editor, Damon Johnston, stands by Knight's work.

Folks are fuming over this cartoon, sharing their outrage on social media. They feel the entire premise of the picture is riddled with racism. And The National Association of Black Journalists considers the cartoon "repugnant on many levels." "[It] not only exudes racist, sexist caricatures, but Williams' depiction is unnecessarily sambo-like." In addition, "The Washington Post ran a column about the cartoon, saying it resembled caricatures circulated widely during decades of racial segregation in the US," notes DW.
Well done on reducing one of the greatest sportswomen alive to racist and sexist tropes and turning a second great sportswoman into a faceless prop. https://t.co/YOxVMuTXEC
— J.K. Rowling (@jk_rowling) September 10, 2018
Perhaps racism was the furthest thing from Knight's mind. Maybe he's simply tone deaf to something others believe so clearly reeks of racism. Or it could be he was craving some off-court controversy. Will Williams' keep on keeping on. Of course. She's stronger than a sketch. But the idea that this dark depiction is casting a cloud over not only Williams but Osaka, who should be delighting in defeating a champion, is a shame. Looks like Knight's the one causing a racket.
---
Melissa A. Kay is a New York-based writer, editor, and content strategist. Follow her work on Popdust as well as sites including TopDust, Chase Bank, P&G, Understood.org, The Richest, GearBrain, The Journiest, Bella, TrueSelf, Better Homes & Gardens, AMC Daycare, and more.
---
POP⚡DUST | Read More...
Beyoncé and Jay-Z Renew Their Wedding Vows