TV
The Biggest Highlights From the 2021 BET Awards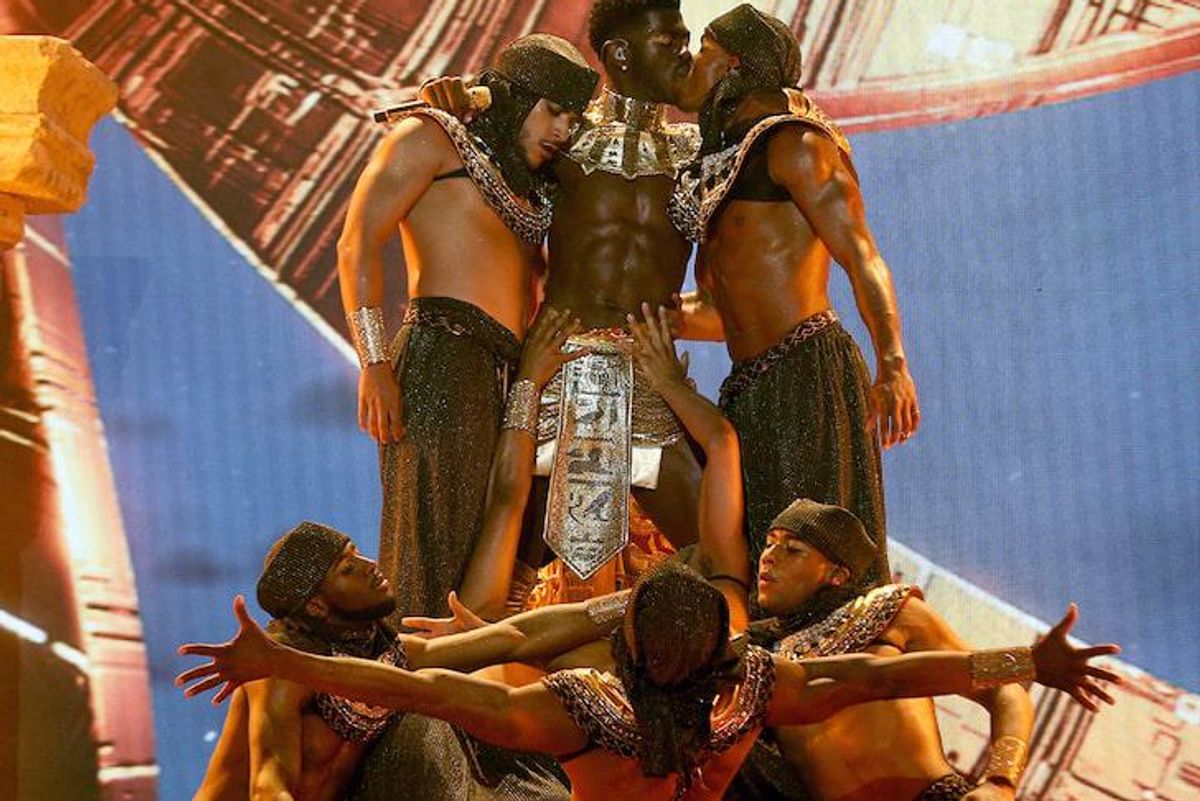 As is the case every year, the BET awards brought with it a night full of glamor and amazing moments.
Sure, Jack Harlow's multiple noms last night was perplexing and maybe a bit problematic; but for the most part, the night consisted of jaw-dropping performances that put on for the culture in a big way. Megan Thee Stallion gave a magnetic performance of her new single, "Thot Shit," as well as a heartwarming shout out to her late mother. Jazmine Sullivan duetted alongside Maxine Waters and Ari Lennox before taking home the award for Best Album, and some of rap's biggest icons took the stage to pay homage to the late DMX — and then, of course, there was Lil Nas X. Here are a few of the great moments that made up last night's awards.
Tyler, The Creator Performs "Lumberjack"
Tyler, the Creator's theatrical production of "Lumberjack" from his latest album, Call Me If You Get Lost, was one of the night's most unique performances. Pulling up in the back of a Rolls Royce, Tyler faced a vicious windstorm on stage as he rapped. He attempts to check his mail and grips onto the mailbox for dear life as the wind picks up and blows away his valet and the foundation of his house. It was a dramatic two minutes, to say the least.
Cardi B Pregnancy Announcement
One of the biggest moments of the night came with some shocking news, as Cardi B unveiled to the world that she was pregnant with her second child. During the Migos performance of "Straightenin'" and "Type Shit," the audience went wild when Cardi B gracefully swaggered onstage. She didn't even acknowledge the moment; instead she just rapped away and conquered her verse, allowing her massive baby bump to speak for itself. Not to mention she did all this blinged out in a Dolce & Gabbana onesie.
Lil Nas X's Steamy Make Out Session
Who else would be better to close out Pride Month with a bang? 2021 has seen Lil Nas X push the envelope as far as possible, as he continues to piss off conservatives everywhere with his unabashed homoeroticism. On Sunday night's performance on the BET Awards stage, Lil Nas X did not hold back, per usual, concluding his Egyptian-themed rendition of "Montero" with a steamy kiss with one of his male backup dancers. It was a hot and playful moment that shook the audience to its core and warranted standing ovations from Pose's MJ Rodriguez and others. He even got some incredible support on Twitter. "Lil Nas X did that," wrote Diddy. "Be Fearless!"
Another "Leave The Door Open" Performance
We've all heard it a million times at this point, but once again Bruno Mars and Anderson .Paak gave another amazing performance of the Silk Sonic hit "Leave the Door Open." As the song concluded, Paak asked a hyped audience if they wanted to hear a new song, but he quickly admitted he was joking. "We still in the Top 10, and until that change, we gonna do this again and again and again," he added. The pair would later take home the Best Group award, despite having only one song to their name.
Queen Latifah Getting The Lifetime Achievement Award
Queen Latifah was overcome with emotion on Sunday night as she was presented with BET's Lifetime Achievement Award. Introduced by MC Lyte, who referred to Latifah as "my sister in hip-hop but even more importantly, my sister in life," and added that Latifah is "a woman who has been creating magic for decades – an undeniable, unstoppable force of nature." From her moments on film to her iconic rap and producing career, Lyte called Latifah a creative "Swiss Army Knife." More shout-outs followed from Megan Thee Stallion, Jada Pinkett Smith, Mary J. Blige, Lil' Kim, and others before Latifah took the stage alongside her father.
"I am so extremely moved... I don't even know what to say," she said, choking up. She shouted out her late mother who passed in 2018, and showed the audience a picture of her, and she most importantly thanked her fans for supporting "every crazy-ass thing I've done over the years."