Interviews
Common Topics from an Uncommon Perspective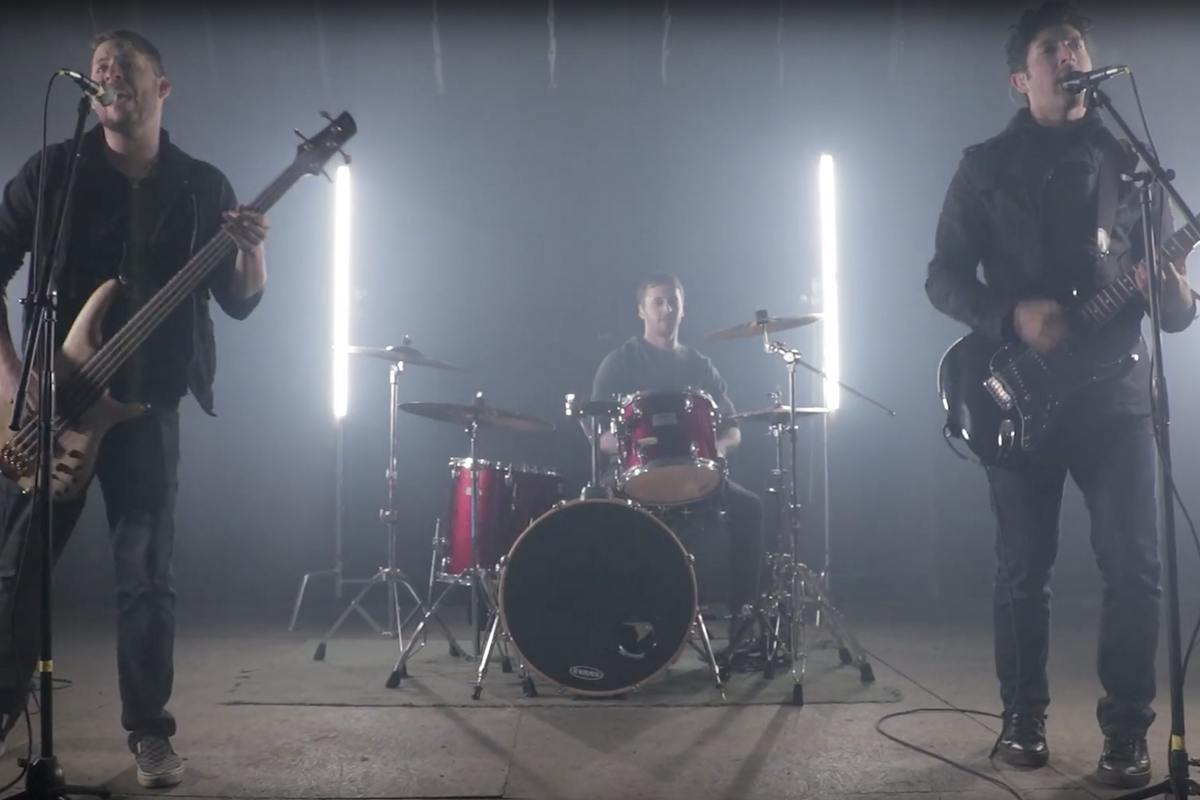 Photo Courtesy The Slang
The Slang is an indie-rock band from Washington D.C.
Their recent EP, Desperate Times, features potent indie-rock numbers infused with tints of punk-lite, along with burnished vocals from vocalist John Bobo, who also plays guitar and keyboards. Other members of the band include Nick Giambruno (bass), and Brooks Owens (drums).
Because of the smooth, contagious texture of their music, Popdust quizzed The Slang in an effort to discover how they mine their influences to produce their tasty sound.
How would you describe yourself?
John: I recently spent some time in Tokyo, Japan and I appreciate how their culture has one foot firmly planted in tradition and the other pointed toward the future. I take a similar approach with music; I am a traditionalist in that I believe being successful requires hard work, determination, perpetual learning, and being well-rehearsed.
Nick: Outgoing! I love getting the opportunity to perform music for people. It still feels like a dream come true every time we get the opportunity to get on stage! Off stage, all of us are pretty goofy dudes, and super laid back!
The Slang - Is It Any (Official Video)youtu.be
What is the most trouble you've ever gotten into?
John: There is enough trouble in this world; I don't feel the need to participate.
What's your favorite song to belt out in the car or the shower?
John: I am actually not one to sing along to other artist's music, I am more of a listener. I want to hear the artist's vision for their music, not my version of it. I know they have practiced countless hours to make it sound the way it does, so I like to take it in. In terms of my own music, I usually don't sing in the car or shower, I wait until I am rehearsing so I can focus on the honing the song's sound.
Nick: "Torn" by Natalie Imbruglia. I'm a huge fan of '90s tunes!
Who is your favorite music artist?
John: I am influenced by aspects of so many artists, but not in totality by any single one. When I first started learning guitar and writing songs I was lucky enough to be influenced by singers/songwriters that wrote their own music. That influenced me to write my own material. I didn't realize until much later that a lot of artists don't write their own material.
Nick: Bayside at the moment. They just have a knack for great songwriting and stellar lyrics! Their self-titled album is always playing around the house.
How did you get started in music?What's the backstory there?
John: I didn't learn to play until I was in college and a musically inclined roommate my first year of college, named Pat, changed my life. I had always been creative and had no shortage of ideas, but I had never found an outlet. Learning to play the guitar and sing changed everything in my life. I was also lucky to have learned from a very unique artist and songwriter and we still play in bands together.
Nick: My first ever concert was when my mom took me to go see Kiss live. I was blown away, and was hooked ever since! I got my start gigging in tons of different bands all around DC and NYC/NJ areas, and really learned some valuable lessons about the music industry.
What musicians influenced you the most?
John: I really like artists that can create a mood such as Empire of the Sun, Japanese Breakfast, and The Cure. I really respect the recording quality of artists such as Tears for Fears and Talking Heads. I also really appreciate artists that can take the mood they create, combine it with their technical ability, and then communicate it effectively through their live shows or videos, such as Ghost. Tobias Forge clearly has a vision and he executes it exquisitely in the studio, in videos, and on tour. He is leading a successful metal band during a time when the metal scene, like the rest of the original music scene, is not front-and-center. I also like how The Killers and Brandon Flowers are able to provide the audience with unique visuals that are on the whimsical side, but tie perfectly to even their most popular songs. I think it challenges their fan's perspective of the world.
Nick: My favorite band growing up was Tool. I was so amazed to see musicians really push the boundary between music and art. They were masters at creating complex, yet tasteful, soundscapes.
How, if at all, do your musical influences shape and impact your music?
John: They all blend together to inspire me, but I think the most important thing is that they cause me to love music. You would think it gets old after a while, but it never does. My influences are a constant source of inspiration.
Nick: I am a firm believer of "serve the song." I think giving space for all of the other instruments can really help keep the song focused.
What kind of guitar do you play? And why?
John: I play a Fender Stratocaster, which seems basic, but I am very particular and have added key modifications. It is a 2012 Fender American Standard Stratocaster. I've added Fender locking tuners, Lindy Fralin vintage hot pickups, and custom wiring to get rid of the 60-cycle hum typically found in single coil guitars. I also removed the volume knob entirely. Otherwise, I hit it with my hand while strumming. A Fender Stratocaster just seems to sit nicely in the mix with the bass guitar, drums, and vocals. Everything fits and no one is fighting each other from an EQ perspective.
Nick: I really like switching things up and trying new sounds. Right now my current go to bass has been my Ibanez SR 1300. I really like the lightweight design and superfast neck. The punchy pickups really compliment John's smooth guitar tone.
What brand of drums and cymbals does your drummer play?
Brooks: I've been playing a custom kit made by a company called Markley Custom Drums from Lancaster, PA and I love it. The cymbals I've been using have been Dream Cymbals, which are big, dark, washy and help keep the stage volume down for the venues we've been playing.
You recently released your new EP, Desperate Times. What's the story behind the title of the EP?
John: I moved to the DC area in 2016 and the political climate was becoming very charged. I saw parallels between the political climate and the music scene. Both are seemingly ready for a renaissance.I thought the title seemed to fit.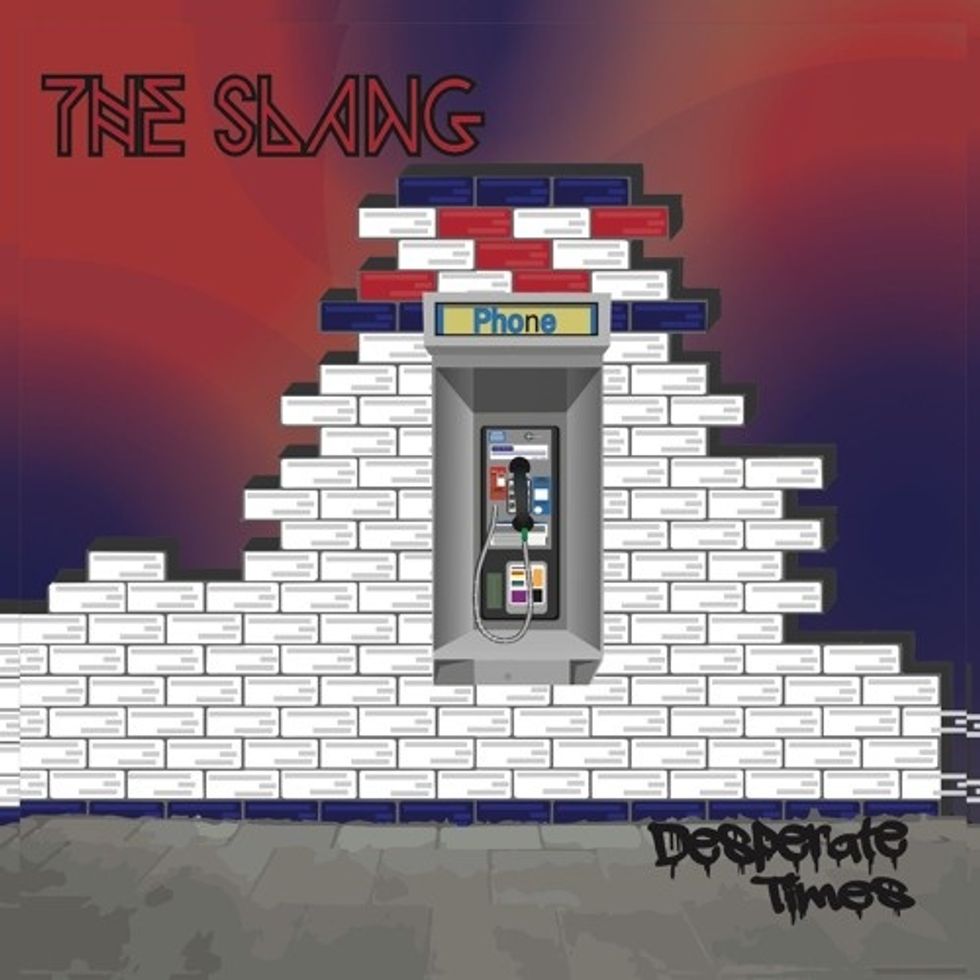 The SlangEP Cover 'Desperate Times'
Your music has been described as pop-rock. How would you describe your sound?
John: I think the "Pop" label makes sense because we always try to sound well produced and write catchy songs. However, I feel like we are more indie or alternative because, frankly, guitar-driven music is no longer en vogue. Even our recent festival appearances have been shared with mostly hip-hop and rap artists. I like the diversity in genre, but I feel the "pop" moniker should be reserved for the genre at the top of the charts and right now, that is not indie/alternative guitar music. If that were to shift, I am certainly not opposed to being described as pop; I think our music being considered "poppy" is a compliment.
My favorite track on Desperate Times is "Back To The Fact." What was the inspiration for this song?
John: Glad you like the track! The title comes from my pragmatic nature that I mentioned earlier. I assume that if I point out facts during an argument then I'm sure to win. Of course, the reality is that emotions will play a role and facts may be of little concern to the people you are disagreeing with.The song pleads this case, but ends with the line "Remember back to the fact that I never once said 'No.'" Given that I end it in a way that harkens back to a fact (yet again), alludes to the fact I didn't win the argument.
Who produced the EP? Are you pleased with how it turned out?
John: I produced the EP so I would say I'm very happy with how it turned out! All joking aside, I really enjoy the writing, recording, and producing process. When I have a vision for an EP or album, I like to see it through each stage of the process. I partnered with Eric Taft (Buzzlounge Studio) and I think we made a really good team. He's an engineer/producer himself along with being a musician. We even co-wrote the song "Breakdown" with Eric on the new EP.
Nick: Our friend Eric Taft did all of the engineering. He's a great guy who recently worked with Underoath and The Amity Affliction. He really pushed us to give the best performances possible. He also has an incredible ear for songwriting.
What's next for The Slang? Another EP, an album?
John: We certainly have enough material for a full album, but we also like to get high-quality recordings out routinely, which often leads to EPs. That said we are very open to and certainly postured for a full-length album when it makes sense.
Will you be doing any touring?
John: We have been playing EP release shows in the Midwest and along the East Coast. We are also performing at the International Pop Overthrow (IPO) Festival on November 2nd in Philadelphia. More dates are planned for early-2019 and we are actively looking for other touring bands to join out on the road.
Randy Radic is a Left Coast author and writer. Author of numerous true crime books written under the pen-name of John Lee Brook. Former music contributor at Huff Post.
POP⚡DUST | Read More...
RISING STAR | Dangermaker Drops 'Run' LP October 5
PREMIERE | Terry Emm Drops 'Sophia'