Culture News
Tiffany Haddish "Ate a Bag of Dicks" on New Year's Eve
The comedian forgot her own jokes and fumbled punchlines before cutting her set short and drinking with audience members (at least, the ones who hadn't walked out).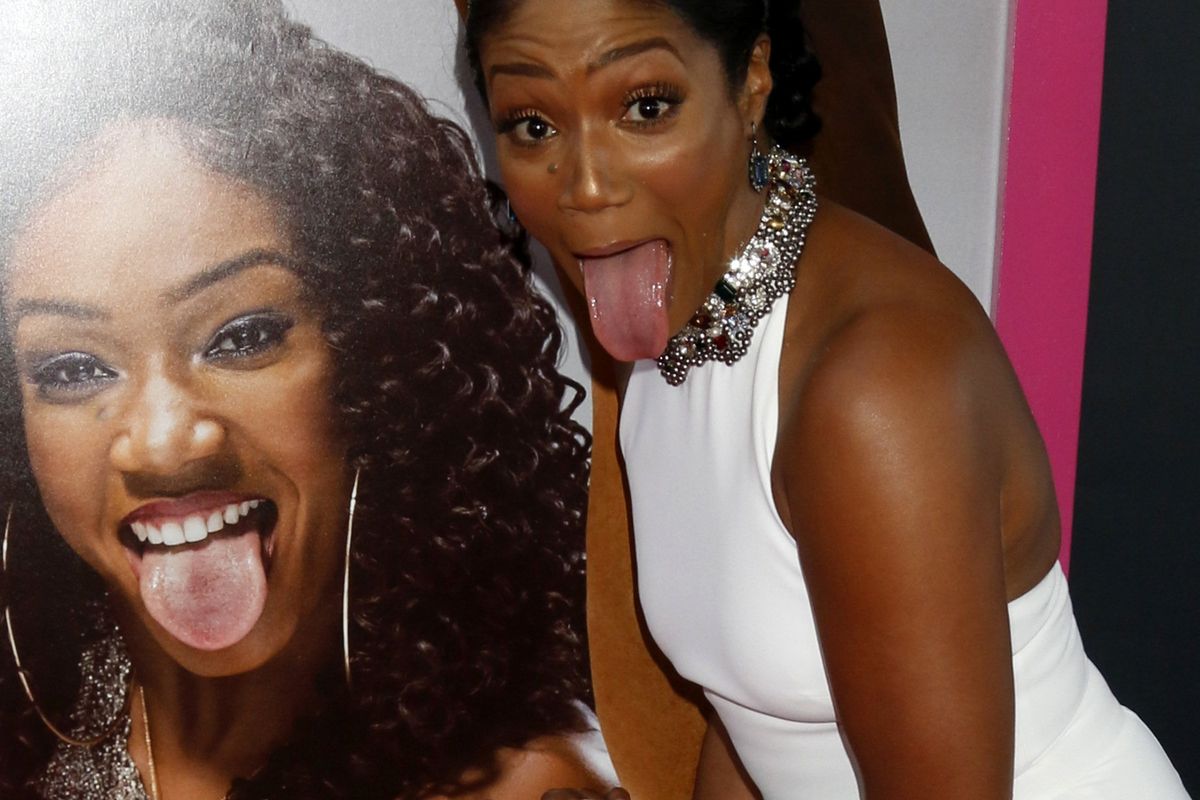 Photo by Kathy Hutchins (Shutterstock)
Tiffany Haddish's most well-received joke while bombing at the James L. Knight Center in Miami was, "This is gonna be on TMZ or whatever like 'Tiffany Haddish Ate a Bag of Dicks on New Year's Eve!'"
---
During her mortifying set, Haddish forgot many of her jokes, fumbled the delivery of the ones she did remember, and was visibly thrown off by audience members booing and heckling her performance; some left the venue altogether. As her coherency devolved, she abandoned her set altogether and began drinking Ciroc with audience members.
Tiffany Haddish Has Rough New Year's Eve Performance | TMZyoutu.be
On New Year's Day, Haddish took to Twitter to acknowledge her poor performance. She shared an article from The Root that panned her set with the title, "Tiffany Haddish Bombs, Drinks with Fans Instead." Haddish simply wrote, "Yes, this happened. I wish it were better Miami."
While some audience members took to Twitter to share their disappointment or outright shame the 39-year-old comedian for not being better prepared, many public figures have supported Haddish with the sentiment that failure is part of an artist's craft. Comedians like Chris D'Elia, Kathy Griffin, and both Marlon and Damon Wayans expressed that comedy, in particular, will always fall flat during some performances. Questlove replied, "Failure is a part of growth and lessons get learned...Not the end of the world."

But personal responsibility isn't superseded by the industry's fickleness. For example, a bad performance caused by a hangover is just unprofessional. The morning of the show, Haddish's Instagram post was a video in which her attempts to promote ticket sales were hindered by her obvious hangover. She shared, "I partied all night–not even all night, I partied all morning," going to bed at 7AM on Monday. In the video she forgets the name of the theater where she's performing and stumbles over her words, pausing to say, "I forget the name of the theater, damn...Ciroc is still in my system."
Many of the video's one million viewers commented on the disappointing performance that followed that evening. Sentiments ranged from support to anger and concern. "That's not an excuse," one user posted. "Any other job you would have been fired. If you call yourself a professional then act like one."

At least Haddish's self-consciousness showed itself in her set. Before sipping from an audience member's liquor bottle, she said, "This will probably be the only time you will ever see me like this because I'm never doing this again...I will never allow myself to be this woe the f—k out." In Tuesday's Tweet, she repeated the sentiment, "I prayed on it and I have a strong feeling this will never happened [sic] again."
POP⚡DUST | Read More...

Popdust's Best of 2018: Best of the Best
American Art Will Flood the Internet on New Year's Day