MUSIC
Why Is Wilder Woods Hiding His Identity?
What famous face lies behind the carefully placed hand.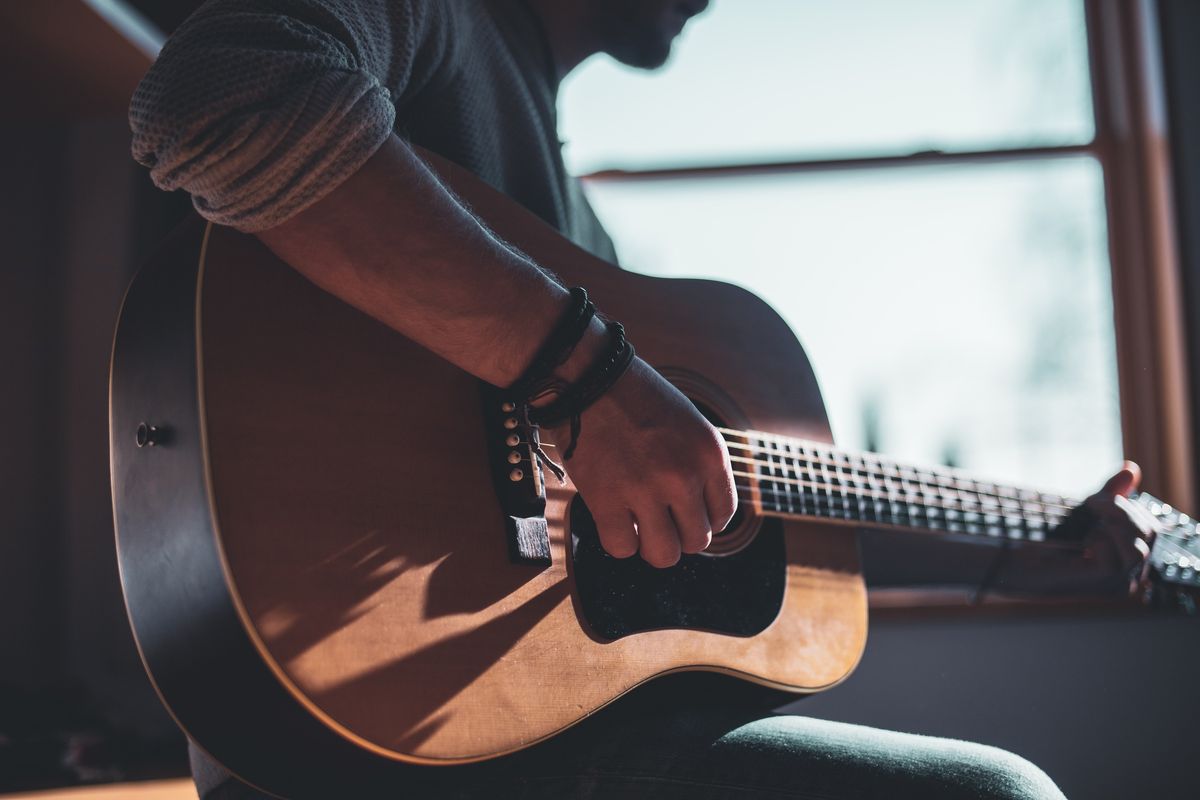 Wilder Woods has only released two songs, "Sure Ain't" and "Someday Soon," both of which have made their way onto multiple major playlists like "Morning Coffee Acoustic," "Alternative Nation," and "New Music Friday" — difficult feats for a brand new artist.
Introducing Wilder Woods
Considering the relatively few plays the songs have received thus far (about 100,000 cumulatively) it's clear this musician has some pretty serious industry firepower behind him (he's signed to Atlantic records). But the hype is for good reason — both songs are well written, tightly produced, and undeniably catchy. They incorporate R&B and soul influences while still capturing the dynamic movement of folk-pop. Most notably, Wilder Woods' vocals are jaw-dropping, he effortlessly and powerfully skates across scales, evoking goosebumps through his growling belts and soft falsetto. But that's not what makes Wilder Woods so interesting.

Most artists who are signed to a major label like Atlantic records have years of content under their belts before they're even considered — content that is searchable online. But not Wilder Woods. There are no YouTube videos, all his social media pages are brand new, and you can't even find so much as his real name or hometown. Even stranger, the artist's face is hidden not only on the album art, but in the PR video released to promote his new songs, and in his social media.
Introducing Wilder Woodsyoutu.be
In fact, no matter how hard you search, there is not a single picture or video available of Wilder Woods in which his face is visible, and this simply can't be a coincidence. All that can be pieced together is that the singer is a tall, white man with slicked back dirty blonde hair and a taste for a well-tailored suit. This leads us to believe that perhaps we already know Wilder Woods, and his PR team has decided to wait to reveal his identity.
If you go to the artist's page on Shorefire Media, his new music is described as, "Simultaneously vulnerable and self-assured, the songs reflect a rich well of experience and a bold new artistic leap, pairing intimate, introspective lyricism with effortless swagger and monster hooks." Plus, the press release ends with the vague but tantalizing promise that "More information and music from Wilder Woods will be revealed soon and an album is planned for release on Atlantic Records later this year." It's clear that the face behind the hand is one that we're expected to recognize and find consequential when finally revealed.

So, we made it our mission to uncover the identity of Wilder Woods. After a day of side by side song comparisons and analyzing the hands and ears of various fair-haired male artists, we have several theories.
Our first thought was that the mystery singer is Billie Eilish's brother, FINNEAS, who already has a semi-successful solo career. He has the right coloring, the right notoriety, and a voice that, with a little production magic, could make a decent match to that of Wilder Woods.
But as we listened further, several things came to mind. First, when would FINNEAS have had the time to launch a new solo project in the midst of recording and producing his sister's mega-hit album WHEN WE ALL FALL ASLEEP, WHERE DO WE GO? Not only that, but why would he abandon his solo career just to launch another solo career under a different name with an only slightly different musical style? Perhaps most conclusively, after extensive listening, we just don't think FINNEAS has the vocal talent the singer behind Wilder Woods possesses. We aren't ruling it out, but we will proceed to other theories.

Next, we considered that Wilder Woods was quoted saying, "This music represents something totally fresh and new for me," meaning that whatever he sang before is significantly different than the two new singles. With the distinctive, gravelly mystery voice in mind, we next turned our attention to Icelandic band KALEO. Jökull Júlíusson, the band's lead singer, has a similarly exceptional and rasping voice, and with a new haircut and a style makeover, the match was a possibility. Plus, going from a band to a solo project would make more sense than FINNEAS jumping from solo project to solo project. Still, something didn't seem quite right.
Scouring the Wilder Woods Facebook page, we soon found an interesting comment from a fan: "Well played, Wilder Woods. You can hide your face but you can't hide that voice! Amazing songs so far, can't wait to hear some more from you... 🐻" The enigmatic bear emoji led us to briefly believe that the mystery artist could be the lead singer of Bear Den, Andrew Davie. But listening to the two artist's songs side by side, the voices just didn't quite match. Which, in a last-ditch effort, led us to search the highly intelligent phrase "bear singer?" on Google, which, at last, led us to Bear Rinehart, the lead singer of NEEDTOBREATHE.

Finally, our most solid ID yet.
Even more striking than the physical similarities are the similarities between the vocal stylings, which when finally compared, made the mystery seem obvious all along.

Now that we're fairly certain of the identity of this talented new musical act, we're left with questions: is NEEDTOBREATHE breaking up? Why wouldn't they capitalize on Bear Rinehart's fame to promote his new project? Is his team planning a big reveal? Why is he striking out on his own?
These questions remain unanswered for now, but we hope all will soon come to light when Wilder Woods' album is released later this year. In a statement about the music, possibly-Rinehart alluded to his dual identity, saying, "There are two distinct sides to this music," he says. "There's the Wilder side, which is all about love and flirtation and desire; and the Woods side, which is more serious and reflective. We all contain multitudes, and you have to recognize and honor all the different parts of yourself if you ever want to feel whole." Perhaps, this new musical venture is intended as a way for Rinehart to simply honor a different part of himself.
---
Brooke Ivey Johnsonis a Brooklyn based writer, playwright, and human woman. To read more of her work visit her blog or follow her twitter @BrookeIJohnson.
---
POP⚡DUST | Read More...
The Drug of Escapism: Why Gamers Can't Stop Watching P*rn
Music From Mars: An Interview With Jared & the Mill