TV Lists
Top 9 Best Anime Villains, RANKED
Who doesn't LOVE a good villain?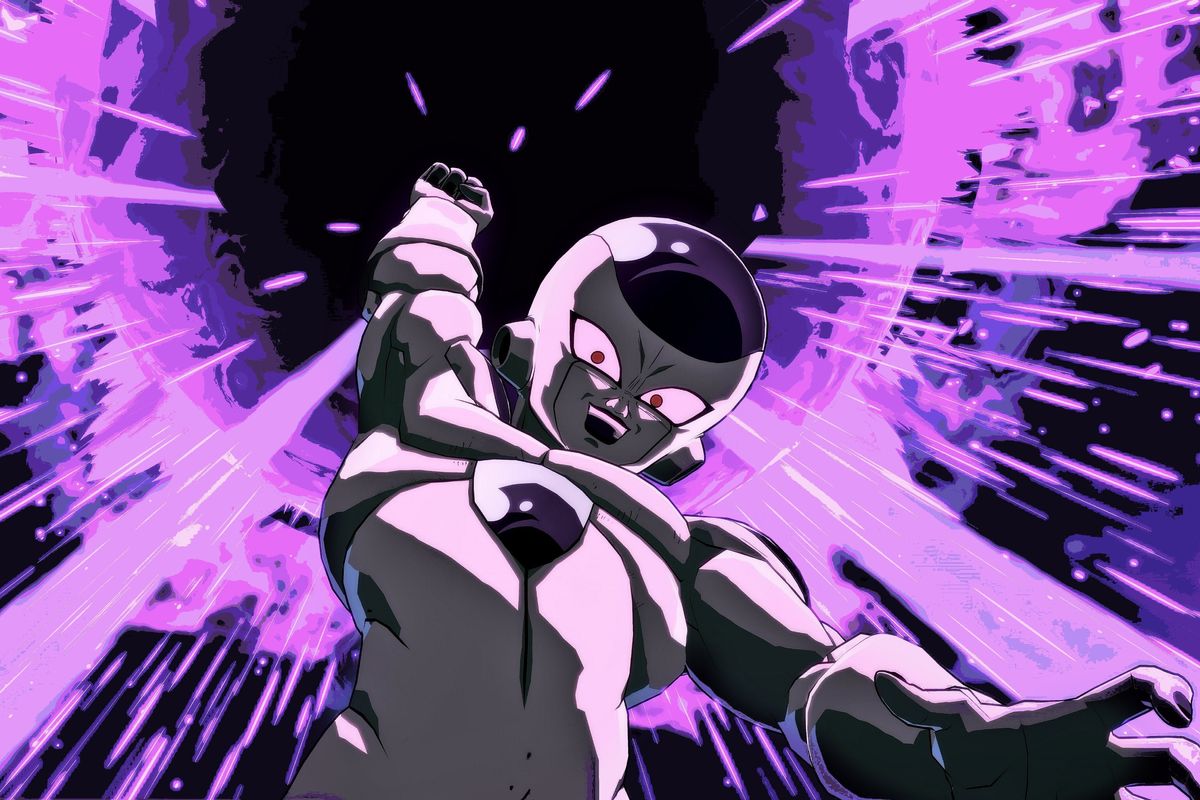 Shueisha
An anime series is only as good as its villains.
Great villains can make or break any story, and anime just so happens to have some of the best. From over-the-top galactic conquerors to sociopathic high schoolers and psychotic fathers, anime villains are a diverse bunch.
So as an anime fan with a useless screenwriting degree, I'm ranking the best anime villains based on how complex they feel as characters and how well they function within the larger narrative.
---
Also, Berserk's Griffith would have been at the top of this list, but there's never been a particularly great Berserk anime adaptation, so I decided not to include him. Oh, and I haven't watched Monster yet, so Johan Liebert isn't on the list either. Yeah, I'm a heathen, I know.
PS: A lot of spoilers follow. Please don't read any entries from series you'd rather not be spoiled on.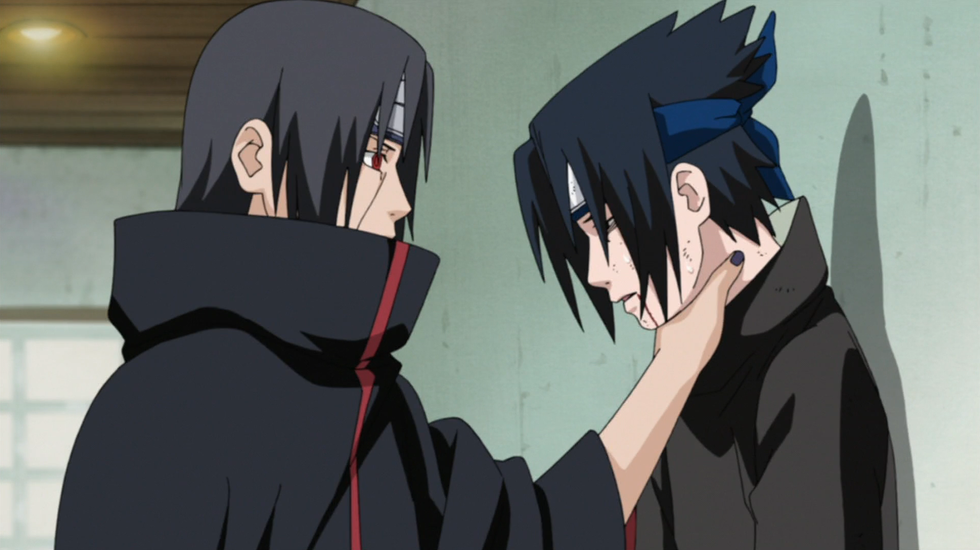 Shueisha
Itachi Uchiha is the older brother of Naruto's best friend/rival, Sasuke, and we're introduced to him through Sasuke's sole desire and goal in life: to kill him.

Itachi certainly seems like a monster. Hailing from the prestigious Uchiha clan, Itachi was once considered one of the most talented young ninjas in the Leaf Village, even being promoted to Anbu rank (essentially special ops) at only 11 years old. Then Itachi snapped, murdering the entire Uchiha clan save for Sasuke, and subsequently defecting from the Leaf Village to join the criminal organization Akatsuki.
Fueled by hatred and his drive for revenge, Sasuke ultimately defects from the village, too, in search of power at any cost. Sasuke ultimately succeeds in his mission, finding Itachi and killing him in a battle where, strangely enough, Itachi doesn't actually seem to be trying. Only after his death do we finally learn the truth.
Itachi never actually betrayed the Leaf Village. The Uchiha clan had been planning a coup and, due to his rank, Itachi was given a choice: Either the Uchiha clan would be wiped out entirely, or Itachi could take the burden upon himself and spare Sasuke whilst preserving the family name. Itachi chose the latter but, racked by guilt, decided that he deserved to be killed by Sasuke as punishment for his actions. Moreover, Itachi acted as a double-agent in Akatsuki, protecting the Leaf Village until his dying breath.
So...Itachi is not actually a villain. He's a tragic, selfless hero and the bestest boy in all of Naruto. At the same time, so much of Naruto's plot is predicated on the idea of Itachi being a villain that he deserves to be included based on impact alone. But, again, since he's not a real villain, he can't, in good faith, be ranked any higher.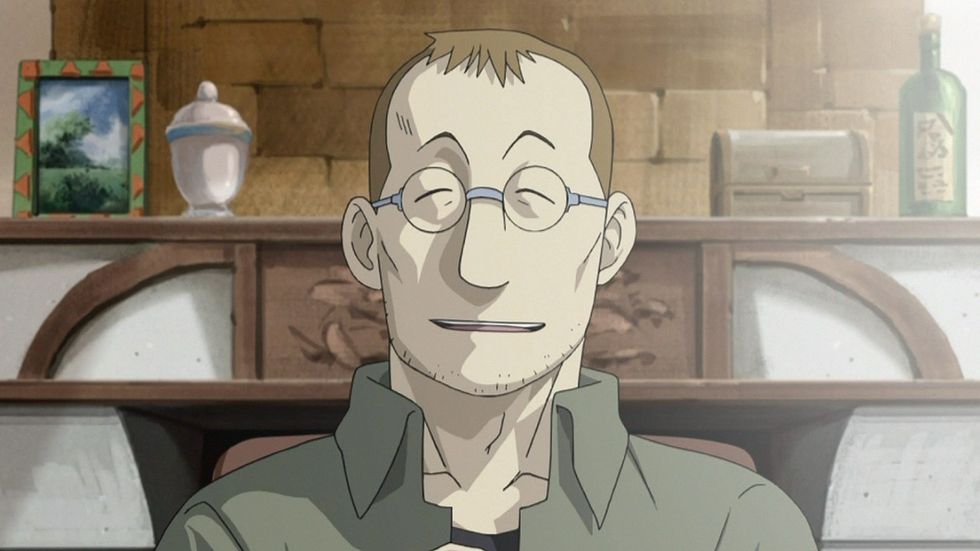 Square Enix
Quite possibly the biggest piece of sh!t in all of anime, Shou Tucker inspires unprecedented feelings of unabashed hatred. Shou is not a fun villain, or a cool villain, or even a particularly fleshed out villain. After all, the dude is an extremely minor character who only appears in a few episodes. But...Christ on a pancake, this man is an unforgettable douche canoe.
When we first meet Shou Tucker, he presents himself as an unassuming, soft-spoken single father. He also happens to be a State Alchemist who specializes in bio-alchemy, and he's best known as the first person to create a talking chimera. It's for this reason that Edward Elric visits Shou's home in hopes of picking his brain for potential leads on restoring his and his brother's, Alphonse's, bodies.
Shou is hospitable, allowing Ed and Al access to his library. They meet his adorable daughter, Nina, and the family dog, Alexander. All is well and good, at least on that first visit. It should have ended there.
Alas, Ed and Al return to Shou's house later on to discover that Shou, frustrated that he hadn't made a scientific breakthrough in two years, alchemically fused Nina and Alexander into a talking chimaera. Also, that first talking chimaera was his wife, because apparently Shou's entire MO is remorselessly experimenting on his own family.
Ed beats the crap out of him and the alchemist serial killer, Scar, murders Shou soon after, but, oh lord, he deserved so much worse. Shou Tucker might not be the most interesting villain from a character standpoint, but he is, perhaps, the single most irredeemable villain on this list.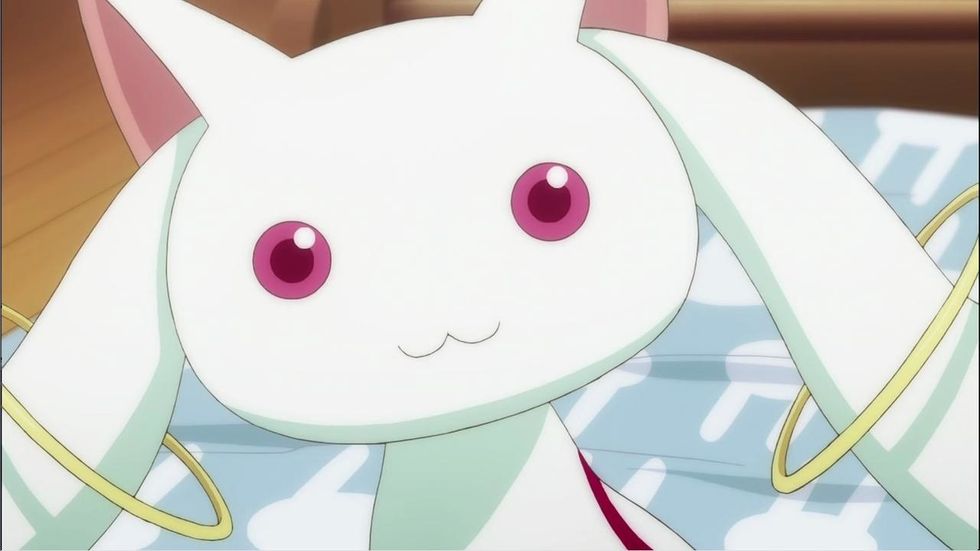 Aniplex
In stark contrast to its cutesy aesthetic, Puella Magi Madoka Magica is an incredibly disturbing deconstruction of the Magical Girl genre (i.e. Sailor Moon). Naturally, this also means that the adorable cat-rabbit-esque creature, Kyubey, is a lot more than just your typical animal mascot.
In the world of Madoka Magica, humans are unknowingly plagued by evil creatures called Witches that hide themselves in invisible labyrinths, feeding off human misery and spreading curses. Of course, the only thing that can defeat a witch is a magical girl—a young girl blessed with magical, transformative powers.
Kyubey is the arbiter of these magical girl powers, appearing before young girls and offering to grant their deepest wishes in exchange for their souls. Upon forming this contract, the girls' souls will be transferred to a tiny gem which becomes the source of their magical girl powers.
Now here's the twist: Witches are actually magical girls whose soul gems have become corrupted by negative emotions—an inevitability for all magical girls. Therefore, all magical girls eventually become witches who must be killed by fresh magical girls. For Kyubey, this death cycle is the entire point of magical girls.
See, Kyubey is actually a member of an emotionless race known as Incubators, who have been tasked with staving off the eventual Heat Death of the Universe. Human emotions apparently defy thermodynamics, which make them a great source of energy production for this cosmic task.
Thus, Kyubey exploits the emotions of young girls during a time in their life when he deems them most volatile, harvesting their emotional energy and eventually sacrificing them in order to a achieve a larger goal. His actions aren't malicious, as he doesn't understand emotions or even human morality in the first place. And sure, it's for the greater good of the universe. But still, major yikes.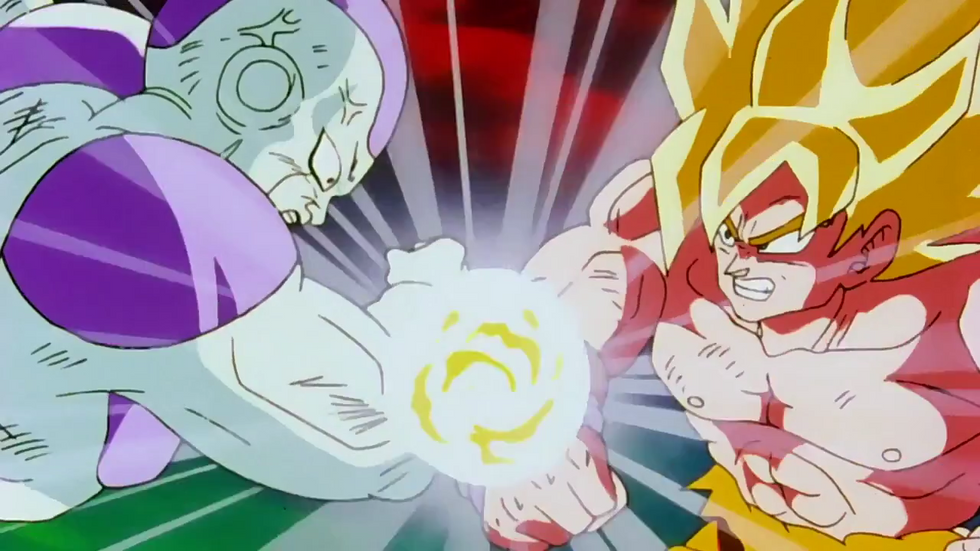 Shueisha
Frieza is the quintessential shonen villain—a wildly overpowered space emperor who wants nothing less than universal domination.
In fact, Frieza is practically the definition of a villain you love to hate. He doesn't have a tragic backstory or a complex character arc. He's just an arrogant d!ckhead with the firepower to back it up. There's something to be said for a villain who actually feels fun to watch.
Even within the larger context of
Dragon Ball Z
, Frieza stands out as the most memorable bad guy. On top of being the big bad who killed Goku's father, Bardock, and slaughtered the Saiyan race, his personality is just so douchey. He literally started the whole "
This isn't even my final form!
" shtick, transforming his body over and over again because he just has that much power.
He's so powerful, in fact, that Goku needs to transform into a Super Saiyan for the first time in order to defeat him. So, in essence, Frieza is responsible for pretty much all of the narrative elements that
DBZ
is best known for. Also, Frieza's character design is just really cool. Props to the OG.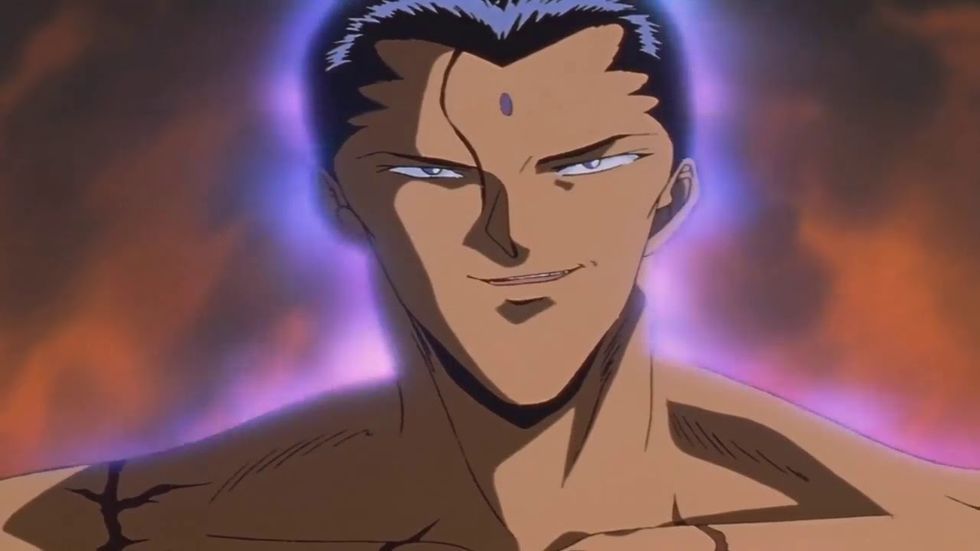 Shueisha
While Yu Yu Hakusho's most popular villain may be the Dark Tournament Arc's Younger Toguro, Shinobu Senui is a far more interesting bad guy.
Sensui is the central antagonist of Yu Yu Hakusho's Chapter Black Saga—a bizarre arc wherein Yusuke—the Human World's primary "Spirit Detective"—finds himself pitted not against demons, but rather against a group of deranged humans with strange powers. Sensui acts as the group's leader with the ultimate goal of opening up a massive portal to the Demon World in order to purge humanity.
The most interesting part of the equation, however, is the fact that Sensui was Yusuke's "Spirit Detective" predecessor. In other words, Sensui went from a man tasked with protecting the Human World from demons to a man hellbent on allowing demons to destroy it. But why?
Earlier in his life, Sensui's sense of right and wrong was incredibly black-and-white. He believed that humans were good and demons were evil, and therefore he wholeheartedly believed in his role as humanity's protector. Everything changed when a mission lead him to crash the Feast of Human Vices, an event wherein wealthy humans with criminal connections tortured demons for pleasure. This role reversal shook Sensui to his core, leading him to slaughter all of the humans in attendance. The experience also caused him to develop post-traumatic dissociative identity disorder (which, yeah, isn't how DID actually works, but fine), splitting his personality across multiple personas.
Soon after, Sensui sought out a video tape called Chapter Black, which contained real-life footage of all of humanity's worse atrocities. After watching Chapter Black, Sensui concluded that humanity was just as bad, if not worse, than demons, and in order to atone for killing so many demons who might have been innocent, he must rid the world of humanity.
Scarily enough, Sensui's actions and worldview make a lot of sense given his circumstances. Humans, especially the wealthiest and most powerful ones who hold the most influence in society, are oftentimes exceedingly evil. Perhaps, then, humanity doesn't deserve to be protected. This holds true now more than ever.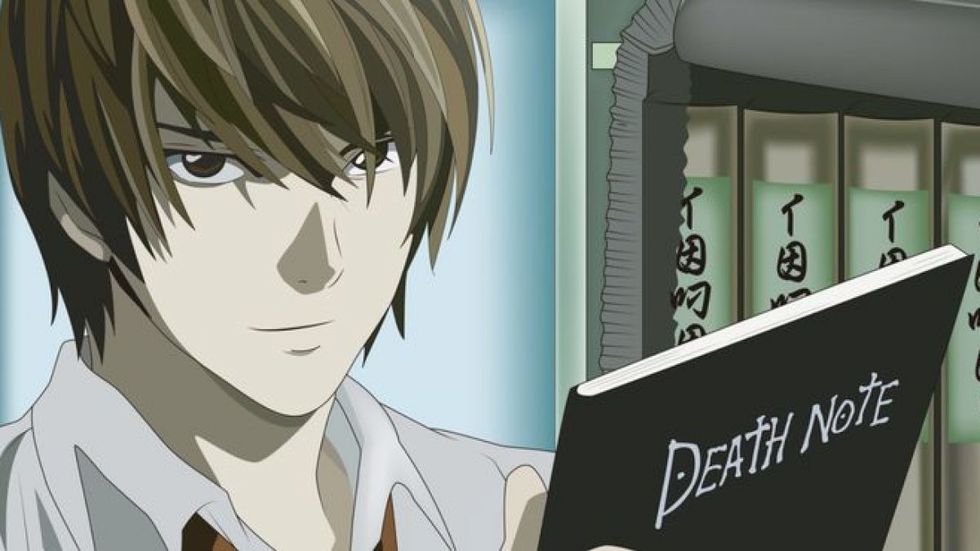 Shueisha
The wonderful thing about Light Yagami is that, alongside being one of the most cold-blooded villains in all of anime, he's also the kind of character who makes you question your own morality.
Prior to the start of Death Note, Light is a normal, albeit extremely intelligent, high school student. Then, one day, a bored shinigami named Ryuk drops a mysterious notebook for Light to pick up. The titular Death Note includes instructions, primarily: "The human whose name is written in this note shall die."
While skeptical at first, Light decides to test it out on various criminals and convicts, quickly learning that it is, indeed, real, and that he now holds a vast amount of power. Thus, Light decides to use the Death Note to purge the world of evil and reshape society in his image. Except Light's actions don't go unnoticed, and as criminals begin dying en masse, the world's greatest detective, L, decides to track down the mysterious killer.
To an extent, Light's actions are understandable. While many of us might not feel comfortable admitting it, it's not an uncommon sentiment that the world would be better without a lot of the most awful people. It's also hard to feel too much sympathy for the murderers, rapists, and worst offenders of humanity.
But as Light continues his mission to purge the world of evil, his actions become less and less defensible. The crimes he's willing to kill people over become pettier and pettier. Worse, any time an investigator comes to close to finding out his true identity, he kills them too, justifying it as being for the greater good, of course.
Eventually the truth becomes clear: Light is a sociopath, and his moral trappings are an excuse. He can never truly purge all evil from the world, since as long as he's still alive, evil will continue to exist.
But the question remains: How many of Light's actions can we justify; and more importantly, what would we do in his shoes?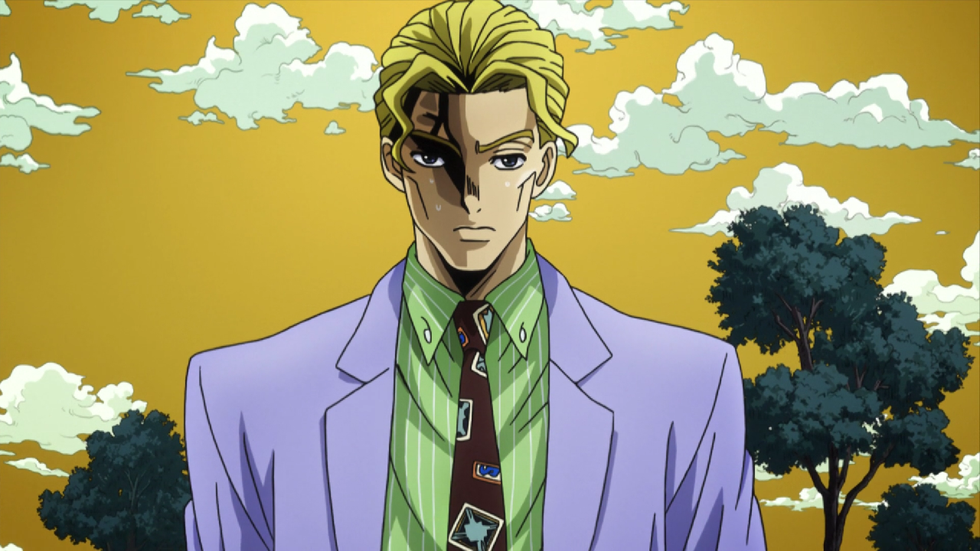 Shueisha
JoJo's Bizarre Adventureis chock full of over-the-top villains, which is why Yoshikage Kira feels like such a breath of fresh air.
Kira isn't a showman. He's not the kind of bad guy who toys with people or desires recognition for his evil deeds. No, Kira is a simple department store worker who is content to live a quiet life in the small town of Morioh, occasionally eating his favorite sandwich and always going to bed by 11PM. Oh, and he's also a paraphilic serial killer obsessed with women's hands.
Kira is an especially wonderful villain because, from a character standpoint, he feels exceedingly real. His primary motivation (other than killing people) is to be left alone so that he can adhere to his routine. It's a relatable, understandable motivation, even if the reasoning behind it is really evil.
And, make no mistake, Kira is evil. He's perfectly willing to kill anyone who gets in his way, including young children. He spends a good portion of the show masquerading as a family man whose likeness he stole (after murdering the guy, of course), residing with the man's wife and son and ruining their lives.
His powers are absolutely wild, too, possessing the ability to turn anything he wants into a bomb, and the secondary ability of being able to briefly reverse time. Kira is both a terrifying and seemingly unstoppable villain while simultaneously being one of the most realistic, disturbingly relatable villains (especially for introverts). If you've ever dreamt of living a quiet, simple life, you and Kira are mostly on the same page. Well, except for the serial killer obsessed with women's hands part.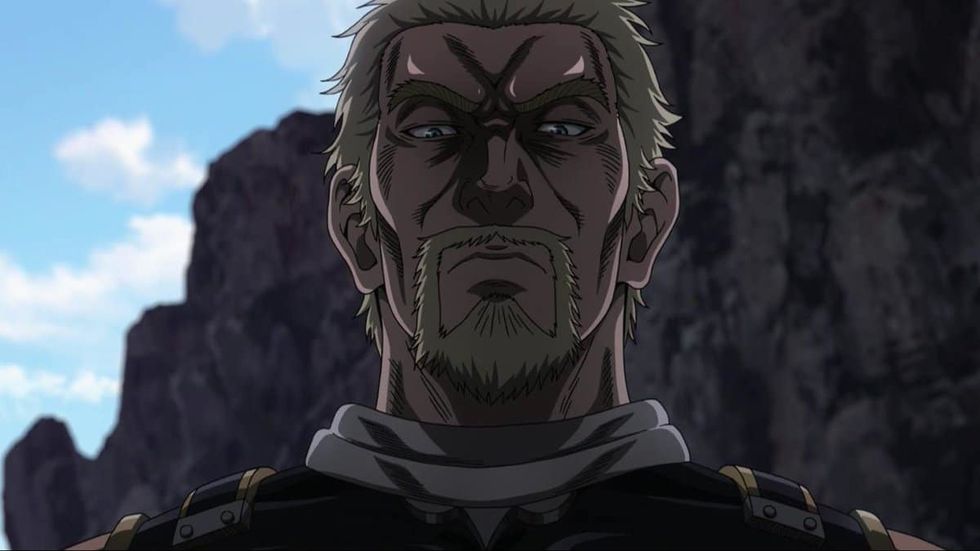 Kodansha
It's hard to truly think of Vinland Saga's Askeladd as a "villain."
Make no mistake, this isn't an Itachi scenario. Askeladd is, undoubtedly, a very bad person. But Vinland Saga is a mature series that fully realizes how grey humans can be.
As the leader of a band of Danish mercenary vikings, Askeladd kicks the series off by agreeing to assassinate a noble former viking named Thors. Upon ambushing Thors and his crew (including Thors' young son, Thorfinn), Askeladd agrees to a fair duel against Thors. Thors makes it clear that he doesn't want to kill anyone, and all he wants if he wins is to leave peacefully with his crew. Askeladd quickly realizes that he can't beat Thors in a fair swordfight, so instead has one of his men take Thorfinn hostage and then commands his archers to riddle Thors with arrows. Then, after killing Thors, Askeladd honors the terms of Thors' "fair" duel and lets the rest of the crew go free.
This sort of behavior is typical for Askeladd. He's cunning and dishonest, willing to do whatever it takes to succeed in his goals. At the same time, he's morally complex, and sometimes even empathetic.
After Thors' son, Thorfinn, decides to stow away on Askeladd's ship with the intent of killing him in a fair duel, Askeladd essentially brings Thorfinn onto his crew. Knowing that Thorfinn is fueled by the desire to kill him, Askeladd uses the promise of duels to incentivize Thorfinn to work with him. Throughout the years, the two develop a strange relationship, akin to a mentorship or even a father-son bond, albeit one where the son always wants to kill the father.
Meanwhile, Askeladd engages in a series of maneuvers on the political front, positioning himself as the vassal of one of the Danish King Sweyn's two sons, Canute, and attempting to engineer Canute's succession to the throne. We later learn that Askeladd grew up as the illegitimate son of a powerful Danish viking and a Welsh slave. Witnessing the severe mistreatment of his mother and the Welsh people, Askeladd grew to hate the Danes and ultimately murdered his father.
It becomes clear that, in supporting Canute, Askeladd's ultimate ambition is to foster peace for the people of Wales. It also becomes clear that Askeladd sees himself in Thorfinn and, in a sense, truly believes that he deserves to die at Thorfinn's hand.
Throughout his journey, Askeladd does some truly unforgivable things. He murders women and children while securing food and shelter for his own crew. He even tortures a civilian.
And yet, in the end, Askeladd dies a hero's death. After learning that King Sweyn plans to invade Wales and murder Canute (in a bid to secure succession for his other son, Harald), Askeladd feigns madness, murdering King Sweyn by his own hand and sacrificing his life to Canute. In doing so, Askeladd saves Wales and facilitates Canute's succession to the throne. He even offers Thorfinn the chance to deliver the final blow (Thorfinn refuses), using his dying breath to urge Thorfinn to move forward and not repeat the same cycle of hatred that he propagated.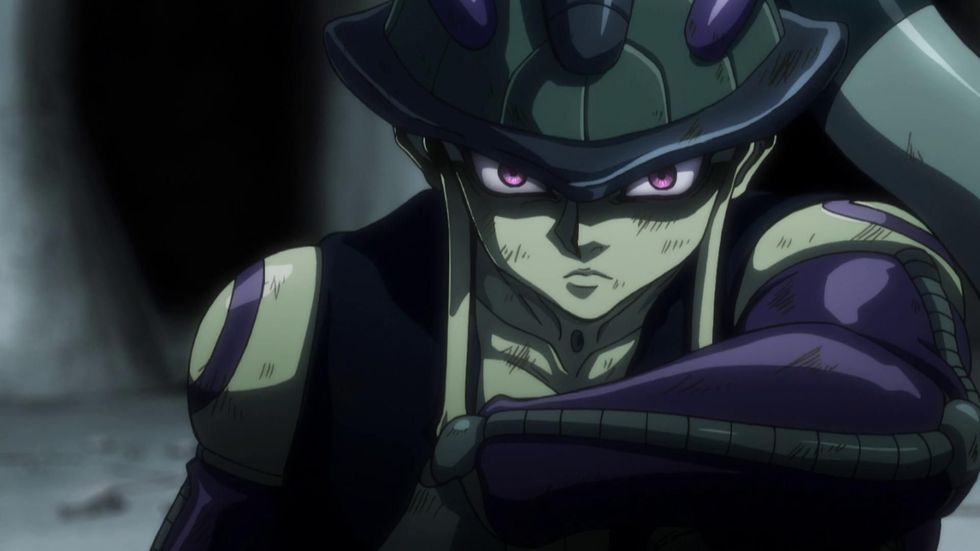 Shueisha
Hunter x Hunter's Meruem—the main antagonist of the Chimaera Ant arc—seems to cover the same exact archetype as DBZ's Cell. He's an insectoid monster capable of absorbing and integrating the powers of other living creatures, with the sole directive of ruling the world.
In a traditional shonen anime, Meruem would be a one-note character defined almost exclusive by his terrifying powers. The arc would be largely spent hyping up Meruem's insane abilities, which would finally be revealed in-full during a final one-on-one blow-out with the protagonist.
But Hunter x Hunter is far from a traditional shonen, and the Chimaera Ant arc essentially functions as a deconstruction of its genre.
Indeed, Meruem starts off as a cold, calculating monster who has no qualms about killing and eating anyone, be they men, women, children, or even other members of his species. But despite having no sense of humanity, Meruem isn't just physically powerful; he's also ridiculously intelligent.
Upon conquering a small nation and devising a plan to turn the population into a high-quality food source, Meruem grows bored and decides to pass his time by challenging the nation's top minds to various board games. Despite having never played any of these games before, Meruem learns quickly and easily defeats all of his opponents, constantly relishing in his own superiority.
Then Meruem meets Komugi, a young girl considered to be the world's best player of a tile-based strategy game called Gungi. Komugi is blind, clumsy, and very physically weak, and yet no matter how many times they play, Meruem cannot beat her at Gungi. Eventually, the constant losses begin to shake Meruem's sense of identity.
Up until this point, Meruem had always been the best at everything he ever attempted. As far as he knew, no creature alive could match his immense physical strength or his superior intellect. Now, here was this powerless girl who, at first glance, struck Meruem as a poor specimen even amongst humans. And yet she was better than him at something.
Meruem becomes obsessed with playing Gungi against Komugi, skipping meals and even de-prioritizing his master plans of world domination. Komugi enjoys playing Gungi with Meruem, too, expressing that her only real talent is the ability to play Gungi and how playing with him gives her purpose. As the two continue their games together, Meruem grows to genuinely care about Komugi. This, in turn, causes his perspective on life to shift.
Eventually Meruem realizes that he can never know what kind of talent, potential, and unique skills a person may possess, and instead of conquering the world and killing people for food, he will instead become a benevolent ruler who protects the weak.
Through all of this, the protagonists have been gearing up to take Meruem down. Isaac Netero, the most powerful Hunter in the world, challenges Meruem directly. But at this point, Meruem doesn't want to fight, instead sitting down and telling Netero that he'd rather spare his life, as his goal is now to create a just world for humans. Netero won't listen, going all out against Meruem and, ultimately, sacrificing his own life to set off a poisonous nuclear explosion.
Meruem survives the blast, but soon realizes that he has been poisoned and will die soon. Reassessing what's important to him, Meruem decides that the only thing he cares about is spending his remaining time with Komugi. He goes to her and asks her to play more Gungi with him.
After a few matches, he admits that he's going to die shortly and that, despite it being his last wish to continue playing with her, he doesn't want her to get infected, too. Komugi doesn't respond. She just continues playing. Meruem dies in her arms.
As a villain, Meruem absolutely defies all tropes. He's set up as the ultimate shonen monster, but he never even displays his powers in a battle. Instead, he transforms from a heartless monster into a being capable of love. Meruem's character arc is unlike that of any villain in any other story I've ever heard of. It is, at its core, a story of hope and how love has the potential to change even the worst of us. Meruem's final moments are, without a doubt, the saddest, most heart-wrenching scene I have ever experienced in...anything, really.
There are good villains, there are great villains, and then there's Meruem—an all-powerful insectoid monster whose death is capable of making a grown man sob.