Music Lists
From Fiona Apple to The Weeknd and everyone in-between.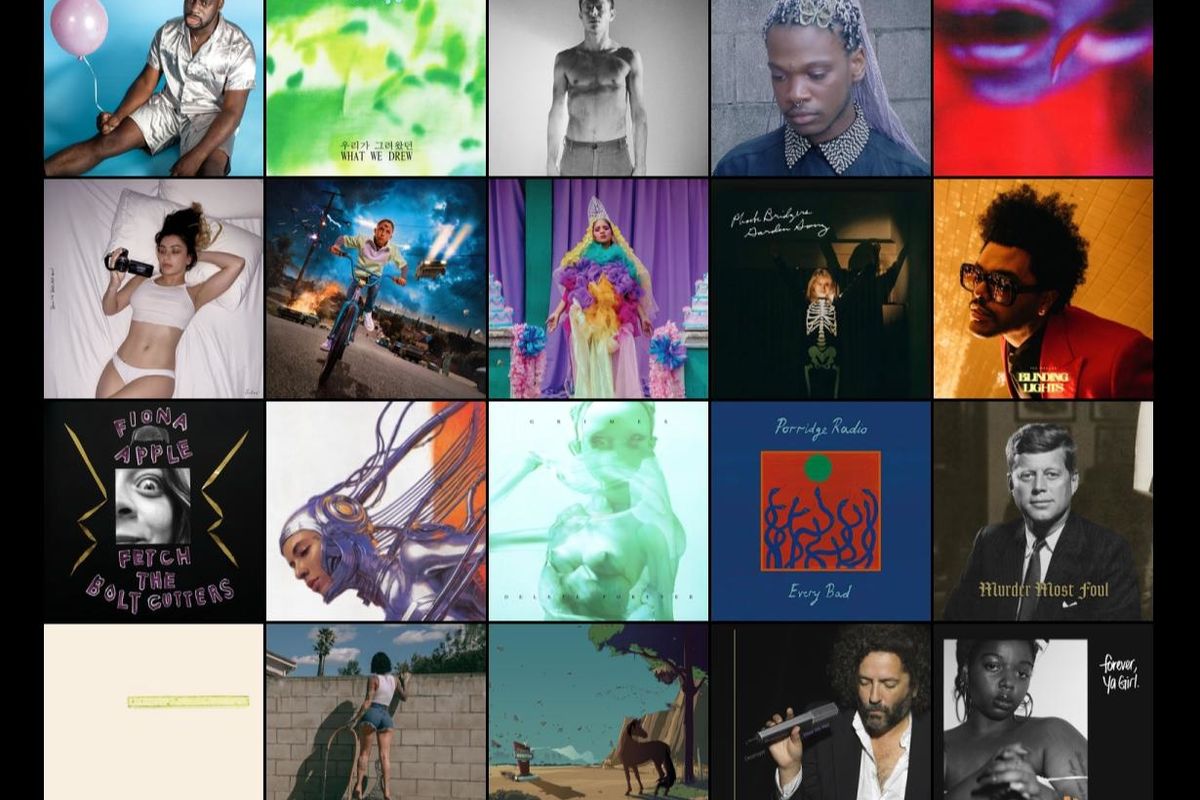 Even though it's hard to look past the sh*tstorm that is 2020 so far, this year has also given us a fair share of great new music.
With many new exciting indie acts as well as seasoned veterans having rang in the year with new releases, there's a lot of listening to be done (thankfully, you probably have enough free time to listen to them all). Below, we've assembled a list of the 25 best songs 2020 has offered us so far.
---
25. 070 Shake, "Guilty Conscience"
"Although I'm not a boy, I wanted to display a boy being broken," 070 Shake wrote in the poem that inspired "Guilty Conscience." "How he manages his sadness when he's not allowed to cry." A single from the G.O.O.D. Music signee's debut album, Modus Vivendi, the bass-pumping pop track depicts a mutually infidelitous relationship. "There goes my guilty conscience," 070 Shake sings, her narrator feeling equal parts pain and relief.

24. Grimes, "Delete Forever"

There was a visceral shift in the music world the night of burgeoning emo rapper Lil Peep's fatal fentanyl overdose in 2017. The news of the 21-year-old's death—paired with a stream of friends in her personal life dying of opioid overdoses—prompted Grimes to write "Delete Forever." A mellow track with an acoustic riff that approximates Oasis' "Wonderwall," "Delete Forever" is a stark shift from the experimental electronica Grimes is best known for.
23. Destroyer, "The Raven"
The lyrics of Dan Bejar, the musician better known as Destroyer, are often as illustrious as the written works of Edgar Allen Poe. "That's what I'll write about when I right about 'The Raven,'" he sings on one of many highlights from his latest album, Have We Met. "Just look at the world around you / Actually, no, don't look," go its opening lines, at once invoking feelings of nostalgia, wonder, and apprehension.
22. Empty Country, "Marian"
On his first solo album, former Cymbals Eat Guitars frontman Joseph D'Agostino invokes pain and grief to a startling degree. "Marian," a soaring number reminiscent of rock heroes like Bruce Springsteen, is told from the perspective of a miner in the '60s who imagines dying in a mine collapse before envisioning his daughter's adulthood. "She was a blue baby / Hole in her heart / From the start," D'Agostino sings in the chorus, perhaps referring to the child's eternal melancholy as much as her heart condition.
21. Bad Bunny, "Safaera"
Leave it to reggaeton superstar Bad Bunny to drop one of the year's best party records immediately before the world shut down. "Hoy se bebe, hoy se gasta / Hoy se fuma como un rasta / Si Dio' lo permite," goes the chorus—in English: "Today we drink, today we spend / Today we smoke like a rasta / If God permits it"—as the track seamlessly switches beats and tempos. This is Bad Bunny's irresistible demand to turn up.
20. Charli XCX, "anthems"
Leave it to self-described workaholic Charli XCX to make an entire album—one of the best works of her career, at that—while quarantined. With "anthems," Charli puts the feeling of forced isolation to tape; she sings of sleeping in, eating cereal, online shopping, and binging TV. "anthems" is turbo-fueled enough to emulate a crowded dance party, the kind Charli begs for in the song's chorus. But as each night drags along, she reminds us of the possibility to come out stronger on the other side: "Finally, when it's over / We might be even closer."
19. KeiyaA, "Hvnli"
Rising singer KeiyaA emerged this year with Forever, Ya Girl, an introspective, intimate debut record that distills longing and pain into sublime, homespun R&B. "Gone for so long, I prefer to spend time alone with my pain / Gone for so long, I can barely recall the last my phone rang," she sweetly croons on "Hvnli," over distorted synths that sound like they're playing from another room. Similarly, the song itself echoes a similar feeling—being so close in proximity but divided.
18. Kehlani, "Toxic"
Kehlani is no stranger to songs about heartache and tainted romances. Her latest release, It Was Good Until It Wasn't, comes stacked with rebuttals to the men who've wronged her: "I get real accountable when I'm alone," she kisses off on "Toxic," as if to say indulging in this love is mutually exclusive from her responsibilities. "You're a damn drug, you're toxic." Backed by 808s and a nocturnal jam that wouldn't sound out of place on Rihanna's ANTI, "Toxic" is a catalyst for remembering all the good relationships gone sour.
17. Lido Pimienta, "Te Queria"
Blending pop with Latin influences, the music of Colombian-Canadian musician Lido Pimienta boasts a sense of triumph. Her new album's title, Miss Columbia, is a reference to Steve Harvey's blunder at the 2015 Miss Universe Pageant, and the album similarly feels like she's taking back the crown. One of its highlights, "Te Queria," brims with relief and an optimistic outlook after escaping a dark relationship. Translated from Spanish, she sings: "I planted the seeds here and watered the ones you planted / You were never without me, but today I am relaxed," as a cumbia-like beat ushers in a new chapter.
16. Medhane, "I'm Deadass"
Medhane's raps unravel like an organized stream of consciousness. Over a muffled horn loop, "I'm Deadass" swirls together his past, present, and future without ever compromising Medhane's sharp delivery. Clocking in at less than two minutes, it allots just enough time to lure you in, inviting you to think about your own future beside him.
15. Perfume Genius, "Jason"
Mike Hadreas recalls leaving a hookup 15 years ago and thinking, "That was a song." His music of Perfume Genius often explores the facets of queer relationships, and "Jason" depicts his most memorable one-night stand to date that just so happens to have been with a straight man. "I was proud to seem warm and mothering just for a night," he sings, letting himself serve as a means for his partner's exploration.
14. Porridge Radio, "Sweet"
"My mum says that I look like a nervous wreck / Because I bite my nails right down to the flesh," Dana Margolin sings in the opening lines of "Sweet," perhaps the most evocative song yet from rock band Porridge Radio. Depicting a relationship between a mother and daughter, "Sweet" imparts the rage and anxiety that come from strained relationships. Among it all, though, Margolin ultimately wants to do right by her family and wants to be perceived positively. "I am charming, I am sweet / And she will love me when she meets me," she repeats, as though convincing herself.
13. Shamir, "On My Own"
When relationships dissolve, sometimes the loneliness that follows provides a surprising sense of relief. With the pop-rock hybrid "On My Own," Philadelphia musician Shamir details the aftermath of a breakup through an introvert's lens; "I refuse to f*cking suffer / Just to feel whole," he sings. "I don't mind to live all on my own / And I never did." There's a sense of assurance in his words, as the track provides a subtle reminder that being alone is always better than sticking it out in a doomed romance.
12. The Weeknd, "Blinding Lights"
As The Weeknd, Abel Tesfaye has spent the larger portion of the past decade wrapped up in the glamour of stardom—so much so that his moody sadboi anthems can feel ingenuine. But on "Blinding Lights," Tesfaye's outcast, villainous persona meets an addictive and unforgettable synth-pop hook that feels indebted to a-ha's "Take On Me." Full and exhilarating, it's arguably Tesfaye's best song since the stripped-down Trilogy days.
11. Yaeji, "WHEN I GROW UP"
DJ Yaeji used to sing in Korean because she was afraid of listeners understanding her lyrics. But on "WHEN I GROW UP," from its first moments when Yaeji says, "Ahem, testing, one-two" with the closeness of an ASMRtist, it's evident that the producer is coming fully into her own. The bilingual song feels like a pared-down version of a K-pop hit, with a staggering beat and warbly synths that perfectly soundtrack club nights in Yaeji's Brooklyn home.
10. Yves Tumor, "Gospel For a New Century"
Pop experimentalist Yves Tumor knows no bounds. Their music has shapeshifted throughout their career, spanning from subtle ambient to the blown-out rock influences that infiltrate "Gospel for a New Century." An ode to a faltered relationship, the song culminates into a chorus of layered production and instrumentation bold enough to fill an orchestra hall. "This ain't by design, girl," Yves Tumor belts, a fitting descriptor of his ever-evolving sound.
9. NNAMDÏ, "Flowers to My Demons"
NNAMDÏ exists in a world of his own. The Chicago multi-instrumentalist seamlessly blends elements of rock, pop, and hip-hop into a blissful chaos, one that permeates even his quieter tracks. The fingerpicked acoustic guitar of "Flowers to My Demons" leads into a rhythm section that could back a math rock band, as NNAMDÏ's vocals leap between pitches like a rubber ball. With a DIY sensibility, the music of NNAMDÏ is a singular force.
8. Run the Jewels, "JU$T" (feat. Zack de la Rocha and Pharrell Williams)
Run the Jewels—the prolific rap duo of Killer Mike and El-P—made their fourth album in the midst of a revolution. As the country erupted in protests following the murder of George Floyd by Minneapolis police, RTJ4 tackles the Black experience with an unmatched nuance. One of the album's highlights, the bass-heavy banger "JU$T," reckons with the role of money in a systemically racist, capitalist society. "The Thirteenth Amendment says that slavery's abolished / Look at all these slave masters posing on your dollar," Williams spits, a jarring reminder for white audiences to reevaluate the credibility of their heroes.
7. Dua Lipa, "Break My Heart"
We're all living in Dua Lipa's world. On her early hits like "New Rules" and "IDGAF," the English singer assumed her role as the siren of self-sufficiency, with reminders by way of funk-pop grooves that men ain't sh*t. But on Lipa's sophomore record, Future Nostalgia, she asked: What happens when a romantic connection, despite all hesitance, is irrefutable? "Break My Heart" illustrates that, when done right, independence and love don't have to be mutually exclusive.
6. Dogleg, "Kawasaki Backflip"
Living somewhere between melodic hardocre and emo, Dogleg are one of the most exciting rock bands to break out in 2020. Their excellent debut album Melee leaps from the starting line with opener "Kawasaki Backflip," a thrilling adrenaline rush of furious guitars and an explosive rhythm section. "Will you be the fire or the wind?" frontman Alex Stoitsiadis belts in the chorus, the kind that makes you want to point-and-shout among a sea of sweaty mosh pitters.
5. Half Waif, "Ordinary Talk"
Nandi Rose's escapist electro-pop is the perfect backdrop for her most visceral memories. In the stunning "Ordinary Talk," she assures her subject that there's no reason to worry about her: "Baby when I'm feeling low, you don't need to repair me," she sings. "When I'm in this hell / It's part of the process, it doesn't scare me." But later, those painful memories come back to flood her during mundane activities: crying into her coffee, doing laundry, laughing at TV. "Ordinary Talk" serves as a bleak reminder of the emptiness that results from severed ties, no matter how independent you feel in the process.
4. Bob Dylan, "Murder Most Foul"

Bob Dylan didn't write "Murder Most Foul" about social distancing, or even illness, but the whopping 17-minute song depicts a similarly shared experience throughout an entire country. The rock hero's first new song in eight years is about the murder of President John F. Kennedy; the song opens with a description of that day in Dallas in November 1963 and how Americans collectively tuned in to their radios to keep up with the news. These days, most of us struggle to not be tuned in; we might not be messing with the radio dials like Dylan sings about, but it's hard for anyone who ventures online to deny that we're in the midst of a massive cultural shift.
3. Phoebe Bridgers, "Garden Song"
Phoebe Bridgers is known for writing gentle folk songs with lines that hit like a swift punch to the gut. With "Garden Song," in a double-tracked soprano over fingerpicked guitars, she sings about watching her dreams come to life, but not without bouts of darkness, too. "And when I grow up, I'm gonna look up / From my phone and see my life," she croons with a crystallized wisdom.
2. Fiona Apple, "Shameika"
Fiona Apple has never been one to follow the masses. On "Shameika," a rousing piano-driven number, she remembers being an outcast as a child bullied by her classmates: "I didn't smile, because a smile always seemed rehearsed / I wasn't afraid of the bullies, and that just made the bullies worse." But as Apple told Vulture, Shameika is a real girl who left a lasting impression. "I just remember being in the cafeteria, a bunch of girls at one end of the table," she explained. "Shameika came up, and she was like, 'Why are you trying to sit with those girls? You have potential.' That was all she said to me."
1. Megan Thee Stallion and Beyoncé, "Savage"
With "Savage," Megan Thee Stallion solidified her status as rap's newest leading lady, creating our official quarantine anthem as TikTok skeptics suddenly fled to the video app to participate in the song's viral dance craze. The only thing that could've possibly made the song better was a remix featuring Megan's fellow Houston native, Beyoncé; a match seemingly made in heaven, the update of "Savage" landed Megan her very first No. 1 hit.
Popdust's Best Songs of 2020 So Far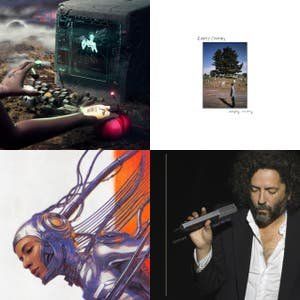 Popdust's Best Songs of 2020 So Far open.spotify.com