MUSIC
Does her new album go too far?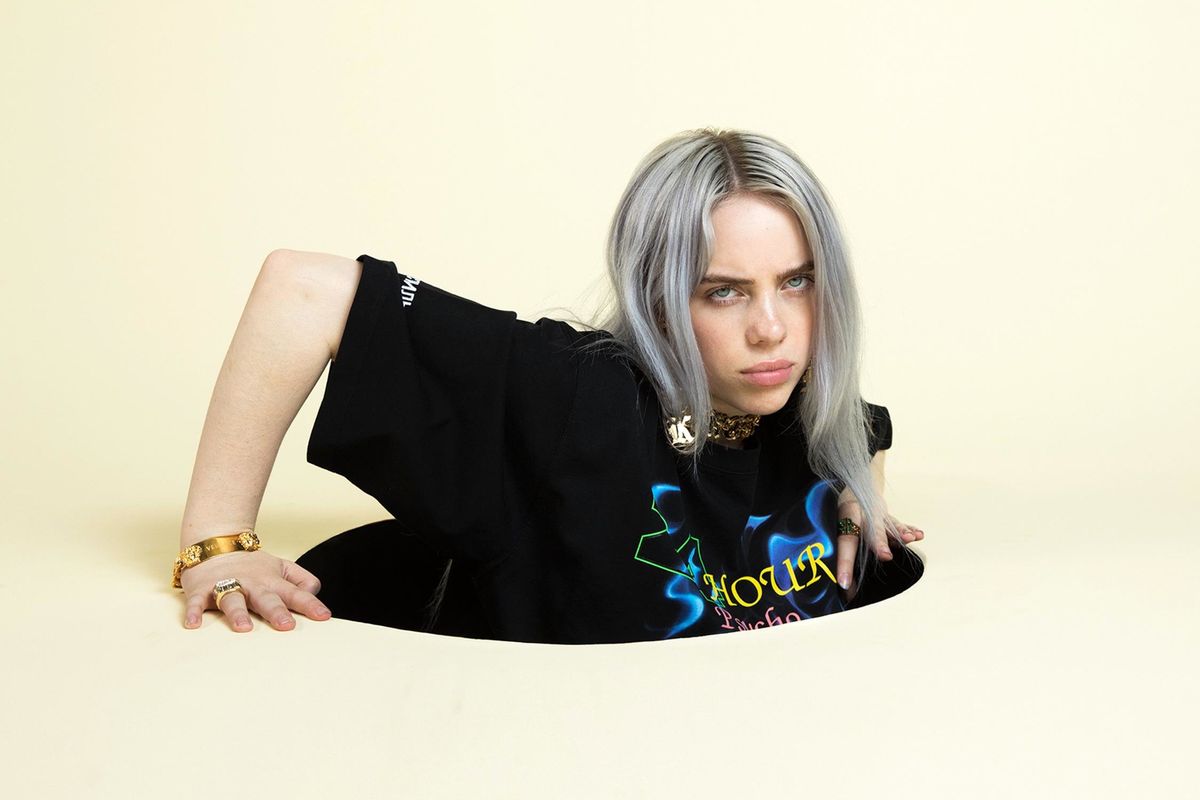 Billie Eilish's sophomore LP, When We All Fall Asleep, Where Do We Go? is significantly darker than anything she's released before. Even "idontwannabeyouanymore," the most serious track on her debut "dont smile at me," was an indictment of damaging beauty standards.
Her music has always been melancholy, pulled from whatever spring of velvety, neon-saturated darkness that Lana Del Rey and Lorde first drew from. But When We All Fall Asleep, Where Do We Go? dives deeper. It stares into the far reaches of the subconscious, and somewhere along the way, it moves into the realm of explicit suicidal ideation, raising the question—should we be concerned about Billie Eilish? And what do we do with music that isn't just sad, but sounds like a genuine cry for help?
Although lyrics like "I want you to worry about me" and "call my friends and tell them that I'll miss them / but I'm not sorry" express new levels of desperation, Eilish has long been open about her struggles with mental illness. She told Zane Lowe on Apple Music's Beats 1 that depression had "controlled everything in [her] life," adding that "I've always been a melancholy person… I feel like there are some people that neutrally they're happy." When We All Fall Asleep, Where Do We Go? doesn't shy from this at all, visually and lyrically. Despite a few exhilarating tracks like "you should see me in a crown" (accompanied by one of the most magnificently creepy pop music videos in recent memory), it's mostly about depression, heartache, and death.
Billie Eilish - you should see me in a crown (official video by Takashi Murakami) - Teaser www.youtube.com
Eilish is no stranger to death, and it's clearly not a joke to her. She publicly mourned the passing of her friend XXXTentancion, who was shot in June, and by the sound of it he's not the only one; songs like "bury a friend" and "ilomilo" excavate these painful experiences.
But "bury a friend" and especially "listen before i go" both veer into explicit ideation at points; the latter is a veritable suicide note. It sounds like giving up, like a last call at the end of the night when plans have already been made. And that's where it goes too far.
Obviously, Billie Eilish not the first musician to write and speak out about these themes. Everyone from Billie Holliday to Elliot Smith has detailed the intricacies of their struggles in the public eye, and the media has been glamorizing the trope of the troubled young star since time immemorial. A new generation of emo-rappers, from Lil Peep to Lil Uzi Vert, has also brought raw, unfiltered honesty about mental illness into the mainstream.
Since extreme emotion is a shared aspect of the human experience, it's no surprise that these themes are so pervasive. Ours is a strange world—and especially for those growing up with unlimited access to the Internet, faced with pending environmental catastrophe and ever-more-insidious pressures from a voracious media-industrial complex, it's not an easy place to be. So all this definitely is not meant to criticize Eilish and her peers for feeling these things and for creating sad, furious, disconcerting art.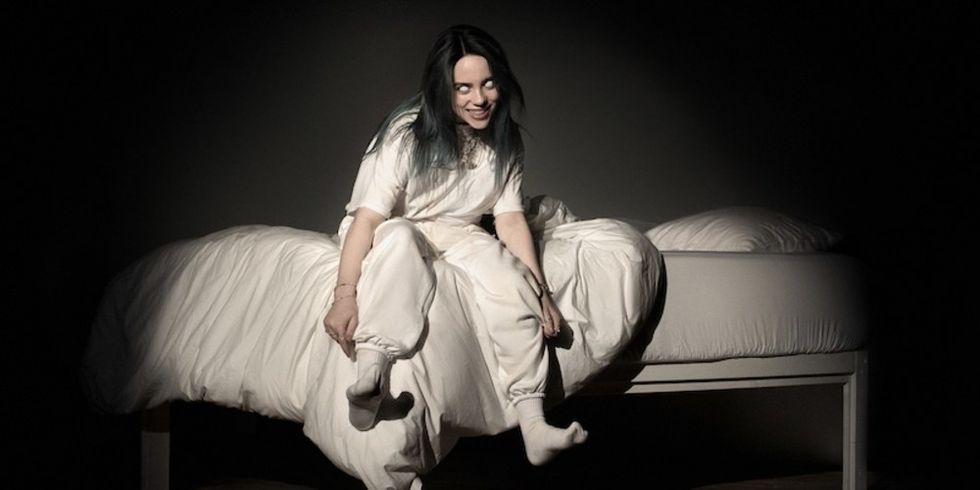 Image via Pitchfork
This also isn't a damnation of sad music. Sad songs and other forms of public honesty about mental illness can do a lot of important, often subversive work; they can interrupt the media's simulacrum of false happiness or function as catalysts for discussions about mental health. Those conversations are vitally important, especially in light of the fact that many reports say there's a higher level of depression and anxiety in teens than ever before, and when one in five adults struggles with a mental illness.

But there's a difference between being honest about mental health, and creating work that threatens actual self-harm and could be potentially triggering, especially for vulnerable fans who view artists as cult leaders who they'll follow, quite literally, to the end. Billie Eilish's new music goes too far because—coupled with her too-cool-for-you ethos and pending superstardom—she not only glamorizes mental illness; she glamorizes suicide, packages it up in a bundle of synths and bass and sells it for $200 a ticket.
Billie Eilish - bury a friend www.youtube.com
So what are we as listeners to do with music that's explicitly suicidal? In truth, there's not much we can do except trust that Eilish has a solid support system. She's in a band with her brother, and a whole bunch of people had to be involved in creating her album; hopefully, someone is taking steps to get her the help she needs. Of course, often with things like depression, even if you're close to the person, there's not too much you can do aside from validating their feelings and encouraging them to seek professional support. And even with professional help, there's no easy solution for mental illness, no neat way to sew it up; it's a monster that ebbs and flows, changing shape and requiring individualized treatment and attention.
This is most definitely not meant to criticize Eilish for speaking out, or to say that should just try yoga and get better. In fact, she's truly brave for speaking out so candidly about her feelings, for continuing to create and for staring fearlessly into the eyes of her demons.

But part of the issue here is that Eilish's music is so flat-out beautiful, her persona so magnetic. She's a bona fide star, with a huge amount of power that's sure to only grow with this release. In light of the huge amount of sway she holds over deeply impressionable kids across the globe, she now has a responsibility—or at least a tremendous opportunity—to speak out and share messages of support, to promise that it's okay to feel and struggle and that healing is possible, to inspire others not to give up, no matter how much pain they're in.
Billie Eilish - when the party's over www.youtube.com
After all, there are ways to talk about depression and mental illness without glorifying and aestheticizing them. Lana Del Rey has long been the poster girl for the "sad girl" trope, which came to a head when she received blowback from Francis Bean Cobain after telling an interviewer that she "wished she was dead already." Since then, Del Rey has released a hopeful Trump protest album followed by the empowering "Mariner's Apartment Complex." This shift in her approach, though slight, is significant because it moves away from the passivity that made her earlier work so dangerously seductive. And Julien Baker, who makes some of the saddest music around, is stunningly hopeful and inspiring in interviews and online, constantly spreading messages about faith, community, and recovery. Other artists like Selena Gomez and Lady Gaga have been explicit and honest about their mental health struggles, but equally explicit about their healing journeys.
Lana Del Rey - Mariners Apartment Complex www.youtube.com
Julien Baker - "Appointments" (Official Video) www.youtube.com
Eilish is also 17, significantly younger than any of the aforementioned artists, so she can be forgiven for not channeling her pain into some kind of larger force. It may be a good sign that she's coming to terms with her emotions early, that she's sharing them and learning how to deal with them. Often depression and mental illness stem from an inability to process deep-rooted trauma, so allowing oneself to traverse the depths of the subconscious mind and unearth repressed memories can be incredibly beneficial.

But for people as uniquely powerful and culturally influential as Eilish and her team—and for anyone interested in addressing and subverting the reasons mental illness is becoming an epidemic—simply being honest about mental illness isn't enough, especially in terms of serious suicidal ideation. Stopping the stigma should be a beginning point, the launching pad for structural changes and new ways of understanding and treating real mental health issues, not an end in itself. We should be talking about recovery, about how it is possible to live a full life while suffering from mental illness. We should be talking about how there are always options and pathways through places of darkness, and how it's definitely not beautiful or somehow more authentic and honest to give up hope.
If you or a friend are experiencing thoughts of suicide, call 1-800-273-8255 or visit afsp.org to learn more.

---
Eden Arielle Gordon is a writer and musician from New York. Follow her on Twitter @edenarielmusic.

---
POP⚡DUST | Read More...
Abby Anderson is Country's Next Kacey Musgraves