Meet Brett and Bradley Anderson, aka Brother Brother.
The siblings recently dropped a new single titled, "With My Eyes Wide Open." The song merges rap, indie-rock, and pop into a contagious tune that includes a banjo-powered trap shuffle. Brother Brother definitely has it going on, so Popdust sat down with the duo to learn more about their unprecedented mixture of traditional music and indie-rock.
How would you describe yourself?
We like to fuse indie rock with hip-hop beats and throw in stuff like spoken word and overdriven banjos. Like Imagine Dragons, but like, imagine them playing banjos with their claws.
What's the most trouble you've ever gotten into?
We try to stay out of trouble for the most part, but there was this one time that through a series of accidental circumstances, we ended up successfully hiding from the cops in a shower of an abandoned house for like two hours while the other people got rounded up. This is totally gonna sound like a lie, but for posterity we were honestly just exploring. Officers, if you're reading this, thank you for not checking the shower.
What's your favorite song to belt out in the car or the shower?

We're both really loving Brockhampton's new album; "Berlin" is our favorite song off of it. But we love yelling "Hooked on a Feeling" by Blue Swede on long drives. Respect the classics.
Who is your favorite music artist?
Brett's favorite band is definitely the Killers, and Bradley's top place goes to Watsky.
How did you get started in music? What's the backstory there?
We grew up on a little family farm outside of Sarasota, Florida. We started playing guitar and banjo at age 9 and 11, and started performing at little farmers' markets and festivals around the area. After a few years, we got a residency at a theater in Branson, Missouri, where we started evolving our sound into what it is today. Branson isn't really a scene for indie music, so we relocated to Nashville and have been touring out of there for about a year.
What musicians influenced you the most?
When Mumford and Sons hit the radio, that gave us hope that banjos could be cool again. Also fellow Nashville residents like Judah and the Lion, and Coin. If banjos are back to being uncool, please DM our Instagram and inform us as soon as possible.
How, if at all, do your musical influences shape and impact your music?
We're inspired by people like Twenty One Pilots, and the way they can put personal vulnerability and emotion in their lyrics. To be able to connect with people and talk about real issues is the reason we're band. If we aren't saying something, then each of our songs just become a worthless three or four-minute filibuster on silence.
What kind of guitar/banjo do you play? And why?
Brett plays an electric banjo, so he can put effects on it and make non-traditional sounds. Along with live drumming and other stringed instruments, we also like to live sample and mix beats onstage.
You have described your music as "indie rock with a banjo." What made you decide to infuse your sound with the banjo?
We grew up in an area steeped in a lot of folk and traditional music, and we always asked ourselves how we could evolve that sound. We think that banjo and roots sounds have a place in the next wave of music.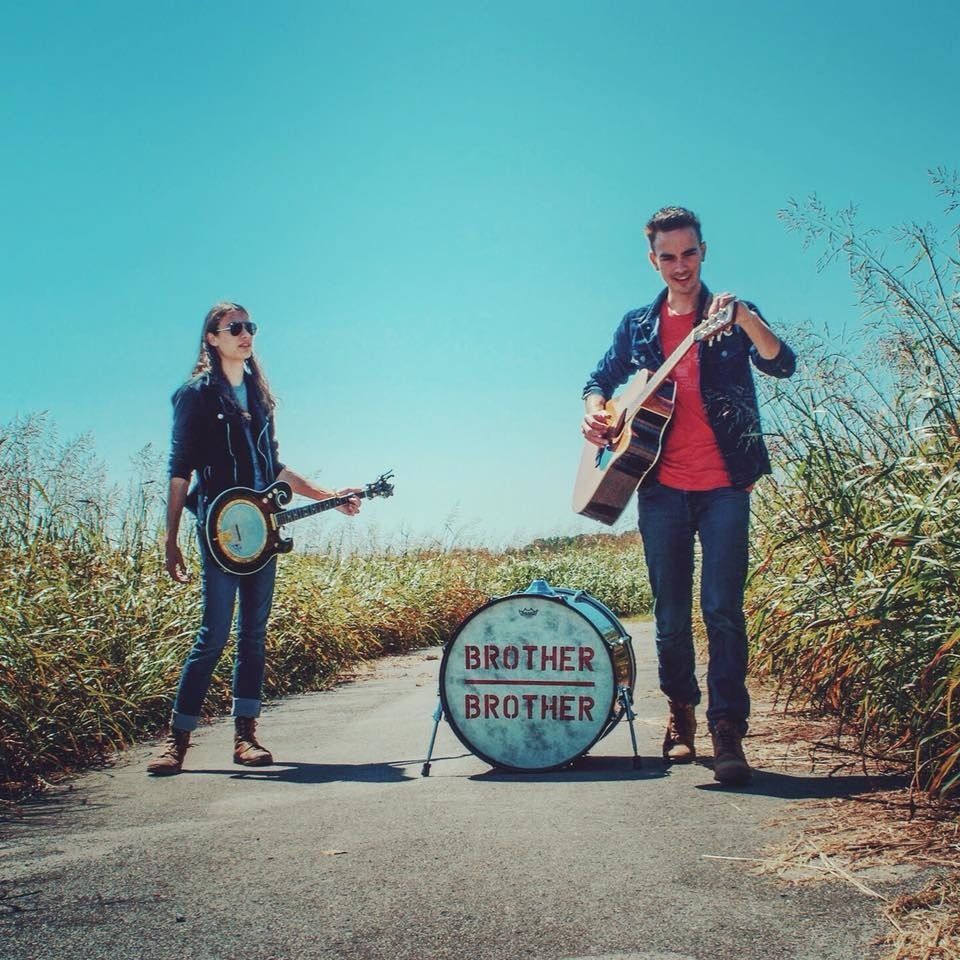 Photo Courtesy Brother Brother
What inspired your new single "With My Eyes Wide Open?"
The song is simultaneously a cry for help and a solution to its own demons. We told ourselves that we wouldn't release anything unless we felt like the message underneath it was clear, and we hope that we've done that.
I love the creamy almost gospel choir-like harmonies backing the rapping lyrics on "With My Eyes Wide Open." Whose idea was it?
When we were writing this song, we wanted to find a melody that corresponded with the fast-paced verses and distilled the message into something memorable.
What's it like working/performing with your brother? Is it ever difficult?
We're really lucky to have each other as band mates and brothers. We even each other out in a lot of ways; Bradley's strengths are my weakness and vice versa. It's pretty fun to be in a band with your best friend.
What's next for you musically? An EP, or possibly an album?
We'd like to release a few more singles we feel really passionate about before another full length release, but then after that who knows?
Will you be doing any touring?
Yeah, we'll be at Washington College in Maryland on the 24th, then Thibideaux, Louisiana opening up for the Mowglis on the 25th. Hope to see y'all out there.
---
Randy Radic is a Left Coast author and writer. Author of numerous true crime books written under the pen-name of John Lee Brook. Former music contributor at Huff Post.
---
POP⚡DUST | Read More...
RISING STAR | Dangermaker Drops 'Run' LP October 5
PREMIERE | Terry Emm Drops 'Sophia'
RISING STAR | Alberta Drops Buff New Single, 'Jay Walk'n'