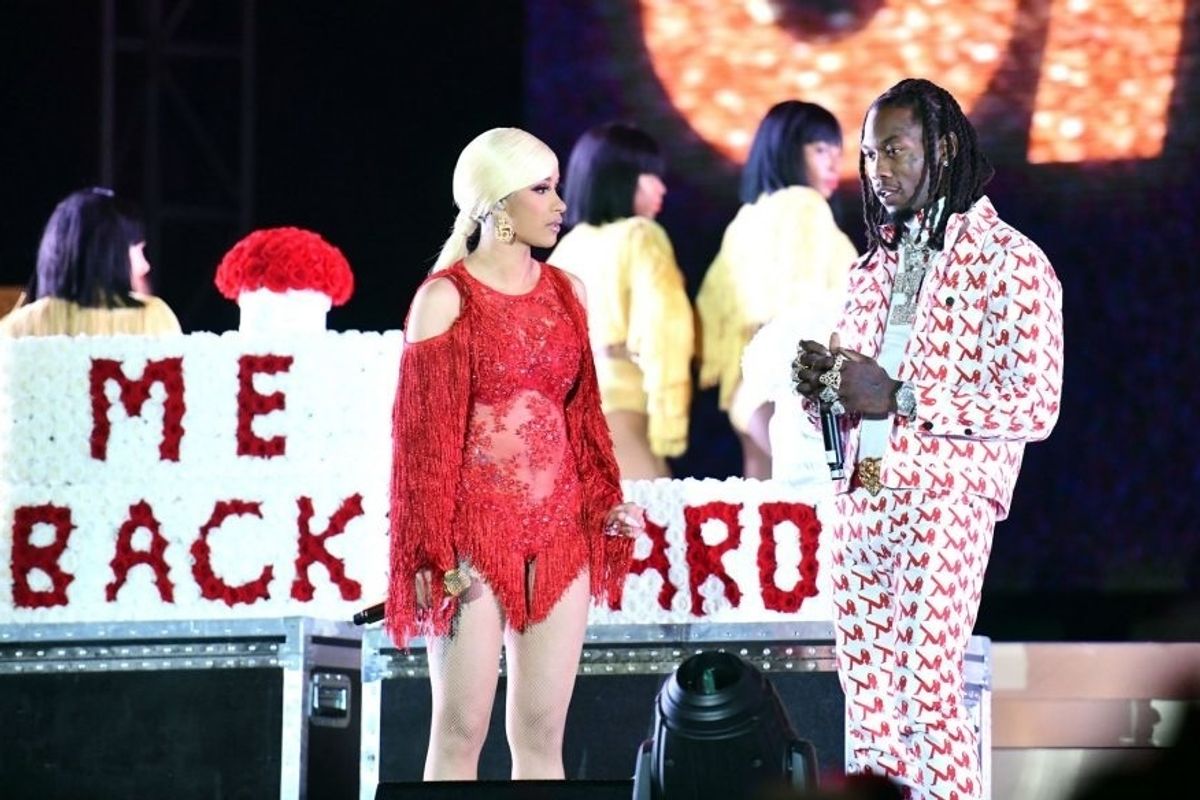 As you probably already know, Offset and Cardi B recently split after rumors of the Migos rapper's infidelities went public.
The breakup has gained even more media attention since Offset made a "surprise" guest appearance during Cardi's performance at the Rolling Loud festival in LA on Saturday. He interrupted the show by wheeling out a display of roses that read "Take Me Back Cardi" and saying into a microphone, "I just want to tell you I'm sorry, bruh. In person. In front of the world." The two rappers then appeared to have a heated exchange, before Offset exited the stage and the flower display was removed. Cardi resumed her performance looking less than pleased by the stunt.
.@OffsetYRN offers @iamcardib an apology. [via @rapradar] https://t.co/fOenMgaGdo

— Complex (@Complex) 1544944899.0
Now, fans are debating whether or not Cardi knew about the stunt, why her manager didn't stop it from happening, and to what degree the festival planners were involved. The Rolling Loud twitter page tweeted a now-deleted series of posts that promised the festival would go "viral," seeming to imply that they knew something unexpected would happen. But festival co-founder Tariq Cherif told the Los Angeles Times, "We were told she was going to have a guest star during her set, that it was going to be Migos, but we didn't know anything about that stunt." He continued, "We're getting blamed as if we conspired to do this, and I just want to make it clear that we did not. Cardi's management was in on it, it had nothing to do with the festival. The artist is in full control of the stage and they determine who gets on and off."
He later tweeted,
Here is backstage footage of Cardi B's publicist Patience Foster leading Offset to the stage. Like I said, this who… https://t.co/A0yZWCSHbU

— Tariq Nasheed 🇺🇸 (@Tariq Nasheed 🇺🇸) 1544991783.0
But in response to fans' outrage at the publicist's betrayal, Cardi said in an Instagram video, "That's my bitch. That's my homie. That's like my big sister, she's not like any other publicist. She's my friend. She has taken my husband and my sister as a client and she has helped us a lot. Yeah, sometimes she does a little bit more, you wanna know why? Because we are a family and she cares about my family." Cardi went on, "I'm not gonna let y'all drag her. I don't give a fuck…I will never let y'all disrespect people this close to me."

In another video posted Saturday, she defended Offset against angry fans, as well, saying, "Violating my baby father is not gonna make me feel any better, because at the end of the day that's still family. Unfortunately we're going through things, and it's not private, it became public. I just want things to die down. I just need time so we can see eye to eye. I can't predict the future, I don't know, but the whole coming at my baby father bullshit, that doesn't make me feel any better."
But fans remain split on what to make of the incident. Some think it's clear that Cardi was in on the gesture, using her recent split as an opportunity to garner publicity for herself and her music. But others see Offset's interruption as an example of a larger socio-political phenomenon, in which men tend to consider themselves more important than their female partner's work, and therefore feel entitled to taking the spotlight away from their partner when it suits them.
Indeed, it's difficult to deny that Offset made Cardi's moment his moment, and given that Cardi's performance was the first time a woman has ever opened the Rolling Loud festival, the symbolism is particularly poignant. Regardless of the truth of who was behind the incident, fans continue to share their takes online, with many hoping that Cardi will be able to disentangle herself from Offset's toxic vibes once and for all.
Offset-Cardi and Thomas-Meghan are powerful examples of men feeling entitled to women's attention, responses, and l… https://t.co/OCUngBwgmF

— Baratunde (@Baratunde) 1545055207.0
Offset disrupting Cardi's performance is like your ex running up on. you at your job in the middle of a meeting. Th… https://t.co/0HWF8JpjR3

— Demetria L. Lucas (@Demetria L. Lucas) 1544944207.0
---
Brooke Ivey Johnson is a Brooklyn based writer, playwright, and human woman. To read more of her work visit her blog or follow her twitter @BrookeIJohnson.
---
POP⚡DUST | Read More...

Everything Mike Pence Reminded Us of During that Oval Office Meeting
Brexit Derails: Vote Postponed, U.K. Has Power to Cancel Altogether