CULTURE
Face it, weebs: "Dragon Ball Z" is mainstream.
Once upon a time, wearing a graphic tee with an image of a beefed up, spikey-haired anime boy was considered lame. Now, it's legit streetwear.
Over the past few years, anime has grown from a hyper-niche, oftentimes derided interest in the West to a medium just on the border of mainstream. Along the anime boom in fashion, Hollywood studios have been scrambling to buy the licenses to every anime franchise they can. But that doesn't mean anime is new to Hollywood––some celebrities have been vocal about their love of anime for years.
Black Panther star Michael B. Jordan has publicly touted his anime preferences for ages. Kanye West is a big anime fan, too, citing Akira as one of his greatest creative influences. His music video for "Stronger" stands in testament, featuring imagery ripped directly from the classic anime film.
---
Kanye West - Stronger www.youtube.com
John Boyega from Star Wars loves Attack on Titan. Maisie Williams from Game of Thrones loves One Punch Man. And Ronda Rousey claimed she had a childhood crush on Dragon Ball Z's Vegeta (and who could blame her? Vegeta is bae).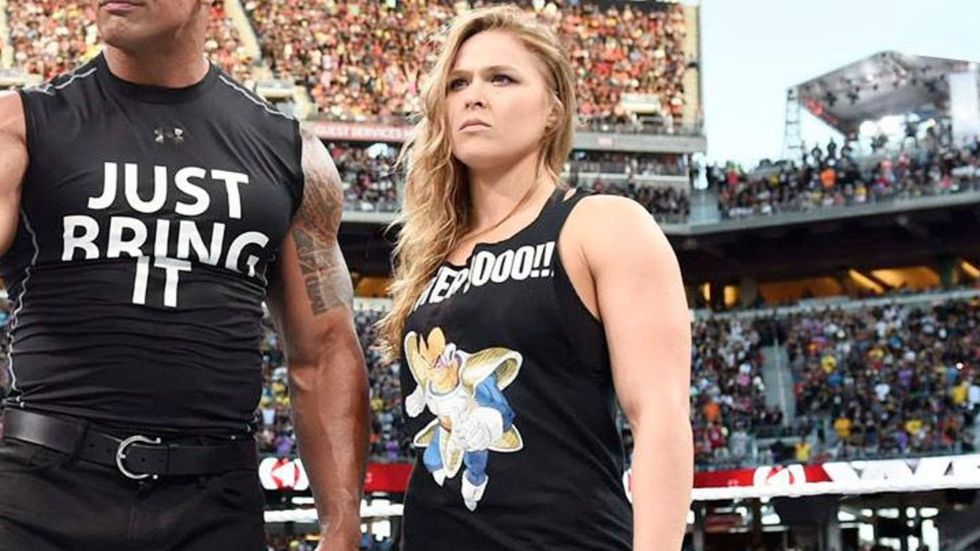 Ronda Rousey wearing a Vegeta shirt
From Ariana Grande getting a Spirited Away tattoo to Keanu Reeves being repeatedly spotted in an anime shop to NFL star Mike Daniels cosplaying as the Fourth Raikage from Naruto, it's clear that anime narratives are reaching a much broader demographic than ever before.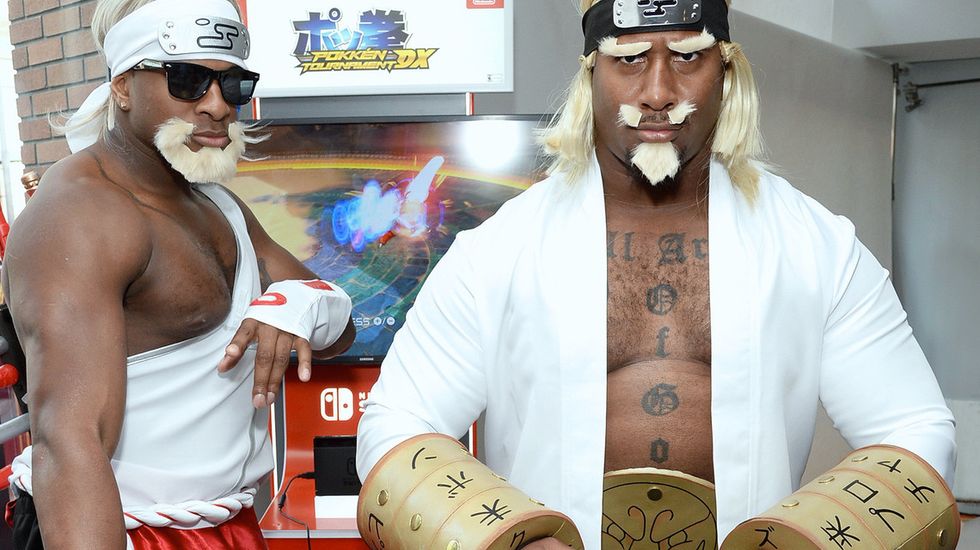 Mike Daniels cosplaying as the Fourth Raikage
This is especially true in the black community, where many prominent hip hop artists and sports stars grew up relating to the Shonen (boys) genre, specifically Dragon Ball Z. The RZA from The Wu-Tang Clan wrote at length in his book, The Tao of Wu, about how Goku's struggles in Dragon Ball Z mirror the struggles of black people in America. And in 2017, Kotaku released an article titled "Why Black Men Love Dragon Ball Z," in which young black men discuss the myriad ways that the series has inspired them and impacted their lives.

Many of them relate to Goku's work ethic, with his constant need to improve himself and get stronger in the face of otherworldly threats. "Even when this fool's dead he's like, 'No days off,'" said one of the interviewees. Others identified with Goku's outsider status as the last surviving member of an alien race with no memory of his people. "Those of us that are black and born in the U.S., at least some of us to an extent don't know where we're from and I feel that is something that a lot of people of color can identify with," said another interviewee.
While a lot of anime may seem childish on the surface, the best series feature intense, emotional narratives exploring mature themes that follow fans into adulthood. Dragon Ball Z encourages endless self-improvement in the face of impossible odds. Naruto follows a journey from despised outcast to beloved hero. Attack on Titan is easily one of the best depictions of wartime trauma ever conceived. Great anime is universal.
In this light, it's no wonder so many famous people, from athletes to artists, love the medium.
Recently, Michael B. Jordan even lent his voice to Rooster Teeth's anime-inspired mecha web series, Gen:Lock. One time, someone tried to make fun of him for liking anime on Twitter, and Jordan responded in turn. "Goku & Naruto are real ones," he said.
First of All I'm 6ft and they live with ME, put some respeck on my name. LOL...aaaand goku & naruto are real ones… https://t.co/ZcdFuRFkFU

— Michael B. Jordan (@Michael B. Jordan)1519344572.0