popular
One World: Together at Home is likely to draw a huge global audience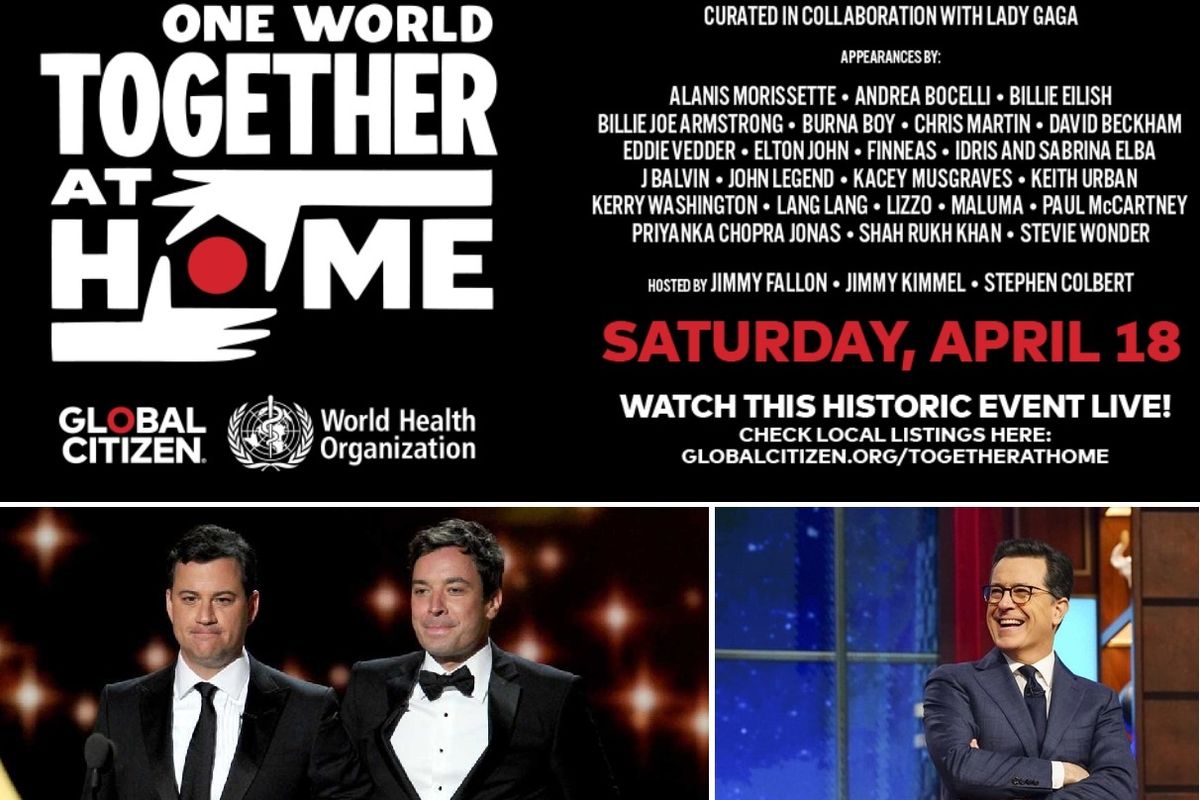 Global Citizen
On Saturday, April 18th, Stephen Colbert, Jimmy Kimmel, and Jimmy Fallon will be joining late-night forces to host a global television event.
The event, entitled One World: Together at Home, will promote the international fight to end the COVID-19 pandemic and raise money for the World Health Organization. From 8-10PM EST, it will be broadcast live on the big three American TV networks—ABC, CBS, and NBC—as well as around the world and on a number of cable networks and streaming platforms.
Any TV event set to be broadcast on all three of those networks would automatically be a pretty big deal, but with a huge portion of the world currently under some form of shelter-in-place or stay-at-home order—and a lot of TV and movies being shut down or delayed—this event has the potential to draw in a truly historic number of viewers. Of course that depends on whether the organizers can put together the kind of entertainment that will convince people to put down Animal Crossing to tune in. With that in mind, let's take a look at the lineup as it currently stands.
Healthcare workers on the frontlines of the COVID-19 crisis need our support. That's why I'm partnering with… https://t.co/OjFsvIJpeY

— John Legend (@John Legend) 1586195380.0
Along with the hosts of The Late Show, The Tonight Show, and Jimmy Kimmel Live!, the event—which has been curated by Lady Gaga in cooperation with Global Citizen—will feature appearances from Alanis Morissette, Italian opera star Andrea Bocelli, Billie Eilish, Billie Joe Armstrong of Green Day, Nigerian singer Burna Boy, Chris Martin of Coldplay, David Beckham, Eddie Vedder of Pearl Jam, Elton John, Idris Elba, Colombian Singer J Balvin, John Legend, Kacey Musgraves, Keith Urban, Kerry Washington, Chinese pianist Lang Lang, Lizzo, Colombian Singer Maluma, Paul McCartney, Priyanka Chopra Jonas, Indian actor Shah Rukh Khan, Stevie Wonder and some of the muppets of Sesame Street.

In other words, there will be recognizable stars for just about any part of the world and any age group. While it might not reach the level of the World Cup final—which draws an audience of over 500 million—One World: Together at Home has the potential to far-surpass the viewing numbers of an event like the Oscars. With any luck, it will, because the money raised will go to the WHO's COVID-19 Solidarity Response Fund, which equips healthcare workers around the world and helps to provide food, shelter, and healthcare to people in need.
So tune in on Saturday at 8:00 PM, and donate if you can afford to. Because right now everyone could use the entertainment, and the whole world needs some help.