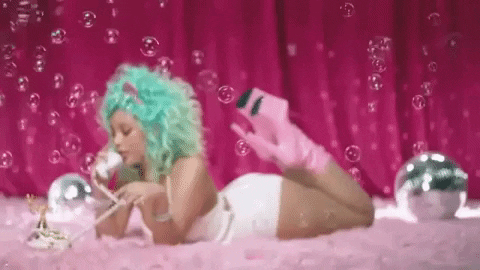 Remember when Doja Cat was seemingly a flash-in-the-pan singer? Her quirky breakout hit "MOO!" was met with internet acclaim before she was inevitably "canceled" when old homophobic tweets resurfaced.
Her apology for the tweets was then met with a mixed reception. "I called a couple people f*ggots when I was in high school in 2015," she wrote. "Does this mean I don't deserve support?... Does saying f*ggot mean you hate gay people? Do I hate gay people? I don't think I hate gay [people]." The tweets in question, when revisited through the lens of 2019 politics, seem rather harmless. The whole debacle raises questions about the validity of cancel culture, especially pertaining to "old tweets," but Doja Cat isn't here to be a spokesperson and Hot Pink doesn't take time to reflect on the past. Instead, it pushes the career of Amala Zandile Dlamini fervently forward with a collection of catchy, and sophisticated pop songs.
Doja Cat - Cyber Sex (Official Video) www.youtube.com
Hot Pink, instead, is a Lil Kim-level flex dripping in glitter. It offers up some of the best music of Doja's career and paints her as more than just a one-hit pop singer. "Shine" is an expertly crafted ode to wealth and diamonds, while "Like That" and "Won't Bite" bring out the best in Gucci Mane and Smino.
Then again, as charismatic as the project is, Hot Pink is soaked in bitter irony. While the project fights to glorify female sexuality and wealth, its message feels hollow when the production credits roll. Dr. Luke, the mega-producer whose career was called into question after he was accused of brutal sexual and emotional abuse by Ke$ha, inked a controversial deal with Doja Cat earlier this year and had a heavy hand in Hot Pink's production.
It's clear that Doja does what she wants, which is at times admirable. But free will and ignorance are two different things, and while Doja doesn't feel the need to be defined by political correctness, it will inevitably define her and her career whether she wants it to or not.