Music Monday
MUSIC MONDAY | EBEN – Hip-Hop Pop to Maximize Your Monday
JULY 23 | "LAMBO" Follows Up His Finally Release with Tongue-in-Cheek Creativity
THE MIX | The Sweet Taste of "Ear Candy"
---
07.23.18 | "This is my 'ear candy' playlist. When I first listened to each one of these songs, they immediately caught my ear right away. I can imagine myself cruising down the PCH (Pacific Coast Highway) and just enjoying the sun when I listen to this playlist. I hope you enjoy this little look into my music mental(ity)."
Love the "LAMBO" video below.

22-years-old with the world ready to ride along in his "LAMBO," L.A.-based EBEN is everything the hip-hop-pop scene embodies and more – filled with energy, enthusiasm, cool charisma, and creativity. From bandmate to solo singer, musician EBEN is climbing the charts and impressing fans and the "forces that be" alike.

His mixtape Finallyreached #7 on the iTunes Pop Albums chart and more than 1 million music-lovers streamed it on Spotify. "LAMBO," EBEN's current single out now, hit #10 on the Spotify U.S. viral charts swiftly, and thanks to his smart sense of humor, the accompanying video has become a YouTube favorite.
He opened for Why Don't We on their U.S. and European tour and will head to Asia with the band again starting August 11. EBEN is globetrotting, giving folks near and far the new music they've been craving. Finally!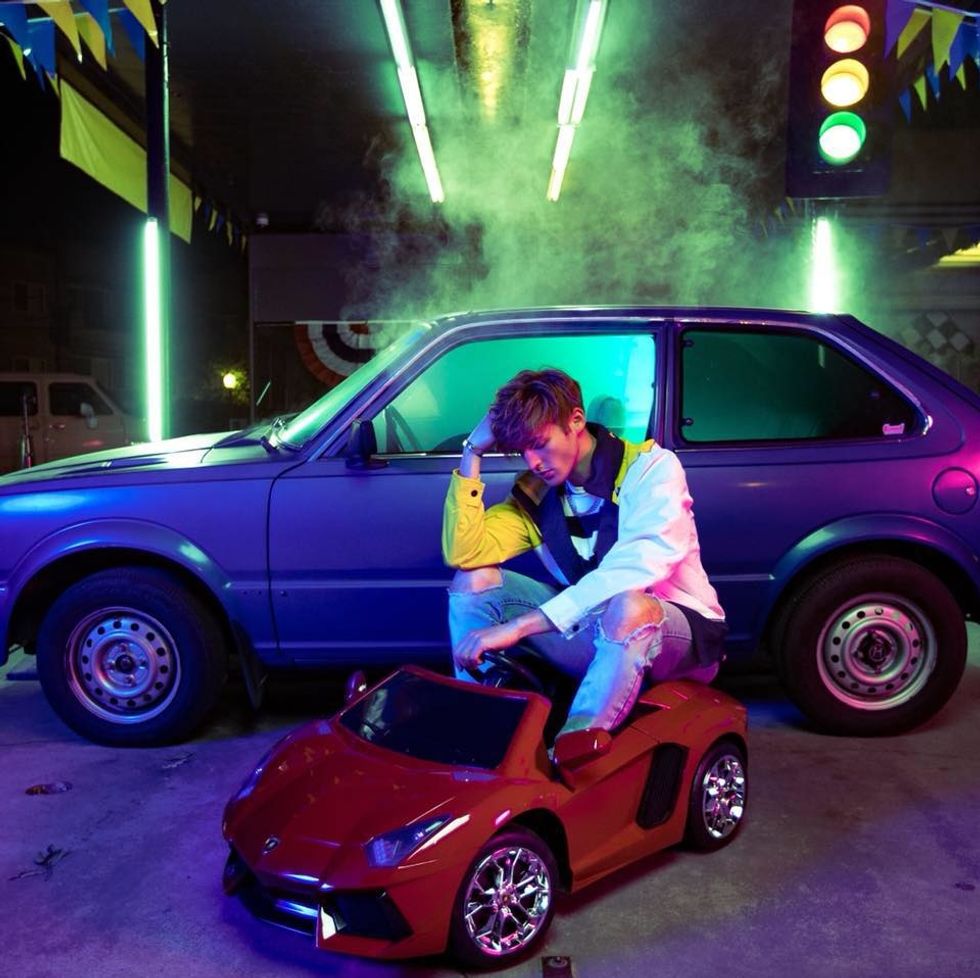 Via Facebook
THE BREAKDOWN
1. I Fall Apart - Post Malone
This record is such a good example of someone giving everything to a song. It's so honest and paints a picture of exactly what Posty was going through.
2. How Great - Chance The Rapper
I absolutely love this song. Chance is a true creative genius and a huge influence on my music. His lyrical wordplay is truly special; I've sat down and read most of his lyrics. His mind is so complex and it translates to his work.

3. Young and Reckless - Charlotte Lawrence

Sonically it makes me feel like I'm floating. Such a nice vibe to it. Charlotte's tone is infectious as well; I really like her voice.
4. Jackie Chan - Tiesto & DZEKO ft. Preme & Post Malone
Definitely a summer feel-good track! Can't be mad at this at all! I live for summer jams…but then again don't we all?
5. The Passion - Jaden Smith
I'm a big fan of artists putting hidden songs at the end of records. As much as I enjoy the song itself, I also feel myself wanting to have a full version of the outro on this song; It's so good.
6. Feel It Still - Medasin remix
I have a playlist called "PCH" on my Spotify. It's for songs that I could picture myself listening to while driving down the Pacific Coast Highway. This song DEFINITELY goes into that category for me.
7. Just A Kid - Two Friends, Kevin Writer
Right when this hook comes in, it grabs me. It has such a positive message and takes me back to when I was a little kid and life was simpler.
8. Friends - Francis and the Lights, Bon Iver
Francis and the Lights has a huge influence on me production-wise. The way he molds the analog and modern sound together is so impressive. It's a perfect balance that I one day want to be able to create in my music.
9. Undo - The 1975
For some odd reason, this song takes me right back to when I was 17 driving around my hometown with my best friends and just enjoying the summer off of school we had. I miss those simple times. I can always count on The 1975 for getting the feels going.
10. In My Feelings – Drake
This record is a true example of a bop. It's for sure going to be the song of 2018! Drake's cadences are so 'in the pocket' and melodically clean and simple. I have learned so much from listening to Drake when it comes to writing.
Now I'm out there having the time of my life, and I want everyone else to know that good things can happen if you just stick to your guns and never let anyone stop you from what you really want to do," says EBEN. We couldn't agree more.

---
Melissa A. Kay is a New York-based writer, editor, and content strategist. Follow her work on Popdust as well as sites including TopDust, Chase Bank, P&G, Understood.org, The Richest, GearBrain, The Journiest, Bella, TrueSelf, Better Homes & Gardens, AMC Daycare, and more.
---
POP⚡DUST | Read More…

MUSIC MONDAY | Scruffy Pearls Brings us Soul-Pop Sweetness
MUSIC MONDAY | Chris Jobe gives us some "Love in the Morning"
MUSIC MONDAY | Do You Got The Chills?