MUSIC
Featuring new songs from Pabllo Vittar, Chance the Rapper, Rico Nasty and more!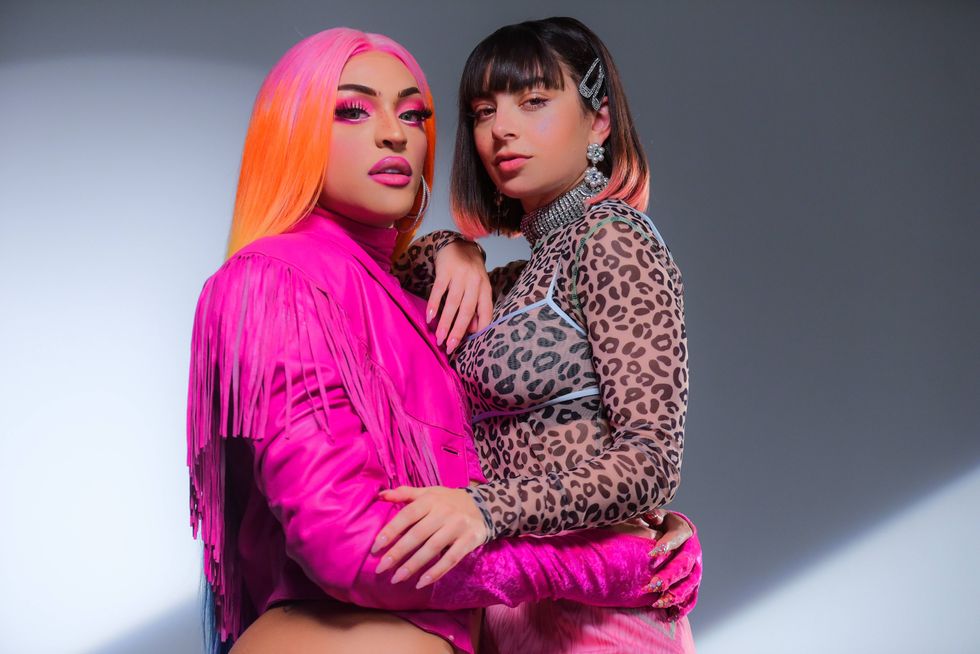 ERNNA COST
Fresh Music Friday is here to give you a breakdown of new singles, EPs, and albums to check out as you make your way into the weekend.

Get ready to jam out with some of our favorite up-and-coming artists, plus celebrate new releases from those you already know and love.
1. Pabllo Vittar - "Flash Pose" (Feat. Charli XCX)
Brazilian singer, songwriter and drag performer Pabllo Vittar tapped Charli XCX for a new song called "Flash Pose," a fun and clubby cut about looking really hot and posing for pictures––and feeling confident while doing it. As was to be expected coming from two of pop's biggest icons, "Flash Pose" sounds instantly infectious. The last time Charli XCX and Pabllo Vittar put out a song together, it was for Charli XCX'S 2017 excellent album Pop II on the song "I Got It"––you know, the one that goes, "I got it, I got it, I got it, I got it, I got it" ad infinitum.
2. Chance the Rapper - "Do You Remember" (Feat. Ben Gibbard)
Reader, the day is here. Chance the Rapper just dropped his long-awaited official debut album, which features a whole host of guest appearances from Bon Iver to Nicki Minaj to Death Cab frontman Ben Gibbard. As a veritable Death Cab fanatic and Chance the Rapper enthusiast, this is the collaboration I never asked for but absolutely needed.
"Do You Remember," is a nostalgia trip of a groove where Chance wistfully raps about past summer memories and features Ben Gibbard's distinct, melancholic voice on the chorus: "Do you remember how when you were younger / The summers all lasted forever? / Days disappeared into months, into years / Hold that feeling forever." At this point, I will forgive BG for never putting out the other Postal Service album he promised. Some ideas for a future supergroup include: Chance Cab For Cutie. Alternatively, Death Chance The Rapper.
3. White Reaper - "Real Long Time"
White Reaper is gearing up to put out their fourth album after recently signing to Elektra Records. A few months ago, the Louisville rockers shared the forthcoming album's first single "Might Be Right," which marked the band's first new music since 2017's The World's Best American Band, and this week they unveiled a new power-pop track called "Real Long Time."
While the guitar tones on the new songs can lean into '80s rock revivalism, both "Might Be Right" and "Real Long Time" show White Reaper continuing to hone their instantly recognizable brand of flashy, energetic power-pop—both vintage and novel—by blending together garage rock scuzz and Thin-Lizzy-approved riffage.
4. Rico Nasty - "Time Flies"
Hot on the heels of her latest project with Kenny Beats (Anger Management), Rico Nasty is back with a new track, and this time she's adopted a (slightly) pared-down vibe from her usual rapid-fire style verses. Her new song, "Time Flies," is a little less incensed and shows off a more melodic approach, with Nasty waxing introspective on a sing-songy hook: "I don't wanna be on the ground when the time flies / Had so many friends goin' / Wonder when it's my time / I live every day like I'll die by the night time / It took me so long getting back to my right mind."
5. Loving - "Vision"
This week, Canadian indie rock trio Loving unveiled a new single called "Visions" via Last Gang Records. Loving is made up of David Parry, Lucas Henderson, and Jesse Henderson, and together they create lovely, easy-going tunes that pair well with the sunny stretches of late July afternoons or aimless drives. On "Visions," drowsy guitar slides and warm acoustic strumming take shape around soft percussion as Jesse Henderson muses about the "strange prison" of how we envision our futures.
6 + 7. Caroline Polachek - "Parachute" and "Ocean of Tears"
Last month, Caroline Polacheck (formerly of Chairlift) shared "Door," the first single she's released officially under her name, marking both a return and a new beginning. Polachek previously put out songs under the moniker Ramona Lisa and went on to explore more ambient territory in CEP before shifting to her latest project. This week, Polachek followed up "Door" with two new songs: the sparse slow-burner "Parachute" and the pulsating, R&B-tinged "Ocean of Tears."
8. Palm Haze - "Almost Soon"
Vancouver-via-Brazil shoegaze duo Palm Haze released a new track today called "Almost Soon," which comes off of their upcoming album Rêve Bleu (out August 30th via YHS Records). With a sound that's reminiscent of gaze-y heavyweights like My Bloody Valentine, "Almost Soon" is a stunning display of control of texture as the band strikes the perfect (maybe even Lynchian) balance between sounding heavy and dreamlike. Vocalist/bassist Anna Wagner's cool-toned voice curls around waves of anesthetic, foggy distortion as she assures the listener: "Whatever you do, whatever you say, it's okay."
9. Germano - "Lost Crowd"
Brazilian-born pop artist Germano isn't sure of what the future may hold, but he's taking it in stride. Today he's sharing his first single, "Lost Crowd," a moody electro-pop tale that reckons with feeling lost and finding comfort in the unknown and celebrates the beauty of contradiction. The song kicks off with Germano's magnetic vocals and eases into a lush swirl of electronic instrumentation and settles into a laidback chorus that perfectly balances Germano's introspective lyrics with the song's wistful melody. The song is accompanied by cinematic visuals featuring Germano and three others dressed in matching white t-shirts and jeans as they go through synchronized acts of hanging out in empty loft apartments and parks. Germano's debut EP is expected out later this year.
10. Alexander Noice - "Affectation"
Alexander Noice wears many hats; the LA-based composer, guitarist, producer, and bandleader is known for his experimental, often genre-defying compositions that dip into minimalist art-rock and jazz. His latest, "Affectation" welcomes you into Noice's eclectic menagerie of sounds through a flurry of layered of vocals and eerie harmonies—the result is wholly mesmerizing. Alexander Noice's forthcoming LP, Noice, is out August 23rd.