CULTURE
Give Us Your Tired, Your Poor, Your Old Flannels — Lady Gaga & The Return of Dirtbag Style
Ripped jeans and converse at the 2023 Oscars? Post-post-grunge is here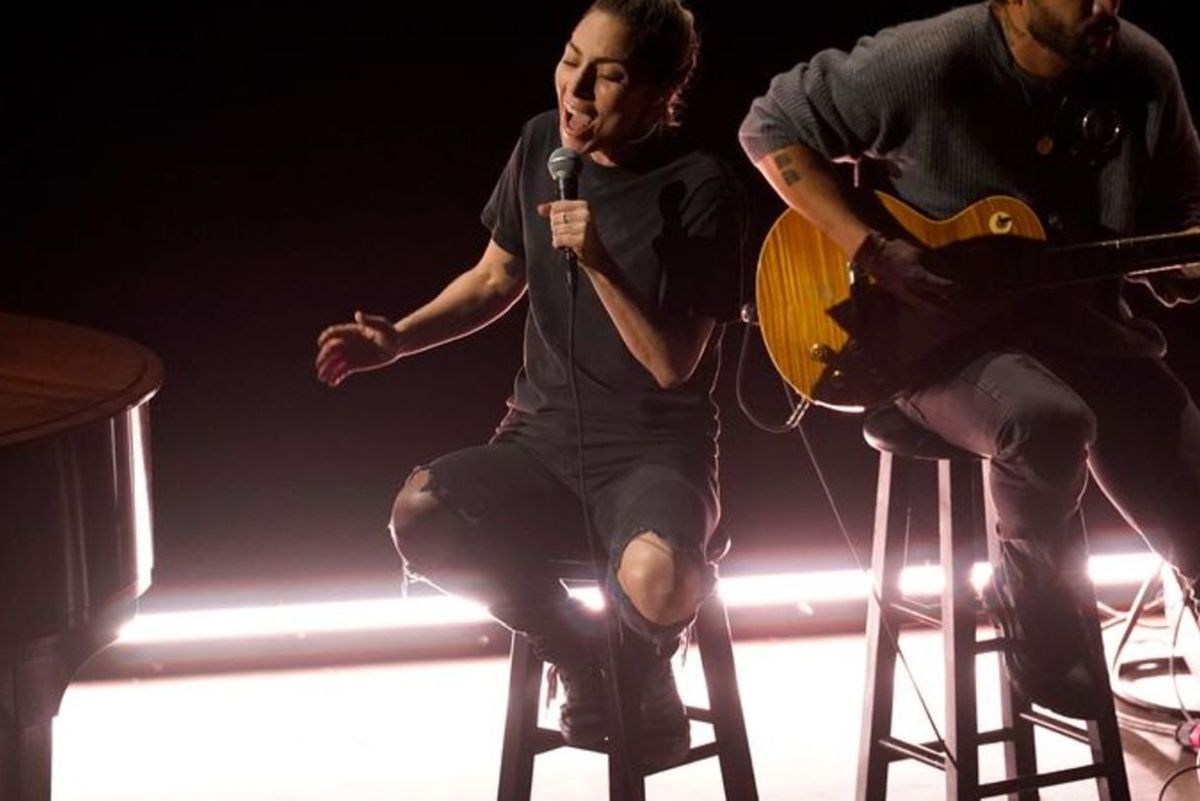 via YouTube / Lady Gaga VEVO
We've spoken ad nauseum about the return of Y2K/90s fashion — with Gen Z spearheading this revival, the precise decades are blurred. But those eras weren't all teeny tops and low-rise jeans. They're also known for the formation of grunge, pop-punk, and absolutely filthy dirtbag style.
---
Before there were e-boys, there were emos. Before there was the Weird Girl Aesthetic, there were the riot grrrls and grunge girlies. And amidst all the saccharine and sparkly trends coming back from the turn of the century, there's also an alt-aesthetic revival happening all across pop culture: from music to fashion to celebrity trends.
And, of course, leading the charge, Lady Gaga is the absolute zeitgeist. Her Oscars performance of her nominated song "Hold My Hand" from Topgun Maverick on March 12th proved that dirtbag style is back and alternative aesthetics are about to be the next big thing. Again.
Lady Gaga - Hold My Hand (Live From The Oscars/2023)www.youtube.com
Where do the 90s grunge and 2000s pop-punk aesthetics come from?
The 90s was a crazy decade. It was an era of rapid change — even compared to today's standards. One minute everything was analog, the next everyone had a pager, then a phone. Not to mention the internet's emergence on the scene. It was a brave new world. One filled with JNCO jeans and frosted tips.
Pop culture was at its peak. MTV was king and music was religion. So it makes sense that musical tastes dictated many societal aesthetics. Now, we all listen to everything. Spotify playlists defy genre and predilections are predicated by TikTok cores rather than community building.
But back in the day, you went to a record store and perused a certain section as a music and cultural signifier. So when genres like grunge came onto the scene, they also were aestheticized. People gleefully adopted the ripped jeans, flannels, and dirtbag style sported by rock heroes like Kurt Cobain.
Then, in the early 2000s, when grunge gave way to emo music and pop punk, it was all side bangs and ripped black skinny jeans. Vans had such a chokehold on the culture they sponsored Warped Tour — a mecca for alternative adolescents.
So, when the Oscars 2023 stage lights came up on to reveal Lady Gaga perched on a stool wearing all black — t-shirt, ripped jeans, and converse, we thought: wait. We've seen this look before. On everyone at Warped Tour.
Why is this aesthetic back?
Every ten years, everything comes back in style. Each new generation gets their hands on artifacts from the past, from music to fashion to movies, and revives them. Grunge came back in 2013, a year filled with flannel shirt dresses and spiky sneaker heels — shudder — and now it's peeking its head back into the mainstream.
TikTik tutorials are flooded with teenagers introducing each other to vintage trends of the 90s while millennials watch in horror. I mean, there's a 90s American Girl Doll. That should speak for itself.
And it's not only the clothes that are back. It's the music.
When they made the latest Batman film with Rob Pattinson, the film's theme song wasn't some original new pop song. It was "Something in the Way" by Nirvana. A whole new generation of kids discovered this iconic band through that trailer, that film, and the aesthetic of emo Batman — for better or for worse.
Plus, many of the 2000s-era bands that defined the alternative scene are making a comeback. Paramore has recently released music. So do Fall Out Boy, The Arctic Monkeys, and more. And don't get me started on the prominence of pop-alt aesthetics — Pete Davidson, MGK, and Travis Barker's heartthrob status says enough.
People are gravitating toward edgier, darker material. Maybe it's because everything else is so saturated with cotton candy content — pretty, but lacking substance.
And if Gaga, who is always at the forefront of trends, is telling us to return to our alt basics, who are we to deny her?
How to dress like an absolute dirtbag
I, for one, am all for the return of dirtbag style. Materialism is at an all-time high with the over-aestheticizing of everything on TikTok, the reign of the fashion industry, and even the goddamn Ozempic discourse. Sometimes, I don't want to be perceived. This adolescent angst, of course, has led me to gravitate back to adolescent aesthetics.
I recently bought a pair of Vans for the first time since high school. Converse, too. Just stepping back into my old staple kicks took me back to a simpler time — when the whole world felt like it mattered, but nothing actually did.
So, perhaps, part of this revival is nostalgia-based. We're 3 years post-Covid and still itching for comforts that remind us of the past. Maybe leaning into dirtbag style reminds us that the superficial stuff we used to cope during the pandemic isn't all there is. Or maybe it's a cry for help from our collective trauma trying to reveal itself, finally. Who knows.
Either way, I'm reveling in feeling like a dirtbag these days. Here's a definite dirtbag starter pack that Gaga would approve:
All products featured are independently selected by our editors. Things you buy through our links may earn us a commission.