Frontpage Popular News
Pedro Pascal Is Daddy Of The Year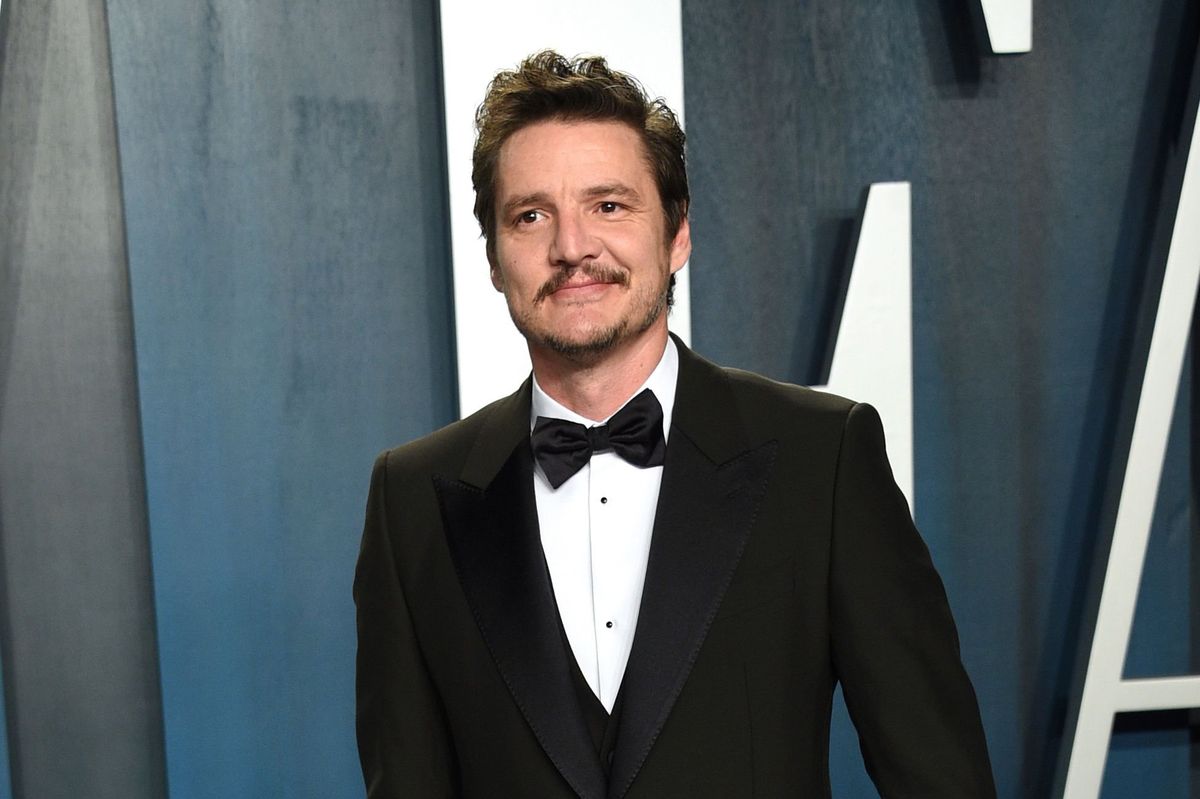 Evan Agostini/Invision/AP/Shutterstock
What is there to say about Pedro Pascal that hasn't been said already? The star has been around for over two decades now, but there's been a recent fervent love burning in the hearts of millions across the globe for The Mandalorian. There are currently 885,000 videos on TikTok under the sound "Hey Sexy Lady" by Shaggy – with half of those videos dedicated to slo-mo Pedro in his new shows.
---
And yes, you've heard of White Boy Of The Month, but let's introduce you to Daddy Of The Year. Pedro Pascal made a name for himself as Oberlyn Martell in Game of Thrones and Javier Peña in Narcos, but his roles as the titular character in Disney+'s The Mandalorian and Joel in HBO Max's wildly popular The Last Of Us have catapulted him into full-blown stardom.
The Last Of Us is just another cog in HBO's mega-famous show machine. It joins shows like Euphoria and Succession, breaking streaming records and garnering a 96% on Rotten Tomatoes. It follows Joel (Pascal) in an apocalyptic post-pandemic world in which he's in charge of smuggling a young girl across the country.

It's a role that isn't technically unfamiliar to Pascal, who also plays a father figure in The Mandalorian. It's why so many of his fans have cheekily nicknamed him "Daddy," a playful jest at his character arcs as well as his good looks and exciting fashion sense. He's the reluctant father on your screen, and the handsome, funny star on the red carpet. Fans eat him up.
But what fans love most about Pascal is that he fully embraces this new obsession with his every move. In an interview with Vanity Fair, he even says, "Daddy is a state of mind, you know? I'm your Daddy." But that's not all, the people's heartthrob took to the red carpet to reiterate his sentiments. He tells Entertainment Tonight in all seriousness, "I'm your cool, slutty daddy."
And it's not just his quick wit in interviews, but his style. Pedro Pascal has quickly emerged as a style icon for us all, thanks to stylist Julie Ragolia. We've watched him devour looks from a yellow Gucci cardigan wrapped around his shoulders or a crochet sweater paired with red trouser pants. He's become a case study for style, humility, and personality among celebrities.
The world can't get enough of Pedro Pascal, and neither can we. Here are our favorite red carpet looks to keep the fire lit.
Pedro In Gucci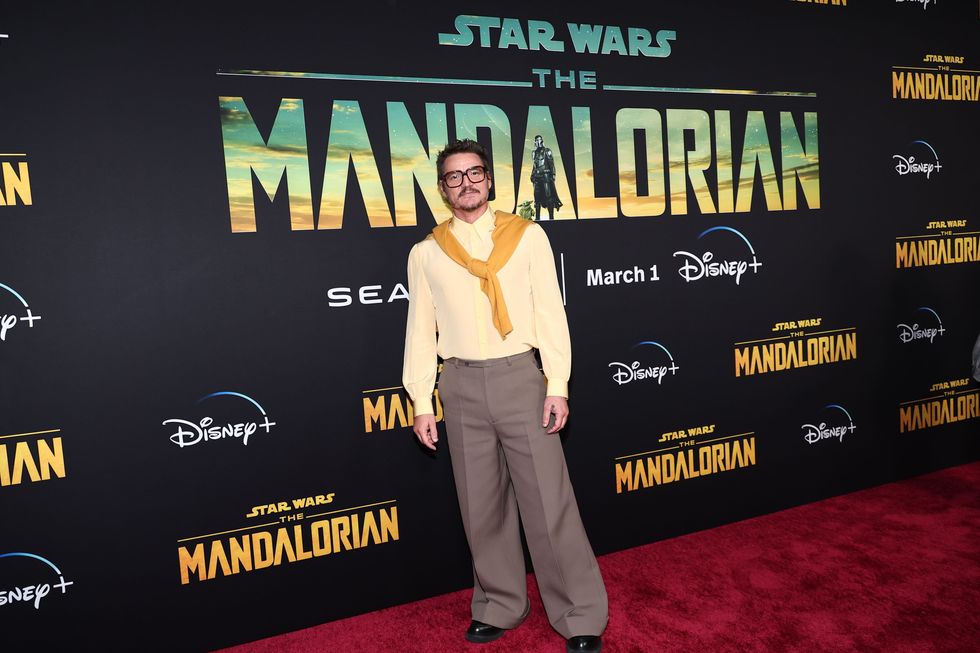 Pedro Pascal
John Salangsang/Shutterstock
There's something so fatherly about this look, yet it still includes a few elevated features to make it less frumpy and more fashion. Starting with the oversized gray tailored suit pants, fitted just enough to cinch at the waist. But the star of the show is the yellow button-down paired with a monochromatic cardigan thrown effortlessly over his shoulders like he's attending brunch at the golf club. It's rich, elegant, and just polished enough.
All Hail The Cardigan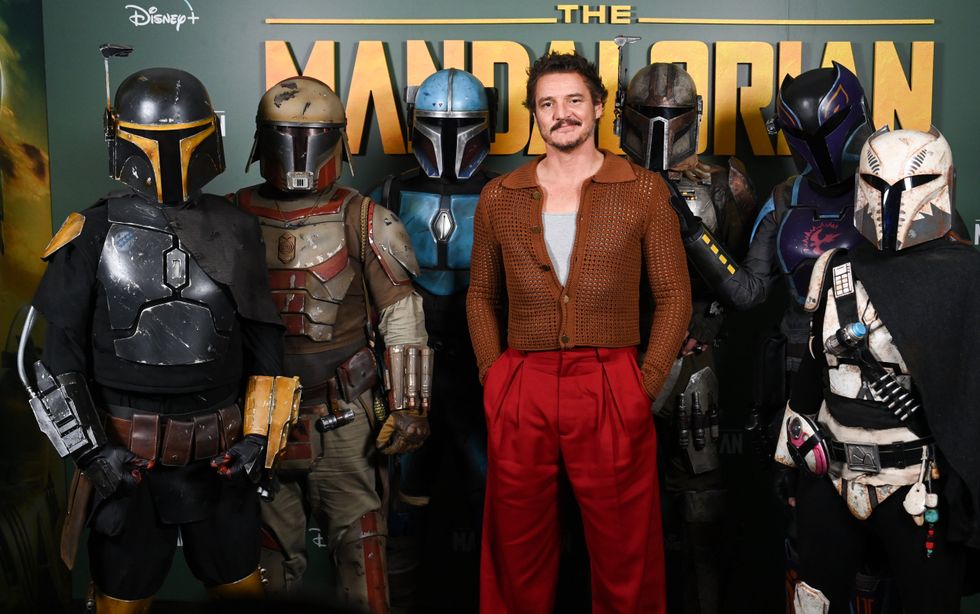 Pedro Pascal
David Fisher/Shutterstock
I love how Julie Ragolia incorporates color into Pedro's wardrobe. A pop of red with the trouser pant - again, oversized - and the brown crochet cardi make for an easy look that still stands out. For Pascal, his looks blend comfort with relevant trends like knitwear. They're also easy looks for any man to recreate, and not too out-of-the-box.
The Two-Toned SSBD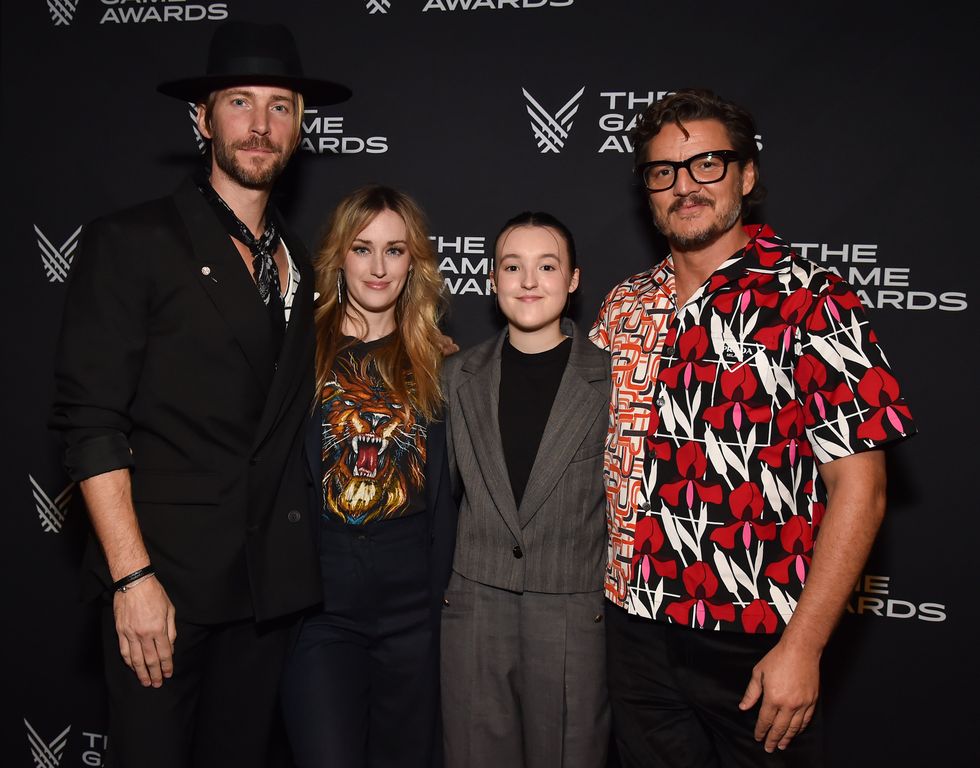 Troy Baker, Ashley Johnson, Bella Ramsey, Pedro Pascal
Scott Kirkland/PictureGroup for The Game Awards/Shutterstock
Every man needs a good SSBD - short sleeve button down - but not all men have them. Sure, the Hawaiian shirt is overdone and often a bit tacky, but this chaotically patterned ensemble somehow works with Pascal. The rest of the look is simple: black slacks and black-rimmed glasses. Let the shirt do the talking.
Monochrome Moments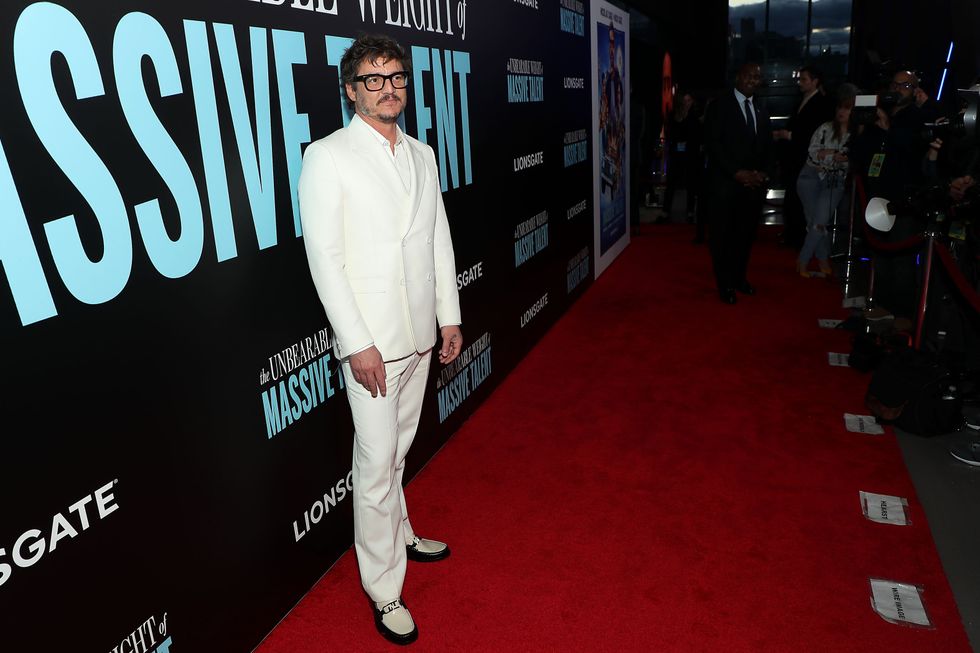 Pedro Pascal
Marion Curtis/StarPix for Lionsgate/Shutterstock
Reminiscent of prom in the 80's, the white tuxedo is something most men consider at one point in their lives. This opalescent white tux on Pedro paired with an off-white loafer with black accents is the way to go. It's simple, yet elegant.